Hank's Dove Poppers
September 01, 2016 | Updated August 14, 2022
As an Amazon Associate I earn from qualifying purchases.
Yep. I went and done it. I made dove poppers, by far the most popular dove recipe in America. But mine are a little different, maybe even better than any you've had before.
For more than a decade, I heaped hate on the venerable popper: A dove breast, usually skinless, nestled into a blob of cream cheese that is itself stuffed into half a jalapeno, all wrapped in bacon. Sometimes soaked in Italian dressing.
Yech, my old snooty self sniffed. This was how philistines ate. I plucked all my doves, preferring whole grilled dishes. And to be perfectly honest, I still do. But I have come to love the popper.
Dove poppers, you see, are more than just food. They are tradition. Dove poppers on the grill are to Labor Day in much of this country what candied yams or green bean casserole is to Thanksgiving. A dish laden with cultural weight. An edible touchstone.
I did not grow up dove hunting, or I might have realized this earlier. I didn't start hunting these tasty, speedy little birds until 2003, when Minnesota hosted its first dove season in generations. I got three, if I recall right.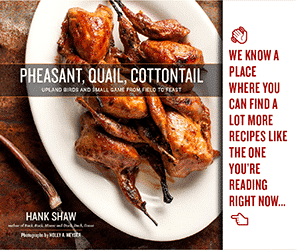 Why Dove Poppers Matter
Since then, I have hunted great blizzards of white-winged doves in Yuma, Arizona, and Brownsville, Texas, as well as many places less spectacular but still memorable. A safflower field just outside the Sacramento city limits is one such place, as is a vineyard in Clements, in the Lodi hills, owned by my friend Bill.
Dove hunting is about friendship, and laughter — doves aren't terribly smart, but they are very agile, and a freaked-out dove can be among the hardest things to hit with a shotgun. This leads to a lot of hilarious misses on our part. I've seen doves reverse themselves 180° in a heartbeat, seemingly anticipating the cloud of steel No. 7s headed his way.
But we do tend to shoot our share, which leads to the next tradition: Beer and Barbecue. It is custom to eat your first day's doves on that day with all your friends. Grilled, almost always.
And on that grill will always — always — be some dove poppers.
The origin of the popper is lost to the mists of history, but given what I know about American food traditions, it feels like a post-World War II creation, probably from Texas. Who knows for sure?
Everyone makes dove poppers differently, and I am no different. I simply could not bring myself to put cheese in my poppers; I find this ingredient to be the most off-putting part of the traditional dish. So I switched it up for roasted garlic, mashed into a paste with a touch of olive oil and salt.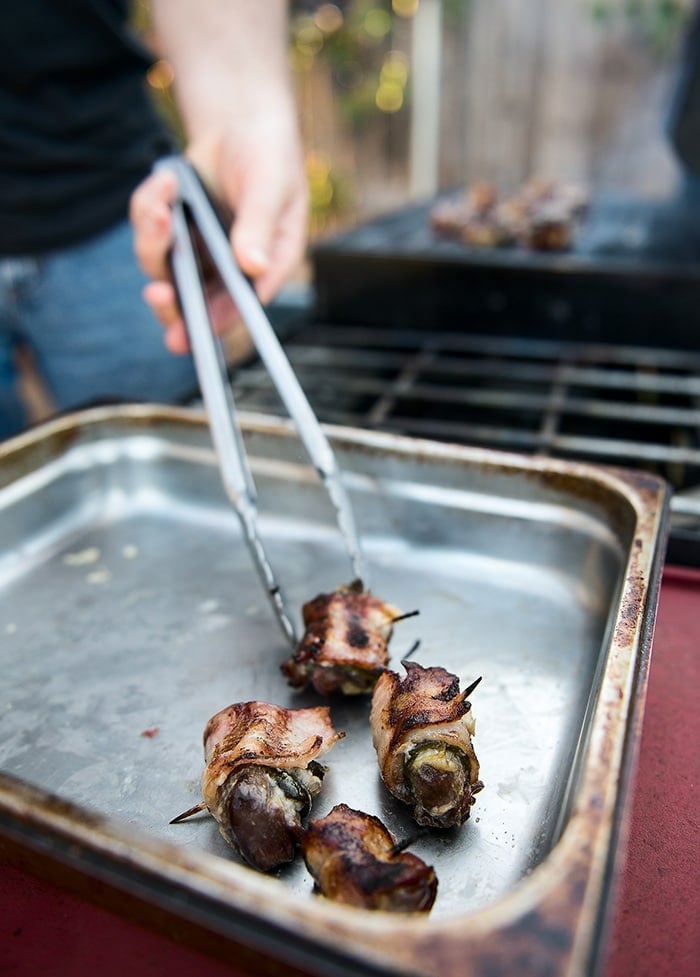 But I realize that there is a reason for the cream cheese: It is to offset the heat of the jalapeno. So I went with a milder chile that still has a touch of heat, the poblano. And I roasted it, which I think makes for better dove poppers.
I also soaked the chiles in lime juice, because the Italian dressing aficionados aren't wrong: There is so much fat in a popper it needs acidity to balance it. Lime juice-soaked poblanos does it for me.
Other than that, these are pretty recognizable dove poppers. Fun to eat, balanced with fatty, smoky bacon, zippy poblanos, deep savoriness from the garlic, and a nugget of meaty goodness from the dove.
So go out there today, Opening Day of dove season, and shoot well. Then, come back, pop open a cold one, and make some poppers.
OTHER GREAT DOVE RECIPES
I have 25 dove recipes here on Hunter Angler Gardener Cook, ranging from Moroccan-inspired bacon-wrapped doves to dove enchiladas. Some great Labor Day grilling or barbecue options include:
If you liked this recipe, please leave a ⭐️⭐️⭐️⭐️⭐️ rating and a comment below; I'd love to hear how everything went. If you're on Instagram, share a picture and tag me at huntgathercook.
Dove Poppers
My dove poppers are a little different from the traditional ones. They include two ingredients that can be made well ahead of the hunt: Roasted garlic and roasted poblano or Hatch chiles. Making each is super easy, but takes a little time. My advice is to make them ahead and have them on hand. Use thin bacon, too. It wraps easier, and it allows the other ingredients to shine. Another option is thinly sliced dry-cured ham, like prosciutto. I like that even better, but it can be harder to find. Count on at least 3 of these per person, and really 5 is a better number. After all, you've been hunting, right?
Ingredients
Boneless breast meat from 10 to 15 doves

1

pound

thin bacon or thinly cut prosciutto ham

5

to 8 poblano or green Hatch-style chiles

Juice of 6 limes

Salt

4

heads of garlic

(or yes, use cream cheese)
Instructions
Prepare the chiles. Blacken the skins of the poblano chiles, put them in a bag and let them steam for 30 minutes or so. A tutorial on how to do this is here. Remove the stems and seeds of the chiles and soak them in the lime juice; apple cider vinegar works, too. Pickle them for at least 1 hour and up to several days.

Roast the garlic. While the chiles are blackening, preheat the oven to 350°F. Slice off the top 1/4 of the heads of garlic and drizzle a little oil on the cut surface. Arrange the heads cut side up in some foil. Close the foil and roast in the oven for 1 hour to 90 minutes. Remove, cool and squeeze out the goodness into a bowl. Season with olive oil and salt.

Build the poppers. Lay down a slice of bacon, then a slice of poblano pepper about the same size. Smear some roasted garlic on the pepper, then put a dove breast on it. Roll this up tight and stick a toothpick through to hold. Repeat until you've done all the breasts.

Grill over medium heat with the grill grate open. Take your time and turn the poppers often. They're done when the bacon is crispy. Serve piping hot.
Nutrition information is automatically calculated, so should only be used as an approximation.