I love grilled doves, and this grilled doves recipe is super easy with only three ingredients. Makes a great addition to the Labor Day spread.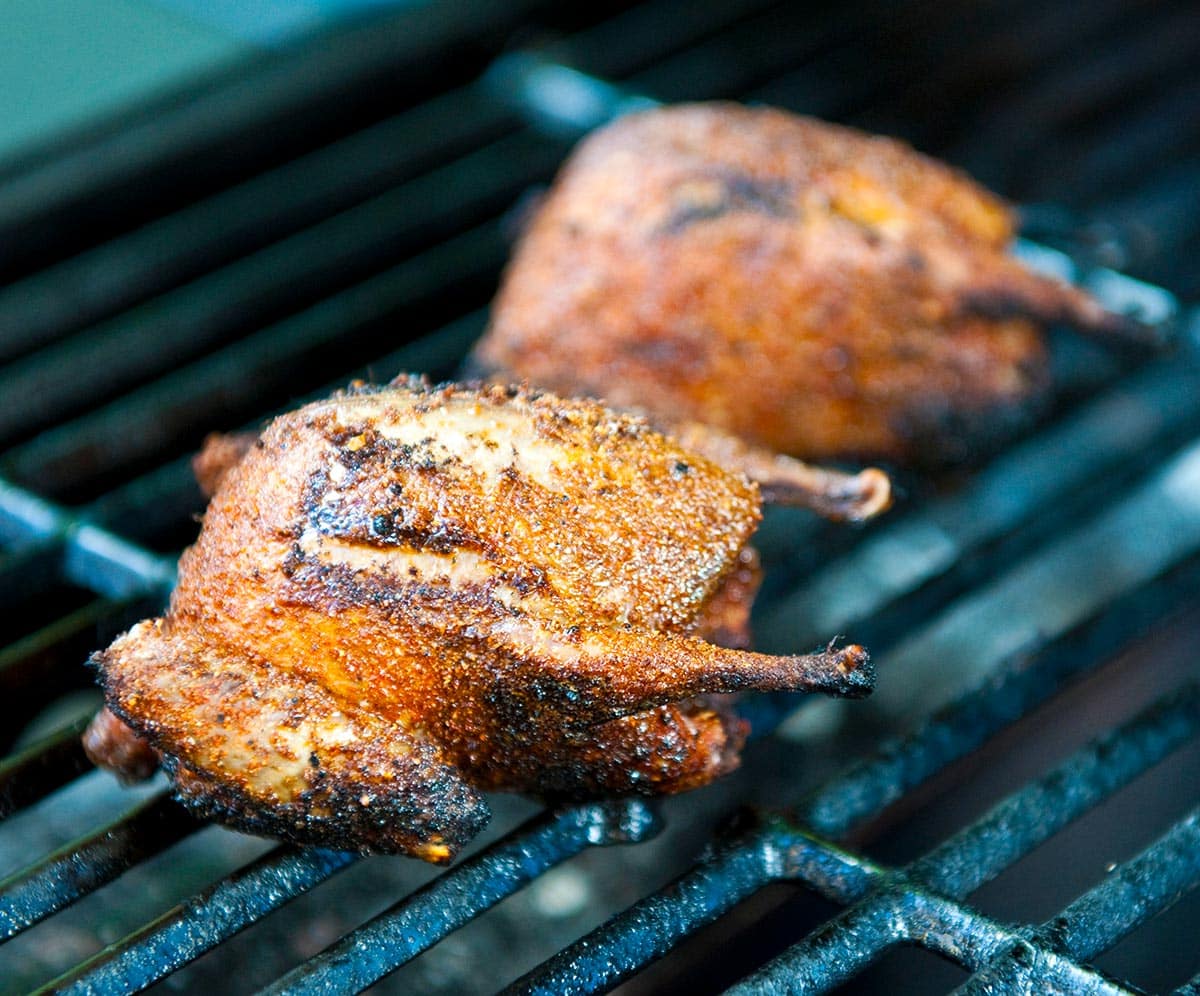 Doves and squab, which is a domestic pigeon, are generally low in fat but tender, so they grill really well. Normally I make Doves a la Mancha with my first hunt's worth, but after that I really like a good Cajun or Creole spice rub on my doves.
You do need plucked birds to make grilled doves. But it's very, very easy to pluck doves. We have a video on how to do it here.
This recipe is ridiculously simple: Toss doves with the spice rub. Let them sit awhile, then grill over high heat until the skin is crispy and the meat is cooked. You want to cook doves and pigeons medium. Rare and their too chewy, well done and they are dry and livery. This is a prime case where a happy medium is a happy medium.
Generally speaking, you will want to serve at least two whole doves per person for a meal, and really that's more of an appetizer. I've eaten six at a sitting.
OTHER GREAT DOVE RECIPES
I have 25 dove recipes here on Hunter Angler Gardener Cook, ranging from bacon-wrapped doves to dove enchiladas. Some great Labor Day grilling or barbecue options include:
If you liked this recipe, please leave a ⭐️⭐️⭐️⭐️⭐️ rating and a comment below; I'd love to hear how everything went. If you're on Instagram, share a picture and tag me at huntgathercook.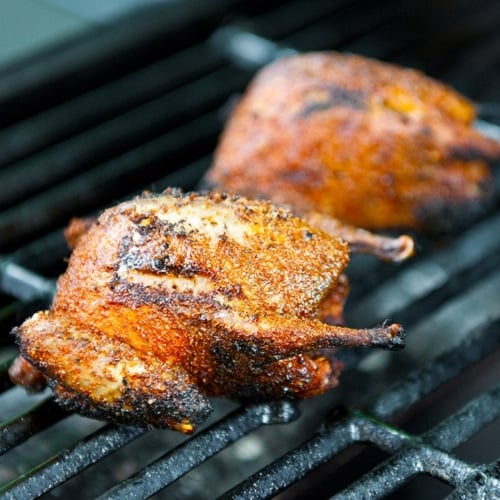 Cajun Grilled Doves
You can substitute literally any spices for this. Porcini powder is a good one, and so would French quatre epices. Hell, even lemon pepper or that standard Italian seasoning you see in stores would work. Experiment. One thing: Please use whole doves here, not breasts. Doves and pigeons are so easy to pluck it is a crime not to serve them whole.
Ingredients
8-12

doves or 4 domestic squab or 8 quail

1/4

cup

olive or vegetable oil

1/2

cup

Creole or Cajun spice rub
Instructions
Coat the doves in the oil, then toss in a bag or plastic container with the spice rub. Let the birds sit in the fridge for at least an hour, and up to a day.

When you are ready to cook them, get the grill hot, but leave a cooler spot where there are no coals underneath, or, if you have a gas grill, turn off one burner. Make sure the grates are clean, and right before you put the doves on the grill, wipe down the grill with a paper towel soaked in vegetable oil. Use tongs to do this.

Put the doves or squab, breast side up, on that cool side of the grill for 5 minutes with the grill cover down.

Move the doves to one side -- you're searing the wings and legs here -- and grill over the hot side of the grill (with the cover up) for 2 minutes, or until the side is nice and browned. Repeat on the other side.

Finally, flip the doves so the breast is facing the flame and grill for another 1-2 minutes, or until the breast is nicely browned, with a little char on it. Let the doves rest for 5 minutes before eating.
Nutrition information is automatically calculated, so should only be used as an approximation.