Bacon Wrapped Dove
September 07, 2017 | Updated August 01, 2022
As an Amazon Associate I earn from qualifying purchases.
I normally don't much care for bacon wrapped dove. But once I realized I didn't have to follow the standard jalapeno-cream cheese-bacon wrapped dove popper recipe everyone seems to do, I was set free. After some experimentation, I can share with you a recipe for bacon wrapped dove I can really get behind.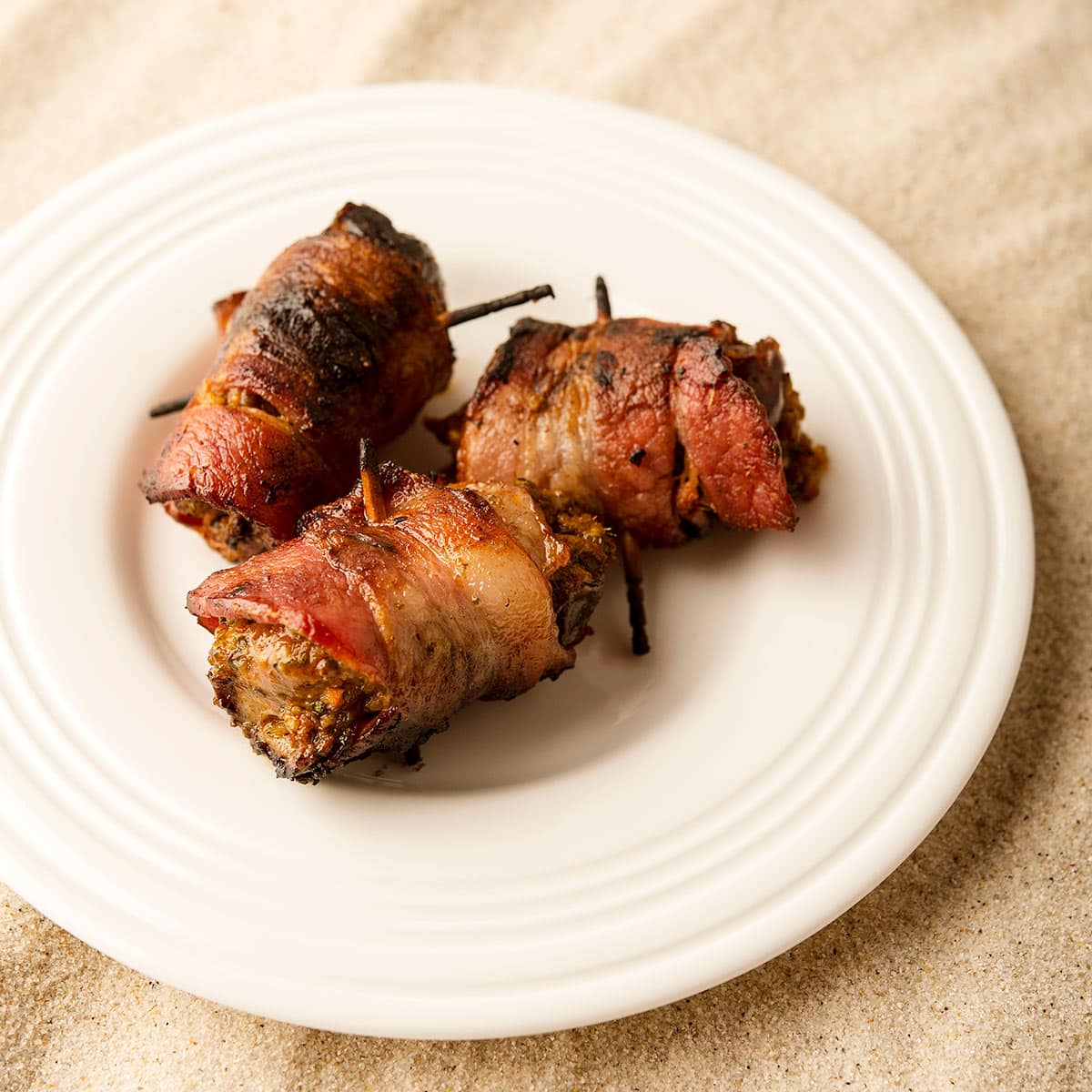 It all started with Hank's Dove Poppers, my version of the standard that uses a roasted green chile instead of the jalapeno, and roasted garlic instead of cheese. Then, after a great dove hunt in Yuma, Arizona, Holly and I stopped at Dateland, a little roadside stop that features date shakes — my favorite kind of milkshake — as well as an array of various date products. I bought some medjool and honey dates.
I did so because I had an idea forming inside my head: A combination of dove and dates. Sweet and meaty.
The dish had to be a bacon wrapped dove popper, but I didn't want it to be so one-note as just a date, a dove breast and a slice of bacon. It needed something more.
That's when I remembered something my friend Johnathan O'Dell told me about Dateland: In 1927, it was designated as a place to grow dates by the King of Morocco when his country was threatened by a date blight. So seed stock from the highest quality Moroccan dates was grown there, and since then a small but significant date industry has grown in Arizona and SoCal.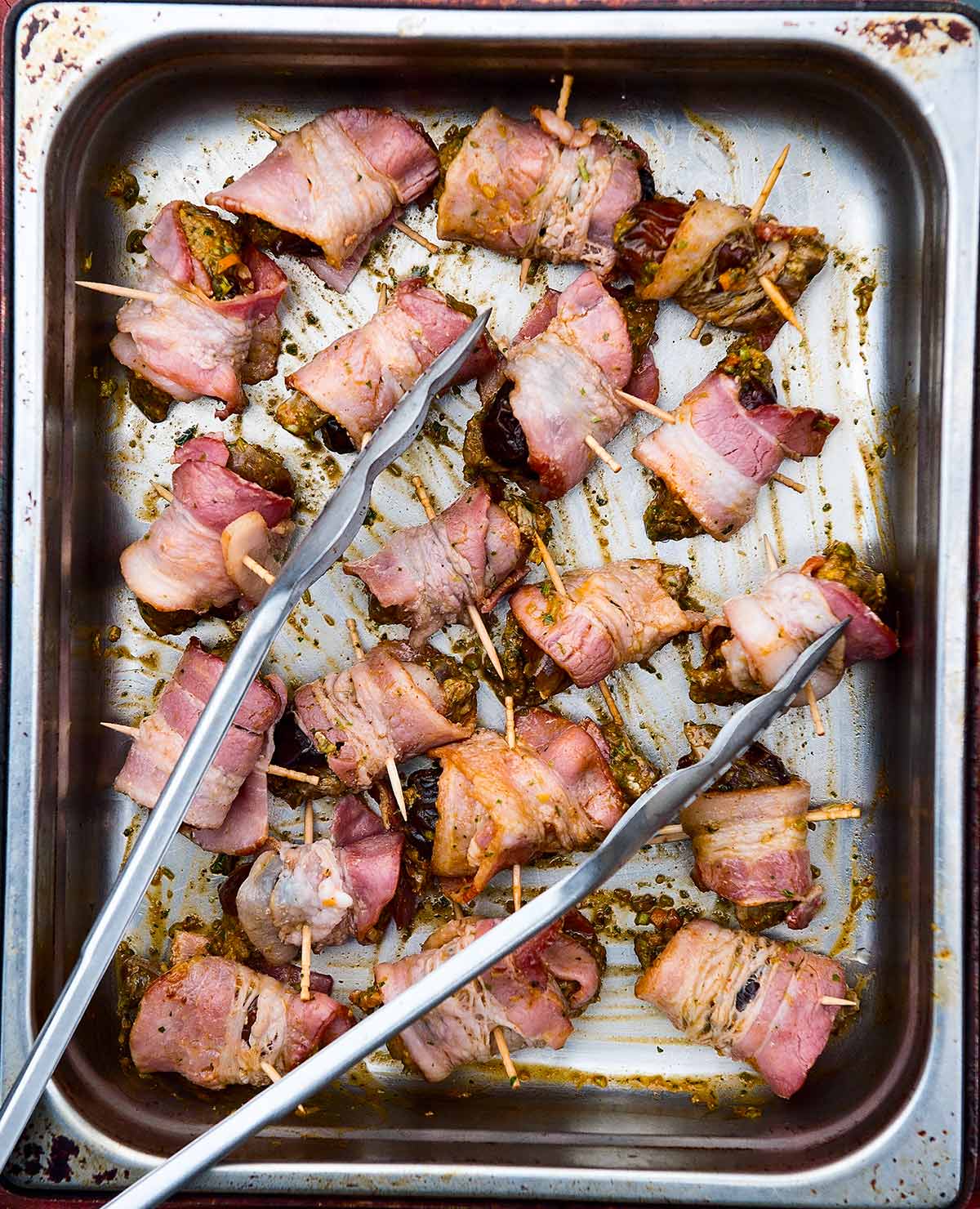 Morocco. That led me to my marinade for the doves: chermoula. Chermoula is an herby, citrusy, spicy mixture often used to marinate fish or meats. It has many variations, but any version would add a dimension to this dish. So I buzzed some chermoula together, marinated the dove breasts for a few hours, then built the poppers.
I settled on the small honey dates because they wouldn't overwhelm the dove. Medjools are too big, so if that's all you can find, cut them in half. I also left a lot of marinade on the doves, for added flavor. And I half-cooked the bacon, so the dove breasts wouldn't overcook by the time it crisped on the grill.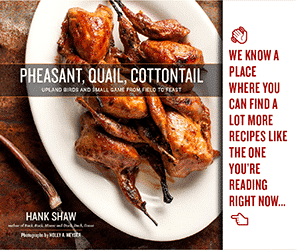 The result: Exactly as I'd hoped. Fatty-smoky-crisp bacon, a soft and sweet date, and meaty dove laced with the bright, spicy marinade. Super good, fun to eat — but rich! I ate six and was full.
Make your bacon wrapped dove for a party as an appetizer. Oh, and if you have leftovers for some reason, they're actually pretty damn good right out of the fridge!
OTHER GREAT DOVE RECIPES
I have 25 dove recipes here on Hunter Angler Gardener Cook, ranging from slow and low barbecued doves to dove enchiladas. Some great Labor Day grilling or barbecue options include: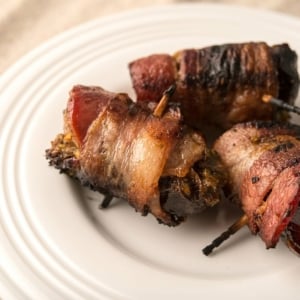 Bacon Wrapped Doves with Dates
This is a take on the classic dove popper. A few tips: Make sure to use small dates or cut medjools in half or this will be too sweet. Marinate the dove breasts at least a couple hours, and up to overnight. And par-cook your bacon so the dove meat doesn't overcook; it should be medium to medium-rare.
Ingredients
12 to 16

dove breasts

(24 to 32 halves)

12 to 16

small dates

1

pound

bacon

(not thick cut)

12 to 16

toothpicks,

soaked in water
CHERMOULA MARINADE
2

tablespoons

olive oil

Zest and juice of a lemon

1

bunch

cilantro or parsley, chopped

(about 2 cups)

4

teaspoons

ground cumin

2

teaspoons

paprika

1

teaspoon

hot paprika, Aleppo pepper or cayenne

1

teaspoon

salt

1/2

teaspoon

black pepper

1

quarter

preserved lemon, chopped

(optional)

4

cloves

garlic, minced
Instructions
Put all the ingredients for the chermoula in a food processor or blender and buzz until smooth. Mix with the dove breasts and set in the fridge, covered, for up to 8 hours.

Cook the bacon just until it gives up some fat and is limp. You want it about half-cooked, but not crispy. Set it aside to cool.

Slice the dates open vertically to remove the pit. Unfold the date to flatten it out. Take a dove breast, shake off excess marinade, and nestle it into the date. Bend the edges of the date around the breast.

Wrap a piece of bacon around the dove-date tightly and secure with a toothpick. If you want, you can double up on the dove-dates if you want a bigger popper.

Get your grill hot, leaving one side with no coals or with no burners turned on. Set your poppers on the grill with the seam side of the bacon facing down. Grill with the cover up, turning the poppers frequently to crisp the bacon on all sides. If you are worried the dove might not be fully cooked, set the poppers on the cool side of the grill when the bacon crisps, then cover the grill and cook for an additional 2 to 4 minutes.
Notes
Note that prep time does not include marinating time. 
Nutrition information is automatically calculated, so should only be used as an approximation.