Something about dove season makes me think about the desert Southwest.
Actually, I know what it is: Dove season, from SoCal to Texas, is religion, so cooking that kind of food just fits. This particular recipe is from New Mexico: green enchiladas, made with dove meat.
New Mexican green enchiladas are an institution there, and I honor that sauce pretty closely. Normally they have shredded chicken or pork in them, and that's fine. But if you're done eating dove poppers, and want to try something different, try this one.
When I made this recipe, I wasn't sure about how it would turn out, or how much it makes. I was happily surprised. Basically a limit of doves — 15 in most states — done in this recipe will feed four people easily. Cool, eh?
You need just the breast meat off your doves, for this, but if you want to go a step further, make dove stock for the green chile sauce. It's easy: Roast the breasted dove carcasses in a 400°F oven until they are good and browned, about 45 minutes. Bash them up, cover in 5 cups of water, put a lid on the pot and simmer gently as long as you can stand it, up to overnight. Strain and you're golden.
Once you get the process down, you can make big batches of green enchiladas if you want. The green chile sauce keeps for a few days in the fridge, so can be made ahead. And once made, the enchiladas reheat well for leftovers.
New Mexico Green Enchiladas
This is a pretty standard New Mexico green chile sauce, although my addition of epazote is unusual; you can skip it if you want. I prefer to use full-strength, hot Hatch green chiles, but many people will want to use the mild ones, as my version has a kick to it. You can also use poblanos or a mix of jalapenos and green bell peppers if you can't find New Mexican chiles. I like corn tortillas for this recipe, and I like to have a little of the edges with no sauce on them, which makes them chewy and a little crunchy -- a nice textural difference from the soft rest of the enchilada. I also prefer those "Mexican blend" shredded cheeses, but if you can't find them, Monterey jack or cheddar are fine.
Ingredients
GREEN CHILE SAUCE
3

tablespoons

lard or cooking oil

1

large onion,

chopped

4

garlic cloves,

chopped

3

tablespoons

flour

1 1/2

cups

chopped roasted green chiles,

about a dozen

1

teaspoon

epazote

(optional)

1

teaspoon

cumin

1/2

teaspoon

ground coriander

2 1/2

cups

dove broth or chicken stock

Salt

(smoked salt if you have it)

Black pepper to taste
FILLING
Meat from 15 doves,

about a pound

Salt

(smoked salt if you have it)

About 1/4 cup green chile sauce

(see above)

6

ounces

of shredded cheese,

divided

1

cup

of minced onion

12 6-

inch

tortillas
Instructions
Prep the green chiles. You need to roast your green chiles. I use New Mexican, Hatch-style chiles. This makes for a zippy sauce. You can make it milder by using milder chiles. If you've never roasted chiles before, here is a tutorial.

Make the chile sauce. Heat the lard over medium-high heat and cook the onions until soft, but not brown, about 5 minutes. Add the garlic and cook another minute. Add the flour and cook, stirring often, for 5 minutes. Add the remaining ingredients, stir well and simmer gently for 20 minutes. Puree in a blender.

Make the filling. Dice the dove meat and salt well. Mix with about 1/4 cup of the green chile sauce as well as about 2 ounces of cheese and the onion.

Prep the tortillas. Heat the tortillas on a comal or other heavy skillet until they blacken and puff up a little. Then put them in a tortilla warmer, or stack on a plate and put a bowl over them. Let them steam a few minutes before building the enchiladas.

Build the enchiladas. Pour a little green chile sauce into a casserole. Fill a tortilla with a little of the filling and roll it up. Place seam side down on the casserole. Repeat until you're done. You should get about 15 tortillas.

Finish. Pour more green chile sauce over the enchiladas and top with lots of the shredded cheese. Bake at 350°F for 25 minutes and serve.
For those of you reading closely, yes, the dove meat is raw as it goes into the enchilada. It cooks when you bake them. And any meat will work here, much like my dove chiles rellenos.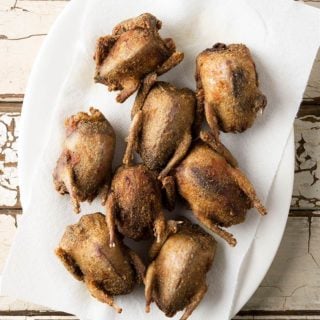 You can find dozens of recipes for doves and pigeons here on Hunter Angler Gardener Cook!