Smoked Salmon Pasta
August 06, 2018 | Updated March 19, 2021
As an Amazon Associate I earn from qualifying purchases.
I love the flavors of smoked salmon pasta: Homemade (or store-bought) whole wheat pasta, tarragon, parsley, lots of sweet butter, and of course my own smoked salmon.
This is a recipe for the Pacific Northwest, for Salmon Nation. Big flavors, hearty, unpretentious. No tweezers, fancy plating or hard-to-find ingredients here.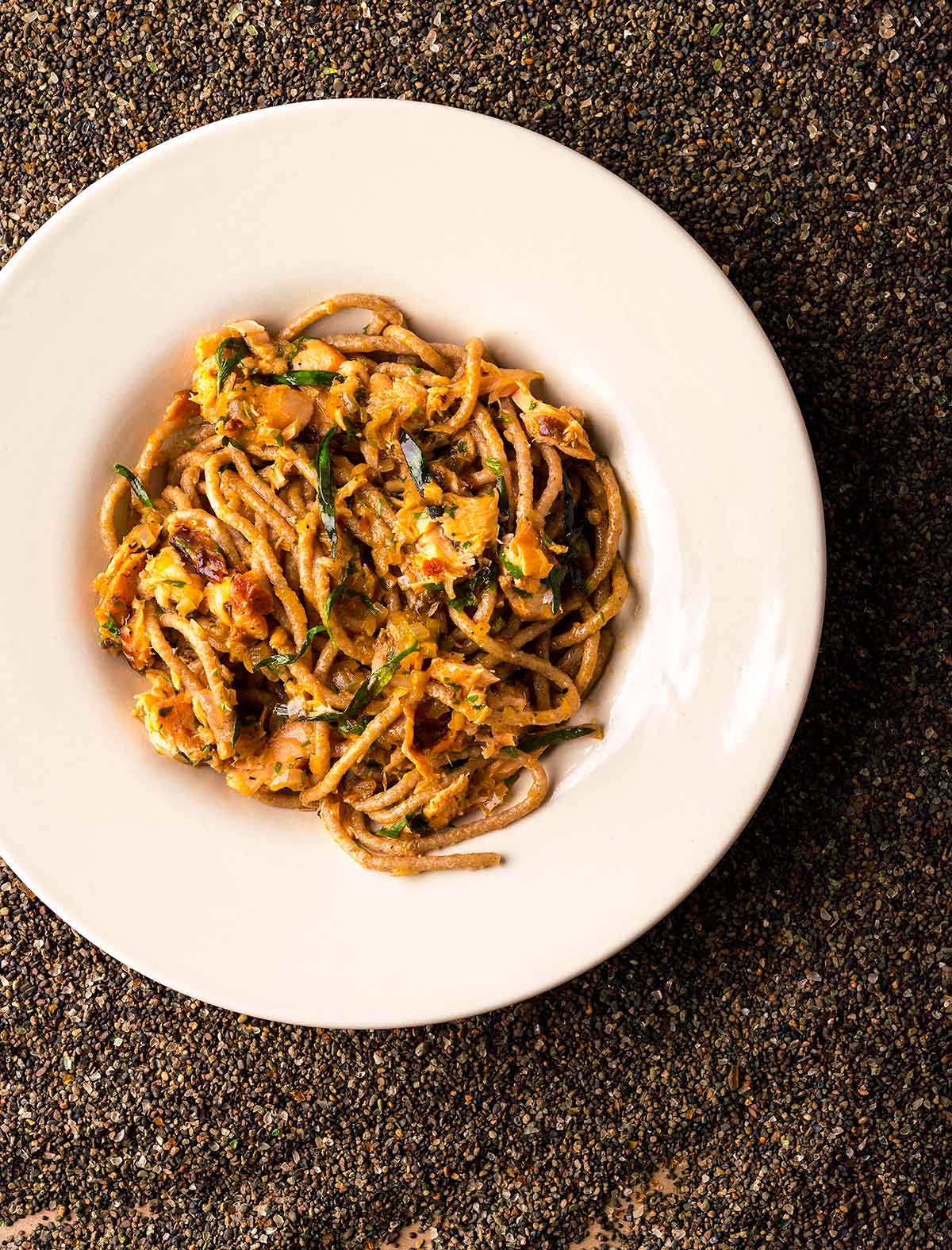 I make my own smoked salmon and my own whole wheat pasta, and it this recipe will be better with homemade salmon and pasta, but store-bought will do. Note that I use hot-smoked salmon, which flakes, not cold-smoked, which will not.
I chose whole wheat pasta, actually bigoli, which I made with an old school Italian torchio, because it has heft, and the homemade spaghetti is rougher in texture than machine made; this roughness allows each strand of pasta to hold onto more sauce. I urge you to use whole wheat, spelt or some other heartier, darker pasta here. You will taste the difference.
You will also notice the difference if you can find artisanal pastas, or at least ones made with bronze dies. These will all be rougher, which helps the pasta grab the sauce.
As for the salmon, in this case I used a chum salmon I smoked over alder and glazed with birch syrup. Chum (a/k/a keta or dog salmon) are excellent candidates for smoking, but any species will do. As would any kind of trout. Smoked lake trout would be ideal. New Englanders should use smoked mackerel or bluefish, Southerners smoked king mackerel, mullet, amberjack or wahoo.
Fresh herbs add brightness, color and a hint of bitterness, which cuts the richness of the smoked salmon pasta, butter and such. I like tarragon because it works well here, but if you can't find it, use more parsley. Chives, chervil, savory (winter or summer), marjoram or even fresh sage would be a nice option.
The rest is pretty simple. and your smoked salmon pasta will come together in less than 30 minutes if you have everything ready. What to drink? Why, a West Coast IPA or a pale ale, if you are drinking beer, and a crisp rosé, a big white, like an oaky Chardonnay, or a light red, like a Grenache or Gamay, would be my choices.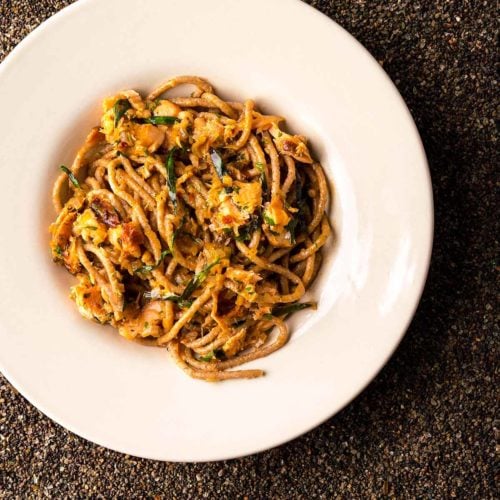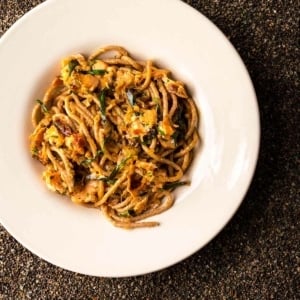 Smoked Salmon Pasta
To really appreciate this recipe you should use whole wheat, spelt or other darker pasta, not standard semolina - but if that's all you can find, don't let it stop you from making this recipe. I prefer smoked salmon here, but any smoked fish will work, such as trout, mackerel or bluefish.
Ingredients
1

pound

whole wheat pasta

1/4

cup

unsalted butter

1

large shallot, minced

1/2

pound

smoked salmon, flaked

1/4

cup

white wine or vermouth

2

tablespoons

chopped tarragon

2

tablespoons

chopped parsley

Black pepper
Instructions
Bring a large pot of water to a boil. Add enough salt to make the water taste quite salty, like seawater. Add the pasta.

In a large saute or frying pan, heat the butter over medium heat and add the shallot. Saute the shallot, stirring often. You want it soft but not browned. Add the flaked salmon and spread it in one layer in the pan. Let this cook to sear a bit. Don't move the fish for at least a minute, maybe two.

Pour in the wine and use a metal spatula to scrape up everything off the bottom of the pan. When most of the wine has boiled away, mix in the herbs and add fair bit of black pepper, maybe a couple teaspoons' worth; you want to taste black pepper in this dish. Turn the heat to low.

To finish, move the pasta from the boiling water to the pan, and toss. I like to add maybe 1/4 cup of pasta cooking water to the mix to emulsify everything. Toss and serve at once.
Nutrition
Calories:
591
kcal
|
Carbohydrates:
88
g
|
Protein:
28
g
|
Fat:
16
g
|
Saturated Fat:
8
g
|
Cholesterol:
44
mg
|
Sodium:
460
mg
|
Potassium:
491
mg
|
Fiber:
1
g
|
Sugar:
1
g
|
Vitamin A:
719
IU
|
Vitamin C:
5
mg
|
Calcium:
98
mg
|
Iron:
6
mg
Nutrition information is automatically calculated, so should only be used as an approximation.