South Dakota Chislic
August 10, 2020 | Updated May 28, 2021
As an Amazon Associate I earn from qualifying purchases.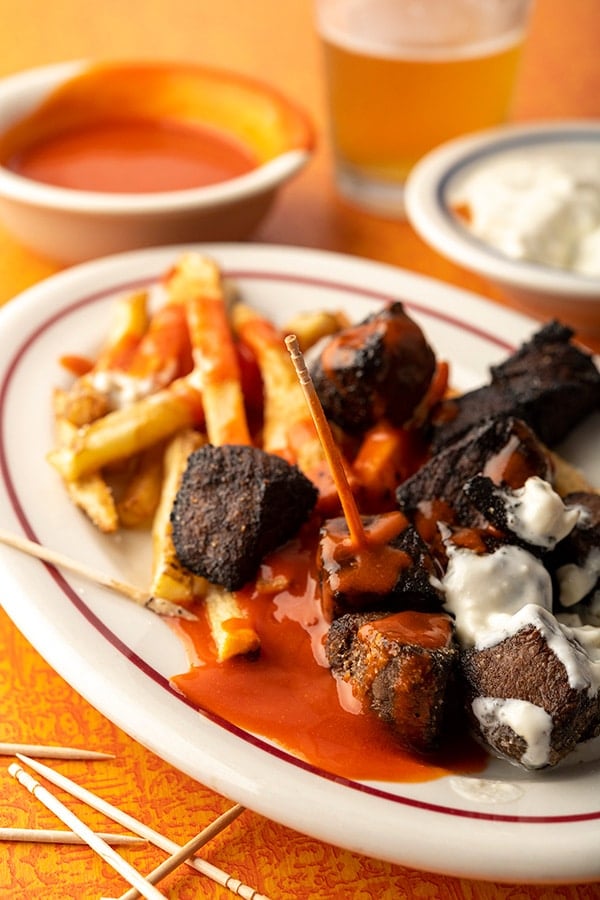 Chislic is one of those semi-secret regional foods that if you know, you know, and if not, well, you probably are having a hard time even forming the sound of this dish's name in your head.
Pronounced "chiz-lick," or in some places more like "chis-lick," chislic is, simply, chunks of red meat grilled or fried, either on a skewer or served with toothpicks. It's what you eat at a South Dakota bar after limiting out on pheasants, or while watching the Vikings.
Chislic is deeply South Dakotan, and in its purest form is fried mutton with garlic salt, served with Saltines on the side. But there are variations, and beef and venison chislic are common.
I've eaten it in various divey bars while pheasant hunting, or just passing through SoDak. I happen to like the "Buffalo wings" presentation, with hot sauce and blue cheese sauce on the side. And fries are more substantial than the Saltines, but both are good.
If you've heard Chef David Chang use the term "ugly delicious," this is that and then some. Chislic is probably more "dirty delicious," because it makes you feel that way after eating a half pound of deep-fried venison chunks with a plate of fries and, ahem, several beers.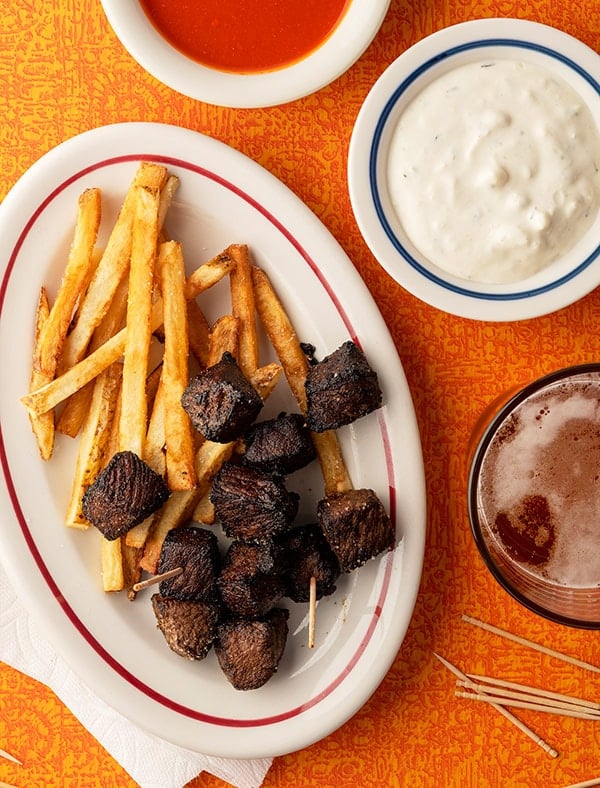 Chislic is unusual in that it is fried directly — no coating. This darkens your oil in a hurry, and my advice is to reuse it only for future batches of chislic. Your oil needs to be hot, and you don't want to fry the venison very long or it will be gray at the center.
So far as seasoning, keep it simple: Garlic salt is all I use. Whatever you use, avoid paprika or other chile peppers, because they will burn in the oil and turn bitter. If you need a pepper fix, get it with hot sauce.
Saltines, as I've mentioned, are traditional, but if you want to make your own fries, here is a good recipe for homemade French fries.
While you can eat chislic as a main meal, it's normally a bar snack or appetizer. If you want to continue the theme, try making this with my Buffalo meatballs. (Yep, meatballs served exactly like Buffalo wings), or honey mustard wings from either pheasants or ducks.
If you're interested in a south-of-the-border take on this, it turns out there's a kind of taco you can find in Hermosillo, Sonora, that bears a strong resemblance to chislic: chicharron de ribeye.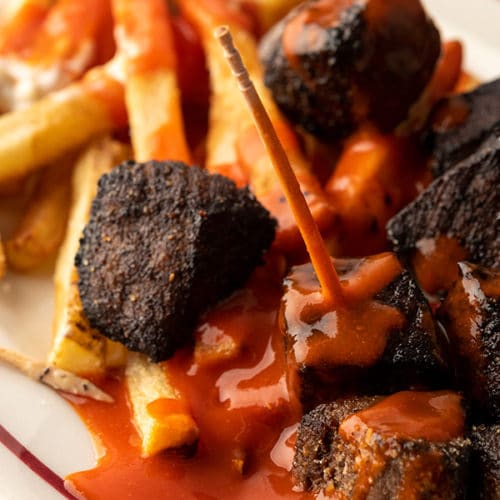 South Dakota Chislic
I prefer my chislic fried, and with a combination of hot sauce and blue cheese sauce, but you can vary this as you like. Saltines are the normal accompaniment, but I like homemade fries better.
Ingredients
2

pounds

venison loin, cubed

1

tablespoon

garlic salt

Oil for frying

Hot sauce to taste

Blue cheese sauce to taste

(optional)
Instructions
Be sure to remove any silverskin from the venison, and make the cubes about an inch across. Dust with the garlic salt.

Fill enough oil in a heavy pot or a deep fryer to be able to submerge the venison -- you'll be cooking it in batches, so it doesn't need to be huge. Bring it to 350°F. Set out some paper towels to let the finished chislic drain.

Pat the meat dry with paper towels and carefully drop about 1/2 pound into the fryer. It will roil violently. Let the venison fry for about 2 minutes, then move it to the paper towels to drain. Repeat with the remaining venison, a 1/2 pound at a time.

Serve with toothpicks, hot sauce, blue cheese sauce, beer, and fries or Saltines.
Notes
NOTES: If you are making fries, my advice is to make them first and keep them on a cooling rack set over a baking sheet in a warm oven. If you are looking for a good blue cheese sauce, try this recipe from Simply Recipes. 
Nutrition
Calories:
227
kcal
|
Protein:
46
g
|
Fat:
4
g
|
Saturated Fat:
1
g
|
Cholesterol:
119
mg
|
Sodium:
1249
mg
|
Potassium:
602
mg
|
Calcium:
9
mg
|
Iron:
6
mg
Nutrition information is automatically calculated, so should only be used as an approximation.