As an Amazon Associate I earn from qualifying purchases.
When you make a recipe with only a few ingredients, technique becomes more important. Such is the case with green chile stew.
Green chile stew is a New Mexico favorite, but you will see it all over the Desert Southwest, and there are versions of it across the border in Mexico, too.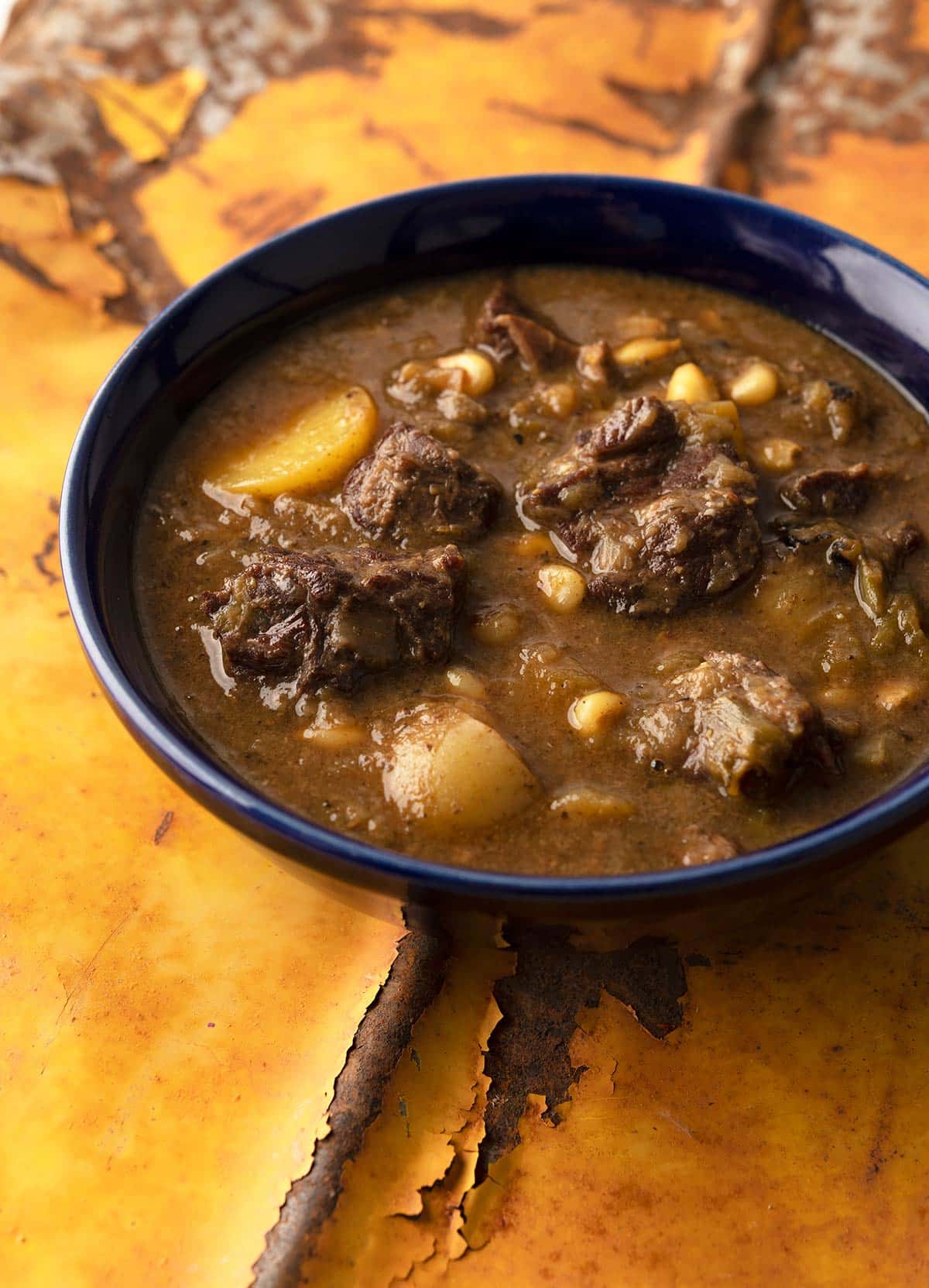 Keep in mind, however, that this is not Mexican chile verde, which hinges on tomatillos and Mexican herbs and is, in general, made very differently, despite the dominance of green chiles.
Green chile stew is almost always made with either beef or pork; I used venison here. All of these meats are ideal, as would javelina, bison, elk, moose, lamb or mutton, or goat.
As you might imagine, variations exist with this recipe. Some use tomato; I do not. Some use either sweet or field corn; I do. Most, however, use potatoes, lots of roasted, peeled and seeded green chiles — Hatch (Anaheims) would be natural here — and all feature a touch of cumin, garlic and onions.
Some versions use no thickener. Some use a flour-and-fat roux. I use the old European technique of flouring the meat first, then browning. Over time, the flour in the pot that comes off the meat will thicken the green chile stew.
And thickness is your call, too. What I like to do is make the initial batch properly stewy, as you see in the pictures here. You eat it with a spoon and there is broth. Later, however, I will cook it down, and smash the potatoes and meat with a potato masher, and then it becomes more of a Mexican guisado, and in fact it is similar to my recipe for venison carne guisada.
Pro tip: Use this thickened, cooked-down green chile stew as a filling for empanadas, burritos or as a taco filling. Oh, and here you definitely want flour tortillas.
(I have a wonderful recipe for homemade flour tortillas here.)
About technique. You want to really take your time browning both the meat and the onions because it makes or breaks the stew. You will see renditions of green chile stew that are wan and pale. That tells you the cook was in a hurry, or he, for reasons known only to God, doesn't like browned meat.
Also, you will want to determine how much you want to actually see the roasted green chiles. They will dissolve as they cook, so you will either have them as a ghostly presence in your green chile stew, or, if you put them in during the final 30 minutes, you'll have them as a vegetable. Up to you. I do both. Mild chiles go in early, hot ones late.
(Here is a tutorial on how to roast green chiles, if you don't already know how.)
Which chiles you use is also a judgment call. Ideally, you would use Hatch chiles from New Mexico. But Anaheims are the same basic variety. Poblanos are an excellent alternative, albeit more Mexican than New Mexican, but any large not overly hot green chile will work. And yes, in this case, you can use canned or dried. I really love using homemade chiles pasados, the dried, roasted chiles they make in Durango and Chihuahua.
Finally, corn or no corn? I really like using chicos, the dried corn that is common in the Southwest. It's firm, even after long cooking, and starchy, not sweet. Use chicos if you can get them, otherwise simple fresh or frozen sweet corn is fine. Or leave it out.
Once made, your green chile stew will keep in the fridge a week. It can be pressure canned and frozen, too.
OTHER GREEN CHILE DISHES
Some of these are similar to green chile stew, some not so much, but all make good use of roasted green Hatch chiles, which I love.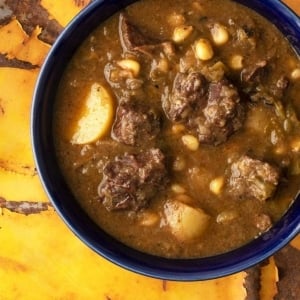 Green Chile Stew
This is an easy, New Mexico-style green chile stew. Use whatever meat you have lying around, although beef, venison or pork would be best in my opinion.
Ingredients
1

cup

dried field corn (chicos),

(optional)

1/4

cup

vegetable oil or lard,

divided

2 to 3

pounds

venison stew meat,

or beef or pork

Salt

1/2

cup

flour

2

cups

chopped white or yellow onions

4

cloves

garlic, chopped

1

tablespoon

cumin

1

tablespoon

Mexican oregano

(optional)

1

quart

venison or beef broth

1

pound

roasted, seeded green chiles,

chopped

1 1/2

pounds

Yukon gold potatoes,

cut in chunks

Black pepper and hot sauce to taste
Instructions
If you are using the dried corn, put it in a pot of water and start boiling it before you start anything else, because it can take a long time to soften.

Salt the venison well, then dust it in the flour, pressing the flour into the meat. Heat 2 tablespoons of the lard or vegetable oil in a Dutch oven or similar soup pot set over medium-high heat.

When the oil is hot, brown the meat in batches. Make sure no piece is touching another, and take your time with this. You want each piece well browned. Move them to a bowl as you go. You will likely need to add another tablespoon of oil late in this process.

When the meat is all browned, add the final tablespoon of oil and the onions. Stir this well, as the moisture from the onions will deglaze the pot. You want that. Sauté the onions until they too are nicely browned. This whole process, meat and onions, can take 30 minutes or more.

Add the garlic to the pot, stir well and cook a minute or three. Return the meat and all of the accumulated juices in the bowl to the soup pot. Add the cumin, oregano and broth, then another quart or even two of water. Stir and bring to a simmer. Add salt to taste. If you are using the field corn, move it from the plain water to the soup pot now to continue cooking.

If you want green chiles as an invisible presence in your stew, add them now. Or add some now and some later. Regardless, simmer the stew until the meat is mostly tender, anywhere from an hour for pork to three hours for an old deer or elk.

When the meat is getting close, add the potatoes and chiles, if you haven't already. You can add sweet corn here, too, if that's the choice you made. Simmer gently until the potatoes are ready, then add salt and pepper and serve.
Video
Nutrition
Calories:
350
kcal
|
Carbohydrates:
33
g
|
Protein:
32
g
|
Fat:
10
g
|
Saturated Fat:
7
g
|
Cholesterol:
96
mg
|
Sodium:
510
mg
|
Potassium:
1078
mg
|
Fiber:
5
g
|
Sugar:
5
g
|
Vitamin A:
32
IU
|
Vitamin C:
27
mg
|
Calcium:
47
mg
|
Iron:
6
mg
Nutrition information is automatically calculated, so should only be used as an approximation.