Green Chile Mac and Cheese
December 10, 2020 | Updated March 22, 2021
As an Amazon Associate I earn from qualifying purchases.
Sometimes you just want macaroni and cheese, right? Even I, Mr. Fancypants Wild Game Chef person, sometimes just wants comfort food, and in this case it was green chile mac and cheese.
I'd been feeling down, and was looking for ideas, so I started rummaging through my freezer. In it were several packets of roasted Hatch green chiles, which I'd put up several months before, and a few stray pheasant breasts.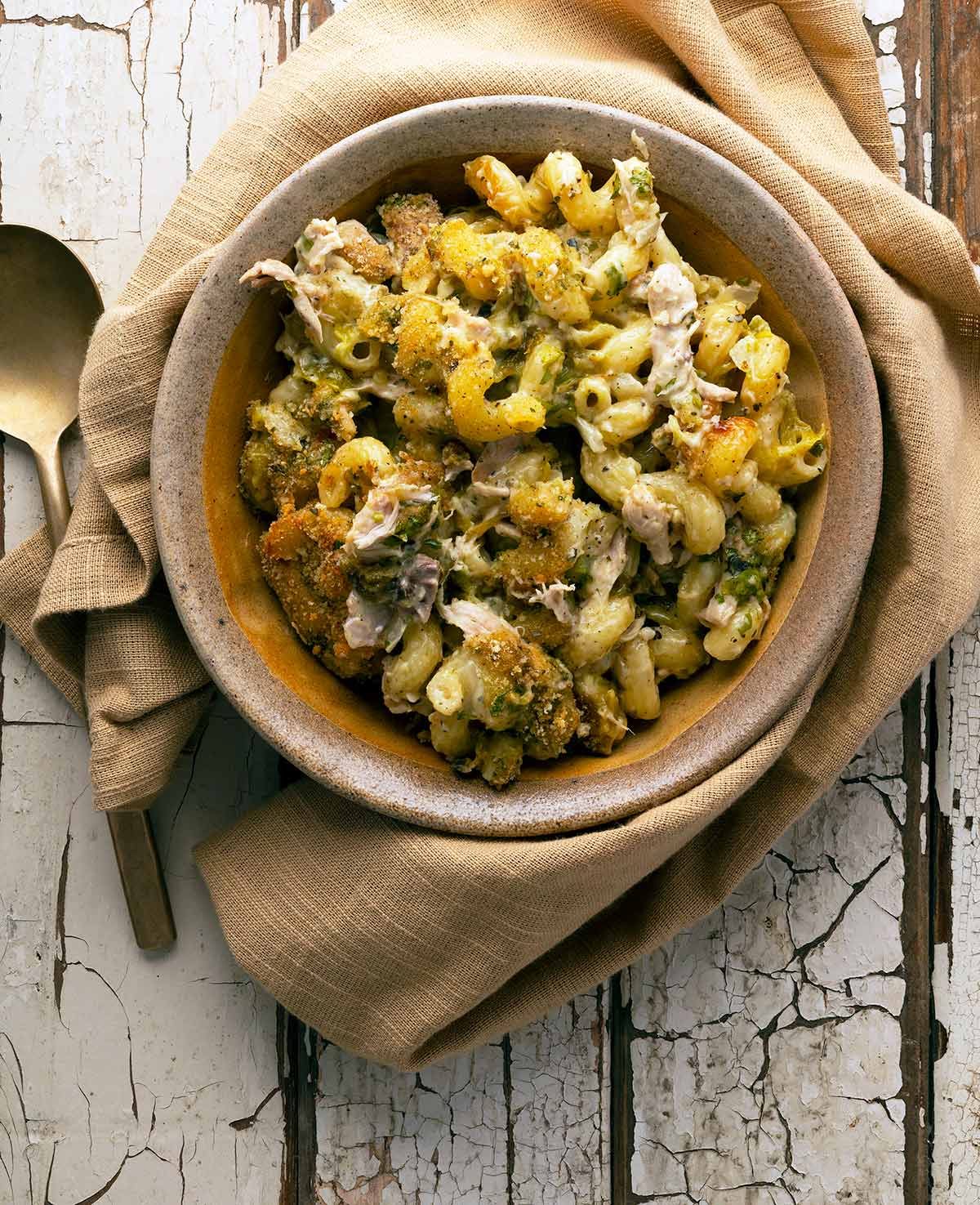 So there you go: Green chile mac and cheese, with pheasant. Obviously, you can use chicken or rabbit, or turkey or any other white meat. And actually, shrimp or crawfish tails would be good, too. (I make a mean shrimp mac and cheese.) Or skip the meat. Your call.
I like a lot of green chiles in the mac, so I mix both hot and mild ones. If you have just hot ones, it can get a little fierce. But you do you.
As for how you get your roasted green chiles, this is again, pretty up to you. I will tell you that it matters, though. The difference between chiles roasted over a smoky wood fire and canned ones is night and day, and you'll taste it. If you are not familiar with roasting green chiles, here's a useful video for ya.
Which green chiles is also up to you. While I won't actually come to your house and beat you up if you use green bell peppers, I might want to. They're just not right for green chile mac and cheese. I prefer either poblanos or Anaheims in the off season, since they are readily available, but real Hatch chiles in August and September.
Everyone makes mac and cheese differently. My mom made it the old fashioned way, with buttery breadcrumbs on top, casserole style, with lots of cheese and not a ton of sauce. So that's how I make it, too.
If you want a saucier mac and cheese, add up to 1 extra cup of whole milk. And it needs to be whole milk, or half and half. Lowfat milk can separate in this cooking process, which is gross.
You will be adding in the meat towards the end, so it needs to be pre-cooked. If you are using pheasant, chicken, quail, turkey breast, etc., I highly recommend that you gently poach it in some broth, or even just salted water if you don't have any broth handy. This method will keep the meat tender.
Like green chiles? I also make a mean green chile stew and green chile chicken soup, as well as green enchiladas, and chile verde.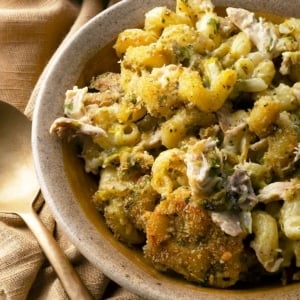 Green Chile Mac and Cheese
This is an old school mac and cheese recipe, with the breadcrumbs on top. If you want it saucier, add up to an additional cup of whole milk.
Ingredients
1

pound

pasta,

pre-cooked

5

tablespoons

butter

1

large white or yellow onion,

chopped

3

cloves

garlic,

minced

1

tablespoon

Mexican oregano

(optional)

1 1/2

cups

chopped roasted green chiles

(see headnotes)

5

tablespoons

all-purpose flour

2

cups

half and half

1/2

cup

whole milk

1 1/2

cups

shredded gruyere cheese

(or similar)

1

cup

shredded white cheddar cheese

1/2

cup

grated pecorino or parmesan cheese

8

ounces

cooked, shredded pheasant or chicken

1/4

cup

chopped cilantro or parsley

1/2

cup

breadcrumbs
Instructions
Heat the butter in a large sauté pan over medium-high heat. Sauté the onion for about 5 minutes, stirring often, then add the garlic and cook another minute. Preheat the oven to 350°F.

Add the flour to the pan and stir it in well. Drop the heat to medium, and let the flour cook a few minutes, stirring often. You don't want the flour to brown, but you do want it to color just a bit. Look for an ivory-beige color, which should take about 5 minutes.

Stir in the roasted green chiles and the oregano, if using. Now start stirring in the half and half and whole milk, little but little. Do this about 1/2 cup at a time, stirring each time. Wait until the mixture begins to simmer before adding the next 1/2 cup.

When the cream and milk is all in there, start doing the same thing with the shredded cheeses, adding them about 1/2 cup at a time, stirring until they are melted and incorporated before adding the next 1/2 cup. Mix in the cilantro and add salt and black pepper to taste.

Stir in the cooked pasta and the pheasant or chicken and mix well. Move all this to a casserole dish (a standard 9x13 is what I use), and pack it down evenly. Top with the breadcrumbs. If you want to add other seasoning, like a sprinkle of Cajun, Old Bay, Cavender's, chile powder or whatever, do that now. You can also dot the top with more butter if you'd like.

Bake this for about 25 minutes, or until the breadcrumbs start to brown. Take the casserole out and let it sit for 5 minutes before serving.
Nutrition
Calories:
666
kcal
|
Carbohydrates:
59
g
|
Protein:
30
g
|
Fat:
34
g
|
Saturated Fat:
19
g
|
Cholesterol:
113
mg
|
Sodium:
507
mg
|
Potassium:
369
mg
|
Fiber:
4
g
|
Sugar:
5
g
|
Vitamin A:
944
IU
|
Vitamin C:
6
mg
|
Calcium:
544
mg
|
Iron:
2
mg
Nutrition information is automatically calculated, so should only be used as an approximation.