Green Chile Pasado
August 22, 2019 | Updated June 15, 2020
As an Amazon Associate I earn from qualifying purchases.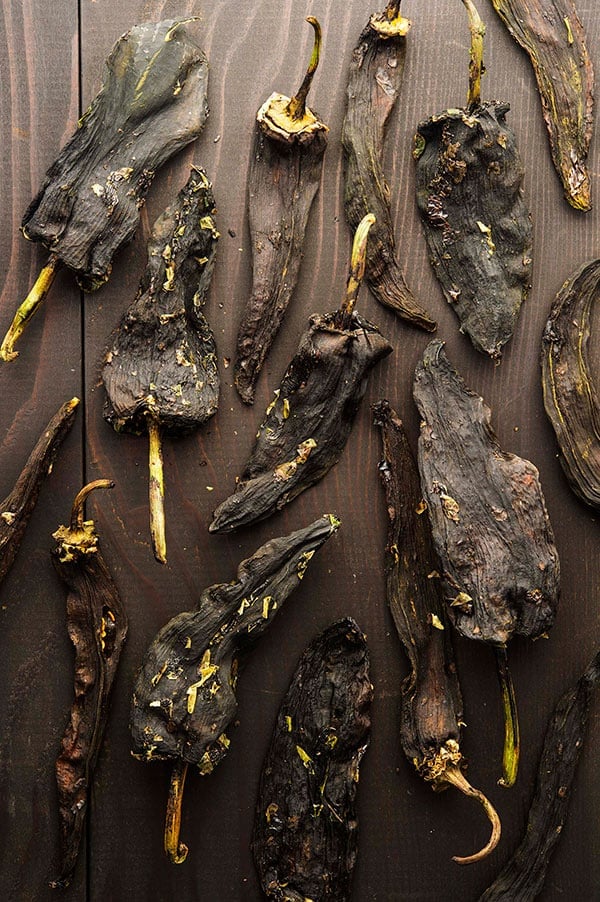 I came across a reference to chile pasado in a Spanish language cookbook focusing on the foods of northern Mexico. What is that, I thought?
Turns out that chiles pasados are not only a cool way to preserve green chiles, it's also a fantastic, lightweight dried food you can bring with you on camping or hunting trips.
Literally meaning "stale" or "worn" chiles, a chile pasado is basically a green chile, charred on the outside to blister and remove the skins, that is then dehydrated. You can do this with a dehydrator or you can do it the old fashioned way, by hanging the skinned chiles from their stems in the hot, breezy shade.
Chile pasado has its origin in the Mexican states of Chihuahua and Durango, and is believed to be pre-Columbian in origin, although the dried green chiles became excellent vaquero food for long, hot, dry cattle wrangling trips. If you can read Spanish, here's a cool entry on the history of chiles pasados.
Why bother doing this? First, because it's really interesting. Second, the dried chiles are light and portable. Third, no refrigeration necessary. Fourth, they taste great.
The rehydrated, fire-roasted green chiles, when added to tacos or included in tamales or in a guiso — a thick stew — are similar but different from their fresh cousins. Their texture is meatier, and the flavor more concentrated.
In theory, you can made a chile pasado from any chile, but traditionally you would use either poblanos or a Hatch-style chile, like an Anaheim. They can be either hot or mild.
How do I like my chile pasado? Well, it's the most amazing component of a "dried stew," an homage to the desert. Add it to carne seca, dried nopales, dried cholla buds, chiltepin chiles, and even dried onions or garlic powder. Add salt, and water, and you have an amazing feast out in the desert… or wherever you find yourself.
It is also amazing as the green chiles in my green chile mac and cheese recipe, as well as my New Mexican green chile stew.
Equipment
Dehydrator

String (optional)

Plastic produce bags
Ingredients
10

green poblano or Hatch-style chile, like Anaheim
Instructions
Roast the chiles. I do this over an open gas flame on my stovetop, but it's better done over a ragingly hot, smoky wood fire. You don't want to really cook the chiles, which is why I don't use my broiler or oven, but if this is all you have, go for it -- broil the chiles, turning often.

I char the skins of the chiles over the open flame until they are almost universally black.

When you've blackened each chile, put it in the produce bag to steam. When they're all done, let them steam in the bag until cool enough to work with. Remove the skins. I do this by scraping the skins off with a butter knife, from stem towards the point. Do not rinse the chiles, as this removes a lot of flavor.

To dry your chiles, hang them by the stem with the string in a hot, airy, dry place, like a garage in summer, or under a porch. Do not sun dry them, as this will bleach the chiles. Shade is key.

Alternatively, you can dry your chiles pasado in a dehydrator set at about 110F, more or less.

There's a trick to this: The section of the chile closest to the stem will take a long time to fully dry. When you hang the chiles, it dries them more evenly. If you are dehydrating, you will need to turn the chiles over a few times. It can take a full day in a dehydrator, up to a week in open air.
Nutrition
Calories:
15
kcal
|
Carbohydrates:
4
g
|
Sodium:
186
mg
|
Fiber:
2
g
|
Sugar:
2
g
|
Vitamin C:
7
mg
Nutrition information is automatically calculated, so should only be used as an approximation.