As an Amazon Associate I earn from qualifying purchases.
A Southwestern-style green chile chicken soup, with roasted green Hatch chiles, white beans, greens and a rich broth. I made mine with pheasant, and any white meat will work.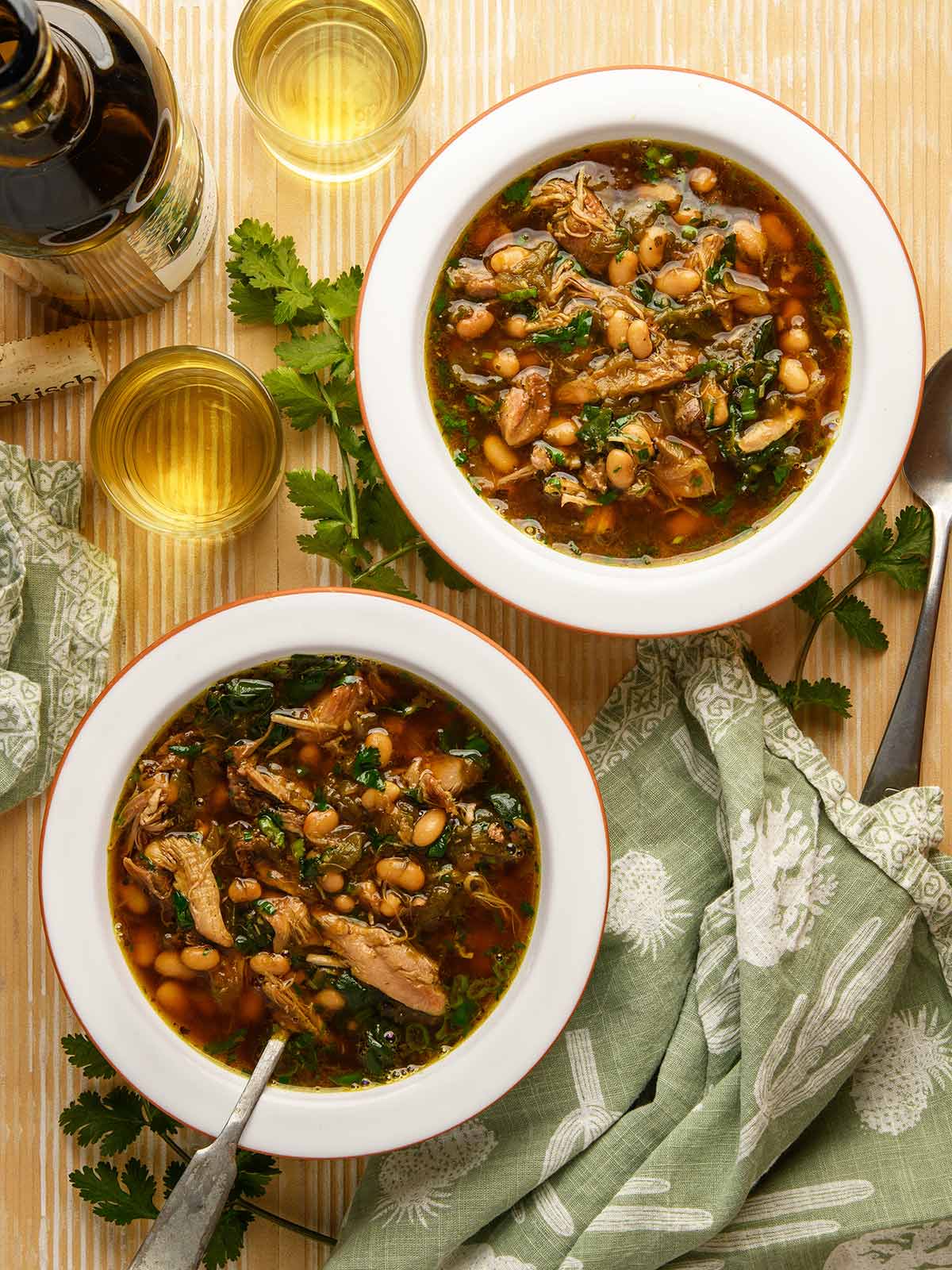 The Desert Southwest loves its green chiles, and this green chile chicken soup takes many forms, depending on who cooks it. Some have beans, some chicos, which are dried corn kernels, some potatoes — some all of these things.
My rendition just uses some simple white beans, but it relies on a great broth that, I think, is the star of the show. It's a soupier version of my pheasant white chili recipe.
This soup is also dairy free, but if you want — or if you messed up and used really hot green chiles — a dollop of sour cream can be a nice touch.
Making Green Chile Chicken Soup
I'll first walk you through the weekend version, which is much nicer, but takes longer. Then I'll give you weeknight hacks to make this quckly.
You want to start with either a whole chicken, pheasant, a couple grouse, some partridges, a few quail or a couple rabbits — yes green chile chicken soup can be green chile pheasant soup or whatever.
You'll simmer the meat to make a nice broth, strip the meat off the bones and strain the broth. Cook some beans — in the broth if you don't care if it gets cloudy, or separate if you do — add them, plus some roasted green chiles, chard or some other green thing, and sauteed onions and garlic.
Let them get to know each other a bit in the pot, add fresh cilantro or parsley and eat.
You can also speed things up by using premade chicken broth (or game broth) and thighs, legs, and wings, which cook in the broth.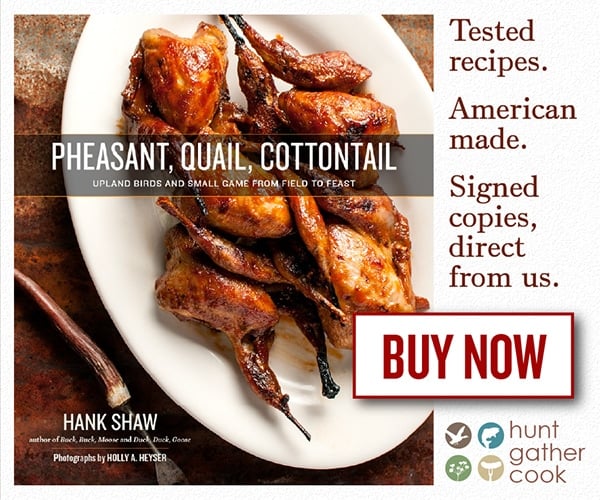 Quick Hacks
Want to make green chile chicken soup fast? Do this.
Use canned white beans. Rinse them well.
Use premade chicken or game stock.
Dice breast meat from chicken, pheasant or other white meat birds.
Use frozen or canned green chiles that are already roasted.
Do all these and it will still be a nice soup, just not as lovely as the weekend version.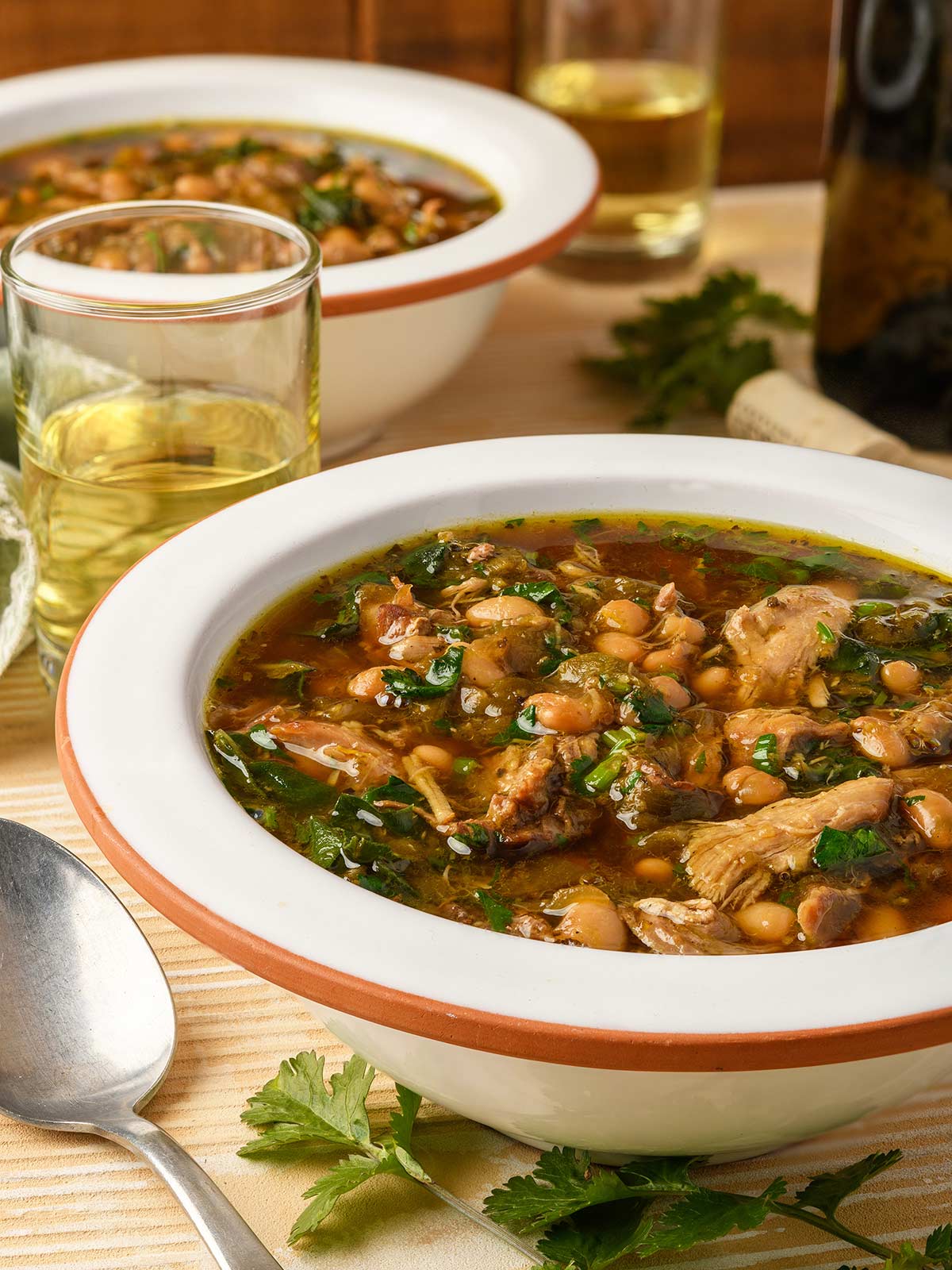 The Green Chiles
Obviously you need green chiles for green chile chicken soup. You have choices. My preference would be roasted Anaheim chiles, which are the generic Hatch chile. That's the most Southwest option.
Poblanos would be my second choice, followed by chilaca or those giant jalapenos you can find in supermarkets that are very hot.
If you are not going to roast your own chiles, sometimes you can find frozen ones in the supermarket, especially in a Latin market. Canned green chiles are okay, too in this case.
One other option I love to use are dried, roasted green chiles, called chiles pasados in Mexico. (Here's how to make chiles pasados yourself.)
Other Green Chile Dishes
Some of these are similar to green chile chicken soup, some not so much, but all make good use of roasted green Hatch chiles, which I love.
If you liked this recipe, please leave a ⭐️⭐️⭐️⭐️⭐️ rating and a comment below; I'd love to hear how everything went. If you're on Instagram, share a picture and tag me at huntgathercook.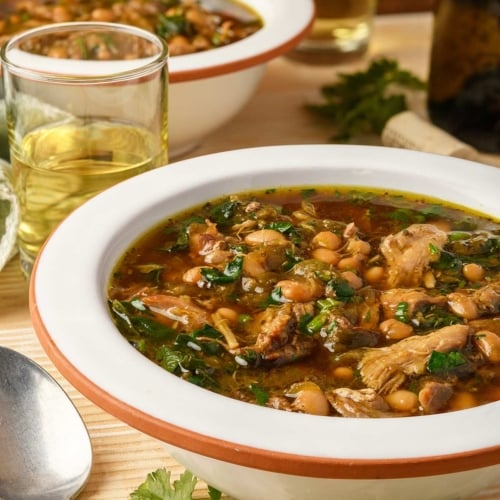 Green Chile Chicken Soup
This is a versatile soup you can make with chicken or any other white meat, like pheasant, grouse, quail or rabbit. What follows below is the better, "weekend" version of the soup. If you want to make this fast, see the headnotes above for weeknight hacks.
Ingredients
2

cups

dried beans

(white, pinto or whatever)

3

tablespoon

olive oil

1

large yellow onion,

sliced root to tip

Salt

5

cloves

garlic,

minced

1

chicken or pheasant

2

teaspoon

dried Mexican oregano

(or regular oregano)

2

bay leaves,

or avocado leaves

6

green chiles,

roasted and roughly chopped

1/2

pound

chard or other leafy green,

roughly chopped

1/2

cup

chopped cilantro

Lime juice,

to taste

Freshly ground black pepper,

to taste
Instructions
Cover the beans with water by several inches and bring to a simmer. Let these cook gently by themselves. Doing this keeps the broth clear and results in the best-tasting beans, because they don't want salt at the beginning, and the broth does. Add salt to the beans once they are tender. Strain and reserve.

Get a large soup pot hot over medium-high heat and add the olive oil. When it's hot, sauté the onions until nicely browned. This can take 10 minutes or so. Add the garlic and cook another minute.

You have two options with the chicken, pheasant or whatever: You can joint it or not, and you can roast it or not. You'll get different results if you joint and brown the meat first than if you pop a whole chicken into the pot raw. They're all good, so do what makes you happy.

Regardless, when the onions are ready, submerge the bird with water and bring to a simmer. Add salt to taste, along with the bay or avocado leaves and the Mexican oregano. Let this simmer until the chicken or pheasant is super tender, about an hour for a supermarket chicken, 2 1/2 hours for a pheasant.

Fish out the bird, let it cool a bit on a baking sheet. Pull the meat from the bones, making sure it's in pieces you'd want to eat with a spoon, and add it all back to the soup.

Add the beans, green chiles and chard and let this simmer for 10 minutes. Add salt, black pepper, and lime juice to taste, then stir in the cilantro and serve.
Notes
This soup will keep a week in the fridge and freezes well. It can also be pressure canned. 
Nutrition
Calories:
535
kcal
|
Carbohydrates:
34
g
|
Protein:
50
g
|
Fat:
22
g
|
Saturated Fat:
5
g
|
Polyunsaturated Fat:
3
g
|
Monounsaturated Fat:
11
g
|
Cholesterol:
121
mg
|
Sodium:
248
mg
|
Potassium:
1186
mg
|
Fiber:
9
g
|
Sugar:
3
g
|
Vitamin A:
2114
IU
|
Vitamin C:
26
mg
|
Calcium:
89
mg
|
Iron:
6
mg
Nutrition information is automatically calculated, so should only be used as an approximation.