Venison Tenderloin with Blueberry Sauce
November 03, 2014 | Updated June 06, 2022
As an Amazon Associate I earn from qualifying purchases.
Venison and blueberry sauce, or huckleberries if you live here in the West, is an ancient and well-respected combination. One that I'd hated for years. Every version I'd had was cloying, sticky, a weird sweet and not very sour flavor that just didn't suit me. Long ago I told myself that I'd just avoid this particular classic.
And then I read a quirky little book on, of all things, the food of Iceland. Icelandic Food & Cookery, by the memorably named Nanna Rognvaldardottir, has all kinds of cool recipes in it, and you can expect to see some here in the coming months.
Her version of this dish, done with lamb, was the first one I'd seen that was not obviously sweet. Her use of mushrooms in a berry sauce was pretty unusual, too. So I studied the recipe, made a few changes and gave it a go.
I am glad I did. This dish is a knockout.
The venison itself is cooked very simply — just seared medium-rare in a pan with some clarified butter — but the sauce has all kinds of layered flavors. Seared onions and wild mushrooms, a little garlic, wine, stock, the mushroom soaking water, and only then the blueberries. I used wild huckleberries I had frozen, and they are smaller and more acidic than store-bought blueberries. They actually act as a zippy tart balance to the savory sauce, not as a sugary bomb.
One cool option might be to use pickled blueberries, which last forever in the fridge. That adds even more tartness to the dish.
I served this alongside some Irish colcannon, which is a fancy name for mashed potatoes with a green thing mixed in. I used nettles I had from the freezer, but any green will do. Spinach would be easiest, but kale is pretty traditional in Ireland, and the Icelanders eat it, too.
The blueberry sauce is a must-try with your next piece of venison tenderloin or backstrap. It's a date night dish that takes less than an hour to put together, too.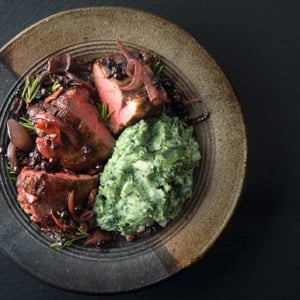 Venison with Blueberry Sauce and Colcannon
I love this recipe with tenderloins, but backstrap or even a well-cut leg steak would work. And of course this will work with duck, goose, beef or lamb, too. You'll notice I use both clarified and regular unsalted butter here. I like the clarified because it has a high smoke point and is better for searing than regular butter; milk solids burn easily. You can buy it in many markets labeled as Indian ghee, or you can make your own. Or use another fat or oil. As for the mushrooms, I used dried morels. Any good dried mushroom will do. You want that mushroom soaking water, so don't use fresh mushrooms. Port wine can be a nicer kick in the sauce than red wine, but it's strong -- if you use Port instead of red wine, use only 1/4 cup. Finally, remember that this is a savory sauce, despite the blueberries (or huckleberries). If this is weird to you, add some sugar.
Ingredients
Tenderloins from a deer

or 1/2 pound venison backstrap

Salt

2

tablespoons

clarified butter,

regular unsalted butter, lard, duck fat or vegetable oil

3

tablespoons

unsalted butter

1

small onion,

peeled and sliced root to tip

1

garlic clove,

minced

3/4

ounce

dried mushrooms,

wild if possible, reconstituted in 1 cup hot water

1/2

cup

venison stock or beef stock

1/2

cup

red wine

1/2

cup

blueberries or huckleberries,

fresh or thawed

1

teaspoon

fresh rosemary

minced

Black pepper to taste

Malt or red wine vinegar

to taste

Sugar

optional
COLCANNON
2

large russet potatoes,

peeled and diced

Salt

2

or 3 three tablespoons unsalted butter

1

or 2 heaping tablespoons sour cream or heavy cream

1

cup

chopped spinach or other greens
Instructions
Take the venison out of the fridge and salt it well. Let it set on the cutting board while you rehydrate the mushrooms and boil the potatoes for the colcannon.

Put the diced potatoes into a pot of salted water and bring to a boil. Simmer until tender. Drain the potatoes and put them back in the pot. Turn the heat to low under the pot and let the potatoes steam for a few seconds.

Beat in the butter, sour cream and chopped vegetables. You want nice mashed potatoes with green streaks. Add salt to taste, cover the pot, turn off the heat and set aside.

Get a large saute pan and put 2 tablespoons of unsalted butter into it. Turn the heat to high and when the butter is hot, add the sliced onion. Saute over medium-high heat until browned along the edges, about 4 to 5 minutes. Turn off the heat, remove the onions and set aside.

Wipe the pan with a paper towel. Pat the venison dry and put the clarified butter into the pan. Set it over high heat until the butter is very hot, but not smoking. Add the venison and sear until medium-rare. If you don't know to tell when the meat is done, use the finger test for doneness. When the venison is done, move it to rest on a cutting board.

Return the onions to the pan, add the mushrooms and garlic and saute over medium-high heat for 2 to 3 minutes, stirring often. Sprinkle some salt over everything and add the wine.

Boil this down until it's almost gone, using a wooden spoon to stir up any browned bits on the bottom of the pan. Add the stock and mushroom soaking water (strain the water if there is any debris in it) and boil this down by two-thirds.

Add the huckleberries or blueberries and cook another minute or two, Add black pepper, salt and vinegar to taste. If you want it sweet, add some sugar now; start with a teaspoon or two. Garnish with the rosemary.
Notes
I served this with a really good Spanish red wine, but any full-bodied red will work, or if you are a beer drinker, a malty Scottish ale or porter is the ticket.
Nutrition
Calories:
597
kcal
|
Carbohydrates:
60
g
|
Protein:
8
g
|
Fat:
33
g
|
Saturated Fat:
21
g
|
Cholesterol:
86
mg
|
Sodium:
151
mg
|
Potassium:
1431
mg
|
Fiber:
6
g
|
Sugar:
8
g
|
Vitamin A:
1931
IU
|
Vitamin C:
24
mg
|
Calcium:
60
mg
|
Iron:
3
mg
Nutrition information is automatically calculated, so should only be used as an approximation.