Grilled Mushrooms
June 08, 2020 | Updated March 15, 2021
As an Amazon Associate I earn from qualifying purchases.
Grilled mushrooms can range from anything from a weeknight supper to a rare and special treat. It all depends on the mushroom.
As you can see, I used porcini for this recipe. That's because I collect them in the Sierra Nevada here in California. They are, in my opinion, the best grilled mushoom, although the matsutake is a close second.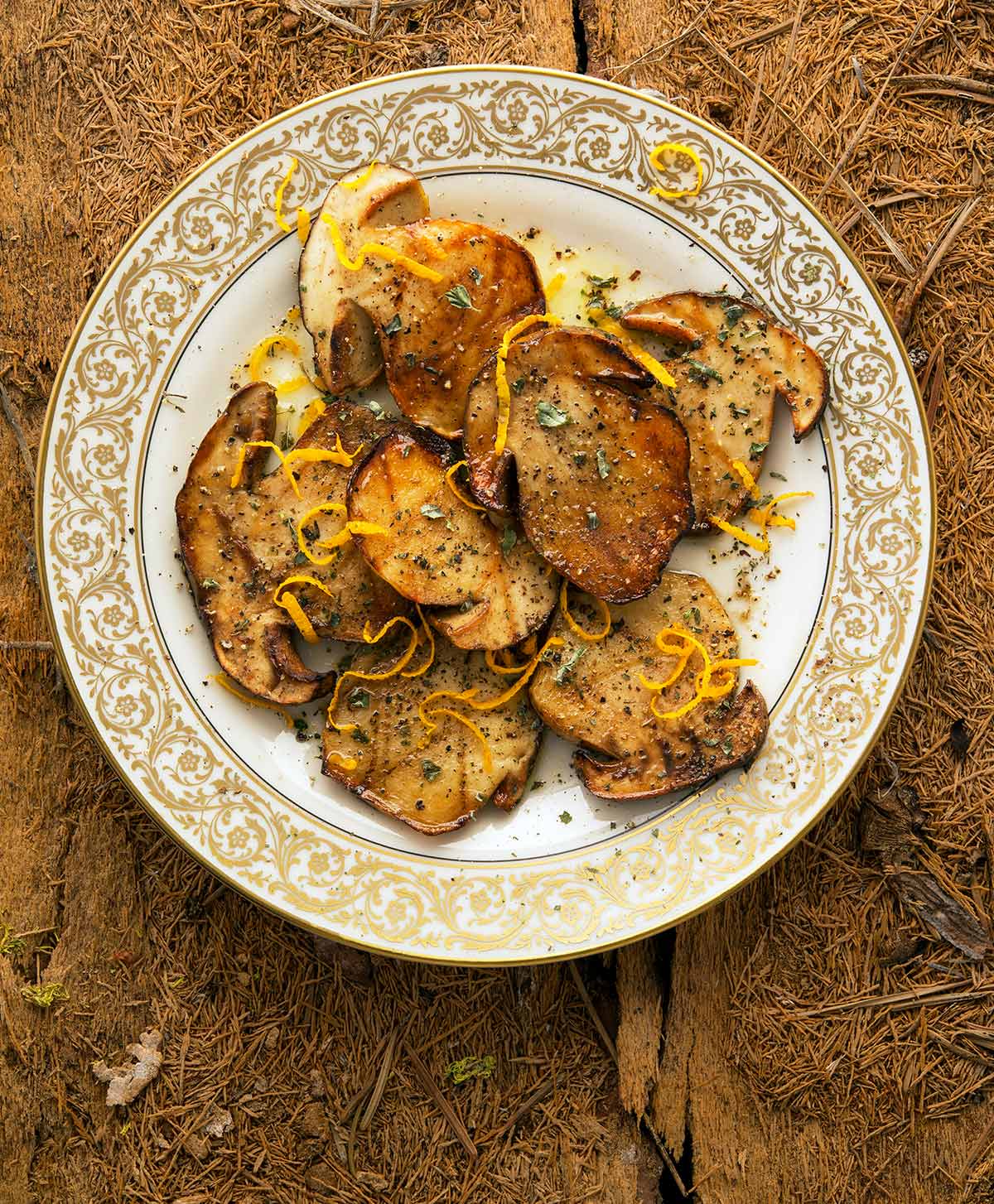 That said, store-bought portobellos or large shiitake mushrooms work fine; just use the caps.
Whatever mushroom you grill, you need it to be large and firm for this to work right. King trumpet mushrooms work well, as do lobster mushrooms, really big chanterelles, other boletes, the caps of big agaricus like the Prince, or maybe a really large hedgehog. Cross sections of hen of the woods grill well, too.
Roaring high heat is the key to great grilled mushrooms. I get my grill up to 500°F or more. You could roast them in an oven at that temperature, too. Lay the mushrooms down on the cut side and don't move them for a long while — you want those pretty grill marks.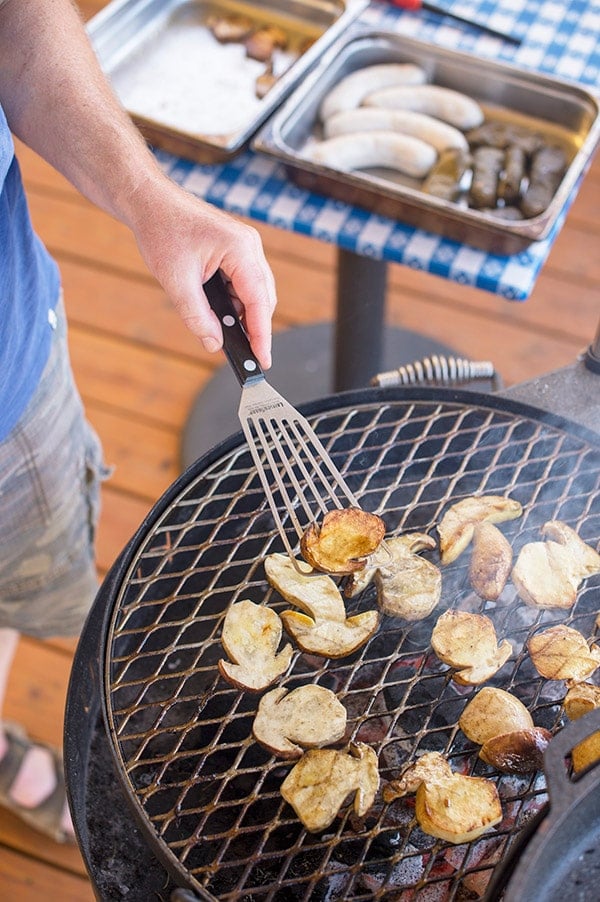 I know this plate looks fancy, but it's not. All this is are grilled mushrooms tossed with really good olive oil, salt and pepper, a bit of oregano and lemon zest. You can play with this as much as you want, altering the oil, the herbs and the acidic element. Verjus or good vinegar works as well a citrus.
Porcini, when grill-roasted like this, take on a dense, meaty texture. They smell of the forest and of that musky warmth that attracts most mammals. And they taste savory, are tender in the center yet crispy on the edges, juicy and just faintly sweet. They taste like the best mushroom you've ever eaten. Because they are.
I serve these grilled mushrooms as a side dish to other grilled things — we did sausage and stuffed grape leaves in the picture — or, it make s a fine vegetarian centerpiece, too.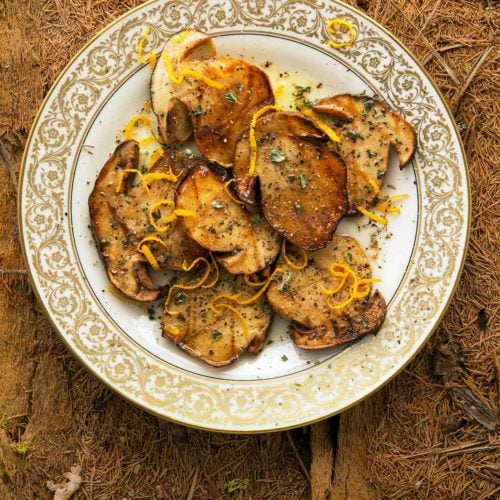 Grilled Mushrooms
This is a very simple recipe, so you can play with it. I use porcini mushrooms here, but any thick mushroom works. See the headnotes for options. Once made, these will keep a couple days in the fridge.
Ingredients
1

pound

mushrooms

3

tablespoons

extra virgin olive oil

Salt,

finely ground

Juice and zest of a lemon

1

teaspoon

dried oregano

Black pepper to taste
Instructions
Get your grill hot, and make sure the grill grates are clean.

Make sure the mushrooms are clean by wiping them with a damp paper towel and/or trimming dirty parts with a knife. You are looking for largish pieces that can stand up to the grill, so anything about 1/4 inch to 1/2 inch is good. I mostly prefer thick slices of porcini, or portobello caps.

Toss the mushrooms in oil and salt them well. Lay them cut side down on the grill and let them sear until you get good grill marks, typically about 3 to 5 minutes. Turn them over and give the mushrooms another 2 to 3 minutes. You want browning, but not dried out mushrooms.

Move the mushrooms to a bowl and toss with a bit more olive oil, crumbled oregano leaves, lemon zest and juice, and some black pepper.
Nutrition
Calories:
119
kcal
|
Carbohydrates:
4
g
|
Protein:
4
g
|
Fat:
11
g
|
Saturated Fat:
2
g
|
Sodium:
6
mg
|
Potassium:
361
mg
|
Fiber:
1
g
|
Sugar:
2
g
|
Vitamin C:
2
mg
|
Calcium:
11
mg
|
Iron:
1
mg
Nutrition information is automatically calculated, so should only be used as an approximation.