Swedish Potato Dumplings
December 30, 2019 | Updated June 06, 2022
As an Amazon Associate I earn from qualifying purchases.
I must admit that when I first saw them, I wasn't too keen on Swedish potato dumplings, called kroppkakor. Most were giant balls of potato, boiled. Meh.
And then I saw that kroppkakor are sometimes fried in butter or vegetable oil instead. Much better.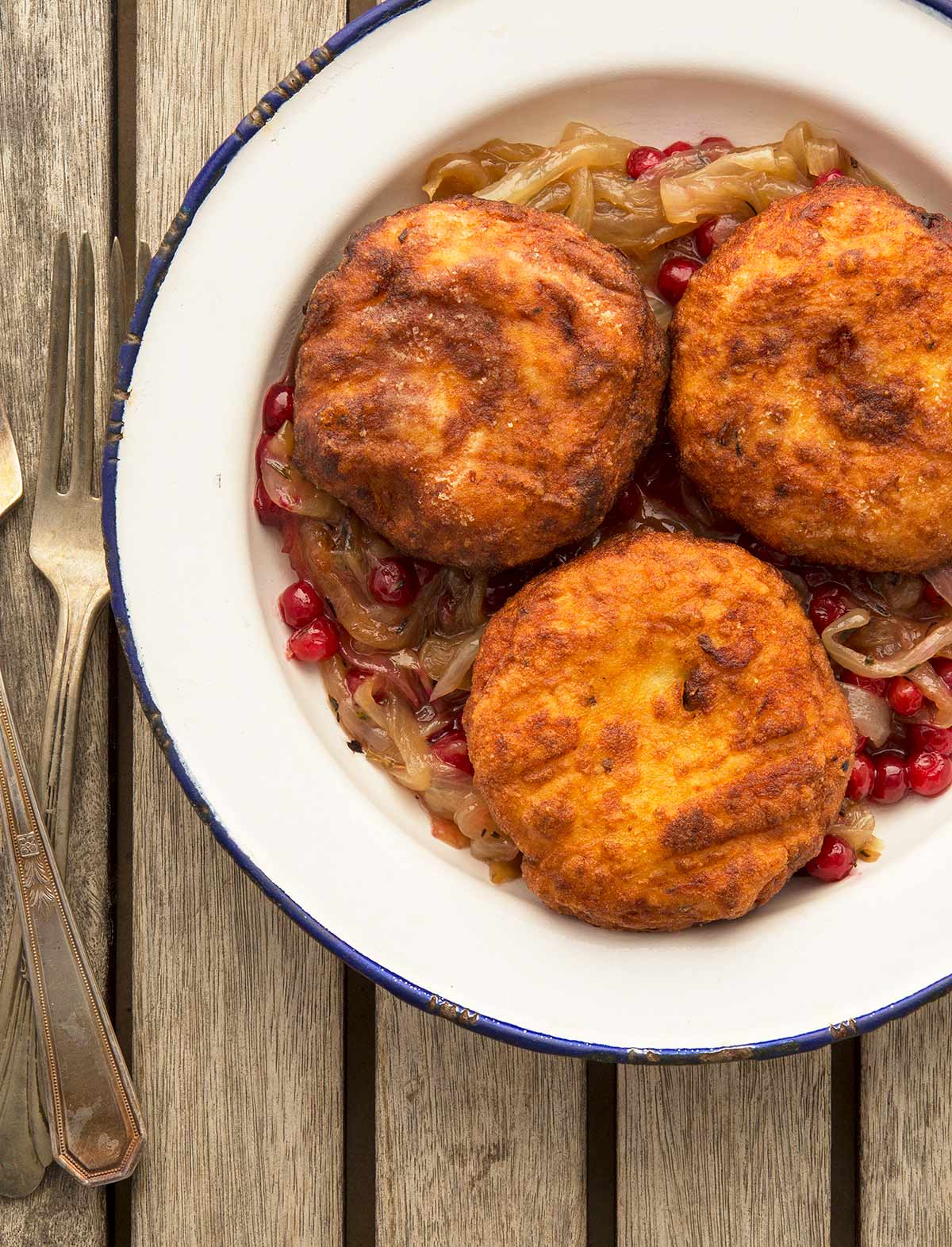 Typically these dumplings are filled with meat. Any meat will do, but to get super Nordic I used ptarmigan, a small, dark-meat grouse that lives in the colder places on this earth. More traditional, although I am betting that someone in Scandinavia makes kroppkakor with grouse, would be beef, pork or chicken. Generally you want lean, diced or shredded meat.
(I also have a lovely recipe for pan-roasted ptarmigan, too, in case you are looking for such a thing.)
I say lean because you mix whatever meat you are using with chopped bacon. Many times Swedish potato dumplings are filled only with bacon. That's fine, too.
As for the dough, it is, more or less, like an Italian gnocchi dough, only you add eggs as an extra binder: Flour, mashed potatoes, eggs, salt and pepper. Unlike Italian gnocchi, you want this dough to be a bit sturdier so they don't fall apart, so you add more flour. This lets you roll out the dough and cut it into shapes. It'll still be soft and sticky, but a lot easier to work with than true gnocchi dough.
Once made, you can drop your kroppkakor into simmering water, but frying them in butter is so much better. After all, everything in the dumpling is cooked beforehand, so you don't need to cook the hell out of them, just set the eggs. And, well, butter.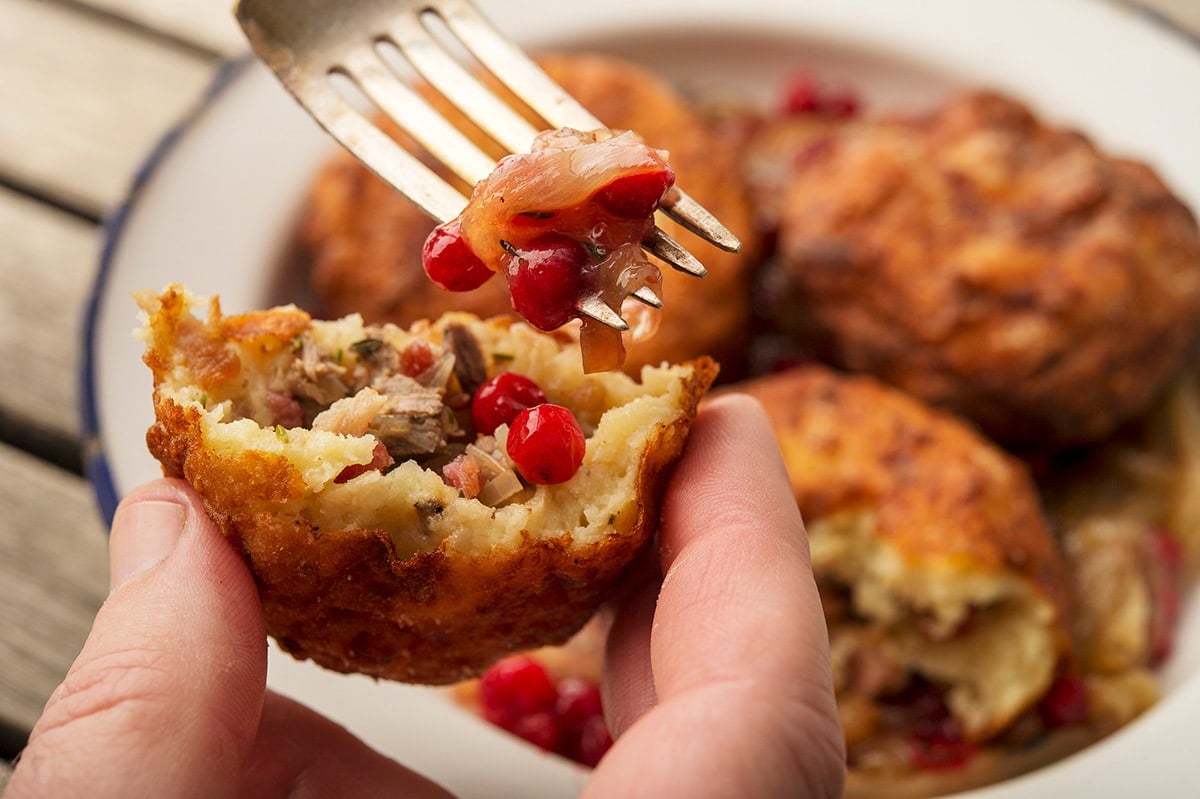 Serve your potato dumplings with horseradish cream, or, as I did, with lots of caramelized onions. Toss some tart berries, like lingonberries, wild blueberries, currants, or cranberries, into the caramelized onions right at the end to add some tartness to the dish.
Swedish potato dumplings really ought to be made and eaten right away. They don't hold up well uncooked, and while you can fry them and them flash fry again a few hours later to reheat, allowing you to make a batch before your company arrives, they do not freeze well.
Incidentally, kroppkakor are an excellent accompaniment to my venison Swedish meatballs.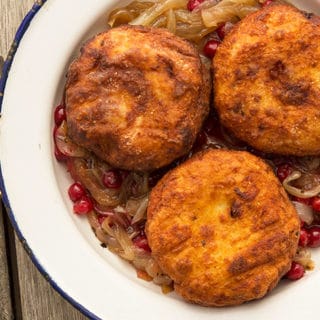 Swedish Potato Dumplings
These are great appetizers for a party, as they come together quickly and are fun to eat. Fill them with whatever makes you happy. In this case, it's chopped bacon, shallot and shredded grouse. If you want to make caramelized onions to go with this, follow this recipe.
Ingredients
FILLING
1

cup

leftover meat, diced or shredded

(see above)

4

slices

bacon

2

shallots, minced fine

1/2

teaspoon

dried thyme
DOUGH
2

pounds

russet potatoes

2

eggs

1

cup

flour

Salt and black (or white) pepper,

to taste

Vegetable oil, for frying
Instructions
Preheat the oven to 425F. Poke the potatoes all over with a fork and wrap them in foil. Set them in the oven to bake for 1 hour.

Meanwhile, to make the filling, fry the bacon in a pan over medium-low heat until crispy. Remove and chop it fine. Add the minced shallots to the pan and cook them in the bacon fat until soft and translucent, about 3 minutes. Mix together the chopped bacon, shredded meat, thyme and cooked shallots, along with some of the bacon fat in the pan, in a bowl. Set aside.

When the potatoes are done, cut them in half to release heat. As soon as they are cool enough to handle, but still warm, peel and run them through a potato ricer or food mill. If you don't have either, Peel and mash them well. Put the potato into a bowl.

If you are making caramelized onions, start them now.

When it is cool enough to not curdle the eggs, generally warm to your hand but not unpleasantly hot, mix in the flour, salt and pepper and then the eggs and mix well. Very quickly this will become dough-like, and at that point you will want to knead it. If the dough is still very sticky, add some more flour.

To make the dumplings, roll out the dough on a floured surface until it is about 1/4 to 1/2 inch thick. Cut circles out with a cutter or a wineglass or somesuch. Use a thin metal spatula to lift a circle off the counter and hold it in your off hand. Add about a heaping teaspoon of filling (depending on how large your circles are) to the center of the circle in your hand. Lift up another dough circle and place it on top. Pinch the edges closed and gently shape the dumpling into a fat disk. Set on a baking sheet that's either been floured or that has parchment paper in it.

Repeat this with the rest of the dough, re-rolling and reforming the scraps as needed, until the dough or the filling is all used up.

Heat to about 350F enough vegetable oil to come up to a depth of about 1 inch in a heavy pan. Turn your oven to "warm" and set a cooling rack placed on a baking sheet inside. Fry 2 or 3 dumplings at a time -- you don't want them to touch when frying or else they will stick to each other -- only until golden brown, about 2 minutes per side. Serve hot.
Nutrition
Calories:
246
kcal
|
Carbohydrates:
34
g
|
Protein:
12
g
|
Fat:
7
g
|
Saturated Fat:
2
g
|
Cholesterol:
67
mg
|
Sodium:
113
mg
|
Potassium:
589
mg
|
Fiber:
2
g
|
Sugar:
1
g
|
Vitamin A:
66
IU
|
Vitamin C:
7
mg
|
Calcium:
28
mg
|
Iron:
2
mg
Nutrition information is automatically calculated, so should only be used as an approximation.