As an Amazon Associate I earn from qualifying purchases.
I make pesto out of a lot of things. I have recipes on this site for parsley pesto, ramp pesto, even nettle pesto. But of them all, I like arugula pesto the best. It's the zippy flavor of the arugula, I suppose.
A long time ago, I fell in love with a kind of wild arugula called selvatica I saw in a seed catalog. The idea of wild arugula popping up all over the yard was pretty appealing. So I planted it all over the place. It's a decision I have not regretted, although every spring I am overrun with the peppery green.
Selvatica is prettier and more peppery than supermarket arugula, but it's disadvantage is that once the weather gets consistently above, say, 75°F, the leaves get impossibly bitter. It is also invulnerable to disease and attacks by pests, and grows a taproot to China, so once it's in your yard it is there to stay. But this is a good thing, if you like arugula.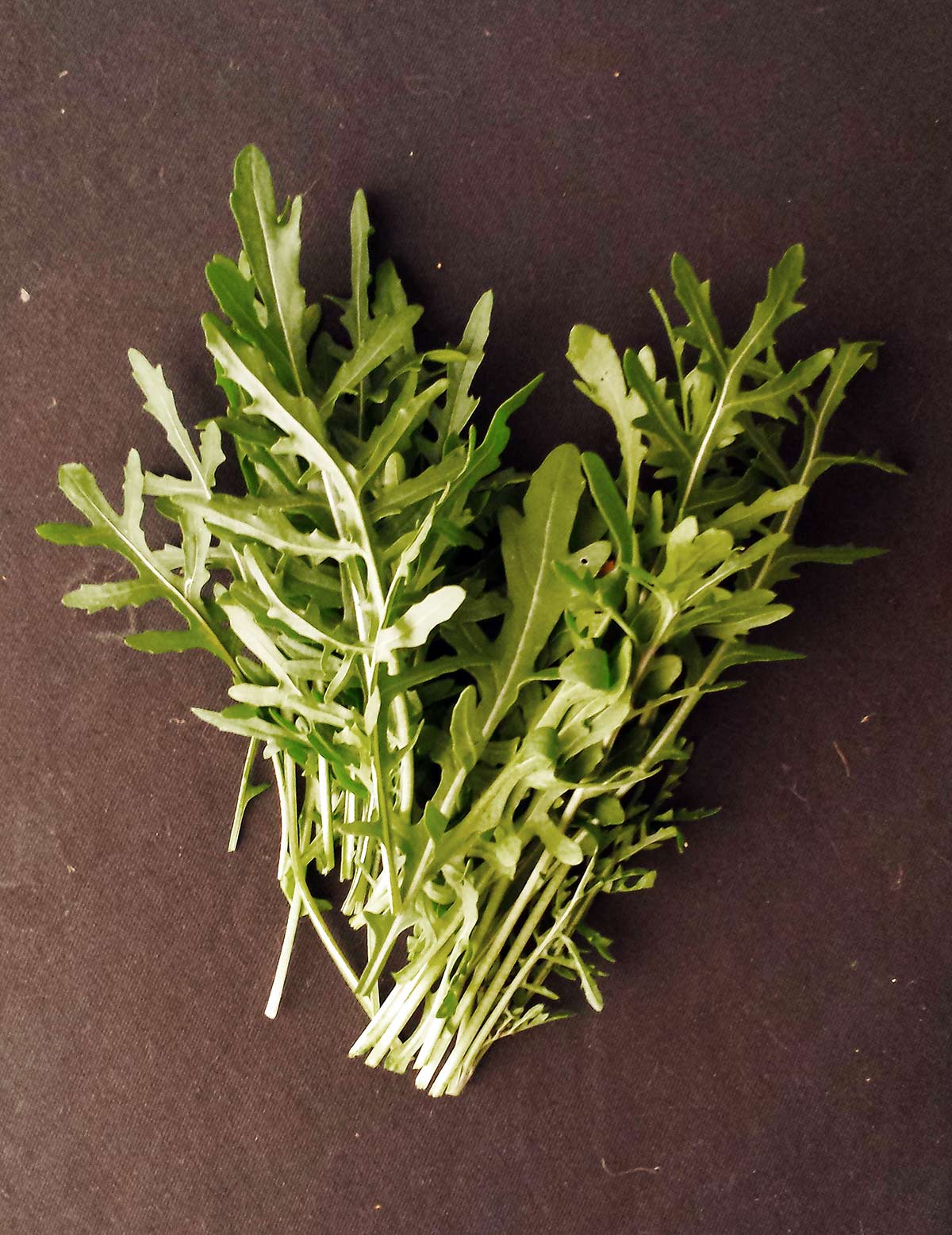 I do. And I especially like making arugula pesto with "wild" arugula and some wild pine nuts from our local bull pines or piñons.
Pesto is best made with a mortar and pestle. Thus the name, which basically means "pounded." If you do this, the flavors and texture will play together more smoothly than if you do this in a blender or food processor. But those work, too.
All pesto relies on a few key ingredients, and the quality of those ingredients goes a long way toward making a better pesto. Arugula pesto obviously needs fresh arugula, and many supermarkets sell it (dandelion greens, peppercress or watercress make great substitutes), a nut of some sort — I like pine nuts, but walnuts are an excellent option, too — cheese and oil.
Since this is Italian, extra virgin olive oil is a must, and in my opinion, the robust, peppery ones work very well here. But use a nice one, whatever you do.
For the cheese, it's your call. I prefer pecorino, but parmesan is just as good. Both need to be freshly grated. If you use the pre-grated stuff in the green can, somewhere an Italian grandmother dies…
After that, a garlic clove or two, and maybe a splash of lemon juice (Meyer lemon if you want to get all ritzy) brings it all together.
How to Use Arugula Pesto
Far and away my favorite use for arugula pesto is with pasta. For the photos, I made some simple gnocchi ricci from my colleague Jenn Louis' excellent book Pasta by Hand: A Collection of Italy's Regional Hand-Shaped Pasta. It's a stupid easy shape to make and works well with this arugula pesto.
Other great uses are on crusty bread or mixed with rice.
Arugula pesto plays well with fish, white meats of all kinds, like chicken, turkey, quail, grouse and pheasant, as well as rabbit. Try tossing some with simply steamed shrimp.
Once made, it will keep for a week in the fridge, so long as you pour a layer of olive oil over the top to seal the pesto. And you can freeze arugula pesto, too. I've thawed some a year later and it was fine.
Want some other ideas for pesto? Try my recipes for parsley-walnut pesto, Sicilian red pesto, ramp pesto or nettle pesto. All are a little different, and all are worth your time.
Arugula Pesto with Pasta
Any variety of arugula will work, as will any other peppery green for that matter; dandelion greens or cress are great substitutes. And of course basil or parsley work, too. As for the pasta, if you don't feel like making your own, any store-bought will do. I'd choose orecchiette, fusilli or gemelli.
Ingredients
PESTO
3

garlic cloves,

chopped

2

tablespoons

toasted pine nuts,

chopped

Salt,

to taste

2

tablespoons

grated cheese

(I like pecorino)

About 2 cups chopped arugula

1

tablespoon

lemon juice,

or to taste

Olive oil

(use the good stuff)
Instructions
Put the garlic and pine nuts, plus a pinch of salt, into the mortar and pound it until the bits no longer jump out of the mortar. Add some of the cheese and some of the arugula a little at a time and keep pounding and mixing with the pestle. Keep doing this until you have a pretty good paste. Grind in the lemon juice, then drizzle in a little olive oil and keep grinding and pounding. Keep doing this, little by little, until the pesto is the consistency you want: You'll need between 1/4 and 1 cup, depending on how loose you want the sauce.
ALTERNATE METHOD
Put the pine nuts, garlic, salt, cheese, arugula and lemon juice into a food processor and buzz into a paste. You will need to scrape down the sides of the food processor a couple times. Then, drizzle in the olive oil with the motor running until you have a sauce the consistency you want; loose for pasta, tight for bread.

Cover the pesto with a layer of olive oil, or set plastic wrap directly on the pesto's surface (this prevents the arugula from turning brown), and set it aside at room temperature before eating.
Notes
Drink a dry rosé or a crisp white wine with this. For beers, go with a pale ale, a session IPA or a wheat beer. And actually, this is pretty good with macro beers like Bud and Coors, too.
Nutrition
Calories:
36
kcal
|
Carbohydrates:
1
g
|
Protein:
1
g
|
Fat:
3
g
|
Saturated Fat:
1
g
|
Cholesterol:
3
mg
|
Sodium:
18
mg
|
Potassium:
26
mg
|
Fiber:
1
g
|
Sugar:
1
g
|
Vitamin A:
28
IU
|
Vitamin C:
1
mg
|
Calcium:
23
mg
|
Iron:
1
mg
Nutrition information is automatically calculated, so should only be used as an approximation.