Salmon Piccata
September 21, 2020 | Updated March 29, 2021
As an Amazon Associate I earn from qualifying purchases.
While this is a salmon piccata recipe, you will want to learn it because even if you don't like salmon, this recipe works for many things, not just salmon. Piccata is an Italian sauce of butter, parsley, shallots, white wine, lemon and capers.
Piccata is especially good for pounded cutlets. Historically veal, but more commonly chicken these days. I have a great recipe for pheasant piccata, too.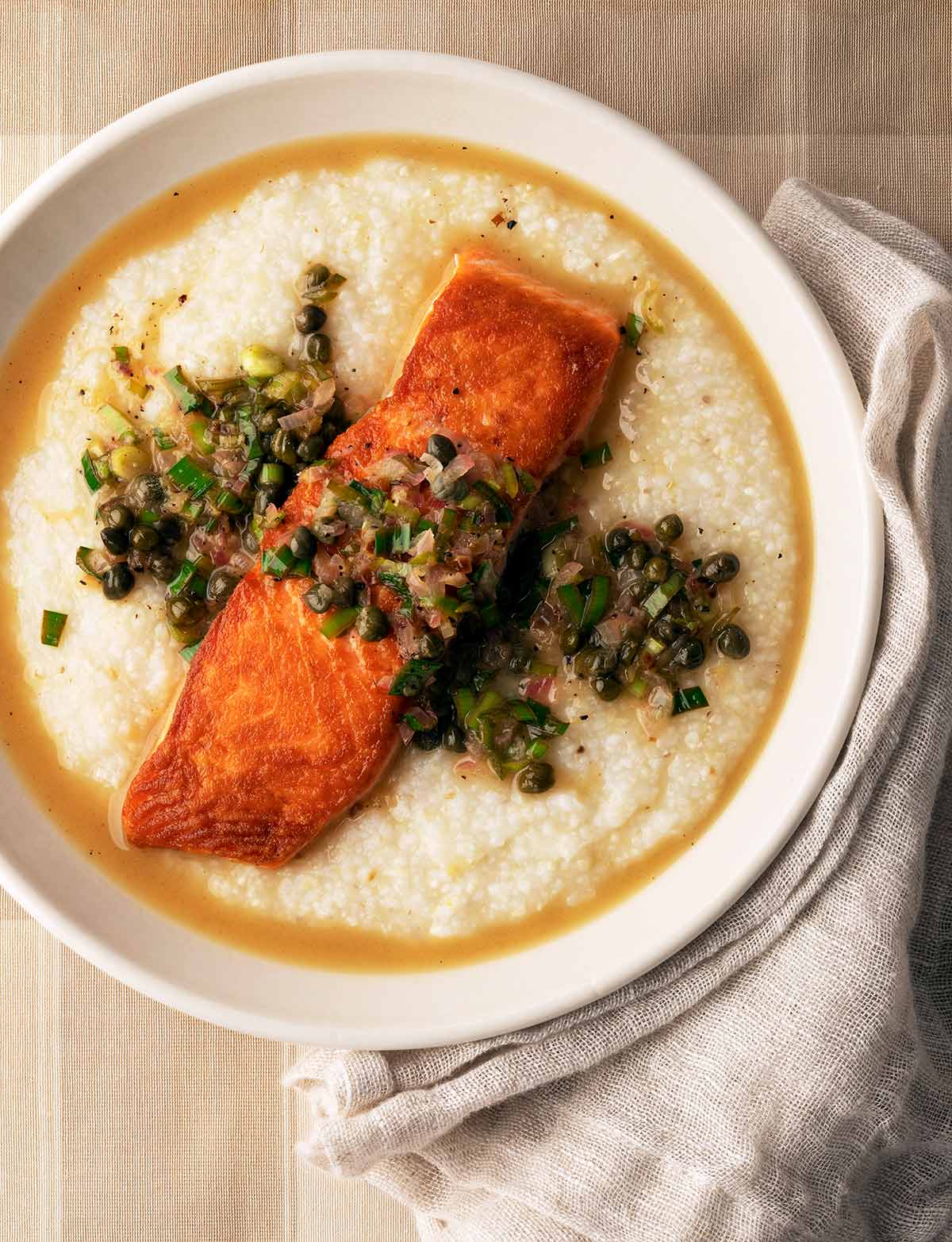 You should know that salmon piccata isn't a terribly far stretch from the dish's Italian origins. I have seen recipes in Italian for both sole and swordfish piccata, which, given how different those fish are, let alone how different they are from veal or chicken, and it should tell you how versatile this sauce is.
Basically it works with any light meat you can think of.
Piccata is a pan sauce, made after you've cooked the fish or meat. You move the protein to a cutting board and make the sauce as it rests. Yep, it's that fast, so you need to have everything chopped beforehand.
First you add the butter and the shallots or onion, and in some cases garlic, although I don't put garlic in my piccata. That cooks quickly, and you splash in lemon juice or white wine or a combination — piccata has to have lemon juice in it — deglaze the pan and then add a healthy spoonful or two of capers. I prefer the tiny nonpareil ones.
Now comes the only tricky part in making salmon piccata, or any other piccata, for that matter: Mounting the butter. You do this by turning the heat to low and by adding one tablespoon of butter at a time, swirling it around the pan until it incorporates into the sauce. Do not let this boil or the sauce will break. Add the parsley and serve.
Salmon piccata needs to be eaten right away, and I like it either with good crusty bread, mashed potatoes or grits.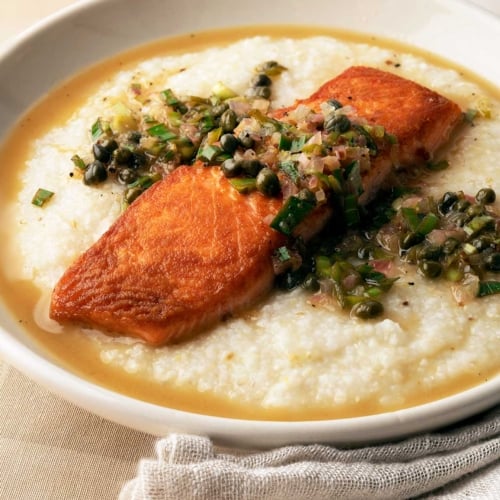 Salmon Piccata
You can make this with skin on or skinless salmon, trout, char or really any fish you want, and the sauce is great over veal, chicken, pheasant or any other white meat.
Ingredients
1

pound

salmon fillets

Salt and black pepper

2

tablespoons

olive oil

4

tablespoons

unsalted butter, divided

1

shallot, minced,

or 1/4 cup minced onion

2

tablespoons

capers

3

tablespoons

white wine

Juice and zest of 2 lemons

3

tablespoons

minced parsley
Instructions
Salt the salmon well and let it sit on the counter while you chop all the vegetables. Heat the olive oil in a saute pan over medium-high heat. When the oil is hot, pat the salmon dry with a paper towel and set the portions, skin side down, on the hot pan. As soon as they are all set down, jiggle the pan a bit to let them move. If they don't move, just leave them. NOTE: you want to put the fish skin side down regardless of whether the skin is still there or not.

Let the salmon sear. You want it to sound like bacon sizzling in the pan, maybe a little bit more energetic than that. Use a spoon to baste the top of the fish with the hot olive oil until the flesh turns opaque. After about 5 minutes, check to see if the fish is ready by jiggling the pan again. If the portions move, you are good to go. If not, carefully try to lift them with a spatula. If they are stuck to the pan, leave them. Continue cooking for a minute or two more, then try again. They will lift up easily when you have a perfect sear.

If you are using thick salmon portions like the ones in the picture, you will want to flip your fish and cook it a few minutes on the other side. The way to do this is to flip one piece, jiggle the pan so that pieces slides around a little, then do the next piece. This way they will release from the pan faster than the first side, and this prevents you from overcooking the fish. Only cook the fish for a minute or two on this second side. NOTE: This is not needed for thin portions.

When the fish is ready, move it, crispy side up, to a cutting board and grind black pepper over it.

Add 1 tablespoon of butter to the pan, along with the shallots. Let this cook a minute, then add the capers and lemon zest. Mix well, let this cook about 30 seconds, then add the white wine. Use a wooden spoon to scrape up any browned bits from the pan. When this is done, add the lemon juice and the parsley. Turn the heat to low.

Now, add 1 tablespoon of butter to the sauce and swirl the pan until it incorporates. Repeat this with the rest of the butter. You can in fact add up to a half stick of butter this way, and it's amazing, but very rich. Serve by putting a portion on each plate and pouring some sauce over each one.
Notes
NOTE: If you are serving this with grits, polenta or mashed potatoes, make them first and keep it warm while you make the fish. 
Nutrition
Calories:
339
kcal
|
Carbohydrates:
2
g
|
Protein:
23
g
|
Fat:
26
g
|
Saturated Fat:
9
g
|
Cholesterol:
92
mg
|
Sodium:
165
mg
|
Potassium:
593
mg
|
Fiber:
1
g
|
Sugar:
1
g
|
Vitamin A:
648
IU
|
Vitamin C:
4
mg
|
Calcium:
21
mg
|
Iron:
1
mg
Nutrition information is automatically calculated, so should only be used as an approximation.