As an Amazon Associate I earn from qualifying purchases.
There are a multitude of ways to cook salmon with rice, but when I leave out the preposition and call it salmon rice, then you'll know I am cooking Japanese. This recipe is clean, spare, easy to make, and so satisfying.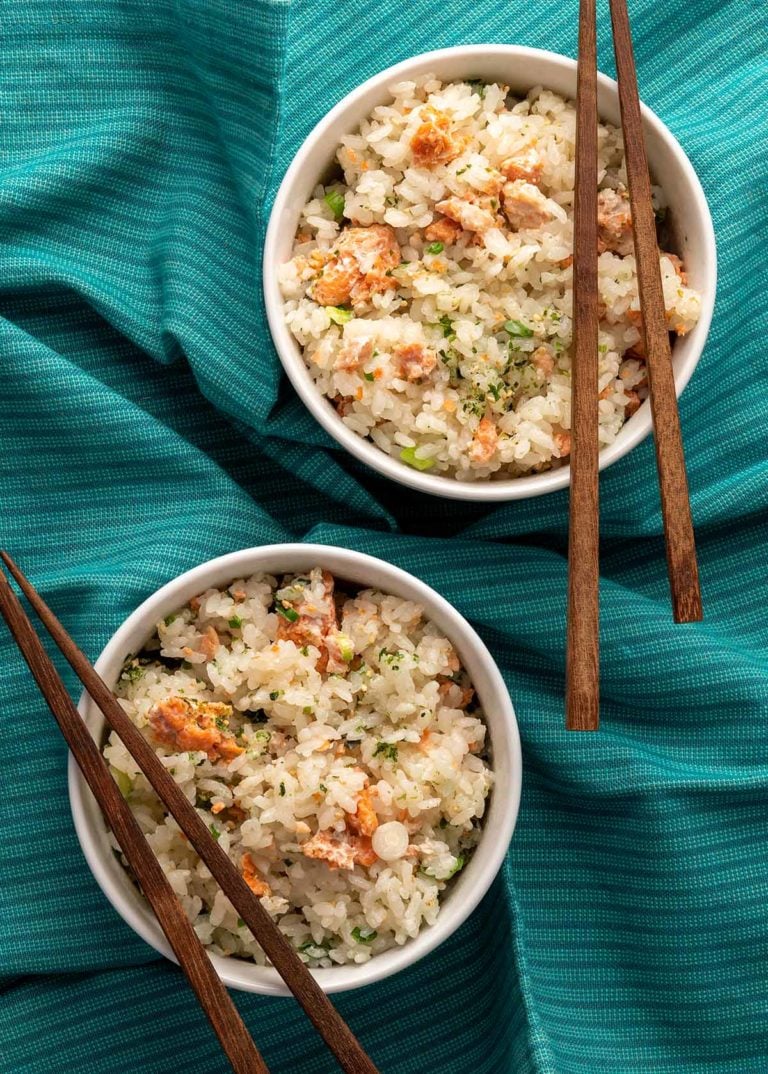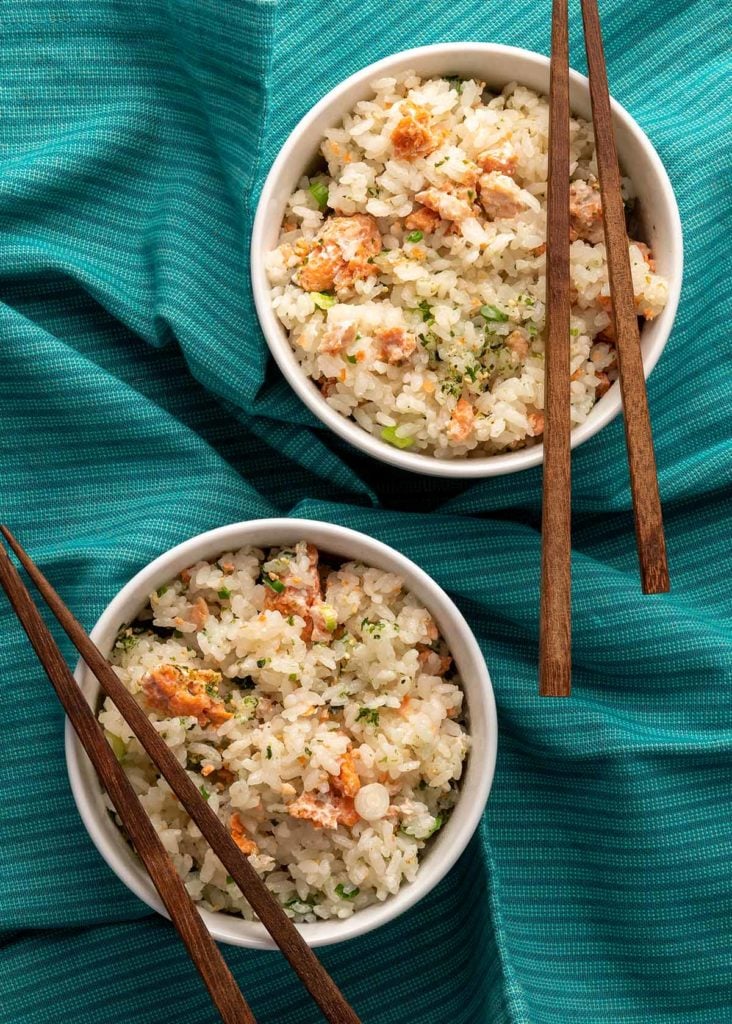 Just as there are lots of ways to put salmon in rice, there are a few ways to make this particular recipe. I'll walk you through how I prefer it, and then give you some easier substitutions.
Also keep in mind that this recipe is excellent with trout, too. Or char.
I like to make salmon rice after salmon fishing, and while this might sound obvious, there is a reason: Because Japanese salmon rice relies on scraps, tidbits from the fish, rather than lush fillets or bellies.
You can of course use salmon fillets if that's all you have, and you could use canned salmon in a pinch, but the best way to make salmon rice is by making your own salmon stock; I have a recipe for salmon stock elsewhere on this site.
And by making the stock, you get to pick off bits of meat from the carcasses, using that as the meat in the salmon rice.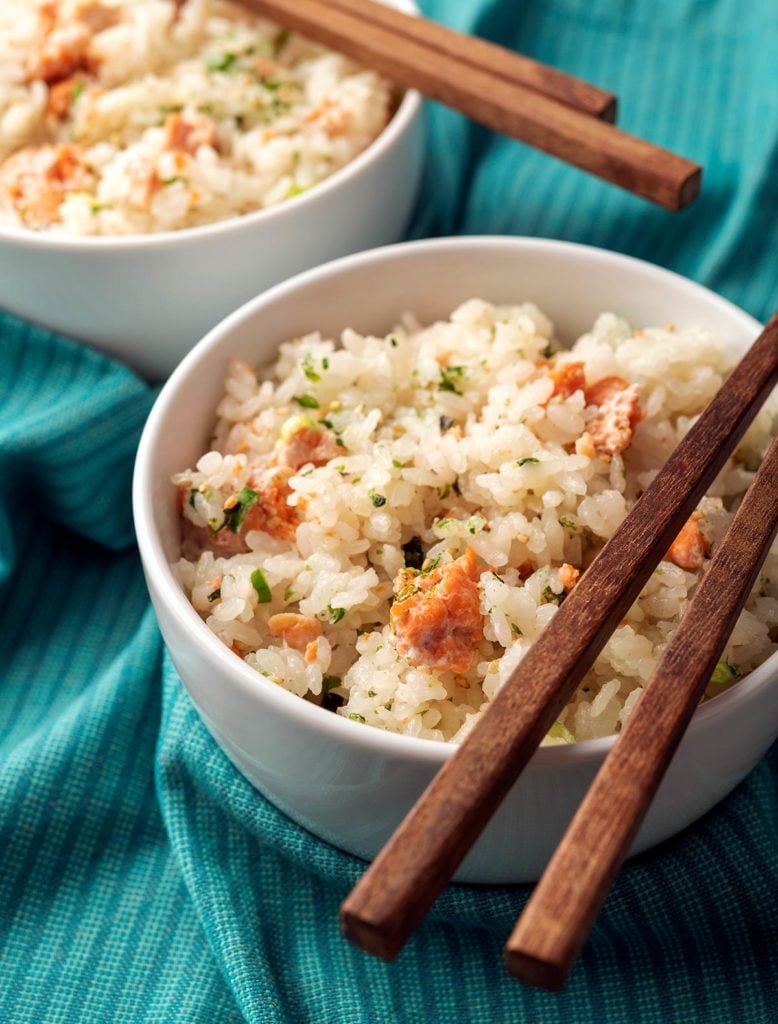 Doing it this way makes your salmon rice very salmon-y, in a good way if everything is fresh. You can make the stock up to four days beforehand, if you keep it in the fridge.
Don't do this with stinky salmon. If you are buying salmon to make this, look for whole fish with crystalline, bright eyes, chrome-bright skin and gills that are crimson or rose pink. Have the fish filleted, use the fillets for another recipe, and save the carcass for salmon rice.
(You can browse dozens of my other salmon and trout recipes here.)
If buying a whole salmon isn't an option, your next best bet is to make dashi. That requires a decent "Asian" aisle in your supermarket, or a trip to an Asian market, but it's a really great alternative to salmon stock (This is a good, basic recipe for dashi.)
Barring both of those, use plain water. It'll be fine.
The rice in salmon rice is important. You need Japanese rice to make it correctly. That means short-grain or medium-grain rice. It is very common in larger supermarkets, and the absolute best is called tamanishiki, which you can buy online.
Do not use risotto rice. If you can't find Japanese rice (or of course Japanese varieties grown in California), use regular ole' supermarket rice. Not basmati, not jasmine. Just standard American long-grain.
I cook my salmon rice with both salmon stock and a little sake. No need for any fancy sake here, just get a big bottle and use it to cook with. Or skip it.
Finally, there are two Japanese seasoning blends that will work very well with salmon rice: togarashi or furikake. Both are blends of things that make rice taste better, like sesame seeds, chile flakes, seaweed bits, etc. If your supermarket has any Japanese products at all in the "Asian" aisle, it'll be there.
If not, toast 2 tablespoons or so of sesame seeds and use that.
So are you can see, if you have the raw materials on hand — most of which are pantry items — salmon rice is super easy to make and comes together in less than 30 minutes.
Looking for other great Japanese salmon recipes? I have a fantastic salmon miso soup, as well as a Japanese style salmon head soup.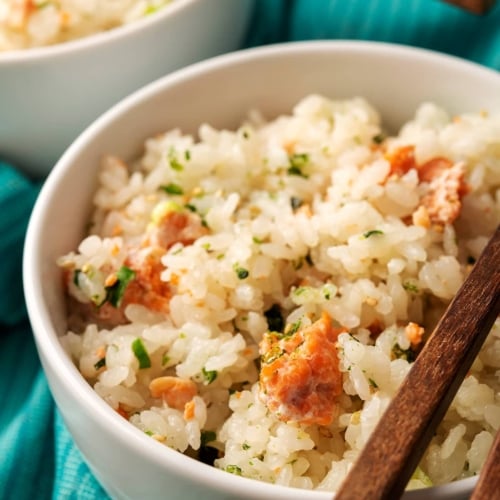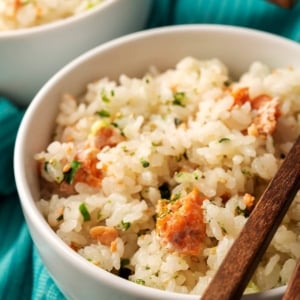 Japanese Salmon Rice
This recipe comes together quickly and easily if you have some Japanese pantry staples on hand. Definitely worth buying, since most last a long time. This recipe also works very well with trout or char.
Ingredients
1 1/2

cups

Japanese rice

1/2

cup

sake

(optional)

1 3/4

cup

salmon stock or dashi

(or water)

2

green onions,

sliced thin

1/3

pound

cooked salmon meat,

flaked

2

tablespoons

furikake seasoning

(see below)

1 to 2

tablespoons

sesame oil
Instructions
Follow the directions on the package for the exact amounts of water to cook your rice in. These directions are for nishiki rice, the most common Japanese rice in America. First, put your rice in a bowl and cover with water. Swish around until the water is cloudy. Pour this off; I water my plants withit. Do this a total of 3 times, until the water is mostly clear. Drain the rice in a strainer while you chop the green onions and flake the salmon.

Put the rice, sake and stock in a pot, cover and turn on high until it boils. Drop the heat to medium-low and cook until the rice is mostly done, about 10 to 15 minutes. When it's done, quickly uncover the pot and put in the green onions and salmon. Cover the pot and wait 5 minutes.

When you are ready to serve, fluff the rice with the sesame oil and furikake seasoning.
Notes
If you can't find the furikake seasoning, simply toast 2 tablespoons of sesame seeds and use that. It's not the same, but it will get you close. 
Keys to Success
Follow the directions on the package in terms of how much water, stock, dashi etc. to use. Each variety of rice is a little different. 
Don't skip the rinsing step or the rice will get all gluggy. 
The best salmon for salmon rice is meat picked off the carcass after making salmon stock. But you can quickly poach some salmon fillets, or use any leftover salmon here. 
The sesame oil isn't strictly necessary, but I like it a lot, especially considering that this recipe has basically no other fat. 
Got leftover salmon rice? Mix it with an egg the next day, roll into patties, dust in rice flour, or regular flour, and fry. Delicious! 
Nutrition
Calories:
420
kcal
|
Carbohydrates:
59
g
|
Protein:
16
g
|
Fat:
9
g
|
Saturated Fat:
1
g
|
Polyunsaturated Fat:
4
g
|
Monounsaturated Fat:
3
g
|
Cholesterol:
21
mg
|
Sodium:
362
mg
|
Potassium:
400
mg
|
Fiber:
2
g
|
Sugar:
1
g
|
Vitamin A:
80
IU
|
Vitamin C:
1
mg
|
Calcium:
101
mg
|
Iron:
2
mg
Nutrition information is automatically calculated, so should only be used as an approximation.