Parsley Pesto
March 05, 2018 | Updated March 19, 2021
As an Amazon Associate I earn from qualifying purchases.
Pestos are a mainstay of my cooking. They are so rich, so vibrant and yet so easy to make that I've come up with dozens of variations over the years. Parsley pesto one is a traditional Italian winter pestos that features walnuts instead of pine nuts.
I happened to have some pecans lying around, so I used them. What's the difference? Pecans are milder than walnuts. Feral pecans are pecans I don't pay for. I just pick them; there's a tree in nearby Folsom I hit every year.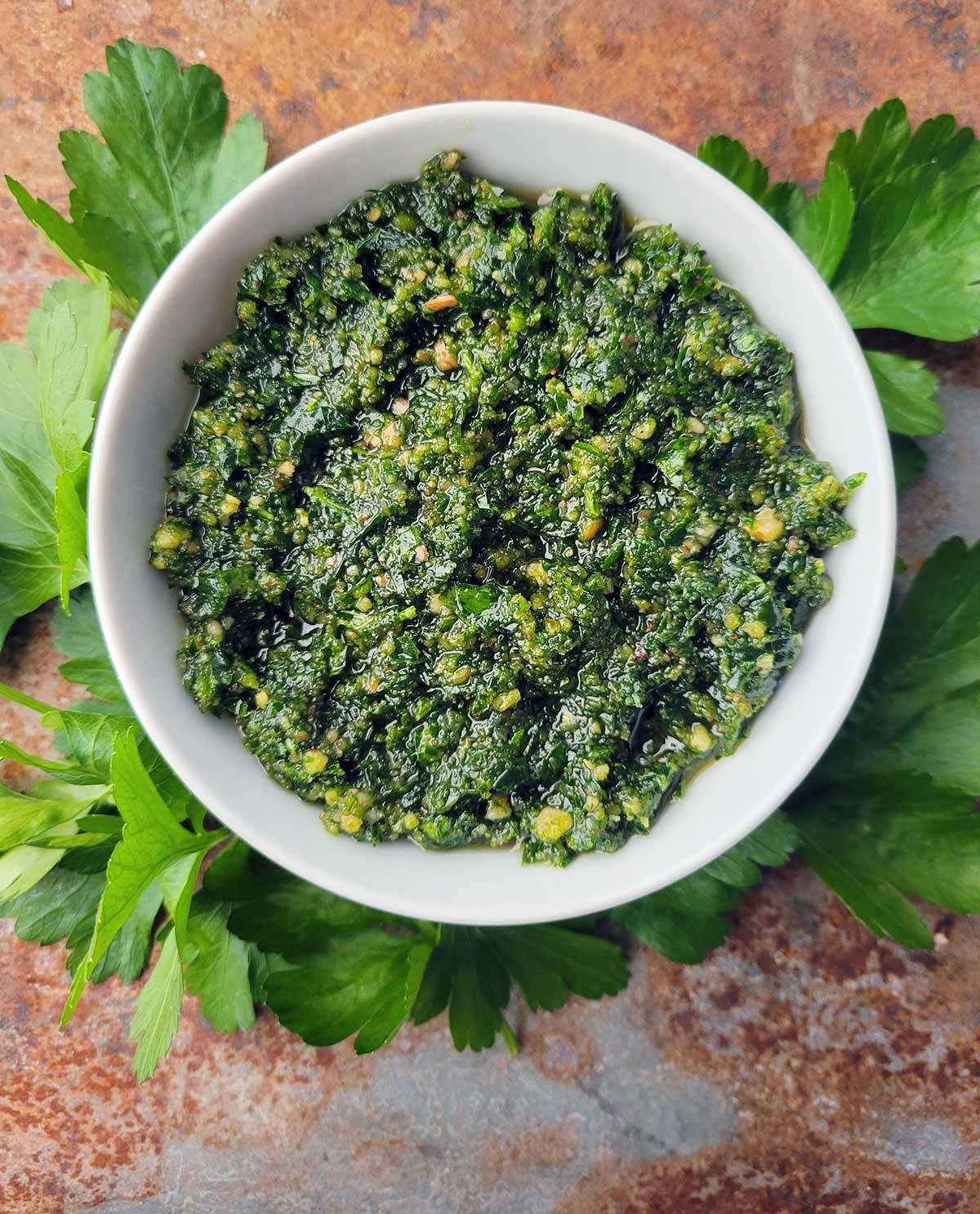 That said, I also love using truly wild black walnuts in this pesto. Black walnuts are smaller and are far more flavorful than regular walnuts. Most recipes suggest that when you are using black walnuts you cut in half the amount you use. Not here. I want a powerful walnut punch, and this recipe delivers it in spades. Of course store-bought walnuts are fine here, too, as are pine nuts.
When I am feeling ambitious, I make parsley pesto, or really any pesto, with a mortar and pestle — the texture comes out better that way. After all, it means "pound" in Italian. But, when I am in a hurry, I just buzz everything in a food processor. Just make certain you don't accidentally make a puree! Pulse everything, don't let the motor run on your processor.
I always use Italian, flat-leaf parsley for parsley pesto, because I grow it here at the house. But there is no reason you can't make it with curly parsley, too.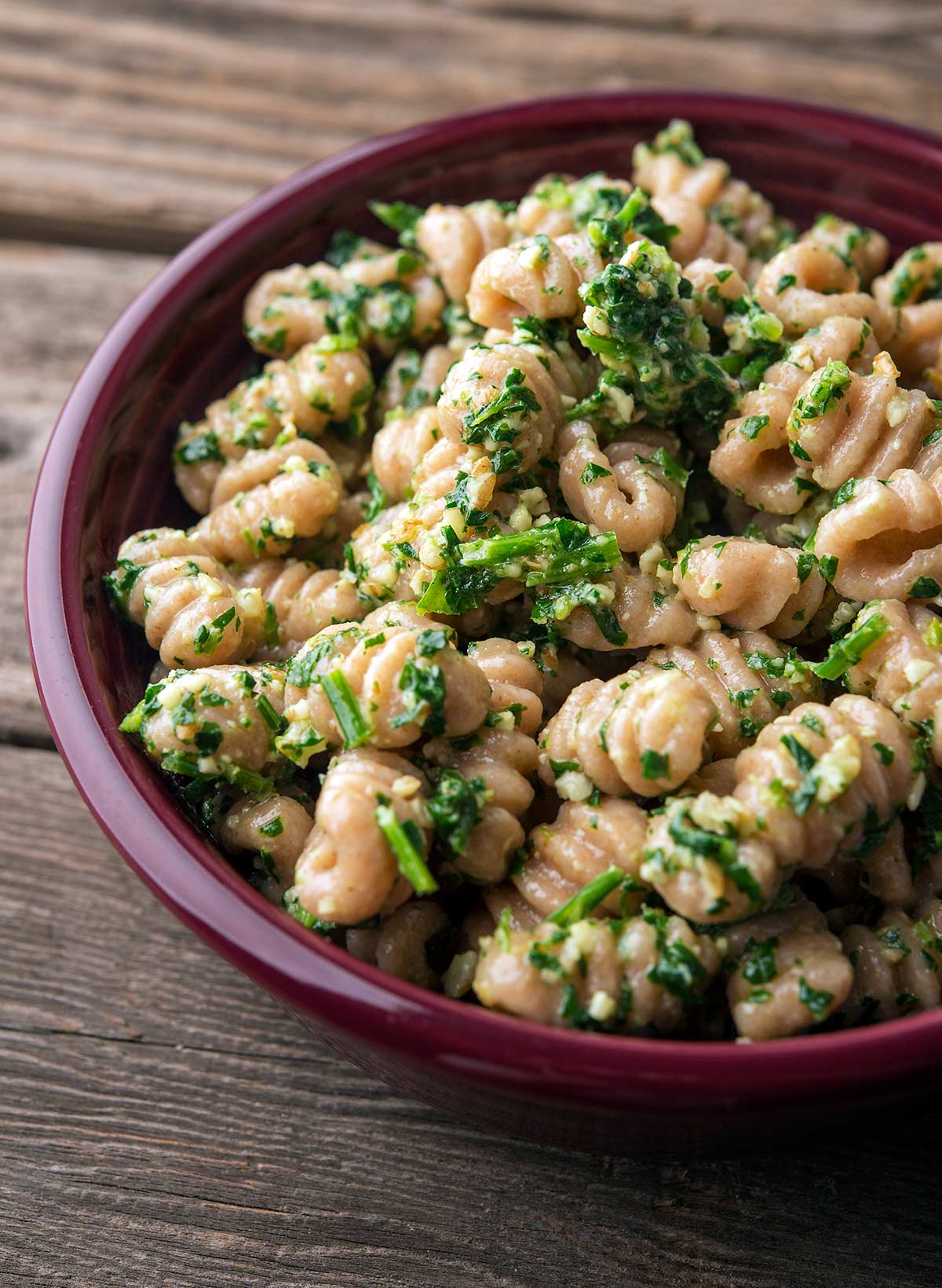 How to use your parsley pesto? With pasta, of course, or over polenta. Pesto is great mixed into risotto at the last minute, served over white meat poultry or fish, or — and this is my favorite — dropped into a winter minestrone soup, right at the end.
When you use it as a full-on sauce with a dish, you will want to thin it out with lots more olive oil. Pesto can stay chunky if it is going to to be mixed into rice or pasta.
I have a few other standout pestos here on Hunter Angler Gardener Cook: A ramp pesto made with young spring onions, a nettle pesto that uses freshly blanched stinging nettles as the green, and an arugula pesto that is my absolute favorite before the weather warms and the arugula gets too bitter.
If you happen to have lots of parsley and want to make a lot of parsley pesto, you will want to blanch the parsley in boiling, salty water for 30 seconds and then shock it in ice water. This will set the color, so when you freeze and then thaw the finished pesto, it will stay vivid green.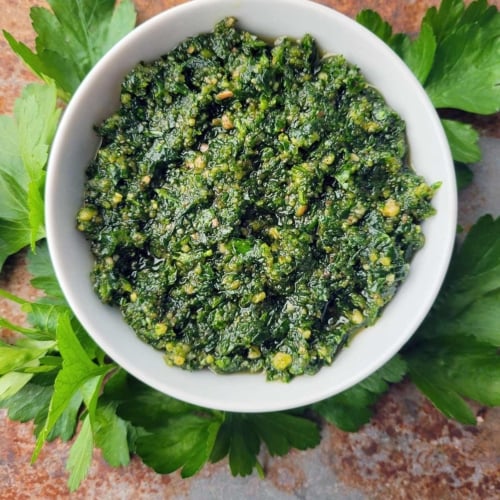 Parsley Pesto
You will ideally want to use flat-leaf Italian parsley here, and for the nuts you can use whatever. Walnuts are traditional with parsley pesto, but pecans and pine nuts are also great.
Ingredients
3/4

cup

walnuts, pecans or pine nuts

1

cup

chopped parsley,

tightly packed

1/2

cup

finely grated pecorino or Parmigiano cheese

1/2

cup

extra virgin olive oil

1/2

teaspoon

salt

1 to 2

garlic cloves,

chopped

Black pepper to taste
Instructions
Put all the ingredients except for the oil into a large mortar and grind to a stiff paste. Once everything is pretty well ground, drizzle in about a quarter of the olive oil and grind it into the pesto. Repeat with another quarter of the oil and then another, until you have incorporated all the oil into the pesto.

Alternately, you can put everything but the oil into the bowl of a food processor. Buzz the mixture while slowly drizzling in the oil. The more oil you use, the more like a sauce and less like a condiment your pesto will be.

When the pesto is coming together, taste for salt, and add if needed. Serve your parsley pesto right away, or put in a covered container with plastic wrap set down right on the top of the pesto to keep out air. This help keeps the color nice and bright. Use within a couple days, or freeze for up to 6 months.
Notes
Note: If you want to go an extra step, keep the parsley on the stalk and dip it in boiling salty water for 30 seconds, then shock in ice water. This sets the color and will keep your pesto green much longer. 
Nutrition
Calories:
127
kcal
|
Carbohydrates:
2
g
|
Protein:
3
g
|
Fat:
13
g
|
Saturated Fat:
2
g
|
Cholesterol:
5
mg
|
Sodium:
180
mg
|
Potassium:
76
mg
|
Fiber:
1
g
|
Sugar:
1
g
|
Vitamin A:
526
IU
|
Vitamin C:
8
mg
|
Calcium:
70
mg
|
Iron:
1
mg
Nutrition information is automatically calculated, so should only be used as an approximation.