As an Amazon Associate I earn from qualifying purchases.
Originally from Spain, puchero is a big, hearty stew made in various versions all over the Spanish-speaking world, as well as in the former Spanish colony of the Philippines. This is a Mexican version, using venison — although beef is more common.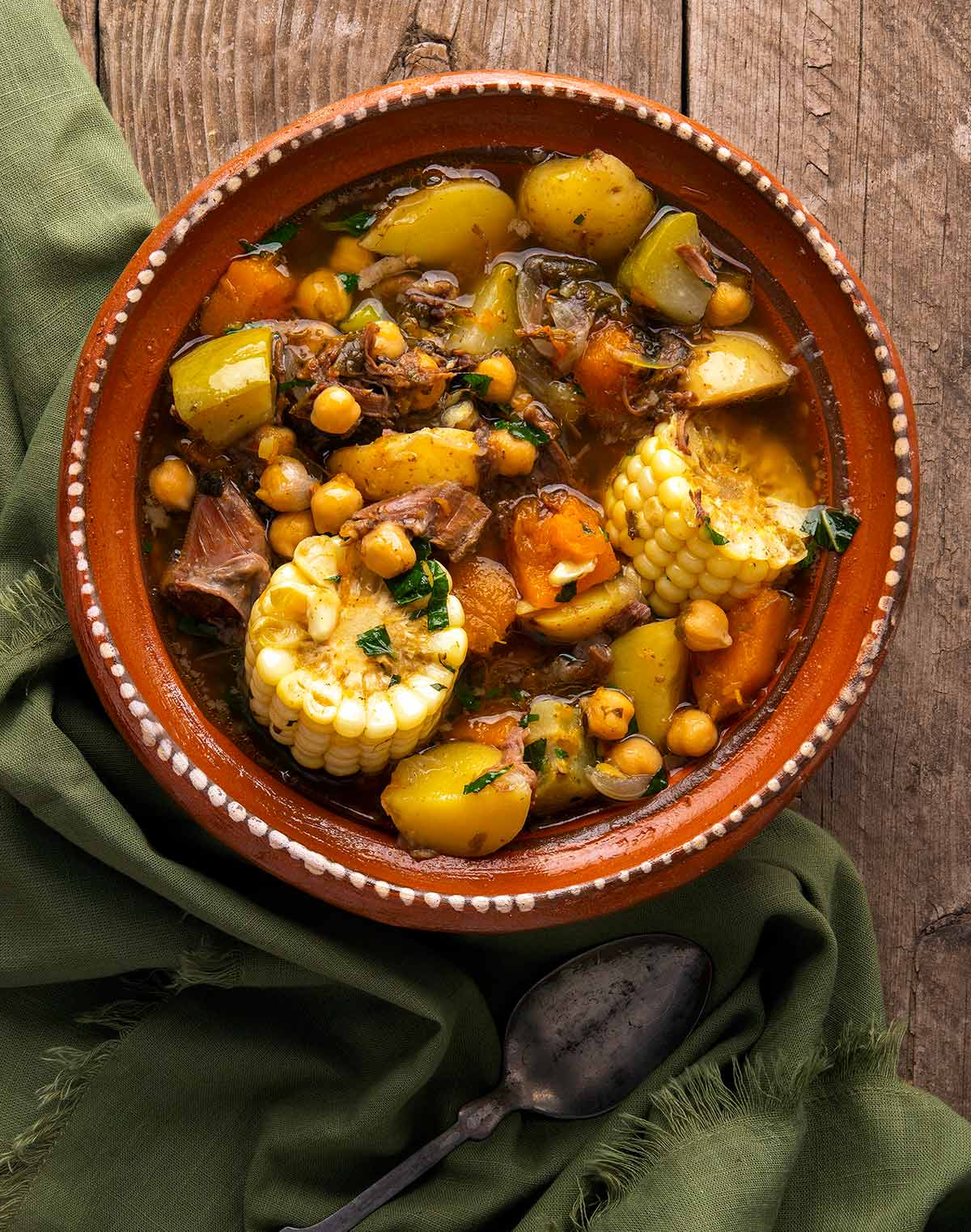 The word puchero means "stew pot," and that's what this is. Endless variations exist, and puchero is eaten in several different ways, too.
Traditionally, you would get a bowl or cup of the broth, and the vegetables and meat in another bowl alongside, very much like French pot au feu or Italian bollito misto. I'm not a fan of that presentation, but you can serve your puchero that way if you'd like.
Puchero is very closely related to Spanish cocido or olla podrida, and to be honest, I am not entirely certain what differentiates them.
Nothing absolute defines puchero. Most, but not all, versions have chickpeas. Most, but not all, do not use other types of dried beans. Most, but not all, use green beans.
Meats for Puchero
Meat is a normal addition, and there is a version of puchero in Yucatan that uses three: chicken, pork and beef. Mine uses shanks from a nilgai I shot in Texas. Shanks, shoulder or neck are what you want here; cheap cuts with lots of connective tissue. Oxtail is another great choice.
If you are working with pork or a bovid — beef, bison, nilgai, blackbuck, oryx — you really want to try to get some marrow into your puchero. It adds needed fat and richness. I scoop it out after the bones have cooked a while.
The basic puchero recipe is to simmer meats until they are more or less ready, discard bones and extract marrow, then add the vegetables one by one.
This is an ancient, peasant stew designed for cheap cuts, very much like Portuguese feijoada or Kentucky burgoo or Virginia Brunswick stew.
So Many Vegetables to Choose From
The main difference between those stews and puchero is the size and presence — and importance — of the vegetables. You want to add them one by one so they are all just tender when you eat it.
This is not a "hammer it all day" stew like burgoo or Brunswick stew.
Mostly you want to use a selection of harder root-type vegetables like potatoes, carrots, turnips, etc, squashes of various forms, those chickpeas (canned or dried), something green, and corn.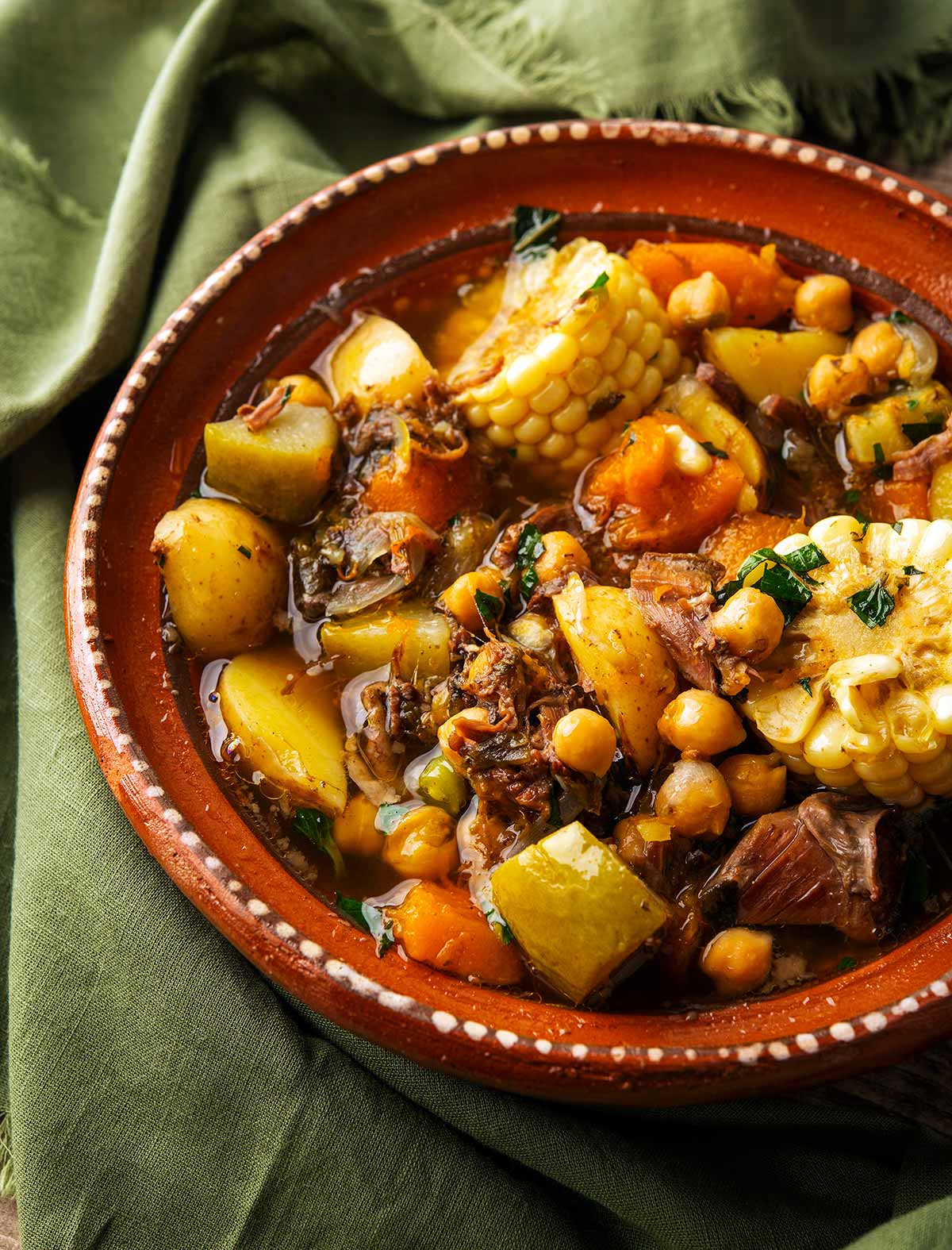 You'll note that the corn is still on the cob. I was skeptical of this at first, and did it only because really all the recipes do. My inner voice was like, "Sigh, this is going to make this hard to eat."
I was wrong. By leaving the corn on the cob, the cobs add a touch of sweet to the stew, and when you pick up the pieces at the end and gnaw on them, it's like a little dessert. I'm convinced.
Other vegetable options for puchero include sweet potatoes, green chiles, cabbage, rutabaga, onion, garlic, jicama, and occasionally other sorts of beans.
Puchero in Mexico is almost always garnished with cilantro or mint, plus lime juice.
You'll note that tomato is not on this list. For whatever reason, it's rarely used in this particular stew, at least not in Mexico or Spain.
Once made, puchero will keep for a few days in the fridge. Reheat it gently, however, or the vegetables will turn to mush.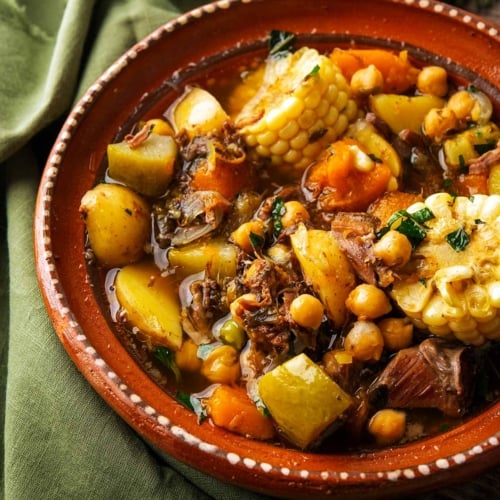 Puchero
This is my version of puchero, but there are literally thousands out there. Use my recipe as a guide, not gospel.
Ingredients
4

pounds

beef or venison shank,

or shoulder or neck meat

Salt
SEASONINGS
1

teaspoon

oregano,

Mexican if possible

1

teaspoon

ground cumin

1

teaspoon

ground coriander

1

teaspoon

ground black pepper

1/2

teaspoon

ground anise or 1 star anise

(optional)

A 2-inch piece of cinnamon

(optional)

A pinch of saffron

(optional)
VEGETABLES
6

cloves

garlic,

whole and peeled

1

white or yellow onion,

sliced

1 1/2

pounds

potatoes,

cut into chunks

1

pound

winter squash,

cut into chunks

2

chayotes,

cut into chunks (optional)

4

Anaheim or poblano chiles,

roasted, seeded and cut into chunks

3

ears of corn,

cut into 1 or 2 inch rounds

1/2

pound

green beans,

cut into bite-sized pieces

1

pound

cooked garbanzo beans,

canned or pre-cooked

1/2

cup

chopped cilantro

Lime wedges to serve
Instructions
Salt the meat well before you chop all the vegetables. When those are done, put the meat in a large pot and add about 1 gallon of water, more or less. Bring this to a boil and skim off the froth that floats to the surface. Drop the heat to a simmer and add the garlic and all the seasonings. Simmer, partially covered, for 3 hours.

The meats should be tender by now; check after 2 hours. Remove the meats and strip off the meat, chopping it into bite-sized pieces. Discard any bones. If there is marrow in the bones, scoop it out and add it to the stew; you can break it up if you want. Add in the potatoes and onions. Let these simmer 20 minutes.

Add the winter squash and chayotes and simmer 20 more minutes. Add the green chiles, corn, garbanzo beans and green beans and cook another 10 minutes. Add the cilantro and serve with lime wedges. A drizzle of really good olive oil is a nice touch, too.
Notes
Note that all these vegetables are optional. See the post for lots and lots of other options. Basically use a lot, and use what you have. 
Keys to Success
Note that my meat choice is great, but you can use really any cheap cut that likes long, slow cooking. Stewing hens, wild turkeys, pork hocks and shoulder, old pheasants, shanks of really any animal, oxtail, mutton, you name it. 
The seasoning mix I use is Yucatecan, but you can use all or none of what I use and it'll fine. 
Don't like cilantro? Another very common garnish is mint. Parsley is common, too. 
Some versions of this stew add sausages, ranging from blood sausage to chorizo to butifarra. If you use sausages, add them in the last 20 minutes. 
Nutrition
Calories:
382
kcal
|
Carbohydrates:
19
g
|
Protein:
59
g
|
Fat:
7
g
|
Saturated Fat:
3
g
|
Polyunsaturated Fat:
1
g
|
Monounsaturated Fat:
2
g
|
Trans Fat:
1
g
|
Cholesterol:
171
mg
|
Sodium:
254
mg
|
Potassium:
824
mg
|
Fiber:
5
g
|
Sugar:
4
g
|
Vitamin A:
4248
IU
|
Vitamin C:
17
mg
|
Calcium:
64
mg
|
Iron:
9
mg
Nutrition information is automatically calculated, so should only be used as an approximation.