Argentine Chorizo Sausage
July 27, 2015 | Updated July 03, 2020
As an Amazon Associate I earn from qualifying purchases.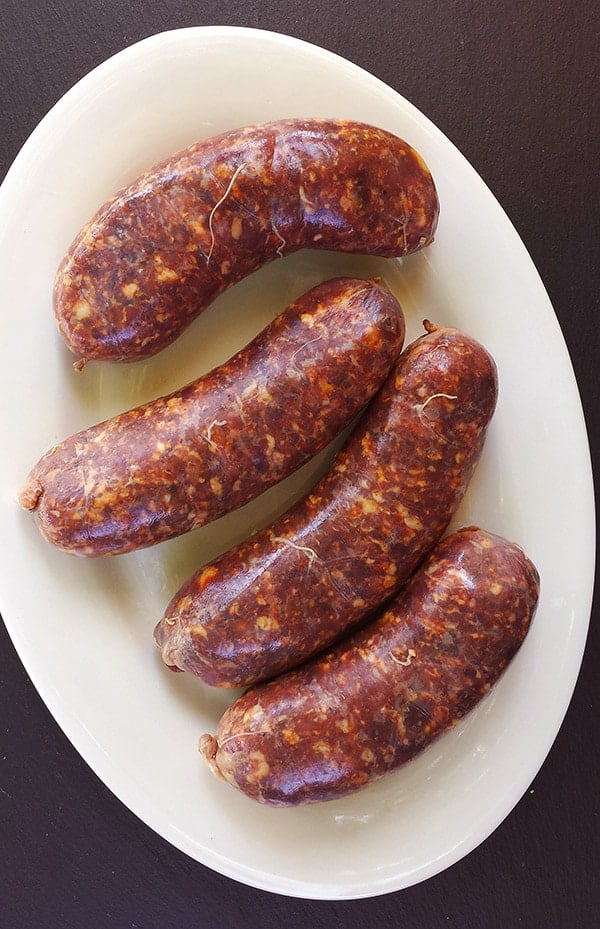 Chorizo sausage is the default in many Spanish-speaking countries, and everyone seems to have a different version. For the most part, Spanish chorizo is a hard, dry cured sausage, while Mexican chorizo is fresh, and tends to be pretty soft, almost spreadable — best uncased and mixed with eggs and such.
Argentina has its own version of chorizo sausage that's a happy medium between the two. Chorizo Argentino a "normal" fresh sausage, with a consistency more or less like a typical Italian sausage we all know here in America.
How do they eat it? As a magical sandwich called choripán. As you might guess, the name is a mashup of chorizo and pan, meaning bread. Choripán is just a nice roll with a grilled chorizo in it, topped with chimichurri, the Argentine salsa of choice. (I have a link to my chimichurri recipe here.)
It's an easy sausage to make. Rustic, meaning coarsely ground, with lots of black pepper, paprika and garlic, moistened with red wine — Malbec, if you want to stay Argentinean.
Typically the links are fat, so use wide hog casings if you can find them locally. I can't, so I use these casings from The Sausage Maker.
Of course, you can serve your chorizo any way you want, but grilled over wood with homemade chimichurri is pretty hard to beat.
I like to make these with a combination of venison and pork, but you could make them from pretty much anything. The bacon ends I use add some smokiness and salt to the party, but you can use straight pork fat if you'd prefer. If you do, increase the salt to 36 grams. Conversely, if you are using especially salty bacon, drop the added salt. Use your judgment.
Keep in mind this is chorizo Argentino. There are other versions. Here is my Mexican chorizo recipe, and there's also a dry cured, Spanish chorizo, which is a bit harder to make.
New to making sausage? You can find my detailed tutorial on how to make sausages at home here.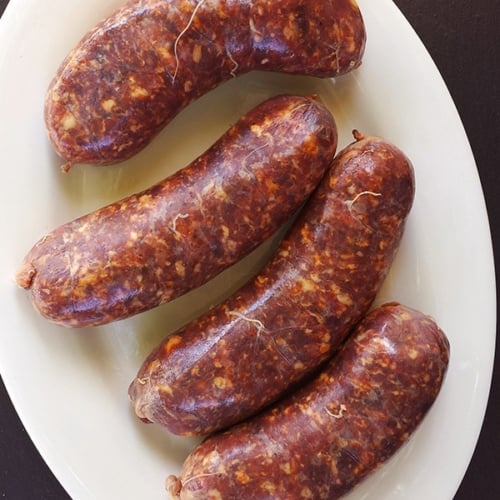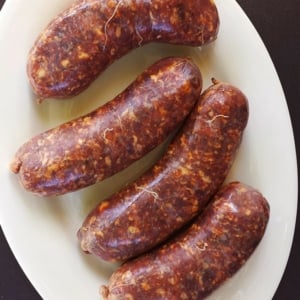 Chorizo Argentino Sausage
These sausages are normally grilled over wood charcoal, so you'll get a decent amount of smoke. If you are stuck with a gas grill, you can "cheat" by using some smoked paprika and smoked salt along with the bacon. Works like a charm. You're supposed to be able to taste the garlic in these links, so be generous with it.
Ingredients
2 1/4

pounds

pork shoulder

3/4

pound

bacon ends

(or chopped bacon)

2

pounds

venison or beef

30

grams

kosher salt

5

teaspoons

coarsely ground black pepper

3

tablespoons

paprika

3

to 5 garlic cloves,

minced, about 2 tablespoons

3/4

cup

red wine

Hog casings
Instructions
Get out about 10 feet of hog casings and soak them in warm water.

Cut the meat and bacon into chunks you can fit into your meat grinder. Mix the salt with the meats and bacon until every piece has a little on it. Refrigerate overnight if you want, but let it sit in the fridge at least an hour or so; this helps develop myosin in the mixture, which helps the texture of the finished sausage. When you are ready to grind, add all the other spices and mix well. Put the meat in the freezer until it is between 30°F and 40°F. Put your grinder parts (auger, dies, blades, etc) in the freezer, too, and put a bowl in the fridge.

If you have multiple dies for your grinder, grind one-quarter of the mixture through a very coarse die, say, 9 mm. Grind the rest through a 6.5 mm die. If you don't have anything larger than a 6.5 mm, which is the standard "coarse" die, just use it. If your meat mixture is still at 35°F or colder, you can go right to binding. If it has heated up, you need to chill everything back down. Use this time to clean up the grinder.

Once the meat is cold, put it in a large bin or bowl and add the wine. Mix well with your (very clean) hands for 2 to 3 minutes — a good indicator of temperature is that your hands should ache with cold when you do this. You want to to mix until the meat binds to itself. You can also do this in a stand mixer set on its lowest setting, but I find you don't get as good a bind as you do when you do it by hand.

You now have chorizo. Now you need to stuff the links. Stuffing sausage is easier with two people, one to fill the links, the other to coil, but I do it solo all the time. Stuff the links well but not super-tight, as you will not be able to tie them off later if they are too full. Don't worry about air pockets yet. Stuff the casing until you get a coil, leaving lots of room on either end to tie them off; I leave at least three inches of unstuffed casing on either end of the coil. Tie off one end of the coil. Pinch off 6-inch links with your fingers. Roll the sausage away from you a few times. Move down the coil and pinch off two more links. This time roll the sausage toward you a few times. Repeat until you have all the links made, then tie off the other end of the coil. (Here is a short video about the process.)

Gently compress the sausage links from either end, twisting them a few more times in the direction you did initially. Look for air pockets. To remove them, set a large needle or a sausage pricker into a stovetop burner until it glows (this sterilizes it), then pierce the casing at the air pockets. Keep gently compressing and twisting the links, pricking out any little air pockets until they're gone.

Hang your links for an hour or so to dry. You can do this overnight in a fridge if you want. Once dried a bit, the chorizo can be refrigerated for up to a week, or frozen for up to a year.
Notes
Once you've made them, grill the chorizo and serve them on a roll with chimichurri.
Nutrition
Calories:
135
kcal
|
Carbohydrates:
1
g
|
Protein:
21
g
|
Fat:
4
g
|
Saturated Fat:
1
g
|
Cholesterol:
70
mg
|
Sodium:
639
mg
|
Potassium:
359
mg
|
Fiber:
1
g
|
Sugar:
1
g
|
Vitamin A:
520
IU
|
Vitamin C:
0.4
mg
|
Calcium:
14
mg
|
Iron:
2.4
mg
Nutrition information is automatically calculated, so should only be used as an approximation.