Kentucky Burgoo
December 27, 2013 | Updated June 06, 2022
As an Amazon Associate I earn from qualifying purchases.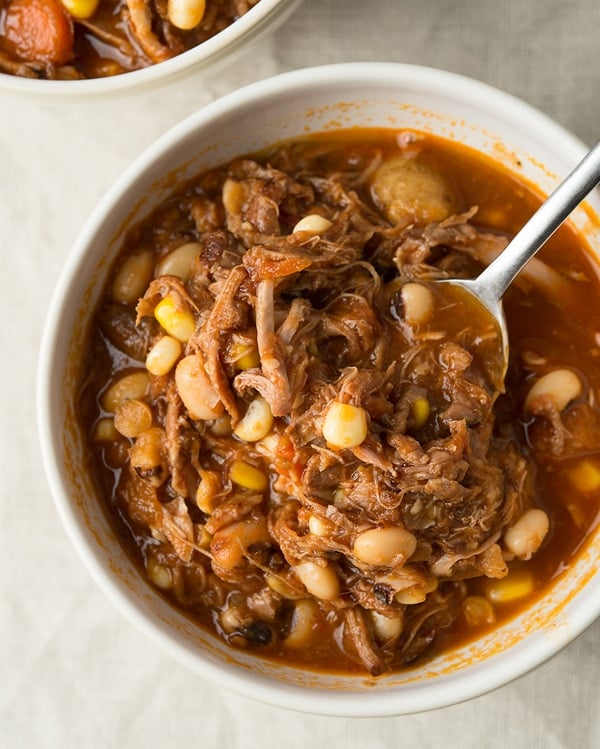 Every region of the country has its big, burly stew, from gumbo to chili to cioppino. This is burgoo, a Kentucky classic, done with a menagerie of wild game: Pheasant, squirrel and venison.
Burgoo. Um, what? Yeah, I know. When I first heard the name of this stew, years ago when I was living in Virginia, I just chalked it up to one of the many odd names you see in the South. Apparently this word predates the stew, however.
The oldest references to it seem to refer to a thin, nasty-sounding breakfast of hardtack or oats and water cooked into a gruel. The theory is that the name comes from a conflation of bulghur wheat and ragout, but this seems like a stretch to me.
What has carried on since the Civil War, however, is the concept of burgoo as a very thick stew — thick enough to stand your spoon in it. How you get there is more a matter of personal taste.
There are as many versions of burgoo as cooks throughout the Greater Burgoo Diaspora, which is basically Kentucky, southern Illinois and Indiana, as well as parts of Ohio River Valley.
Having eaten dozens of versions of burgoo, and having read scores of recipes, they all seem to have the following in common:
At least three meats, typically of different characters, i.e., venison, pheasant and squirrel, or chicken, mutton and pork.
Some form of tomato product, whether chopped fresh tomatoes, tomato paste or whatever.
Beans, usually lima beans or black-eyed peas
Corn and potatoes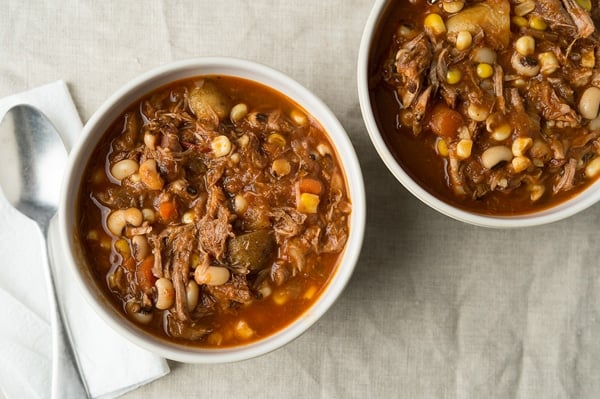 Beyond that, go for it. Add some bourbon, or some offal. Maybe some collards, or that groundhog that's been sitting in your freezer…
And when you cook this stew, don't mess around: Make enough for leftovers. A particularly grand burgoo party written up in the New York Times in 1897 included "400 pounds of beef, six dozen chickens, four dozen rabbits, thirty cans of tomatoes, twenty dozen cans of corn, fifteen bushels of potatoes, and five bushels of onions."
My recipe is a bit more subdued, but it will still get you through a few lunches at work. Make a big ole' bowl this weekend and you won't be sad.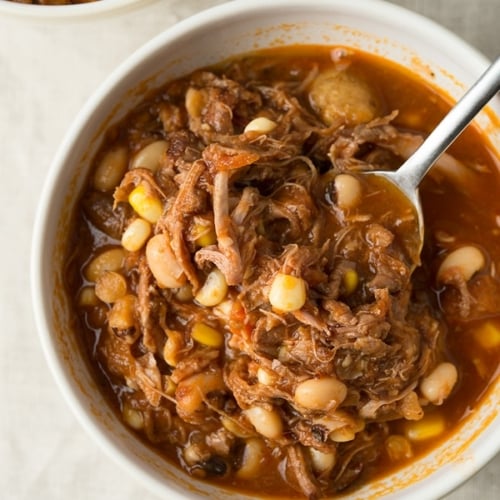 Kentucky Burgoo
This is one of the best Sunday stews you can make because the leftovers reheat beautifully all week, for either a quick supper or for lunches at work. Don't worry if you don't have squirrel, venison and pheasant. The only true rule in burgoo seems to be that you need at least three different meats, so let your imagination wander: Chicken is obvious, as is pork. But lamb, rabbit, hare, other game birds, duck, muskrat, whatever. It'll all get hammered into submission in this stew regardless.
Ingredients
3

tablespoons

vegetable oil

1

to 2 squirrels or rabbits,

cut into serving pieces

2

to 3 pounds venison,

3 to 4 inches wide, cut into large pieces

3

to 5 pheasant legs/thighs,

bone-in

1

green pepper,

chopped

1

large onion,

chopped

2

carrots,

chopped

2

celery ribs,

chopped

5

garlic cloves,

chopped

1

quart

pheasant or chicken stock

1

quart

beef or game stock

1 28-

ounce

can crushed tomatoes

2

large potatoes

1

bag of frozen corn,

about a pound

1

bag of frozen lima beans or canned black-eyed peas,

about 14 ounces

Salt and pepper

¼

cup

Worcestershire sauce

Tabasco or other hot sauce on the side
Instructions
Pour the oil into a large Dutch oven or soup pot and set the heat to medium-high. Working in batches, brown all the meats. Do not crowd the pan or the meat will not brown well. Salt the meat as it cooks. As they brown, move the various meats to a bowl.

Add the onions, carrots, celery and green pepper to the pot and turn the heat to high. Cook the vegetables until they are well browned; you might need to add a little more oil to the pot. When the vegetables have browned, add the garlic and cook for 1 minute. Add back the meats, along with the chicken and beef broths and the tomatoes. Stir to combine and add salt to taste. Bring to a simmer, cover, reduce the heat and simmer gently for 2 hours.

Fish out the meat pieces. Strip the pheasant and squirrel off the bone. Tear the large pieces of venison into bite-sized pieces. The reason you did not do this right at the start is because venison will stay moister when it cooks in larger pieces. Return all the meat to the pot and return the stew to simmer.

Peel and cut the potatoes into chunks about the same size as the meat pieces. Add them to the stew and simmer until they are tender. Add the Worcestershire sauce, mix well and taste for salt. Add more Worcestershire sauce to taste if needed.

Finally, add the corn and lima beans. Mix well and cook for at least 10 minutes, or longer if you'd like. Serve with cornbread and a bottle of hot sauce on the side.
Nutrition
Calories:
225
kcal
|
Carbohydrates:
26
g
|
Protein:
13
g
|
Fat:
9
g
|
Saturated Fat:
5
g
|
Cholesterol:
26
mg
|
Sodium:
542
mg
|
Potassium:
1106
mg
|
Fiber:
4
g
|
Sugar:
8
g
|
Vitamin A:
2888
IU
|
Vitamin C:
36
mg
|
Calcium:
85
mg
|
Iron:
3
mg
Nutrition information is automatically calculated, so should only be used as an approximation.