Portuguese Feijoada
December 05, 2013 | Updated October 28, 2020
As an Amazon Associate I earn from qualifying purchases.
If you search this site, you will find several recipes for various versions of pork and beans, largely because I feel the combination is divinely inspired. Feijoada is a great example of this.
Most people are more familiar with the Brazilian version of this dish, but its origins are in Portugal, which ruled over Brazil for quite some time. The more familiar Brazilian feijoada (fay-zhwahd-duh) uses black beans, where the Portuguese one uses white or kidney beans — although I've seen it done here in California's Central Valley with yellow canario beans.
Fascinatingly, there are versions of feijoada everywhere Portugal once ruled: Chinese Macau, Angola and Mozambique, Timor and Goa, and even Cape Verde. If anyone knows the details of what makes those versions unique, I would love to hear it!
However you make yours, the stew is a perfect cold-weather meal that uses various bits from the pig that most people throw away: feet, tails, ears, shanks, hearts, etc. You can make your feijoada as sporty or as tame as you'd like.
My feijoada recipe is pretty tame, although I really do prefer it with a trotter or two tossed in — it adds a lot of collagen to the soup, which makes it richer and thicker. Besides, you chop up all the meat and fat from the feet before you serve.
I made this version with various bits and bobbles from a wild pig I shot, but there is no reason you couldn't do this with a domesticated pig. Go Latin or Asian markets to find things like pig's feet, hearts, livers, fresh ears, etc.
If you can possibly find it, a nice Portuguese red wine is absolutely perfect with this stew.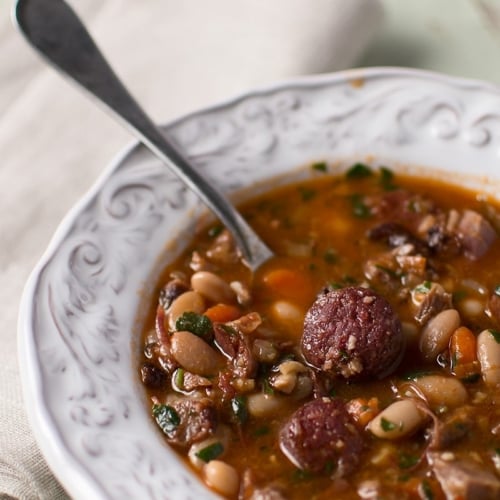 Portuguese Feijoada
This version of feijoada is a riff off Portuguese feijoada -- made with white beans, not the Brazilian version, which is basically the same only it uses black beans. Keys to this recipe are good beans and variety in the pork bits. The more various, the better. And you need something smoked in there, too. I used smoked hocks and/or smoked linguica sausages. Needless to say this stew keeps well in the fridge, and reheats beautifully. Serve it with rice or a crusty bread.
Ingredients
2

pounds

white beans, Canario yellow beans, or kidney beans

1

ham hock or smoked turkey leg

2

pounds

linguica sausage

2

pounds

pork shoulder

or chopped heart, or shanks, cut into large chunks

1

pig's trotter

(optional)

2

large carrots,

sliced into rounds

1

large onion,

chopped

1

head

garlic,

peeled but otherwise whole

1

tablespoon

hot sauce or chile paste

1

tablespoon

ground coriander seed

3

bay leaves

1/2

cup

crushed tomatoes

Black pepper and chopped parsley to garnish

Salt

2

quarts

pork broth or water
Instructions
Soak beans for at least 8 hours. If you don't have 8 hours, soak repeatedly in the hottest water you can get from the tap, replacing it when it cools. This second method should take about 3 hours.

In a large pot or Dutch oven, gently brown the pork shoulder in a tablespoon or two of olive oil. Do this in batches and don't crowd the pot. While you are doing this, preheat oven to 300°F. Hack at the trotter with a cleaver or heavy chefs knife to open it up in many places -- this is to let the collagen and fat infuse into the stew.

When the pork shoulder has browned, remove it for the moment and add the onions. Cook until translucent. Add back the browned pork shoulder, the trotter, ham hock, coriander, bay leaves and a healthy sprinkling of salt, then add the beans and mix it all together.

Cover by 1 inch with pork broth or water. Ideally you are making this as an adjunct to making stock, such as when you have large pieces of a hog, like, say, a head. The feijoada will be better with pork broth, but don't despair if you don't have any. Use water or vegetable broth. Do not substitute beef or chicken broth. Bring to a simmer and cover. Put in the oven for 90 minutes.

Remove from oven and test the beans. If they are getting sorta tender, you're good. If they are still rocks, return to the oven for another 20 minutes. If the beans are getting tender, add the carrots, garlic cloves, chile paste and tomatoes. Cover and return to the oven for 30 minutes.

Check to see how the carrots are doing. The beans should be tender by now. Once the carrots are soft but not falling apart, add the sausage. Pull out the shanks and trotter if you are using them and pull off all the meat and fat, etc. Chop as coarsely as you like and put back in the stew. Return to the oven for 10 minutes.

Remove and, still covered, leave the pot on top of the stove for up to 20 minutes, although you can serve immediately. Slice the sausages into disks before you serve. Ladle into bowls, garnish with chopped parsley and black pepper, and serve with crusty bread and a lusty Portuguese wine, such as Touriga Nacional.
Nutrition
Calories:
805
kcal
|
Carbohydrates:
34
g
|
Protein:
68
g
|
Fat:
43
g
|
Saturated Fat:
14
g
|
Cholesterol:
202
mg
|
Sodium:
1645
mg
|
Potassium:
2045
mg
|
Fiber:
8
g
|
Sugar:
2
g
|
Vitamin A:
2625
IU
|
Vitamin C:
7.1
mg
|
Calcium:
165
mg
|
Iron:
8.5
mg
Nutrition information is automatically calculated, so should only be used as an approximation.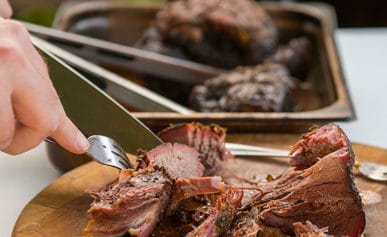 Wild Pig and Bear Recipes
You can find lots of recipes for pork, wild or domestic, right here on Hunter Angler Gardener Cook.
Read More