Virginia Brunswick Stew
January 03, 2022 | Updated June 06, 2022
As an Amazon Associate I earn from qualifying purchases.
Brunswick stew is an iconic Southern dish, stuffed with controversy as well as pretty much everything else in your garden. After researching dozens of recipes dating back to 1855, I've come up with a Brunswick stew recipe I think represents the tradition well, and is as easy or as hard as you want to make it.
And while yes, squirrel is the traditional meat in this stew, even many 19th Century recipes use easier-to-find meats. More on that in a bit.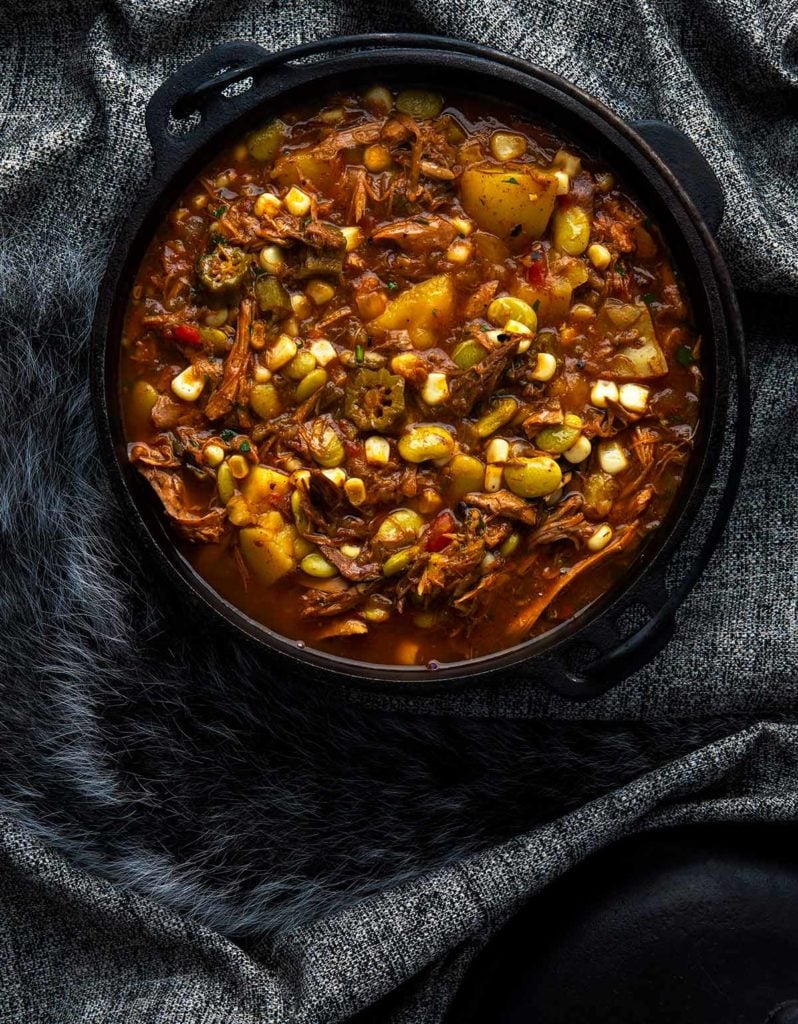 I might as well start by busting the myth that Brunswick stew comes from Georgia. There is no evidence of this stew being made in Georgia earlier than the 1890s, while there are lots of references predating that coming from Virginia, and in fact the first reference to Brunswick stew in Georgia refers to it as "an old Virginia stew."
History of Brunswick Stew
The absolute first reference to Brunswick stew I could find is in a novel called The Hidden Path, written in 1855: "There are nothing but little nubbins with not more than a dozen grains to the ear, heaving a sigh at the consequent delay of the Brunswick stew she had hoped to have smoking upon her board that day."
As you can see, no details, just that it's a thing. The author assumed people knew what Brunswick stew was.
Officially, Brunswick stew was first made by Jimmy Matthews, the camp cook for a party of rich Virginians, in 1828. There's a plaque in Brunswick County, Virginia, to this effect. While the rich people were off hunting something grander, so the story goes, Jimmy went out squirrel hunting for the camp, got a few, then made this stew.
Exactly who Jimmy Matthews was is a mystery. Some sources say he was a slave, others a poor white man who was employed by Creed Haskins, one of the hunters.
This prototype of Brunswick stew hinged on squirrels, stale bread, onions and butter. Sounds like a typical hunt camp throw-together even now. Only later did the stew become a repository for an entire garden.
While this is the written history of Brunswick stew, you can see clearly its the native origins — corn, beans, tomatoes, potatoes, game meats, all thrown in a pot with no initial browning. It's very close to the idea of a traditional native Three Sisters stew.
One interesting note is that in its early versions, Brunswick stew appears to be a little spicy. See this description from the Southern Literary Messenger in 1863:
There was no other dish but the Brunswick stew and that was enough, for it contained all the meats and juices of the forest and garden magnificently conglomerated and sublimed by the potent essence of fiery Cayenne pod upon pod lavishly thrown in a dish capacious as the Mediterranean held it and it lowered aloft like Vesuvius smoking gloriously.

Southern Literary Messenger, 1863
Brunswick stew continues to evolve throughout the 1800s and early 1900s, and it's that second period where Georgia-style Brunswick stew comes into play: It's main difference is that it includes either leftover pulled pork barbecue, or fresh barbecue, and often some of the sauce.
Mine does neither, as this is a Virginia Brunswick stew.
Elements of Brunswick Stew
With very few exceptions, all recipes for Brunswick stew include the following:
Meat of some sort, usually but not always lighter meats
Lima or butter beans, fresh, frozen or dried
Tomatoes, often both pureed and diced
Corn, either sweet or field corn, almost always fresh or thawed
Lots of butter mixed in at the end of cooking
Optional but common additions include:
Potatoes, usually but not always peeled
Salt pork, bacon or ham
Onion, occasionally sautéed but usually not
Okra and cayenne pepper
Worcestershire sauce
Fresh parsley as a garnish
I've seen 19th Century recipes with sweet potato and carrots, too, but those are rare.
As I mentioned above, squirrel is the soul of a Brunswick stew recipe, but even in the 1800s, many recipes left it out in favor of chicken, pork or rabbit. A few recipes use beef shank.
Mrs. Elliot's Housewife, written in 1879, calls for chicken or squirrels, but says duck or turkey are fine. Use legs if you're going that route.
My Brunswick Stew Recipe
This is similar to, but not exactly the same as, my Brunswick stew recipe in my book Pheasant, Quail, Cottontail. That one's great, but this recipe hews closer to the way all those 19th Century recipes did it.
Unlike a lot of modern stews, this one starts with water and/or broth, and the meats. No browning, not initial sautéing. None of the 19th Century recipes does the initial sear, and browning of meats and onions is really a French technique we Americans picked up in the late 1800s.
You add your meat, ideally squirrels and whatever else you want, simmer this gently, then add other ingredients as they ought to be. What that means is that a Brunswick stew starts as broth and meat, and only once you can strip the meat from the bone do other ingredients arrive at the party.
(Here's how to cut up a squirrel for cooking.)
The meat, indeed the whole stew, is meant to be kinda hammered, as in cooked a long, long time — very much like Brunswick stew's cousin, Kentucky burgoo.
This is an excellent candidate for a slow cooker because there is no browning step. Just put everything in if you want, and let it roll all day until you're ready to eat.
A few things should go in at the end, though. Definitely the butter, and you'll want to tinker with the flavors with Worcestershire and or Tabasco sauce, salt and black pepper.
Preserving the Stew
Once made, Brunswick stew freezes very well and you can pressure can it, too. You'll want to follow your pressure canner's instructions, but in general it will be 75 minutes at 10 psi (if you live from sea level up to 1000 ft in altitude).
It will keep a week or so in the fridge.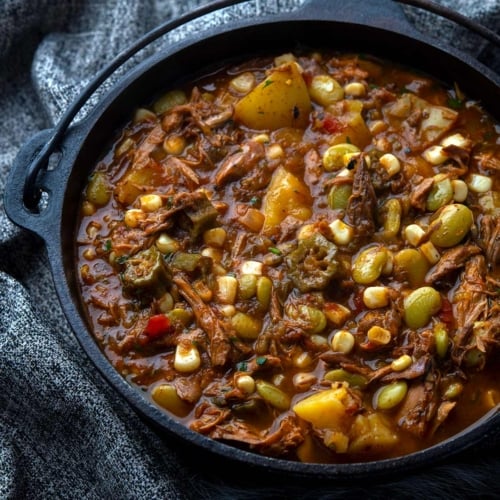 Brunswick Stew
This is an amalgam of many recipes for Brunswick stew dating back to the 1870s. Generally speaking this is a Virginia version, not a Georgia version. My recipe is "deluxe" in that it has all the optional ingredients, but you can use whatever you have on hand, skipping what you don't. Meats are variable, too.
Ingredients
3

pounds

squirrel meat, cut into serving pieces

(see below for options)

1

large onion,

chopped

2

quarts

chicken broth

1 28-

ounce

can of crushed tomatoes

Salt

2

cups

diced tomato

(optional)

1

pound

potatoes,

cut into chunks

1

pound

frozen baby lima beans

(or fresh)

1

pound

corn kernels,

fresh or frozen

½

pound

okra,

sliced (optional)

1/3

cup

minced fresh parsley

1/4

cup

butter

¼

cup

Worcestershire sauce,

or to taste

Tabasco or other hot sauce,

to taste

Black pepper to taste
Instructions
Pour the broth along with another quart of water into a large, lidded pot such as a Dutch oven. Bring this to a boil, and add the onion and salt to taste. Add the squirrel or other meat and skim any foam that forms. Simmer gently until the meat is falling off the bone, anywhere from 1 to 3 hours.

Fish out all the meats and remove the meat from the bones; this makes the stew a lot easier to eat. Discard the bones.

Add all the tomatoes and the potatoes and simmer 30 minutes.

Add the beans, corn and okra and simmer another 30 minutes.

Stir in the remaining ingredients until well combined. Tinker with seasonings and serve. Cornbread is a nice accompaniment.
Notes
Keep in mind that when using wild game, simmer times can vary a lot. Chicken should only require maybe 90 minutes to fall off the bone. 
Keys to Success
Obviously most people won't have access to squirrel. Use chicken or rabbit instead. Other options are leftover pork barbecue, country ribs, pork shoulder or a beef or venison shank. Duck or goose legs or turkey legs are other good choices. 
Feel free to play with your own version of the stew, using the guidelines in the article above. 
I personally like this stew a little spicy, so I add either cayenne powder or fresh hot chiles to the mix. There is historical precedent for this, if it makes you feel better. 
When in doubt, cook it longer. Brunswick stew should be thick. 
Nutrition
Calories:
264
kcal
|
Carbohydrates:
28
g
|
Protein:
22
g
|
Fat:
8
g
|
Saturated Fat:
4
g
|
Polyunsaturated Fat:
1
g
|
Monounsaturated Fat:
3
g
|
Trans Fat:
1
g
|
Cholesterol:
75
mg
|
Sodium:
385
mg
|
Potassium:
927
mg
|
Fiber:
6
g
|
Sugar:
7
g
|
Vitamin A:
697
IU
|
Vitamin C:
22
mg
|
Calcium:
90
mg
|
Iron:
4
mg
Nutrition information is automatically calculated, so should only be used as an approximation.