Spanish Butifarra Sausage
August 19, 2019 | Updated July 24, 2022
As an Amazon Associate I earn from qualifying purchases.
While the Spanish call this sausage butifarra or botifarra, it is really just a simple, homemade sausage — a perfect intro recipe for newcomers.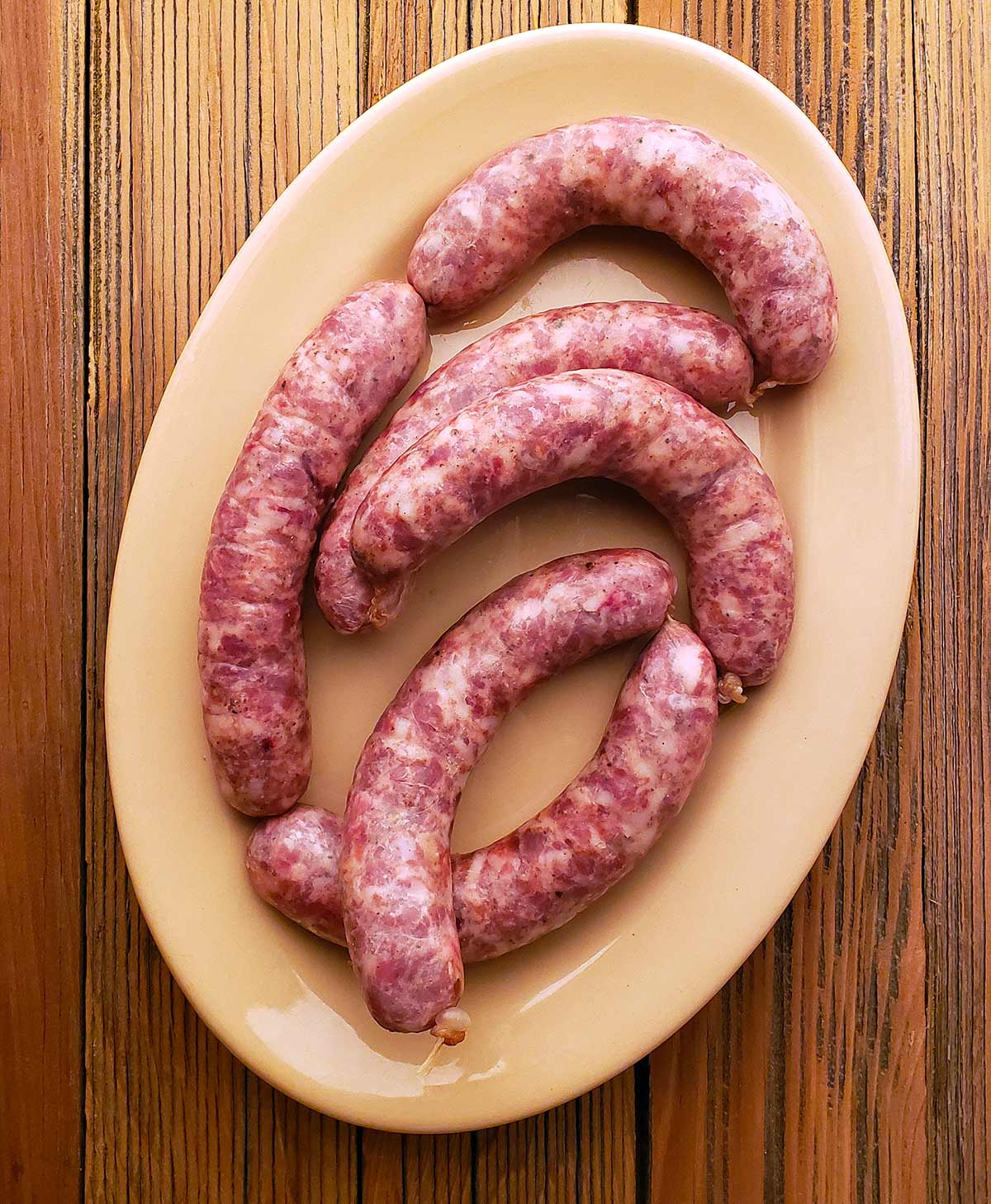 At its core, butifarra is simply pork, salt and black pepper, and maybe a hint of one or two other spices. It is subtle, and its entire purpose is to highlight fantastic pork. (Its cured cousin is Spanish fuet.)
Every single culture that makes sausages does something like this. I've seen versions in Italy, Hungary, England, the American South, Mexico, even Asia. When you have superior pork, you want to taste it and not the herbs and spices that surround it.
In this case, I used pork from an ossabaw pig raised by my friends Kate and Christian Spinillo of Ham Sweet Farm, and while I've made lots of dishes for this website from that pig, I needed to at least do one stripped bare of everything but technique.
Butifarra is a basic sausage recipe you can use to learn how to make homemade sausage in your own kitchen. (You can find my detailed tutorial on how to make sausages at home here.)
I've been making sausages at home for more than 20 years, and there are definitely tips and tricks to know to make the best links you can. And while it sounds counter-intuitive, when you are just starting out, don't buy expensive, heirloom pork. Just go to Costco or whatever. Only when you have a few rounds of sausage under your belt (and in your belly), should you upgrade to the good stuff.
This is for two reasons: First, you will make mistakes when you are starting out. It happens. Second, you will never really appreciate good pork until you've had shoddy pork. It's like wine or mezcal. You need some experience to know what good is.
Butifarra originates in Catalonia, but versions of this sausage are all over the place. You can see them with a fine grind or a coarse one, and there is an Italian variant where all the meat and fat is hand chopped, not ground. Sporty.
As you might imagine, other than the good pork, you will want good black pepper. I get this stuff from Penzeys, and it's the boldest pepper I've ever tasted, but if you don't want to get mail order black pepper, at the very least grind your own right before you add it to the sausage.
Technically what I am making is butifarra blanca, or white sausage, because it has no blood in it. I do make a good blood sausage, but my version is Portuguese.
If you feel the need to add another spice, choose one, or maybe two, from this list: white pepper, allspice, mace, nutmeg, cinnamon or coriander. And not more than a teaspoon at that. This supporting spice should play back-up to the pork and black pepper, which are the dominant flavors in butifarra.
Some tips for making good sausage at home:
You need a grinder. I love my Weston No. 8 1/2 horsepower grinder, but any good grinder will do. The Kitchenaid attachment will work fine for small batches.
If you want to make links, you will need a stuffer. No, the stuffing attachment on your grinder isn't good. It's a scam by grinder makers. No serious sausage maker uses it. We all use dedicated stuffers.
Always use natural hog casings. You can sometimes get them in a supermarket by asking at the meat counter, and every butcher shop will sell them to you. Or you can buy casings online.
A general rule on meat: The gnarlier it is, the more you want to grind it. Twice for pork shoulder is good, although if it's reasonably free of silverskin, you can get away with once.
Cold, cold, cold! You want your meat, fat, liquid and equipment to be cold. I freeze my grinder parts for an hour before starting, and put the bowls and such in the fridge.
Two pro tips on bind, i.e., how to prevent crumbly sausages. One, salt the chunks of pork overnight in the fridge before grinding, and two, use either dry milk or C-Bind, which is carrot fiber. Either absorbs moisture and helps you links retain it. I prefer C-Bind because you need less of it, like a teaspoon.
Let the links hang. I hang my sausage overnight in my beer fridge before cooking or freezing. If you can't do this, hang them 1 hour at room temperature and then uncovered overnight in the fridge. This helps the links bloom in their skins and makes a link with more snap.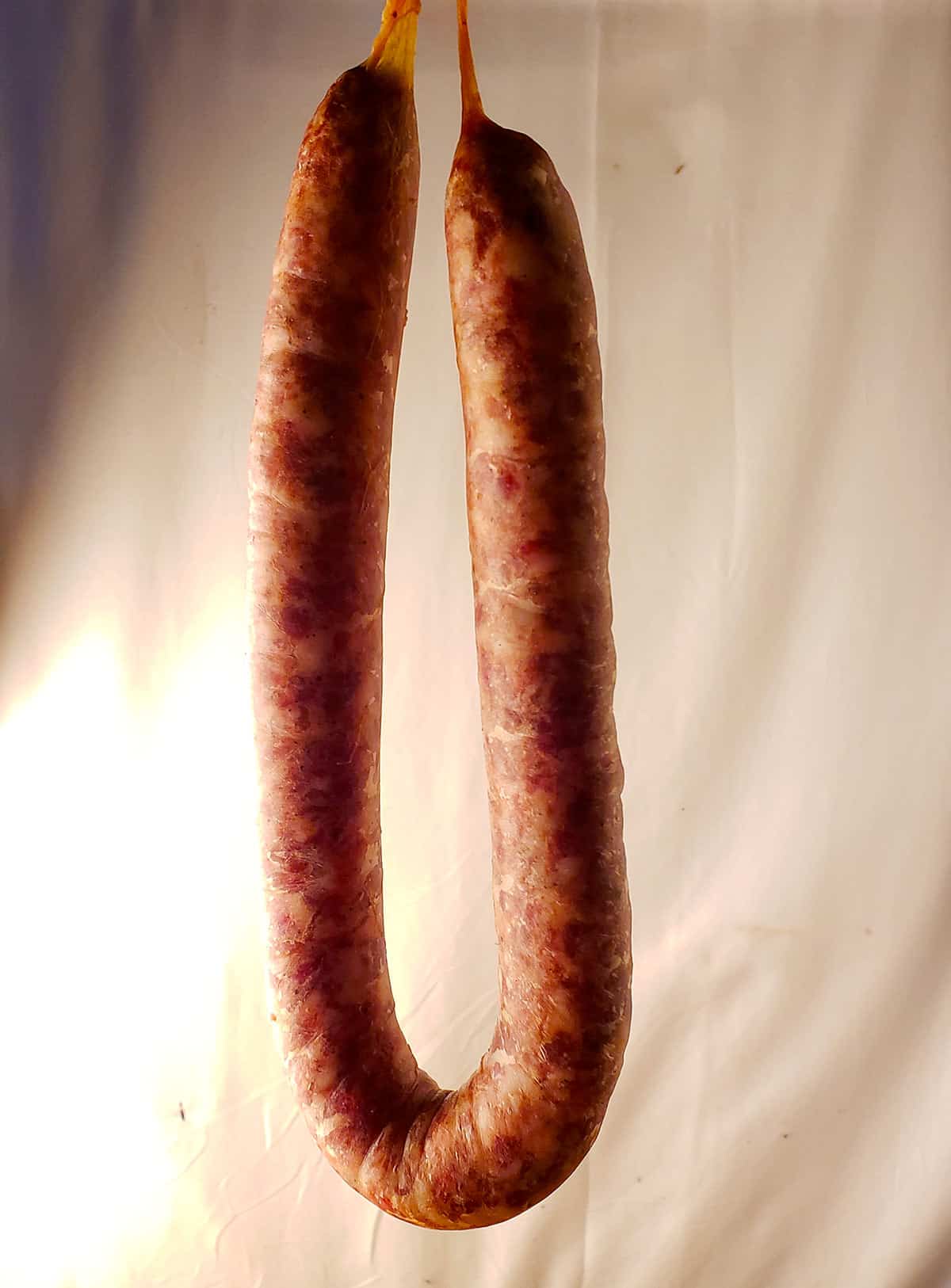 Eat your butifarra grilled, in stews and soups, pan-fried or even smoked, although this is not normally a smoked sausage.
Once made, it will keep a week in the fridge and, vacuum sealed, more than a year in the freezer.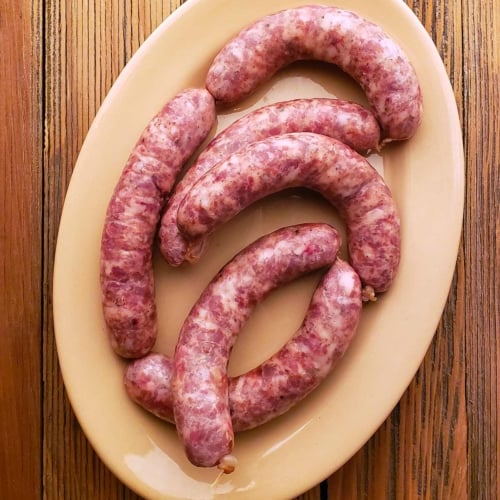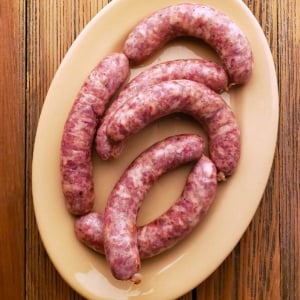 Spanish Butifarra Sausage
Despite the unusual name, this is a very simple, basic homemade sausage that highlights the pork. Once you are good at making sausage at home, use the best pork you can get.
Equipment
Meat grinder

Sausage Stuffer (if making links)
Ingredients
2

kilograms

pork shoulder,

about 4 1/2 pounds

30

grams

sea or kosher salt,

about 5 teaspoons kosher salt

10

grams

freshly ground black pepper,

1 tablespoon + 1 teaspoon

5

grams

freshly ground allspice

(optional)

1/4

cup

sherry or red wine,

chilled

1/4

cup

ice water

1

tablespoon

C-Bind

(optional)

Hog casings
Instructions
Cut the meat into chunks that will fit into your grinder. Mix well with the salt and set in the fridge overnight.

The next day, put your auger, blade, and die - I prefer the 6 mm, medium die for this sausage - into the freezer for 1 hour before you grind. If you are making links, soak about 15 feet of casings in warm water. Mix the black pepper and allspice with the meat chunks and grind, once or twice, depending on how gristly the meat is.

Put the mixture in the freezer while you clean up. You want the meat mixture to be close to freezing before you mix it. When it's ready, add the sherry, ice water and C-Bind, if using, and, with your very clean hands, knead and mix the meat for 60 to 90 seconds, until it comes together as one cohesive, sticky ball.

You now have butifarra. If you don't want to case it, you are done. If you do want links put the meat into the stuffer. Slip a length of casing on the stuffer all the way, leaving about 4 inches of "tail" hanging off. Crank the stuffer down to remove air. "Milk" the air out of the "tail" of casing, then fill the casing entirely, making a large coil. You want it full, but not overly tight at first. Repeat until you've cased all the meat.

To make links, gently compress one end of a coil and tie off that end of casing. Moving about 6 inches down the coil, pinch off a link with your fingers. Spin that link away from you a few times to form the link. Move down the coil, pinch off another link and, this time, spin it towards you. Repeat until the end, and tie off that last link. (This video shows how I do it.)

Use a needle or somesuch to prick out any air pockets in the links, gently compressing them to fill the gaps. Be careful, as you don't want to burst the link. Hang your sausages as noted in above and, if you can wait, eat the next day.
Nutrition
Calories:
76
kcal
|
Carbohydrates:
0.5
g
|
Protein:
10
g
|
Fat:
4
g
|
Saturated Fat:
1
g
|
Polyunsaturated Fat:
0.4
g
|
Monounsaturated Fat:
2
g
|
Cholesterol:
33
mg
|
Sodium:
503
mg
|
Potassium:
176
mg
|
Fiber:
0.1
g
|
Sugar:
0.03
g
|
Vitamin A:
6
IU
|
Vitamin C:
0.5
mg
|
Calcium:
11
mg
|
Iron:
1
mg
Nutrition information is automatically calculated, so should only be used as an approximation.