Polish Bigos Stew
November 30, 2020 | Updated June 06, 2022
As an Amazon Associate I earn from qualifying purchases.
Bigos is one of the national dishes of Poland. It's a hearty stew often studded with lots of wild game, served in blankets of sauerkraut, cabbage, shredded apple and onions. Usually it will have some sausage tossed in, too.
Let me start by acknowledging that there are as many recipes for bigos as there are cooks. It's one of those dishes. Sorry in advance if my bigos recipe is not like yours. It's still damned good. Incidentally, it's pronounced something like BEG-oh-ss.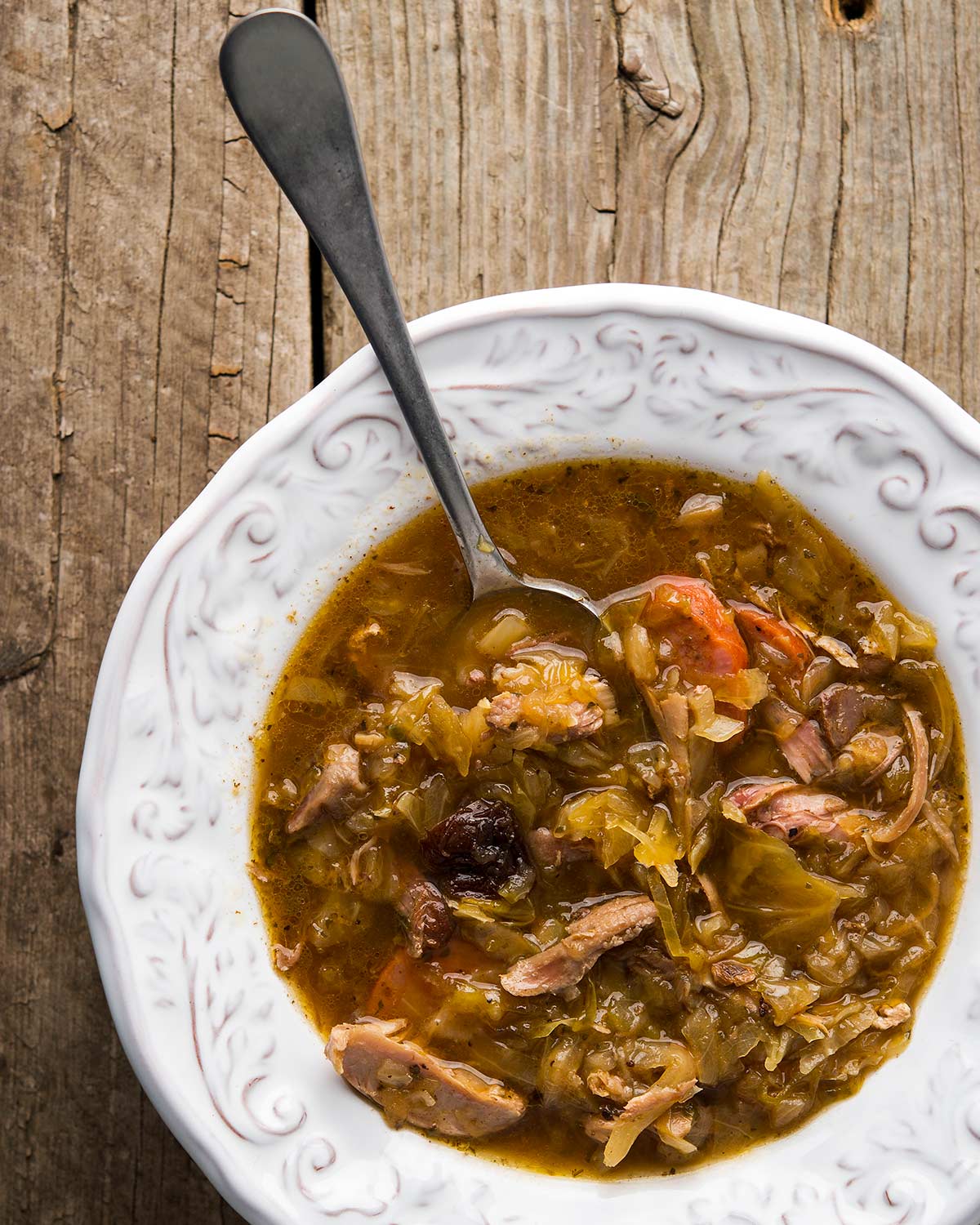 As a hunter's stew, bigos will often be home to whatever meats you have handy. I focus on turkey in this rendition only because that's what I had at the time. But the sky's the limit, with the only limitation being that it needs to be a meat that can be cooked long and slow: Venison shoulder or shanks, pork (wild or farmed), pheasant or chicken legs, whole quail or grouse, bear, you name it.
Most cultures have similar stews. Kentucky burgoo springs to mind, as does Cajun or Creole gumbo or Ukrainian borscht.
Broadly speaking, there are two main kinds of bigos: one that relies heavily on tomatoes, and one that relies more strongly on dried fruit. Mine splits the difference and has a touch of tomato, and some dried plums.
Every bigos recipe has cabbage and sauerkraut, as well as lots and lots of onions.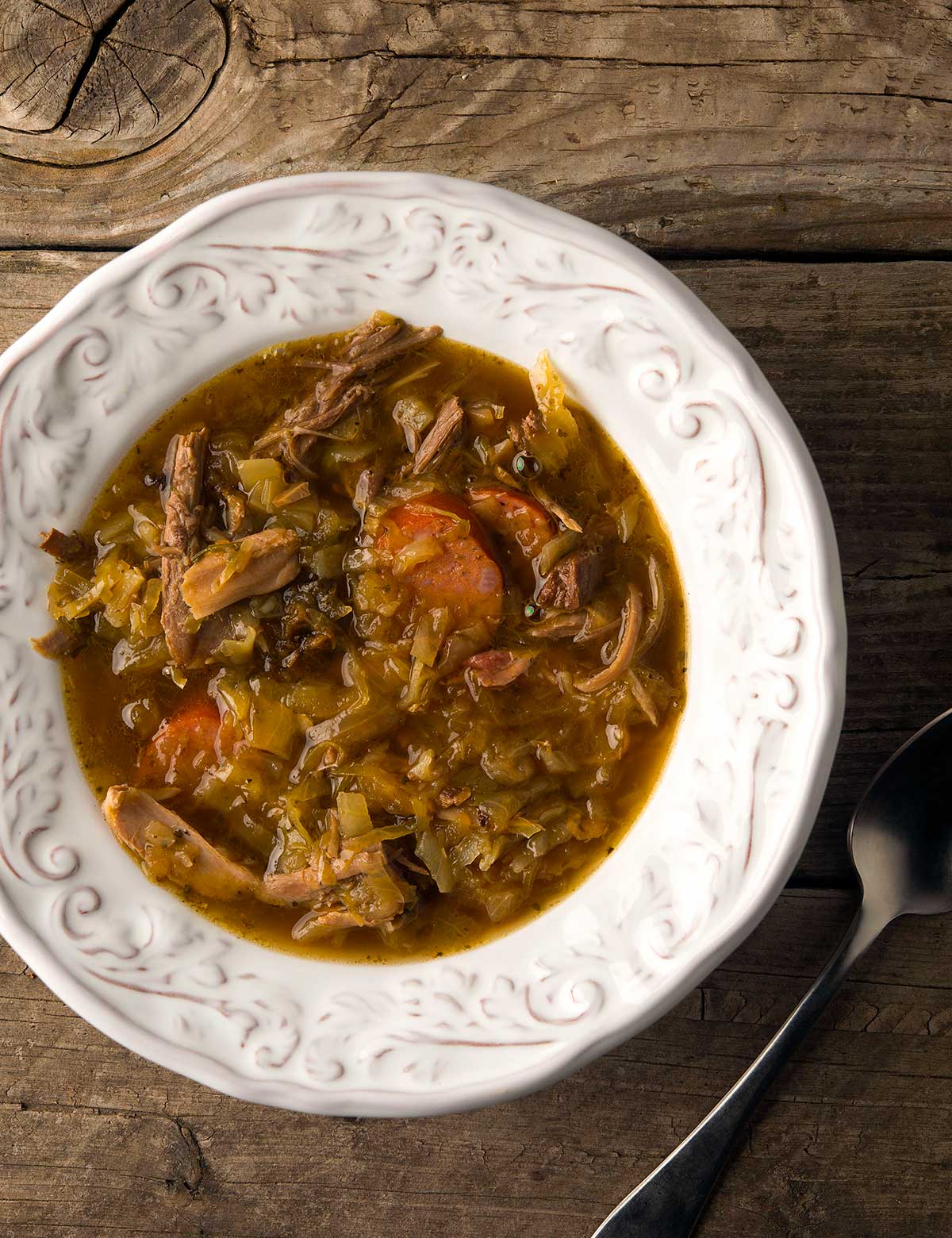 Most versions also balance fresh meats with smoked ones, very similar to the Brazilian and Portuguese stew called feijoada. Mine uses a ham hock or smoked turkey wing, as well as smoked kielbasa. I have a great recipe for homemade kielbasa here, if you want to make your own, and if you are a duck hunter, I have a recipe for Polish duck sausages I like a lot.
If you happen to have juniper berries, they are great in this stew. I gather my own in the Sierra Nevada, but you also can buy juniper berries online.
Serve your stew with rye bread, pumpernickel or potatoes. If you want to get really Polish, serve Polish fermented mushrooms and some bison grass vodka on the side. I've actually seen it for sale in better liquor stores here in the U.S.
Bigos keeps well in the fridge, more than a week in my experience, and is better after reheating.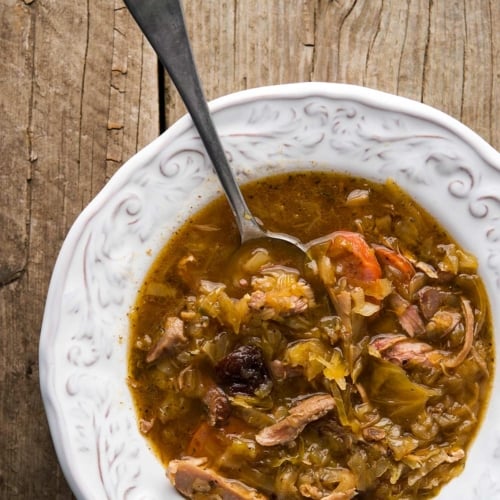 Polish Bigos Stew
Needless to say this stew can be made with anything, and it will be better the second and third day after you make it.
Ingredients
5

pounds

Wings, drumsticks, and thighs from a turkey

¼

cup

duck fat

lard, or butter

Salt

2 or 4

large onions,

sliced

1

ounce

dried mushrooms,

rehydrated in 2 cups boiling water

A smoked turkey wing or ham hock

2

garlic cloves,

chopped

1

tablespoon

chopped lovage

(optional)

1

teaspoon

dried marjoram

12

juniper berries,

lightly crushed

1

or 2 bay leaves

1

or 2 tablespoons tomato paste

4

cups

shredded cabbage

2

cups

sauerkraut

1

apple,

peeled and coarsely grated

A dozen prunes,

chopped in half (optional)

1

pound

smoked kielbasa,

sliced into disks

Lots of freshly ground black pepper
Instructions
Put the dried mushrooms in a bowl, pour the boiling water over them, cover and set aside.

Brown the turkey in the duck fat or lard over medium-high heat. Do this in batches and take your time. Salt them as they cook. Set the turkey aside in a bowl when each piece has been browned. When all the turkey has been browned, add the onions and toss to coat in the fat. Add more fat, if need be. Cook the onions over medium-high heat for 6 to 8 minutes. Salt them as they cook.

Chop the rehydrated mushrooms and reserve the soaking water. Add the mushrooms to the pot and cook for a minute or two. Add the garlic and cook another minute.

Add the browned turkey pieces, the smoked turkey wings or ham hock, lovage (if using), marjoram, juniper berries and bay leaves. Mix the tomato paste with the mushroom soaking water and add it to the pot. Add about 2 more quarts of water and bring to a simmer. Simmer, covered, for 90 minutes.

Add the cabbage, sauerkraut, and grated apple, and keep cooking the stew until the turkey is tender, about another hour or so. Remove the meat and separate it from the bones, then return the meat to the pot.

Add the prunes, kielbasa, and black pepper, then cook another 10 minutes. Serve with bread.
Notes
NOTE: Since smoked kielbasa is already cooked, it doesn't need to cook very long. 
Nutrition
Calories:
688
kcal
|
Carbohydrates:
28
g
|
Protein:
56
g
|
Fat:
39
g
|
Saturated Fat:
13
g
|
Cholesterol:
213
mg
|
Sodium:
917
mg
|
Potassium:
1206
mg
|
Fiber:
5
g
|
Sugar:
13
g
|
Vitamin A:
177
IU
|
Vitamin C:
26
mg
|
Calcium:
100
mg
|
Iron:
6
mg
Nutrition information is automatically calculated, so should only be used as an approximation.