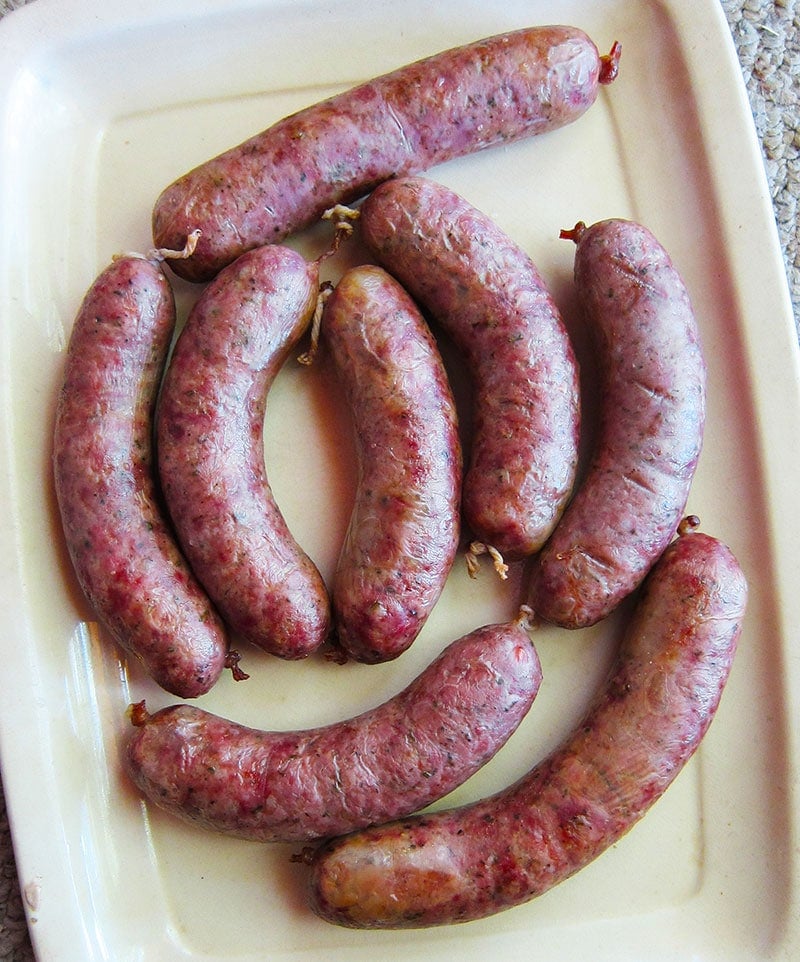 This is a fine-grained, almost emulsified sausage reminiscent of a real Polish Kielbasa, but with my own flavor combinations and duck as the dominant ingredient, instead of pork or beef. These sausages are good on the grill, but are better simmered slowly in beer with some sauerkraut. You can use goose meat here, too – snow goose would be perfect.
Makes about 5 pounds, or 20 sausages
Prep Time: 90 minutes
Cook Time: 15 minutes
3 1/2 pounds duck or goose meat
1 1/2 pounds pork shoulder (make sure it's fatty)
1/3 cup fresh marjoram or oregano, chopped
2 tablespoons minced garlic
35 grams kosher salt, about 2 heaping tablespoons
1 1/2 tablespoons fresh ground black pepper
2 teaspoons ground mustard
1 tablespoon caraway seeds
1 cup red wine, chilled
hog casings, 3-4 standard lengths (about 1o feet total)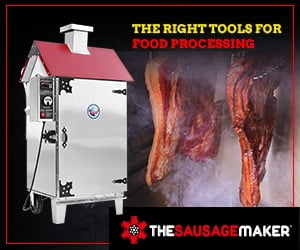 Cut the meat and fat into 1 to 2 inch chunks and chill until it is almost frozen by putting it in the freezer for an hour or so.
Take out some hog casings and set in a bowl of very warm water.
Combine the salt and all the spices except the caraway seeds and mix into the meat and fat. You can let this rest in the fridge for an hour, or up to overnight.
Grind the meat and fat through your meat grinder (you can use a food processor in a pinch, but you will not get a fine texture) twice, first using the coarse die, then the fine one. If your room is warmer than 70°F, set the bowl for the ground meat into another bowl of ice to keep it cold.
Add the wine and the caraway to the mixture and mix thoroughly either using a Kitchenaid on low for 60 to 90 seconds or with your (very clean) hands. This is important to get the sausage to bind properly. Once it is mixed well, put it back in the fridge and clean up your work area.
Stuff the sausage into the casings all at once. Fill a whole casing before making links. Twist off links by pinching about a 5-inch length of filled sausage down and twisting it, first away from you — then, with the next link, towards you. This helps keep the links tight. Or you could tie them off with butcher's string.
Hang the sausages for an hour, or up to 8 hours if you can refrigerate them hanging. Use a needle to pierce the skins where there are any air pockets, and gently compress the meat in the skins to remove any stubborn air pockets.  Once the sausages have dried a bit, put in the fridge until needed. They will keep for a week. If you are freezing the sausages, wait a day before doing so. This will tighten up the sausages and help them keep their shape in the deep-freeze.
You can find dozens of recipes for fresh sausages using all sorts of meats, here on Hunter Angler Gardener Cook!