Creole Okra Gumbo
February 17, 2020 | Updated June 06, 2022
As an Amazon Associate I earn from qualifying purchases.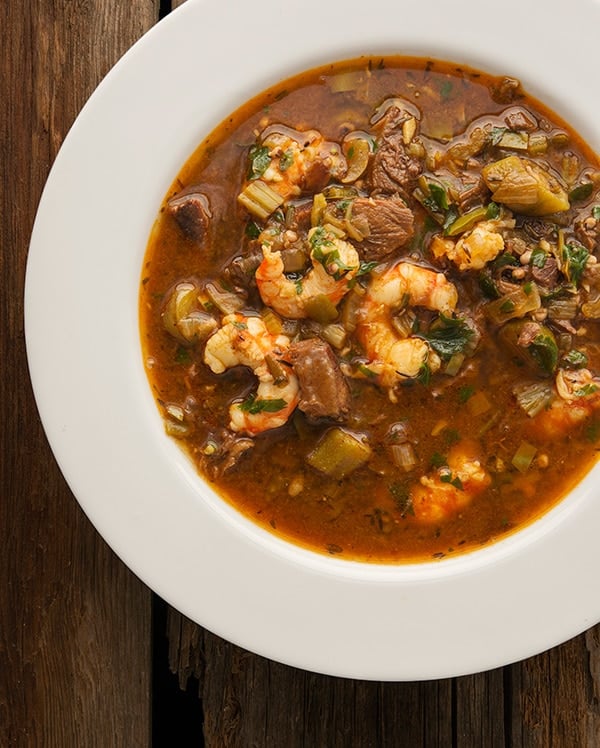 Okra gumbo. Sounds redundant, eh? Doesn't all gumbo need okra?
Well, no, actually. Gumbo needs at least one of the three standard thickeners: a roux; filé, which is powdered sassafras leaves; and/or yes, okra. This Creole gumbo is a fascinating, wonderful example of a lighter gumbo with no roux.
No roux, huh? I've made lots of gumbo in my life, and I eat it whenever I'm in Louisiana, which isn't often enough unfortunately. Here on Hunter Angler Gardener Cook I have recipes for seafood gumbo, turkey gumbo, and even a venison gumbo. All have a roux as their base.
This Creole gumbo does not. I knew such a thing existed, and I'd even eaten it once at a friend's home in New Orleans. So when I bought a copy of Toni Tipton's amazing cookbook Jubilee: Recipes from Two Centuries of African American Cooking, I knew I had to play with her version of okra gumbo.
If you are unfamiliar with the difference between Creole and Cajun cooking, the shorthand is this: Creole is largely black, uses tomatoes and lots of okra. Cajun is largely white, skimps on tomatoes, and uses okra more sparingly. Keep in mind these are only general rules, not absolutes.
Tipton's okra gumbo hinges on beef short ribs that are roasted in the oven before they go into the pot, a silky, lovely idea. I rarely cook with beef, however, so I went with a pair of deer shanks from a whitetail I'd shot in Oklahoma. Whatever you use, you want it to be full of connective tissue: Shanks, neck, shoulder.
This is an overlooked way of thickening gumbo. All that connective tissue helps thicken the broth, as does a generous use of okra, plus a dash or three of filé right at the end. No roux needed.
As a Creole gumbo, you might expect to see tomatoes here, and you'd be right. I use a just a touch of tomato in my Cajun gumbo, and people give me all kinds of grief about it. To hell with them, I say. But here, profligate use of tomato is encouraged.
Keep in mind that as with any gumbo, this one needs several hours on the stove, and is better the next day, or even the day after that. Make it on a weekend, and then your okra gumbo will keep a week in the fridge easily.
Looking for more okra recipes? I have lots. Okra stew, Lowcountry okra salad, roasted okra, pickled okra… yeah, I like okra.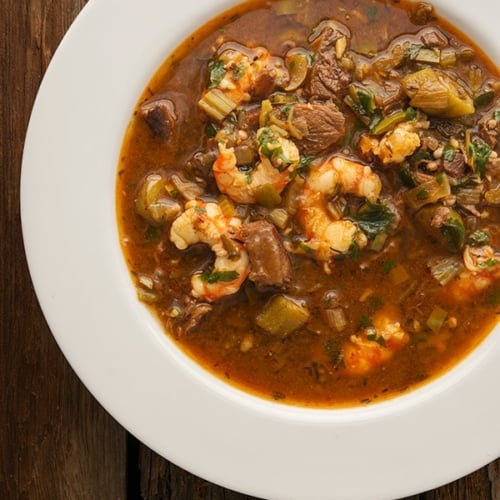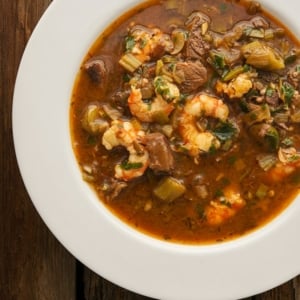 Creole Okra Gumbo
I use venison shanks here, but you can use any red meat with a lot of connective tissue: shanks, shoulder or neck. You can skip the file gumbo if you can't find it.
Ingredients
2 to 4

deer shanks or other similar meat

(about 3 to 4 pounds)

2

tablespoons

vegetable oil

Salt

1/2

teaspoon

cayenne or red pepper flakes,

(or a few dried hot peppers, broken)

2

bay leaves

2

tablespoons

paprika,

smoked if possible

12

ounces

shrimp, with peels

2

tablespoons

bacon fat, lard or vegetable oil

1

pound

okra, sliced

1

yellow onion, chopped

2

stalks

celery, chopped

1

green bell pepper, chopped

4

cloves

garlic, minced

1 to 3

Scotch bonnet (habanero) pepper, minced

(optional)

1

teaspoon

dried thyme

1 1/2

cups

tomato puree,

fire-roasted if possible

1/2

pound

crabmeat

(optional)

1/2

cup

chopped parsley

Freshly ground black pepper to taste

Gumbo file, to taste

(sassafras leaf powder)
Instructions
Preheat the oven to 400F. Coat the shanks or other meat with a thin sheen of oil, then salt well. Arrange in a roasting pan. Roast in the oven for 1 hour.

Remove the roasting pan and add the shanks to a large soup pot. Cover with water and turn the heat to medium-high. Add some water to the roasting pan and, when it has loosened up the browned bits on the bottom of the pan, use a wooden spoon to scrape them off. Add all that to the soup pot. Stir in the cayenne, bay leaves and paprika and bring to a simmer. Add salt to taste, then cook gently for 1 hour.

After 1 hour, add the shells from all the shrimp to the soup pot. You will likely need a total of 3 hours to render deer shanks tender, but most other meats won't take that long.

When the shanks are reasonably tender, get a large frying pan out and heat 2 tablespoons of the bacon fat over medium-high heat. Arrange the sliced okra in the pan and sear hard without stirring for 5 minutes. Stir, then let them cook like this another 5 minutes. You want a little char and lots of browning.

Add the chopped onion, celery and green bell pepper and keep searing on high for another 3 to 5 minutes. Now it's time to add the garlic and Scotch bonnet peppers, if you are using them. Cook all this for another 2 minutes, stirring often, then turn off the heat.

Pull the meat off the bones of the deer shanks and shred into pieces you'd want to eat in gumbo. Strain the broth the meat cooked in. Wipe out the soup pot and return the strained broth into it, along with the shredded meat and the vegetables in the frying pan. Stir well and taste for salt.

Add the dried thyme, the tomato puree and let this cook 20 minutes. Add the shrimp and and crabmeat, if using, and let this cook 5 minutes. Stir in the chopped parsley and lots of freshly ground black pepper. Add about a tablespoon of gumbo file if you're using it. Serve over rice or with grits.
Notes
NOTE: There is a cool ingredient to make this a bit more African if you want: selim pepper, which you can buy online. Use it in the initial broth and at the end. It adds an exotic floral note. 
Nutrition
Calories:
216
kcal
|
Carbohydrates:
13
g
|
Protein:
22
g
|
Fat:
9
g
|
Saturated Fat:
5
g
|
Cholesterol:
132
mg
|
Sodium:
613
mg
|
Potassium:
689
mg
|
Fiber:
4
g
|
Sugar:
4
g
|
Vitamin A:
1945
IU
|
Vitamin C:
42
mg
|
Calcium:
154
mg
|
Iron:
4
mg
Nutrition information is automatically calculated, so should only be used as an approximation.