Saffron Sauce with Fish
May 27, 2013 | Updated August 09, 2022
As an Amazon Associate I earn from qualifying purchases.
Saffron sauce is one of my all-time favorite sauces for fish, poultry and even certain mushrooms. It shines like the sun and tastes rich, grassy and bright. Here's how I make it.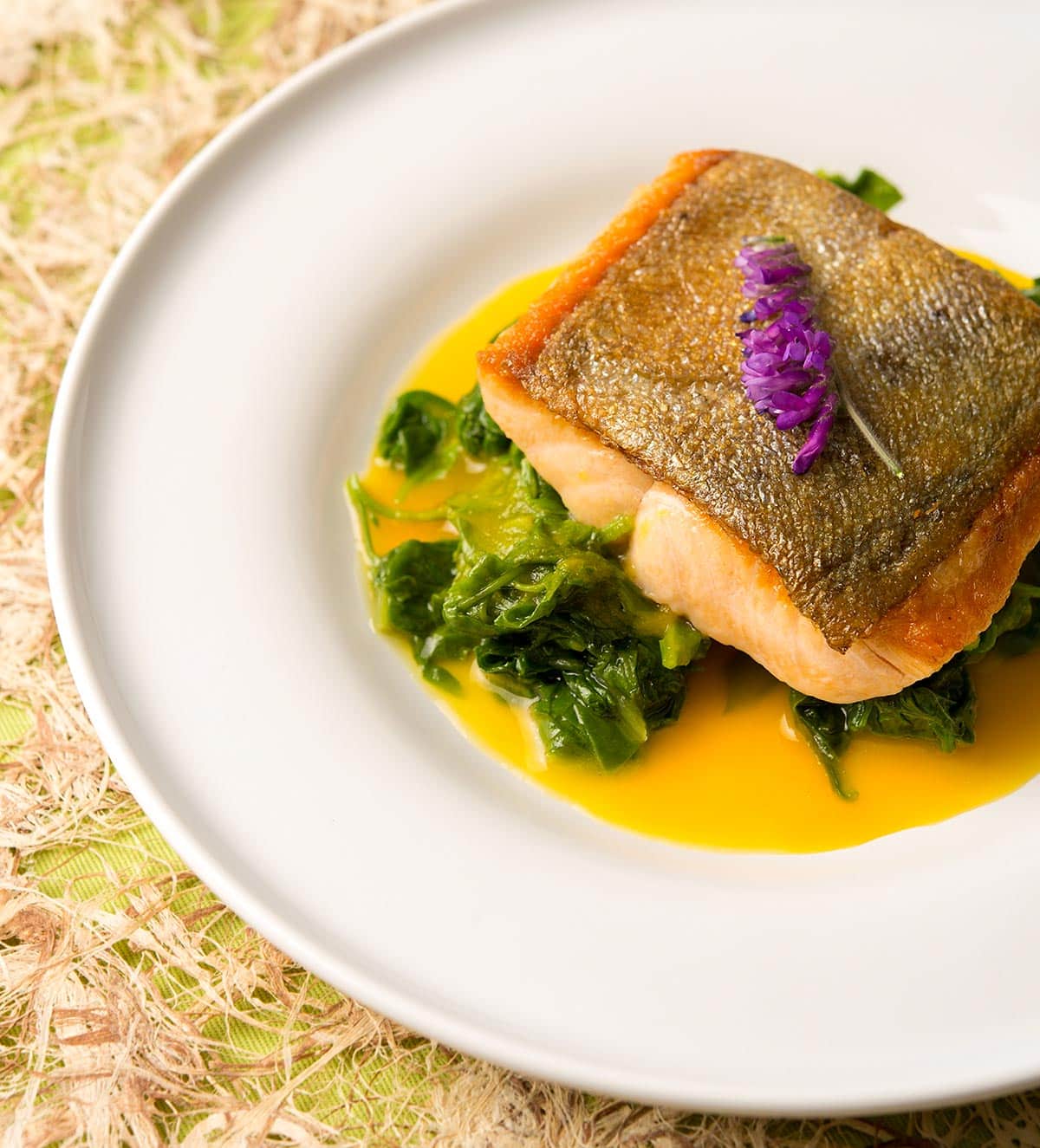 If you've ever seen the movie "Ratatouille," you may recall that Remy the Rat could see flavors in color. I do this with seasons. Winter is burnt umber, black and ivory, the colors of deep sauces and stored roots. Summer, on the other hand, is a carnival riot: Reds and oranges and purples and vibrance all around. It's a crazy-quilt of color.
Spring is easier. Spring is all about spring green — that vivid, bright emerald that always has a yellow cast to it. This is the green of new growth. Yellow, the canary of mustard flowers and the school-bus yellow of dandelion flowers, compliment that green. Each year I try to design a dish that celebrates those colors.
That's where saffron sauce comes in. This recipe is a simple piece of fish, with simply cooked greens, served with a saffron sauce to easy to make you will wonder you have not made it before.
What's the Best Saffron?
This is a hot topic, with many opinions. I always buy "coupe grade" Spanish saffron, but Iranian and Kashmiri saffron is every bit as good. Saffron is insanely expensive because it's the stamens on a particular kind of crocus, and they must be picked by hand. An ounce will cost you $50 or more.
The best grades of saffron are whole stamens. This is important because the aroma of saffron, that grassy, bright loveliness, is strongest right when you crush the saffron — the less broken the stamens are, the stronger the aroma. And for this saffron sauce, you want that aroma.
Do not buy Mexican azafran. Fully named Corrales azafran, it comes from safflowers and while it will turn a dish yellow, it has no aroma.
If you are worried about the cost of making a saffron sauce, don't. You use just a pinch, and the stamens keep for two years in their little tin.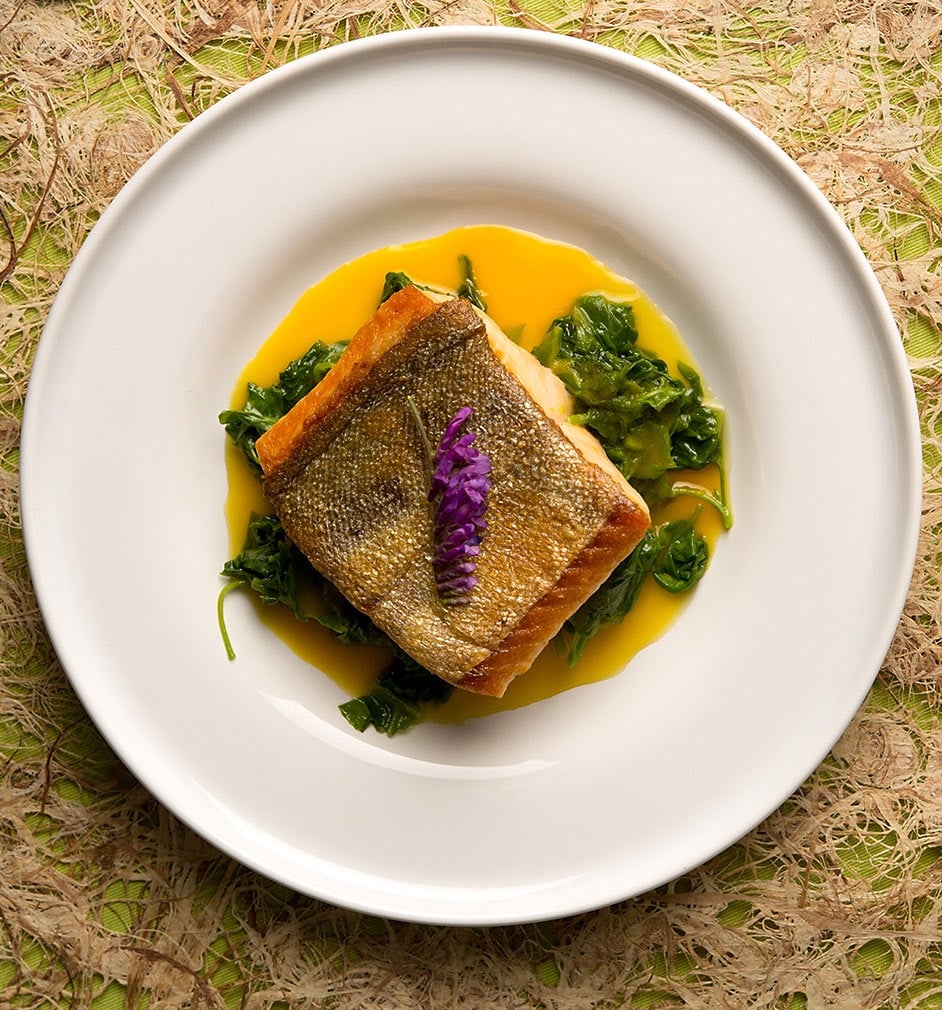 Making the Saffron Sauce
This sauce hinges on orange and saffron, a classic combination. Lemon would be good too, although it's awfully acidic; Meyer lemons would be best. Tangerines, pink grapefruit or limas, the sweet limes from the Yucatan, would be other good options.
My saffron sauce has echoes of a gastrique, a French sauce made of vinegar and sugar. I use a touch of sugar here, but the citrus and some white wine provide the brightness.
Butter, swirled in at the end the way you do in a piccata, calms everything down and adds body and richness to the saffron sauce.
What to Serve with Saffron Sauce?
Usually, this is a saffron sauce with fish, and usually that fish is trout. Both are springtime specialties. But most fish would work here: Any white meat fish you can think of, from sole to bass to walleye and snapper, as well as any "orange" fish — the trout, char and salmon family.
Saffron sauce is also fantastic with chicken, rabbit or other white meats, even pork. I love it with partridges.
For this specific recipe, I used cutthroat trout from Pyramid Lake in Nevada. No great story here, although the catching of the trout on Pyramid Lake was pretty cool, and the greens are an unusual variety of amaranth I grow in my garden (spinach would be a good alternative). This is just a great, simple dish you can actually whip up on a weeknight. Really. It only looks fancy.
If you want something a little less bracing and creamier, but is still a pretty saffron sauce, try my saffron aioli.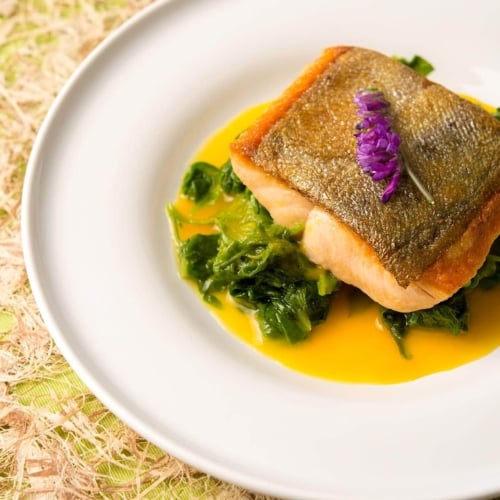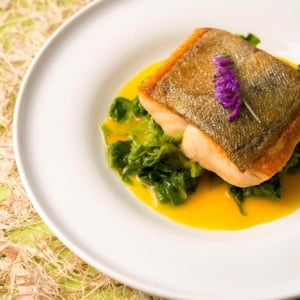 Saffron Sauce with Trout
This dish is pretty simple, although it looks fancy-dancy. It's simply seared fish, a very simple sauce, and greens cooked in butter. Once you make this recipe a second or third time, it will come together in less than 30 minutes and will impress your friends.
Ingredients
SAFFRON SAUCE
1/2

cup

white wine

1/2

cup

orange juice

A healthy pinch of saffron,

crumbled

A healthy pinch of sugar

1

shallot,

minced

Salt

2

tablespoons

unsalted butter
GREENS and FISH
1 1/2

pounds

tender greens,

such as spinach or amaranth or lambsquarters

5

tablespoons

unsalted butter or vegetable oil,

divided

A splash of water,

maybe 3 tablespoons

Grated zest of an orange

Salt to taste

1 1/2

pounds

trout or salmon fillets

Sprigs of pea or vetch flowers, for garnish

(optional)
Instructions
Make the sauce by bringing the white wine, orange juice, saffron, sugar and shallot to a boil in a small pot. Simmer strongly for 5 minutes, then turn off the heat and puree the sauce in a blender. Return it to the pot and turn the heat to low. Add salt to taste and keep warm, but don't boil it.

Cook in the greens in 2 tablespoons of butter or oil over high heat in a large sauté pan, stirring constantly until they wilt. Add the splash of water, the orange zest and some salt and cover the pot. Lower the heat to medium-low and steam the greens for 2 minutes. Turn off the heat.

Sear the fish by heating the remaining butter in a pan large enough to hold the fish -- if you don't have such a pan, put a baking sheet in the oven and set the oven to 200°F so you can keep the fish warm as you do this in batches. Heat the butter over high heat until it stops frothing. Pat the fish dry with paper towels and set it skin-side down in the hot butter. Turn the heat down to medium-high for a typical trout fillet (like you see in the picture) or to medium if you are working with a thicker piece of fish.

Let the fish cook undisturbed for 2 minutes, then use a large spoon to baste the meat side of the fish with the hot butter. Do this constantly for 90 seconds, then give it a rest. Thin pieces of trout will only need this quick basting to cook through, but thicker pieces of fish will need a second or even third round of basting. When you are done basting, salt the meat side. The skin side should lift off the pan easily after about 4 to 5 minutes of steady cooking. The moment you take the fish off the heat, salt the skin side.

To serve, swirl in the remaining 2 tablespoons of butter into the sauce, one tablespoon at a time. Pour some sauce on everyone's plate. Top with the greens and then with a piece of fish. Serve at once.
Notes
A word on the fish. I like this with trout, which is mild and a little fatty. But you could use salmon, or any fish where you would eat the skin. Hate fish skin? No matter. You can do this with skinless pieces of fish, too.
Nutrition
Calories:
510
kcal
|
Carbohydrates:
11
g
|
Protein:
41
g
|
Fat:
32
g
|
Saturated Fat:
15
g
|
Cholesterol:
151
mg
|
Sodium:
228
mg
|
Potassium:
1667
mg
|
Fiber:
4
g
|
Sugar:
4
g
|
Vitamin A:
16721
IU
|
Vitamin C:
65
mg
|
Calcium:
252
mg
|
Iron:
7
mg
Nutrition information is automatically calculated, so should only be used as an approximation.