Salmon Rillettes
April 24, 2013 | Updated January 04, 2021
As an Amazon Associate I earn from qualifying purchases.
Rillettes, pronounced "ree-yets," are one of my favorite appetizers. It's basically a really rough pâté that's just barely spreadable. And salmon rillettes are every bit as good as the customary pork or duck rillettes.
Far easier to make than a proper pâté and equally less fussy, rillettes are to pate as Armagnac is to a fine Cognac: Just as good, but a little rougher around the edges.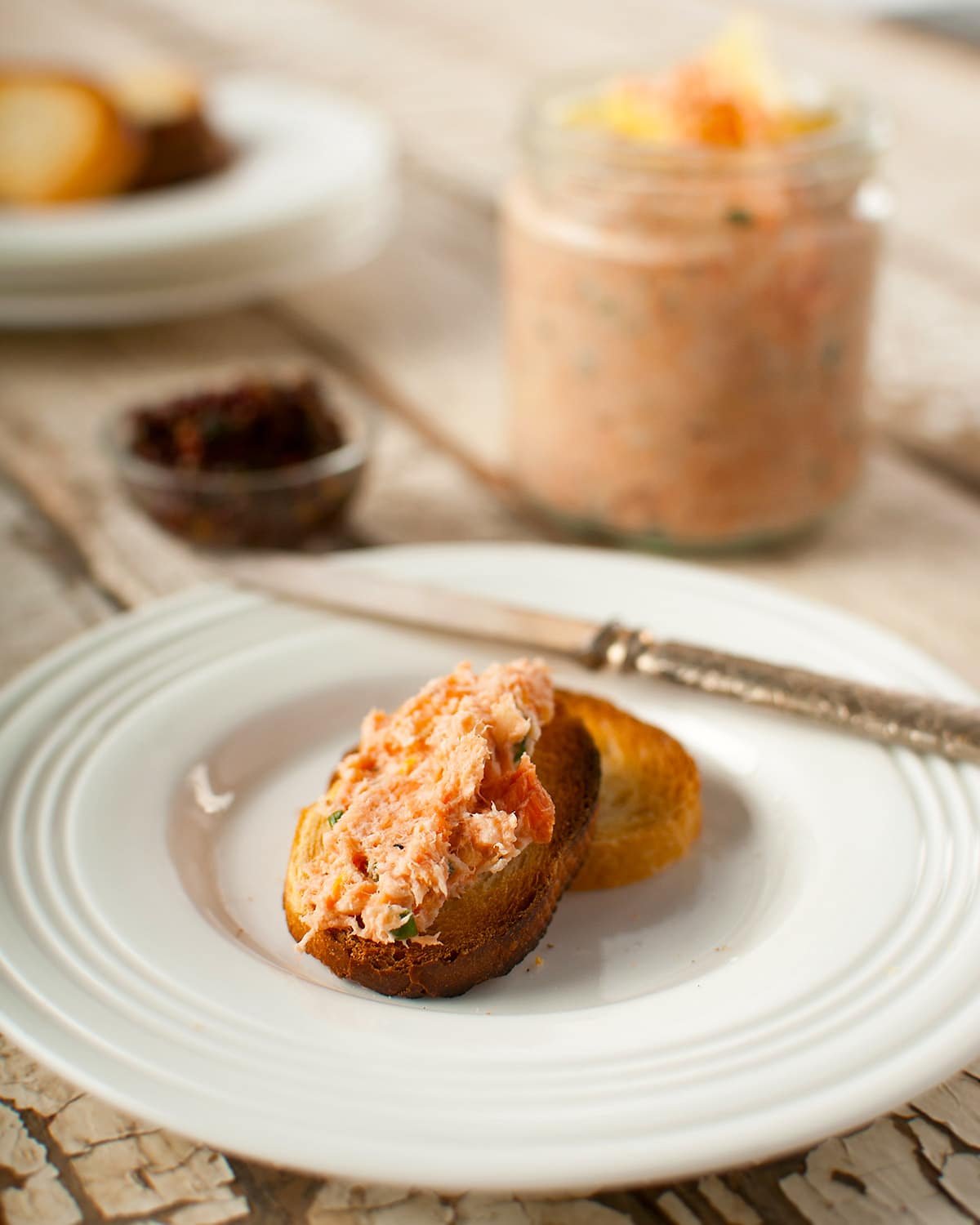 Another way to look at a rillette is that it's a lot like a salmon salad (or egg salad, ham salad or whatever), except it's been beaten to a pulp. You eat it on crackers or toasted bread, so it needs to be spreadable enough to stay where you put it.
(Here is a general primer on how to make rillettes from pretty much anything.)
Best part is you don't want the prime cuts to make your salmon rillettes: Anglers, this is a great use for the meat you scrape off the carcass with a spoon, and for that last 6 to 8 inches of fillet on the tail end.
If you are buying your salmon, don't make rillettes from top-of-the-line Pacific salmon loin cuts — make it with cheaper pieces, or with lesser salmon, such as pinks or chum salmon. Any trout or char will work, too. I really like using tail sections if I don't have "spoon meat."
You'll also want some smoked salmon, too. The flavor will be different depending on whether you use hot-smoked or cold-smoked fish, however. I use cold-smoked fish here, which is more delicate. A rillette with a piece of hot-smoked salmon will be pretty assertive, but still very good.
Only thing you want to watch for is hot-smoked salmon that's been really heavily smoked: It's too firm, and will not properly incorporate into the rest of the spread.
Rillettes are total outdoor food, too. You pack it into little jars — a half-pint Mason jar is ideal — melt some butter on top, let it solidify in the fridge, cover the jar and you're good to go. Bring along some crackers or bread and you have a helluva meal at a picnic, on the boat, streamside, or wherever you find yourself.
Serve salmon rillettes on toast or crackers as an appetizer or a snack, with pickled things. It is really good on board while you are fishing for more salmon and trout.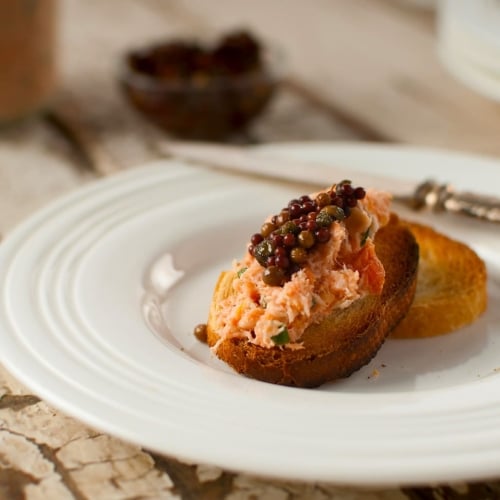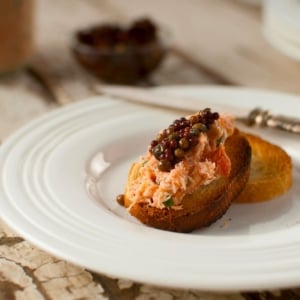 Salmon Rillettes
The very best rillettes are a combination of fresh and smoked salmon or trout; this gives the spread a more interesting flavor. If you're lacking one or the other, it's no sin to buy some salmon or trout to make this recipe -- but most salmon and trout anglers I know have a ready supply of both fresh and smoked fish on hand.
Ingredients
1/2

pound

fresh salmon or trout,

skin and bones removed

1/2

pound

smoked salmon or trout,

skin and bones removed

1/4

cup

sour cream or creme fraiche

2

tablespoons

lemon juice

3

to 5 tablespoons unsalted butter,

at room temperature

Finely grated zest of a lemon

3

tablespoons

minced chives or parsley

About 1 tablespoon prepared horseradish,

or to taste

Salt and black pepper to taste

Pickled mustard seeds or trout caviar

(optional)
Instructions
Bring about a quart of water to a boil. Salt it well. You can add some flavorings if you want, such as bay leaves, herbs or onions, but I rarely do. Slip the fresh salmon into the water and turn off the heat. Cover the pot and let this sit for 15 minutes or so. Remove the salmon and when it is cool enough to handle, flake it into a large bowl.

Break up the smoked salmon and add that to the bowl, along with the sour cream, 3 tablespoons of butter, lemon juice, lemon zest and chives. Use a heavy fork to mash everything together. You want a rough spread, not a smooth pate. Add the remaining 2 tablespoons of butter if the rillettes look dry.

Add salt, pepper and horseradish to taste. cover the rillettes with plastic wrap and set in the fridge for an hour or so before serving. Spoon over some pickled mustard seeds or caviar when you serve.
Notes
Once made, pack the rillettes tightly into jars; try to get as many air pockets out as you can. Once packed, melt some butter over the top of the rillettes, cover and store in the fridge. It will keep for at least a week this way, and up to 2 weeks if you keep resealing the butter cap between each use. You can also freeze the finished rillettes for several months.
Nutrition
Calories:
91
kcal
|
Carbohydrates:
1
g
|
Protein:
11
g
|
Fat:
5
g
|
Saturated Fat:
2
g
|
Cholesterol:
27
mg
|
Sodium:
241
mg
|
Potassium:
199
mg
|
Sugar:
1
g
|
Vitamin A:
139
IU
|
Vitamin C:
2
mg
|
Calcium:
14
mg
|
Iron:
1
mg
Nutrition information is automatically calculated, so should only be used as an approximation.