Smoked Lake Trout
July 11, 2014 | Updated June 18, 2020
As an Amazon Associate I earn from qualifying purchases.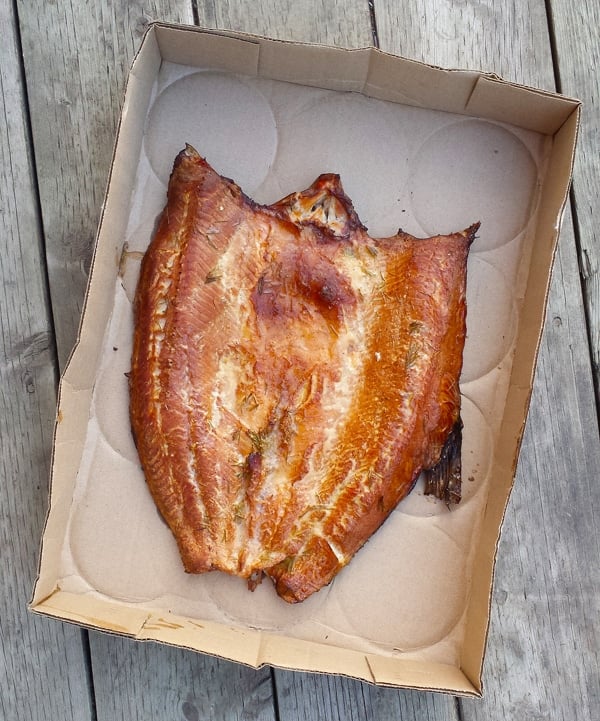 Lake trout, mackinaw, lakers or, for those inclined toward Latin, Salvelinus namaycush, are perhaps the most unloved of the trout family. They're the only member of this exalted clan routinely denigrated as food. Almost all the complaints take some form of the whiny refrain: "Ew, too greasy!"
Really, folks? Really? I mean, we all love bacon (greasy), and most fish eaters love salmon for its fat — a good piece of smoked chinook salmon will leave your hands slick with yummy orange oil. And what's more, salmon and trout fat is good for you. Omega-3s, anyone?
That said, I won't lie to you: Lake trout is a fatty fish. Normal ones range from 5 1/2 percent fat by weight to up to 20 percent, and a subspecies in the Great Lakes called a siscowet can be truly, astonishingly fat: One study conducted in 1965 showed one of these porkers to be 88 percent fat by weight. That one might be too fatty even for me. But a siscowet is a rare laker.
In general, the larger the lake trout the fattier it will be. I've found the sweet spot to be somewhere between 24 and 35 inches, generally somewhere between 6 and 15 pounds. Larger lakers tend to be all breeding females anyway and should be released if possible.
If you're wondering about the odd Latin name for the lake trout, namaycush, it's a Cree Indian word for the laker that we've adopted into the international scientific name. I bring this up because when I first made this recipe I happened to be in Cree Country: Gods Lake, Manitoba in central Canada, as a guest of Travel Manitoba.
When I say the fishing was epic, I am understating things quite a bit. In two days of fishing for them, I caught 37 lake trout, none smaller than 22 inches, which is about 4 1/2 pounds, up to 32 inches, which is almost 15 pounds. Perfect for smoking!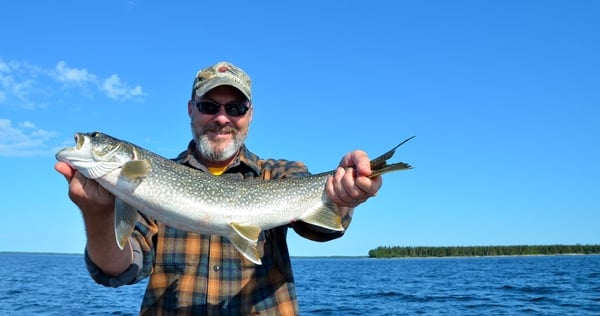 You can only keep one fish a day there, so we fished with barbless hooks (which is the law in Manitoba) and released almost all of them. What's more, Elk Island Lodge, where we were staying, doesn't allow you to take any fish home, so we had to do our smoking at the lodge.
This actually turned out to be a good thing.
The local Cree, many of whom live in the nearby Gods Lake Narrows, are a woodland band of First Nations people (I kinda like the "first nations" moniker) who've been around this part of Manitoba for an awful long time. The lodge hires some Cree guys as fishing guides for the lake, and one of our guides was Robert Spence. Robert is a bit older than I am, and knows his way around cooking fish. So do I, so we had a lot to talk about while trolling for lakers.
My friend and fishing partner, Shel Zolkewich, caught a nice 28-inch lake trout, so we put it on a stringer for smoking later. Robert mostly fillets his lake trout for smoking, but I prefer a Scottish method called kiting, which leaves the fish whole and boneless except for the pectoral fin bones. Kiting — as in a kite — splits the fish down the backbone, leaving the belly intact.
If you know how to butterfly a fish, it's like that, only from the opposite side of the fish. I prefer kiting with fatty salmon and trout because that belly meat is so fatty and good, I don't want to slice into it until the meat's been properly smoked.
Once kited, I heavily salted both sides of the trout and then sprinkled over a bunch of spruce tips that happened to be growing next to the cabin. Spruce tips (or fir tips), if you've never used them, are piney and citrusy all at once. They are perfect for fat salmon or trout because they cut some of that fattiness. I then folded the fish back together and set it to cure in the fridge for a few hours.
Then Robert took over.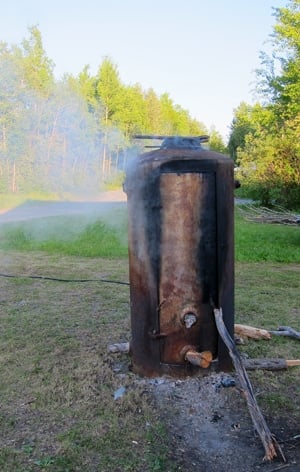 He's made a smoker from an old boiler salvaged from an abandoned gold mine (Gods Lake had a little gold rush almost a century ago), which was pretty cool, but what was really cool was the wood he used. Even though we were in the boreal forest and alder and birch were everywhere, Robert went off looking for just the right wood.
He came back with a huge stash of what he called diamond willow, which so far as I could tell is either peachleaf willow (Salix amygdaloides) or black willow (Salix nigra) that has been infected with a particular fungus that causes diamond-shaped cankers on the wood. Robert said this willow gives the fish much more flavor than any other kind of wood locally available.
In went the fish, and a few hours later we brought the smoked lake trout back to the cabin on an old cardboard can carton. It felt like delivering a pizza, so we called it Cree pizza the whole trip.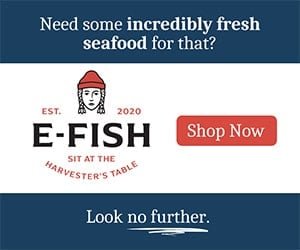 It was much better than pizza. The trout was heavily smoky, and the willow flavor was much more pronounced than I'd expected it to be; it was almost like walnut. You could taste the spruce tips as a bright note, but mostly this was all about smoky, meaty awesomeness. We hammered that trout that first night, but it was so big we managed to pick at it all weekend. I even had a little left for the flight home.
I was eating some, fingers glistening, when I noticed the guy in the seat next to me looking envious. I gave him a chunk. "Oh my God, where did you buy this?" he asked. I told him I didn't. I made it. And so can you.
If you are looking for a more standard way to smoke salmon or lake trout, follow this recipe.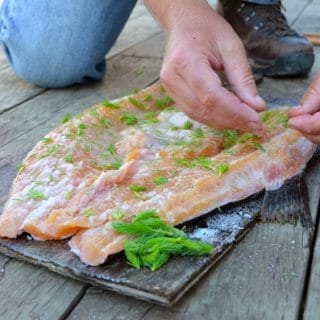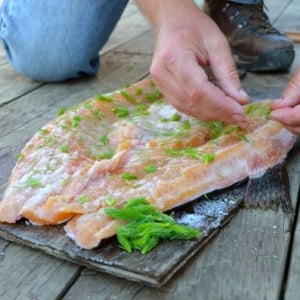 Smoked Lake Trout
This recipe is designed for a fatty fish of between 5 and 15 pounds, something that can be butterflied or kited and then smoked whole. Lake trout are ideal for this because they are the right size and are very fatty. There are other fish you could use with this recipe: Bluefish, larger mackerel, big brown or rainbow trout, or small salmon such as sockeye or pinks.
Ingredients
1

whole lake trout,

butterflied or kited

Kosher salt,

about 90 grams or 3 ounces, about 1/2 cup

1/2

cup

chopped spruce tips

or fir, or fresh rosemary

Grated zest of an orange or 2 lemons or limes

(optional)
Instructions
Salt both sides of the trout liberally. Use the whole 1/2 cup for a fish that, when it was alive, weighed between 5 and 12 pounds. Scale the salt up or down if your fish is larger or smaller, but don't get all hung up on it -- this is an approximation. Sprinkle the chopped spruce tips all over the meat side of the trout. Fold the trout over on itself so it's "back to normal." Put the fish in a closed container and set in the fridge for as many hours as the butterflied fish weighs.

Rinse off the cure under cold water and pat the fish dry with paper towels. Let it sit out in a cool, breezy place for a few hours, or you can set the trout on a cooling rack in the fridge for up to a day. This dries the fish out enough to form a pellicle; if you skip this step the smoke will not adhere to it as well.

Smoke the trout over whatever wood you want. We used diamond willow in Manitoba, but alder is my wood of choice for fish. Fruit woods and oak are other good choices. Smoke over low heat -- no higher than 225°F and ideally closer to 180°F -- until the fish has been cooked through, which can take as little as 90 minutes or as long as 4 hours, depending on how thick your trout is and how hot your fire is. Either eat the trout on the spot or let it cool and eat it cold. It should keep for a solid week to 10 days if kept cool.
Notes
I chose spruce tips as an additional seasoning a) because they were around me in Manitoba, and b) the citrusy-piney flavor cuts the fatty lake trout really well. No spruce tips? Use a combination of rosemary and grated citrus rind and you'll get close. And of course if you want to go a whole different route with the flavors, feel free.
Nutrition
Calories:
130
kcal
|
Carbohydrates:
1
g
|
Protein:
18
g
|
Fat:
6
g
|
Saturated Fat:
1
g
|
Cholesterol:
49
mg
|
Sodium:
45
mg
|
Potassium:
329
mg
|
Fiber:
1
g
|
Vitamin A:
147
IU
|
Vitamin C:
1
mg
|
Calcium:
47
mg
|
Iron:
2
mg
Nutrition information is automatically calculated, so should only be used as an approximation.