Seared Salmon with Avocado Salsa
July 25, 2017 | Updated March 19, 2021
As an Amazon Associate I earn from qualifying purchases.
Salmon with avocado salsa seems like some weird nouveau creation divorced from environment or reality… but if you thought that, you'd be wrong.
To be sure, salmon and avocado don't seem like they ought to go together: They're both soft, both fatty, and let's face it, when you think salmon you think Alaska, not Southern California's avocado country. But they do co-exist in nature, right here where I live in Sacramento.
Sacramento is just about as far north as you can grow an avocado; not sure about the specific variety, but I have a couple friends who grow them here. As for salmon? Well, back in the day the Sacramento River system was home to one of the largest king salmon runs on earth. It's still a big run on good years, and the last few have been good.
Scores of variations of salmon with avocado salsa exist, and I could have probably come up with something fancy. But I didn't. Nope, this is the kind of dinner I do on a typical work night: Simple, and it really does come together in about 30 minutes.
And while I decided to serve it carb-free (for no reason other than I had had a big lunch earlier that day), you could also break up the salmon and make tacos. As always, I'd advise making your own corn tortillas or flour tortillas if you do because, well, they are so much better.
I got the inspiration to make salmon with avocado salsa from Gaby Dalkin's book Absolutely Avocados, which is, as you might expect, an avocado cookbook. Gaby has her own version of this recipe in her book; hers has lots of bell peppers in it.
Any salmon will work with this recipe, as will trout. If you are not in a salmon area, try this with grilled bluefish or mackerel, or amberjack, jack crevalle, tuna or wahoo. Speckled trout is another good option. Inland, you're looking at trout, catfish or walleye.
A word on salmon skin. Lots of people seem to be frightened of fish skin. In some cases, that's justifiable. Not with salmon, though. The method of cooking I show you below will make the skin as crispy as a cracker — just be sure it's been scaled before you do this. If you serve your salmon skin-on, the skin faces up so it stays crispy.
And yes, you can of course make this with skinless salmon, which I did for the picture.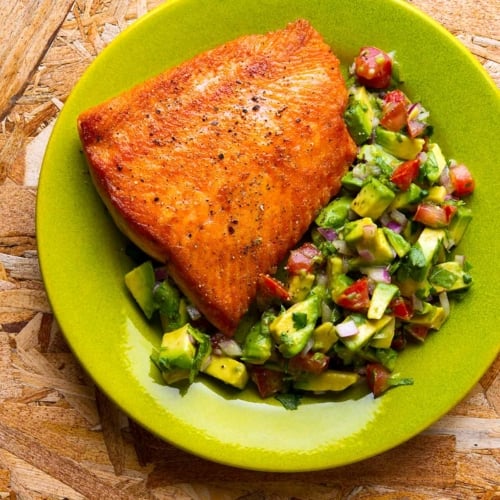 Salmon with Avocado Salsa
I use wild king salmon for this recipe, because that's what I catch. But any salmon or large trout would work, as would any other big piece of fish, really. I like this salsa with striped bass, mahi mahi and yellowtail a lot, and I bet it would be good with halibut, red snapper, cobia, redfish, walleye or black seabass, too. Don't skimp on the soak time for the red onion, unless you like the bite you get from raw onions. The acid in the lime juice really helps tame it.
Ingredients
1 1/2

to 2 pounds salmon fillets,

skin on or off

Salt

3

tablespoons

high smoke point oil

such as canola, safflower, grapeseed or rice bran oil

1/2

cup

chopped red onion

Juice of 2 limes,

about 1/4 cup

1

large garlic clove,

minced

1

to 3 hot green chiles,

such as serrano, minced

1

Roma or other plum tomato,

diced

2

avocados,

cut into chunks

1/3

cup

chopped cilantro
Instructions
Take the salmon out of the fridge and salt it well while you start the salsa. Soak the red onion in the lime juice; this helps remove that sulfurous taste of raw onion. Let the onion soak and the salmon sit out for 20 minutes while you chop everything else.

Heat the vegetable oil in a saute pan large enough to cook all the salmon fillets. Pat the salmon dry with paper towels. If you are using skin-on pieces, use a butter knife to scrape the skin -- this dries it out even more so the skin gets extra crispy. Lay the salmon down on the hot pan skin side down (or on the side that used to have the skin). Adjust the heat so the fish is sizzling like bacon: Neither an inferno nor a lazy pop. Let this cook undisturbed for 2 minutes.

Meanwhile, put the onion and lime juice into a large bowl and add the garlic, chiles, diced tomato, avocado chunks and cilantro. Add salt to taste.

Use a soup spoon to baste the salmon with the hot oil. Do this on each fillet until the meat tightens a little and turns completely opaque, about 30 seconds per fillet. If you like your salmon cooked all the way to the center, repeat this process a couple times. Do not flip the salmon. Let the salmon cook for a total of 6 to 10 minutes, depending on how thick it is and how well you like your salmon. A thin salmon fillet, such as a pink salmon or a small sockeye or silver, will take only 6 minutes or so total. A really thick piece of king salmon or Atlantic might require a little more than 10 minutes.

Carefully remove the salmon from the pan with a spatula; it should come right up, or stick in only one or two small spots, and place it crispy side up on the plate. Give everyone some salsa on the side and open a beer.
Notes
If you want a starch to go with this meal, I'd suggest rice. Or you can break up the salmon and throw it and the salsa into a tortilla and make salmon tacos.
Nutrition
Calories:
359
kcal
|
Carbohydrates:
12
g
|
Protein:
15
g
|
Fat:
29
g
|
Saturated Fat:
4
g
|
Cholesterol:
35
mg
|
Sodium:
75
mg
|
Potassium:
866
mg
|
Fiber:
8
g
|
Sugar:
2
g
|
Vitamin A:
391
IU
|
Vitamin C:
16
mg
|
Calcium:
24
mg
|
Iron:
1
mg
Nutrition information is automatically calculated, so should only be used as an approximation.