Salmon Tartare
September 02, 2012 | Updated June 06, 2022
As an Amazon Associate I earn from qualifying purchases.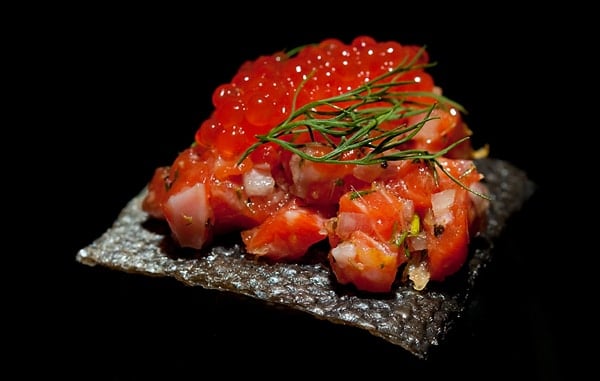 Tartare is, in many ways, the ultimate expression of fresh meat: To serve it says that this is clean and pure, that I am serving you raw meat — something that we humans have been a little leery of for hundreds of thousands of years — because I am assuring you that it is both tender and safe. Tartare is a gift.
Salmon tartare, however, is a gift with a wink. To be absolutely safe, you will need to freeze your salmon at -4°F or colder for a couple days and you are good to go; your home freezer is set at 0°F, so set it a little lower or leave the salmon in for more than 3 days. Otherwise you risk picking up the anisakis parasite, which will make you sick for a couple days.
OK, I'm done with horror stories about invasive parasites.
Sorry to have to go into that, but it really bothers me to see otherwise competent chefs laud how fresh their salmon is, when it is absolutely certain that at least some of the raw salmon they are serving will have these parasites. Their prejudice against freezing fish blinds them to the potential risk.
My version of salmon tartare is inspired by one my friend Dan Klein of the Perennial Plate made while we are all up in Cordova, Alaska fishing for Copper River salmon. We'd gathered some salmon berries that day, and he chopped them up with his tartare, topped with with fresh salmon caviar and served it on a salmon skin cracker.
I'd made crispy salmon skin before, but not the way Dan made it. The result, as you can see in the pictures, is a firm, very crispy cracker that is salmon-y without being fishy. It's brilliant.
I also make quite a bit of salmon caviar at home, so I had some on hand. If you don't, you can buy it at some fish markets, use some other caviar, or skip it.
Flavorwise, I wanted my tartare to go North, in honor of Alaska. Not having a lot of Alaskan ingredients on hand, I went Scandinavian instead. So I added a little horseradish, dill, and a new ingredient for me: A toasted pumpkinseed oil I got from Stony Brook Foods. Pumpkinseed oil is not actually a Scandinavian thing, it's an Austrian thing; close enough for this recipe, I reckoned.
The oil is dark, viscous and looks a little like motor oil. But it has an intense roasted, nutty flavor that I can't get enough of — it is every bit as wonderful as the finest olive oil. Added to this tartare, it immediately hits you with a sense of cool Northern Europe.
This is a party appetizer, something to impress your guests or loved one. It requires a little effort to make the salmon skin chips, but if you forgo them and use table water crackers (my second choice), this comes together in a snap. Just be sure to make more than you think you need: They will get eaten fast.
Salmon Tartare
You will need high-quality salmon (preferably wild salmon, with its skin on), salmon roe caviar (available in little jars at most good supermarkets in the canned fish section) and a nice oil; I use roasted pumpkin seed oil. If you can't fine it, use walnut or sesame oil.
Ingredients
1

pound

salmon fillet,

with skin if possible

1

shallot,

minced, about 1/4 cup

1

to 2 tablespoons pumpkinseed oil or some other nice oil

Zest of 1 lemon

1

tablespoon

fresh chopped dill

1

teaspoon

prepared horseradish

2

teaspoons

dill pollen

(optional)

Salt and black pepper

1

tablespoon

lemon juice

2

ounces

salmon caviar
Instructions
Slice the skin off the salmon with a fillet knife and gently scrape off any meat sticking to it. Pat the salmon skin dry with paper towels and lay flat, cut side down, on a non-stick skillet. Turn the heat to medium and place another flat, heavy surface on top of the skin. I use another pot. Let this cook for 5 to 8 minutes. Listen for it sizzling under the weight, and do not check the skin for at least 3 minutes -- this prevents it from curling up. Once the cut side looks crispy, turn the salmon skin, salt the side you just cooked, and repeat the process with the other side of the skin.

When the salmon skin is crispy, take it out of the pan and let it cool for a minute or two. Use a sharp chef's knife to cut it into cracker pieces. Let it cool completely.

Meanwhile, make the tartare by finely chopping the salmon into small dice. Do not put it into a food processor and do not shop it into mush. Put the chopped salmon into a bowl and mix in the shallot, pumpkinseed oil, lemon zest, dill, dill pollen if using, and horseradish. Salt and pepper it to taste and set it in the fridge to chill for up to a few hours.

When you are ready to serve, mix the lemon juice into the tartare and scoop little piles of it on each salmon skin cracker. Top with a dollop of salmon caviar and serve. Have some table water crackers around to serve after the salmon skin crackers are eaten up.
Notes
Make sure you cut the salmon with a sharp knife, as a dull knife will smear the salmon fat and damage the way the tartare feels in your mouth when you eat it. You want little salmon dice, not a mush.
Nutrition
Calories:
132
kcal
|
Carbohydrates:
2
g
|
Protein:
17
g
|
Fat:
5
g
|
Saturated Fat:
1
g
|
Cholesterol:
77
mg
|
Sodium:
46
mg
|
Potassium:
405
mg
|
Fiber:
1
g
|
Sugar:
1
g
|
Vitamin A:
58
IU
|
Vitamin C:
3
mg
|
Calcium:
38
mg
|
Iron:
1
mg
Nutrition information is automatically calculated, so should only be used as an approximation.