A Simple Fried Fish Sandwich
July 03, 2013 | Updated March 29, 2021
As an Amazon Associate I earn from qualifying purchases.
Sometimes you just need a simple fried fish sandwich.
A simple approach is often better, especially with a fish like bass or walleyes or snapper or rockfish, which is what I mostly use. Pacific rockfish, are a catch-all name for a variety of bass-like fish that live in and around, you guessed it, rocks and wrecks along the Pacific coast from Alaska to Baja.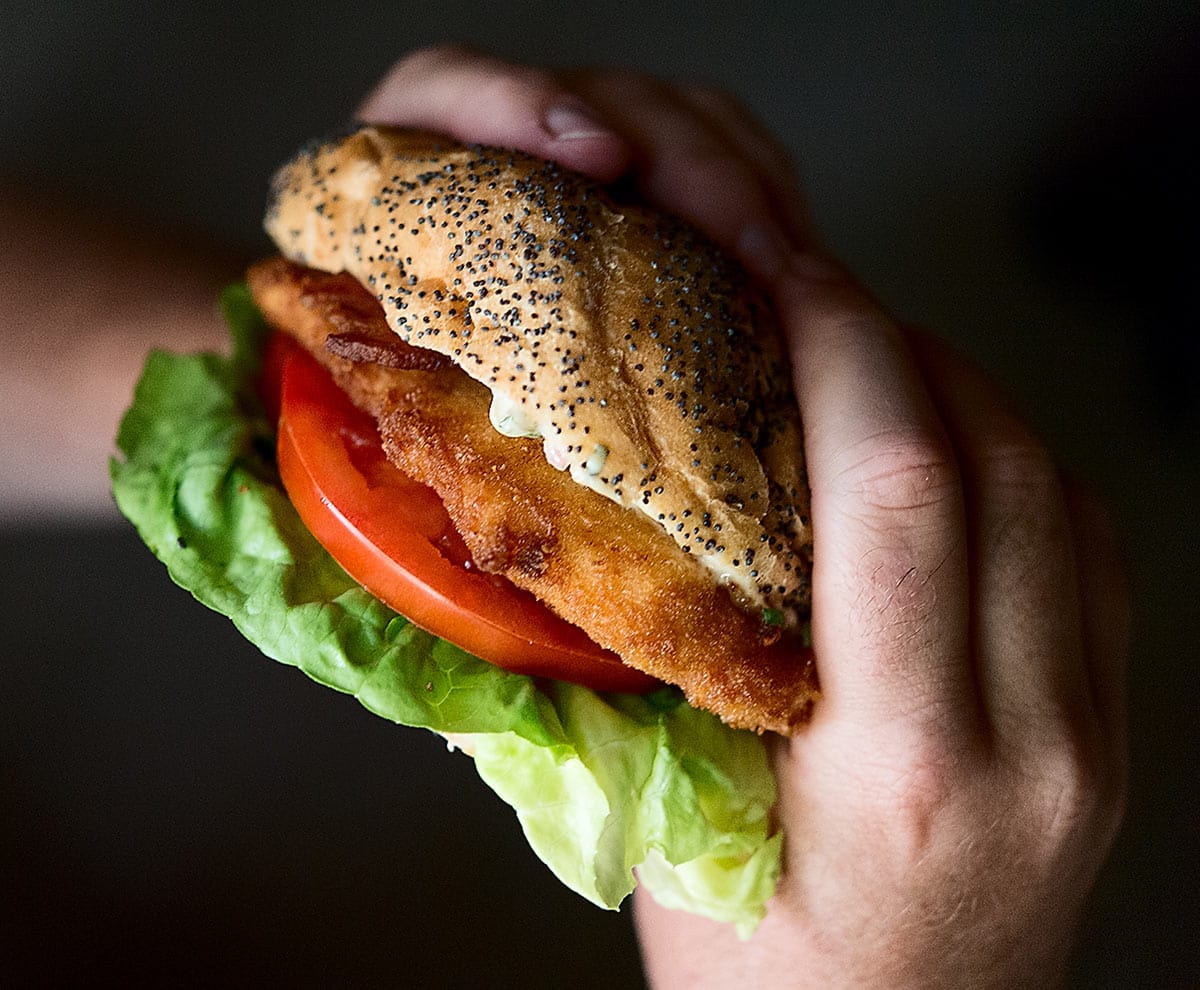 They are to the Pacific what black seabass are to the North Atlantic and snapper to the South Atlantic and the Gulf. Or if you live inland, they're a lot like large- and smallmouth bass.
Rockfish are aggressive biters, as are every reef fish I've yet encountered. The hardest part about catching rockfish is to a) keep your gear out of the rocks, where it'll get snagged, and b) keeping the bouncing, head-shaking rockfish from popping off the hook.
Driving home from one particular rock cod trip, I got an urge to make a fish sandwich. You know, a regular ole' fish sammich, like a Boston Whaler or a Filet-O-Fish… only edible.
What makes a good fried fish sandwich? It starts with the fish, which for me needs to be firm, white and lean. Not a fan of sandwiches made with fillets of salmon or mackerel or the like: Too soft, and too fatty.
Cod, snapper, haddock, walleye or rockfish are ideal. And it needs to be either grilled or fried. Breaded, as in this case, is easier, although a good beer battered, deep-fried fish sandwich is damn tasty, too.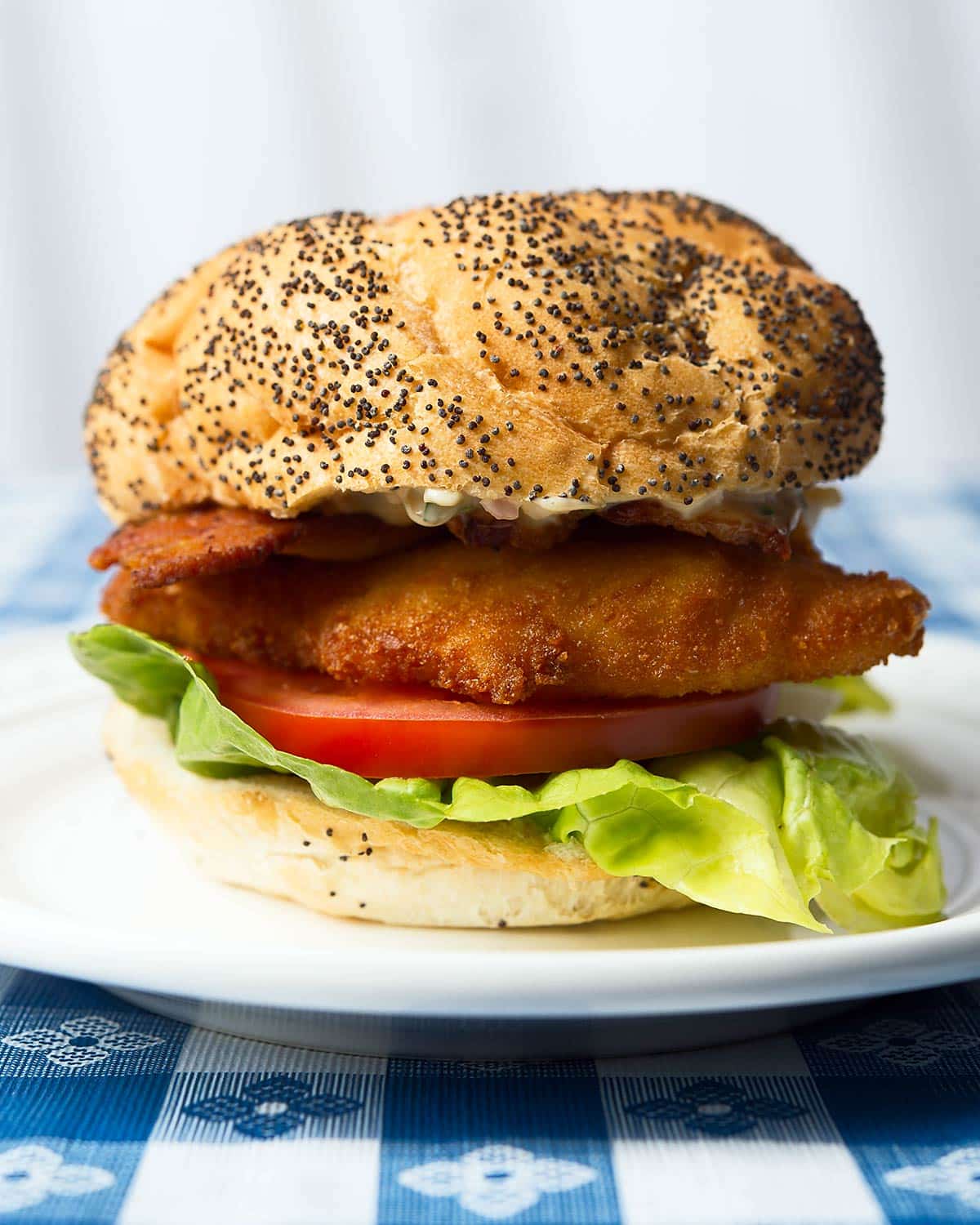 Buns? Anything from good rye bread to hamburger buns to hoagie rolls will do, but I am partial to poppy seed Kaiser rolls. It's a Jersey thing, I think. Resist the urge for good, crusty bread: It's so sturdy that the force you need to bite through it will smash your fish fillet.
As far as accompaniments, I gotta have lettuce and tomato, for greenery, crunch, acidity and sweetness. And everything's better with a slice of bacon.
That leaves the sauce. I've had fish sandwiches with everything from ketchup to mustard to horseradish, remoulade, Asian dipping sauces, you name it.
But the Big Daddy of sauces for a fried fish sandwich is tartar sauce. Only I hate store-bought tartar sauces, so I make my own. Too hard? Not so. A tartar sauce is basically mayo with a little mustard and some chopped pickles, plus a random onion product, hot sauce and salt. Easy-peasy.
Check out this sandwich. You know you want to eat it. It's especially good as a change of pace, or made with leftovers from fried flounder with tartar sauce.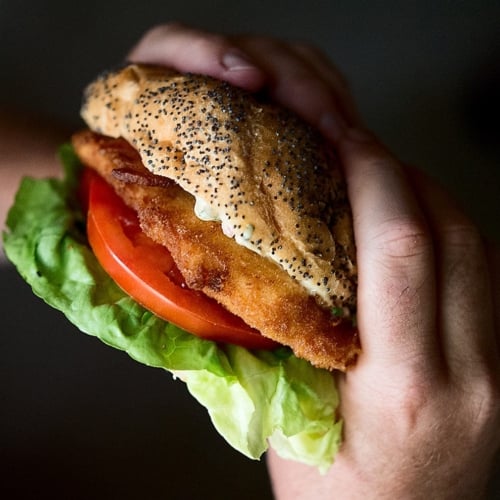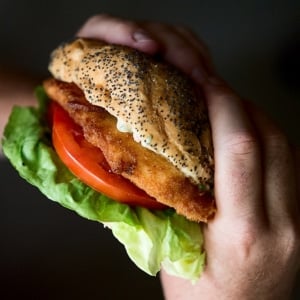 Fried Fish Sandwich with Tartar Sauce
This is how I like my fish sandwiches, but as you know there are endless variations in terms of buns, fish species and how they are prepared, not to mention condiments and accompaniments. I use Pacific rock cod (rockfish) for this, but any lean, white, bass-like fish will do fine. Some alternatives would be black seabass, largemouth or smallmouth bass, lingcod, croaker, walleye, catfish, red drum... you get the point.
Ingredients
FISH
4

to 6 strips of bacon

4

skinless fillets of rock cod

or other bass, seabass , walleye, etc.

Salt

1/2

cup

flour

2

eggs,

lightly beaten

3/4

cup

breadcrumbs

Oil for frying

(I prefer peanut oil)

4

large lettuce leaves

4

to 8 slices of tomato

Buns for the sandwiches

(I prefer Kaiser rolls)
TARTAR SAUCE
1

cup

mayonnaise

2

teaspoons

Dijon mustard

2

teaspoons

lemon juice

Tabasco sauce to taste

1/2

cup

chopped pickles

2

teaspoons

capers,

chopped

1

small shallot,

minced

1

tablespoon

minced chives

Salt and pepper
Instructions
If you're making homemade tartar sauce, do this first by mixing everything in a bowl. Cover the bowl with plastic wrap and set in the fridge.

Fry the bacon slowly in a pan until almost crispy; you want a little bend in your bacon for a sandwich. Set the bacon aside and discard the fat in the pan, or reserve it for another recipe.

Get all your fixins' ready for the sandwiches, and get three shallow containers out for the dredging station: One for the flour, one for the beaten eggs, and one for the breadcrumbs.

Take the fish out of the fridge and salt them. Pour the oil in the pan you fried the bacon in and heat it over medium-high heat until it's about 350°F -- if you don't have a thermometer, flick a little flour into the oil. When it sizzles immediately, you're ready. Turn the heat down to medium for a moment.

Dredge the fish fillets in flour, then dip in the egg, then in the breadcrumbs. If you want a really thick and crispy crust, dip the fillets in egg and breadcrumbs a second time. Turn the heat to high on the oil and gently lay the fillets into the pan. Make sure they are not touching each other. Let them fry for a minute or so, then adjust the heat down; adding the fish drops the heat of the oil, which is why you want to kick the heat up for a minute or two to compensate. If you can't get all the fish into the pan at once, fry in batches.

Fry the fish until they are golden brown, about 2 to 5 minutes per side; use the longer range if your fish fillets are thicker than an inch. Set on paper towels to drain.

Spread the tartar sauce on both sides of the buns, then add the lettuce, fish fillets, tomato and bacon. Open a beer and enjoy!
Nutrition
Calories:
683
kcal
|
Carbohydrates:
22
g
|
Protein:
114
g
|
Fat:
12
g
|
Saturated Fat:
3
g
|
Cholesterol:
322
mg
|
Sodium:
550
mg
|
Potassium:
2790
mg
|
Fiber:
2
g
|
Sugar:
3
g
|
Vitamin A:
2187
IU
|
Vitamin C:
20
mg
|
Calcium:
143
mg
|
Iron:
4
mg
Nutrition information is automatically calculated, so should only be used as an approximation.