Broiled Trout
September 11, 2017 | Updated May 17, 2020
As an Amazon Associate I earn from qualifying purchases.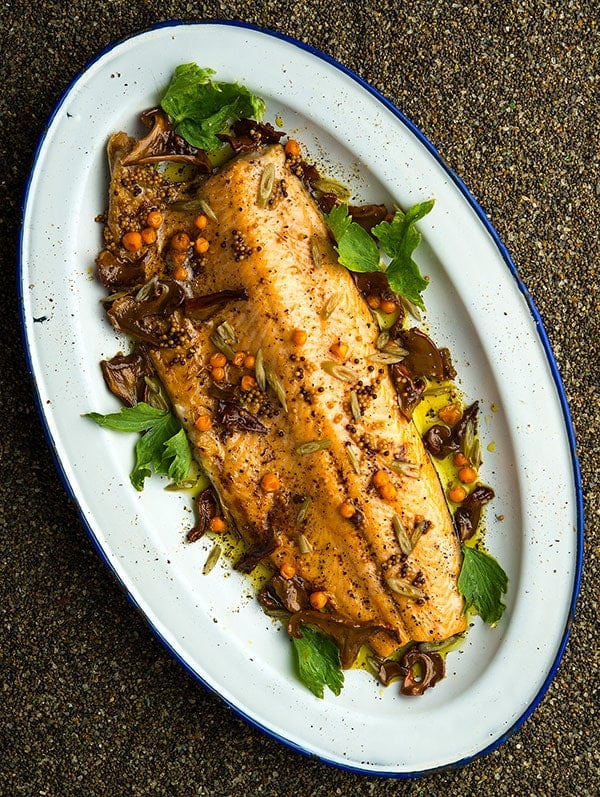 Broiled trout. Sounds so simple, right? It is, but there is actually more to proper broiling than you might think.
So many of us just pop a piece of fish, meat or vegetables under the broiler and call it a day. Sometimes it comes out nice, sometimes it doesn't. It can seem like a mystery. But here are some tips and tricks to broiling fish, especially thin fish like trout, that will serve you well.
First, your broiler is not a salamander. A salamander is what we used in the restaurant kitchen to brown the tops of things in a hurry. You place the food down and move the roaring hot gas flames as close as you need to so the food is nicely browned in seconds. Nothing in the home can truly replicate this.
And let's face it, with broiled trout you don't want that. What you want is perfectly cooked, moist trout that isn't blackened and blistered on top. Salmonids — salmon, trout, char and kokanee — tend to fare poorly when cooked hard, although a thick piece of chinook or a large coho can handle some blackening.
Trout or kokanee are ideal candidates for broiling for two reasons: First, you often catch trout or kokanee just a bit too large for a frying pan. Laying that fillet on a broiling pan is a perfect solution. Second, since the fillets of both kinds of fish are thin, you need not turn or otherwise disturb the fish while it cooks, so it stays nice when you serve.
So how to get there?
First, salt your trout and set it out to come to room temperature. Salting the fish and letting it warm up a bit ensures that the trout (or kokanee) will cook quickly all the way through. Of course, if you like your fish rare, move it right from the fridge to the broiling pan; you still need to salt it.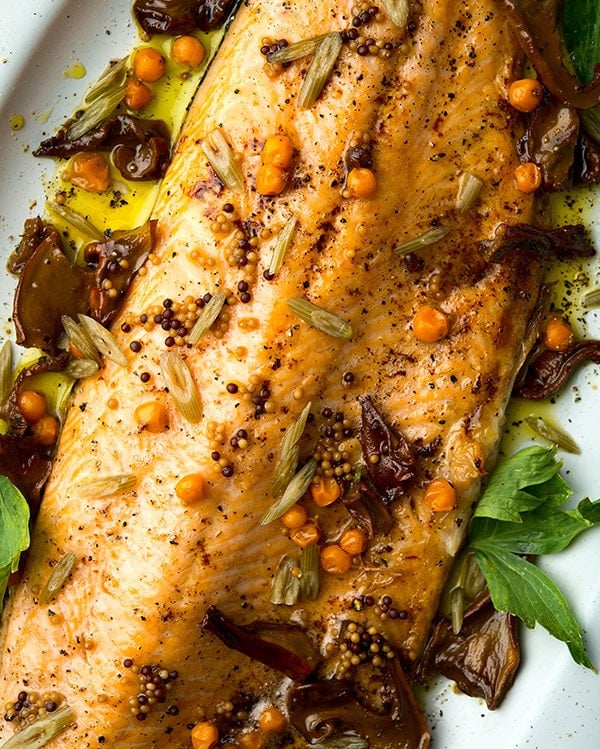 Get out a broiling pan, not a baking sheet. You can of course use a baking sheet if you have to, but the extreme heat of your broiler, which averages 600°F for gas and about 550°F for electric, will often cause your baking sheet to warp with an alarming pop. I've seen this break fish fillets in two. Still edible, but no longer very nice to look at.
Incidentally, use the bottom piece of the broiling pan, the one under the wavy grill top with the holes in it. Line the pan with foil for easier cleanup.
Next, pat your fish fillets dry and then coat them with oil or, better yet, melted butter. Why? Oil conducts heat better than water. So the roaring heat of a broiler when it hits an oiled surface will cook hotter than one that is wet. And butter browns better than most other oils, so it looks — and tastes — better when you're done.
Oil the foil you're about to put the fish on, too. This makes it easier to move the fillet to a platter. If you just want to serve the meat, slipping it off the skin, then don't oil the skin. It'll stick to the foil.
Set your oven rack at the top. Normally this is about 4 to 6 inches from the element. If it's less, move the rack down.
Preheat your broiler. I am amazed at how few people do this. You don't put things on a grill without preheating, do you? Let your broiler heat up at least 5 minutes, and as many as 10.
How long does broiled trout take to cook? Well, that's a bit of voodoo. I generally like 4 minutes for a typical trout fillet of about 1/2 inch thick. But that's my broiler. Broiling is not an exact science, and you need to watch it, and, in many ovens, rotate the broiling pan midway through. Most broilers throw off heat unevenly, especially gas broilers.
Your fish is ready when it flakes all the way through. If you've basted it with butter, normally this is the point when the butter browns.
Now, how to get it off the broiling pan? Two large spatulas. I have a pair of long, "short order cook" spatulas that I use, one in each hand, to carefully lift the fish from the broiling pan to a nearby platter. You don't have to do this, but it looks pretty, as you can see from the pictures. And if you get a crack in the fillet? Cover it with whatever you are serving the trout with.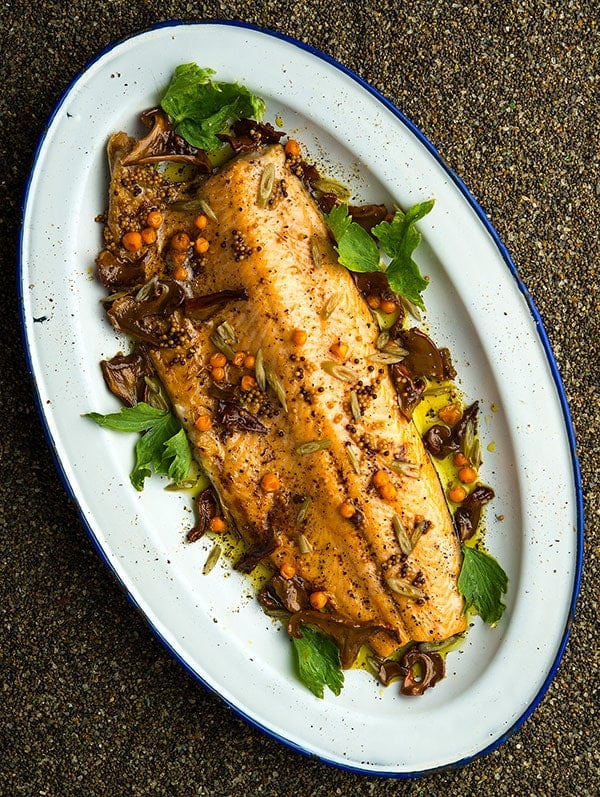 On to that. You will see an array of mysterious and wonderful things with this broiled trout. In this case, it's lovage leaves, preserved mushrooms, preserved rowan berries, pickled mustard seeds, pickled angelica stalks, angelica oil and black pepper.
Esoteric, I know. But you should get the picture of what you're looking for: Tart, bright acidic flavors to balance the rich, fatty trout. Something herby, and something else full of savory umami — in this case the preserved lobster mushrooms, but it could be sauteed mushrooms, grated cheese, shellfish like clams, oysters or mussels, or hell, even some fresh tomatoes.
There you go. You are now armed with the knowledge to whip up an amazing, quick meal that will wow your family and friends. Play with it. Have fun. Enjoy!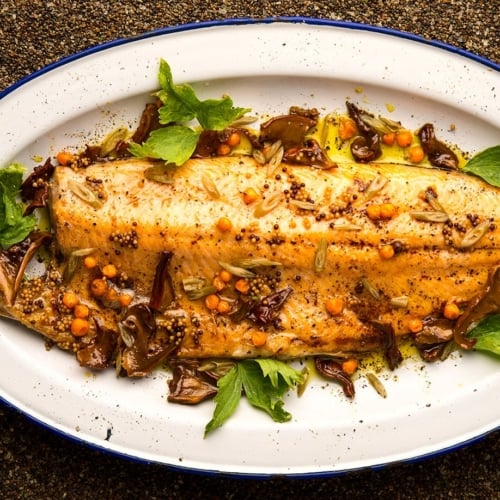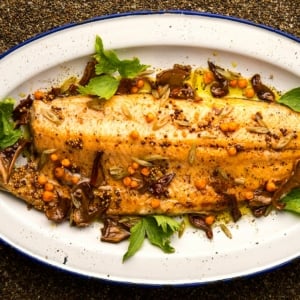 Broiled Trout or Kokanee
This recipe is meant for fillets of trout, char or small salmon like pinks or kokanee that are too large for a frying pan, and too thin for the grill. It will work with any fillet about 1 inch thick or less regardless of size or species.
Ingredients
Salt and black pepper

1 or 2

large fillets of trout, char or pink salmon,

about 2 pounds total

1

tablespoon

vegetable oil

2 to 4

tablespoons

unsalted butter
OPTIONAL GARNISHES
1/4

cup

lovage or parsley leaves

1/2

pound

preserved or sauteed mushrooms

(any kind)

1

tablespoon

pickled mustard seeds

2

tablespoons

berries preserved in syrup

(I used rowan berries)

2

pickled angelica stalks, sliced thin
Instructions
Salt your fish well and set out on the cutting board to warm up a bit. Preheat your broiler, and if it has a setting, set it to "high."

Pat the fish dry with paper towels, then oil it up with the vegetable oil. Oil down the broiler pan. Set the fillets skin side down on the pan and dot the fish with bits of the butter.

Broil the fish for about 4 minutes or so, keeping an eye on it and rotating the fish if you see hotspots under your broiler. When the trout flakes, remove it from the oven. Using two spatulas, carefully lift the fish to a platter.

Grind some black pepper over it, and garnish with an herb of your choice, something pickled or otherwise tart -- even lemon juice is fine -- as well as something else savory, like the sauteed or preserved mushrooms. Eat with crusty bread, potatoes or rice.
Notes
Please don't get all hung up on the garnishes. They are my fancy, cheffy touch. The point, again, is something herby, something tart, and something else savory. Have fun with it!
Nutrition
Calories:
478
kcal
|
Carbohydrates:
4
g
|
Protein:
54
g
|
Fat:
26
g
|
Saturated Fat:
9
g
|
Cholesterol:
163
mg
|
Sodium:
141
mg
|
Potassium:
1114
mg
|
Fiber:
2
g
|
Sugar:
1
g
|
Vitamin A:
636
IU
|
Vitamin C:
6
mg
|
Calcium:
115
mg
|
Iron:
4
mg
Nutrition information is automatically calculated, so should only be used as an approximation.