German Bockwurst
January 09, 2014 | Updated June 06, 2022
As an Amazon Associate I earn from qualifying purchases.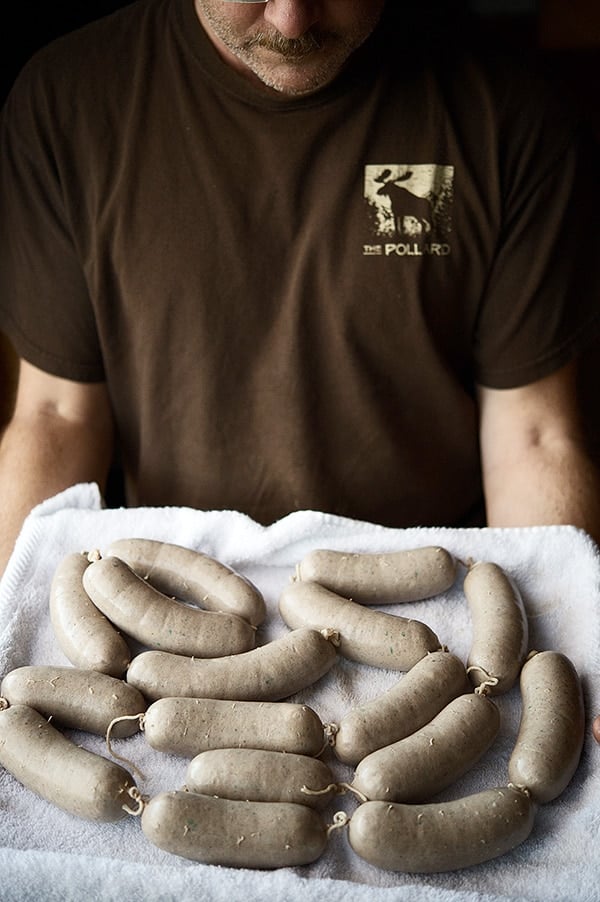 Germany is the land of 1,000 sausages, and bockwurst is a good one.
To be honest, though, my bockwurst recipe is definitely more German-American than traditional. Here in the US, bockwurst isn't smoked very often, and it is a softish veal-and-pork sausage that has cream, eggs and chives. This recipe works with any meat, but I first did it with snow geese.
I happen to love snow geese for sausage-making. They have lots of meat on the breast, and are easy to skin (and a pain to pluck, so I don't feel bad about skinning them). I typically use only breast meat for sausage, but there's no reason you could not use meat from the legs, too.
Or meat from any other critter, for that matter. If you want to be traditional, go for about 70 percent veal and 30 percent fatty pork, or in the wild game world, meat from a yearling deer or antelope plus wild pig or javelina. I only use pork fat here, not beef or lamb fat. I just don't think the sausages will come out well with these fats. But go ahead and use them if you want.
I've also made this from a combination of wild turkey and pork shoulder, and that worked well, too.
Traditionally, bockwurst is made in late winter and early spring and served with bock beer, which the links were often simmered in. A little mustard, a roll, and three (or six) beers and you're good to go. I served them with mashed potatoes and sauerkraut cooked with apples and caraway.
If you want to smoke your bockwurst, directions are below; I prefer oak for this sausage, but maple or fruit wood would also work.
Looking for more German sausage recipes? I have recipes for braunschweiger, bratwurst and weisswurst, too.
New to making sausage? You can find my detailed tutorial on how to make sausages at home here.
Bockwurst
This particular recipe is an adaptation from one I found in Taylor Boetticher's In The Charcuterie. Taylor uses the traditional combination of veal and pork, which will make this sausage considerably lighter in color, but really any meat will work -- so long as it is cut with pork fat. You really want to at least try to get fat hog casings here, as bockwurst are traditionally fat, short links. I happened to get some from my local butcher shop, but you can order thick hog casings online from The Sausage Maker. If you can't get them, no biggie -- in Germany, these are small links, oddly enough. American bockwurst isn't smoked very often, but German bockwurst is, so feel free to smoke it if you want to.
Ingredients
3 1/2

pounds

goose meat,

cubed (or any other meat, really)

1 1/2

pounds

pork fatback,

or really fatty pork shoulder, cubed

35

grams

of kosher salt,

about a scant 2 tablespoons

5

cloves

1/4

teaspoon

ground mace

8

allspice berries

1/4

teaspoon

ground ginger

3

eggs

1

scant cup heavy cream

1/4

cup

chives

1/4

cup

chopped parsley

(optional)

2

tablespoons

chopped fresh sage

Grated zest of a lemon

About 10 feet of hog casings
Instructions
Chill the meat and fat until they is almost frozen by putting it in the freezer for an hour or so. While everything's cooling, toast the cloves and allspice in a dry pan until they smell good, about a minute or two. Grind them to a powder and mix with the salt, mace and ginger.

Take out some hog casings — you'll need about 3 to 4 standard lengths, about 10 feet — and set in a bowl of very warm water. Mix the eggs, cream, chives, sage and lemon zest in a bowl and put in the fridge.

Mix the salt and spices into the meat and fat with your hands. If you have time, let this rest in the fridge for about an hour or even overnight. But if you are pressed for time, you can go right to grinding.

Grind through your meat grinder (you can use a food processor in a pinch, but you will not get a fine texture) using the fine die. If your room is warmer than 68°F, set the bowl for the ground meat into another bowl of ice to keep it cold. Put the mixture back in the freezer while you clean up. When the mixture is anywhere from 27°F to 33°F, you are ready to mix.

Add the egg-cream mixture to the meat, then mix thoroughly with your (very clean) hands. When I say "thoroughly," I mean for 3 to 4 minutes. It's really important to do this to get the sausage to bind properly. (Tip: If your hands aren't achingly cold while you are doing this, you need to stop and chill the mixture some more.) Once it is mixed well, put it back in the fridge while you clean up again.

Stuff the sausage into the casings. Twist off short, 5-inch links by pinching the sausage down and twisting it, first in one direction, and then with the next link, the other direction. I often tie them off with butcher's string because I am poaching the sausages.

Poach the links in a big stockpot with steamy water; you want it to be about 160°F, which is below a simmer. Poach the links for 20 minutes. If you are going to finish them off right away and eat them, go for it. But if you plan on storing the bockwurst for a while, plunge the poached links into a big bowl of ice water. I scrub my steel sink first, then fill that up with ice water; works great. Let the links chill a solid 20 minutes.

Hang the sausages to dry in a cool place. If it is warm out or if you are smoking your links, hang for one hour. If you have a place where the temperature will not go higher than 38°F, you can hang them as long as overnight. I put them on a cloth uncovered in the fridge overnight, turning them over before I go to bed.

If you are smoking your sausages, get your smoker going while the sausages hang. Smoke the links for at least 2 hours, and as many as 5. I prefer a lighter smoke, so you can still taste the meat and spices. I'd smoke these over oak, but maple, pecan or a fruit wood would also work. Once the sausages have dried and/or smoked, put them the fridge until needed. If you are freezing the sausages, wait a day before doing so. This will tighten up the sausages and help them keep their shape in the deep-freeze.
Nutrition
Calories:
359
kcal
|
Carbohydrates:
1
g
|
Protein:
11
g
|
Fat:
34
g
|
Saturated Fat:
12
g
|
Cholesterol:
76
mg
|
Sodium:
729
mg
|
Potassium:
203
mg
|
Fiber:
1
g
|
Sugar:
1
g
|
Vitamin A:
129
IU
|
Vitamin C:
2
mg
|
Calcium:
16
mg
|
Iron:
1
mg
Nutrition information is automatically calculated, so should only be used as an approximation.