As an Amazon Associate I earn from qualifying purchases.
Take it from a guy who normally doesn't like liver, these braunschweiger sausages will make a believer out of you. Smoky, rich and only slightly livery, this is a great use for any sort of liver you happen to have on hand.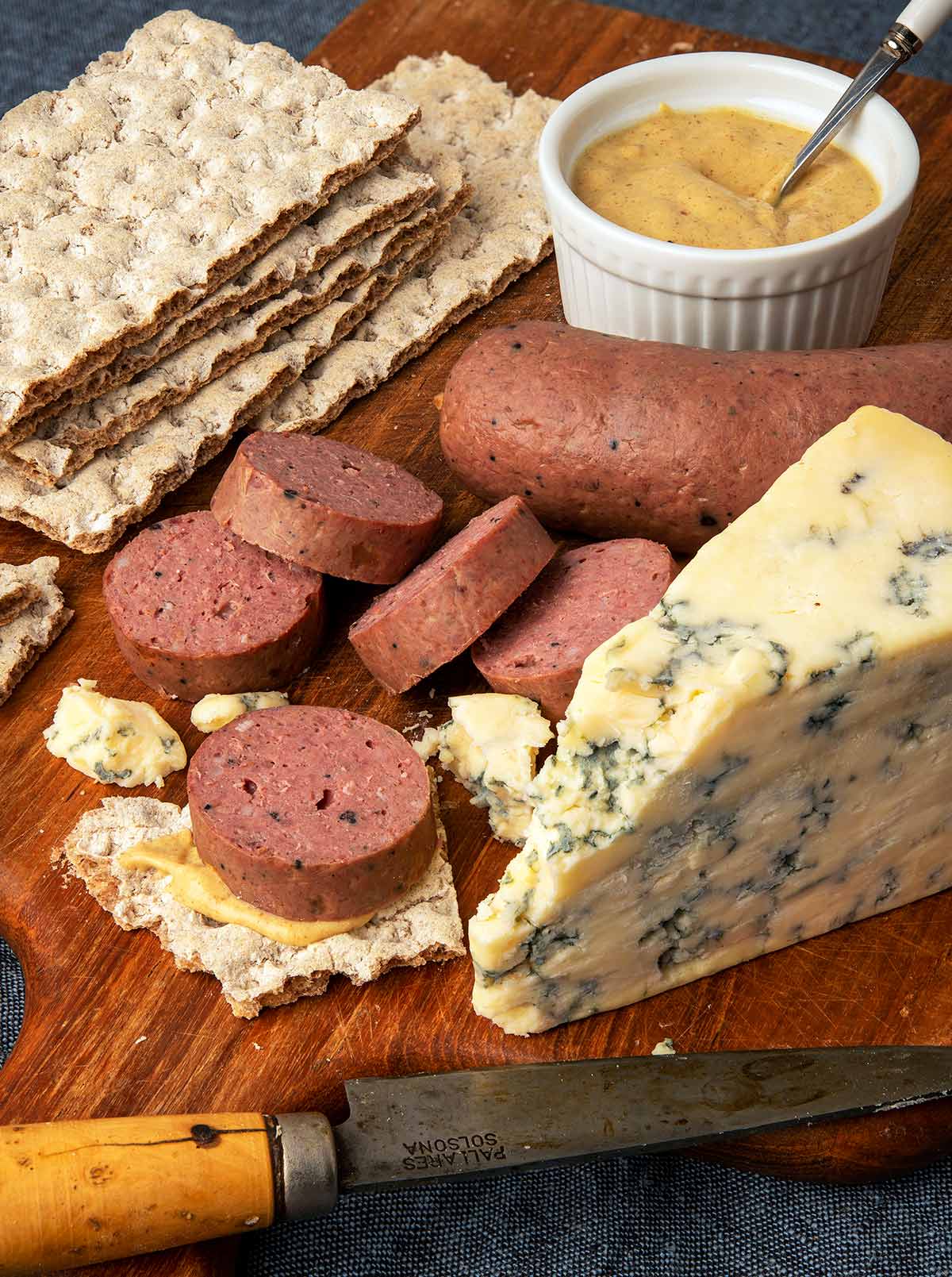 Traditionally, braunschweiger is an all pork sausage, or a sausage with beef, pork and pork liver. And you can certainly do that with this recipe.
But as a hunter, I find myself with wild game livers big and small, and like I said, I am no fan of liver's texture. So for years, I made an Umbrian liver sausage mazzafegati, and I still love it. But there had to be another liver sausage out there I'd like.
Liverwurst? Not my thing. Just too livery. Braunschweiger, on the other hand, is smoked, which adds another element of flavor, and it contains meat and fat, too, to balance the liver.
Brunswick, where braunschweiger comes from, is a city in north-central Germany, near Hanover. The sausage is at least 200 years old, and maybe much older than that. Several recipes exist, but they are feature liver prominently, and are almost always smoked.
Incidentally, this is the main difference between liverwurst and braunschweiger: Liverwurst is never smoked. It also tends to be up to 50 percent liver, too.
Types of Braunschweiger
Depending on the recipe, some variants of braunschweiger are spreadable, almost like a German nduja or pate in a casing. This is not that kind. This is a solid, sliceable sausage you can eat like a normal link.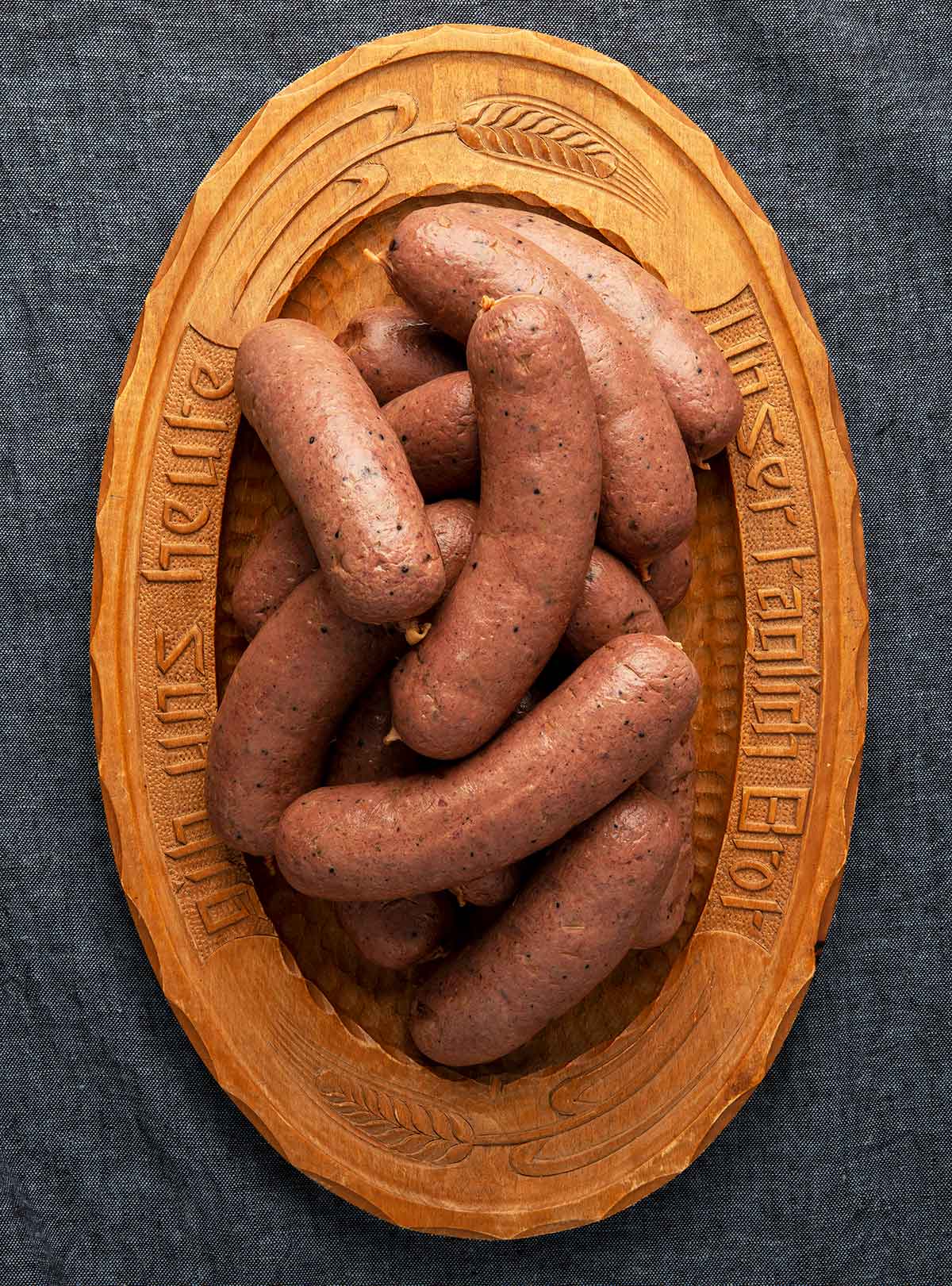 Ingredients in Braunschweiger
Pretty much always pork fat and some pork, for starters. And of course liver, usually pork liver.
Speaking of livers, while pork is good, so too would be livers from young game animals, like a little buck, a raghorn elk, fawns and young does. Older animals tend to have darker, stronger-tasting livers. This is also why I don't recommend beef liver, although calves' livers are a good option.
Best of all, in my opinion, are bird livers.
For this particular recipe I used fatty wild duck livers, which are a thing. Chicken and turkey livers are a great choice as well. I prefer bird livers because they tend to not be as strong-tasting as those of mammals.
Spices are pretty simple: white pepper, marjoram, ginger, sage, mustard and a little clove and mace. None in large amounts, so the flavor is meaty and smoky, with a back hit of the spices.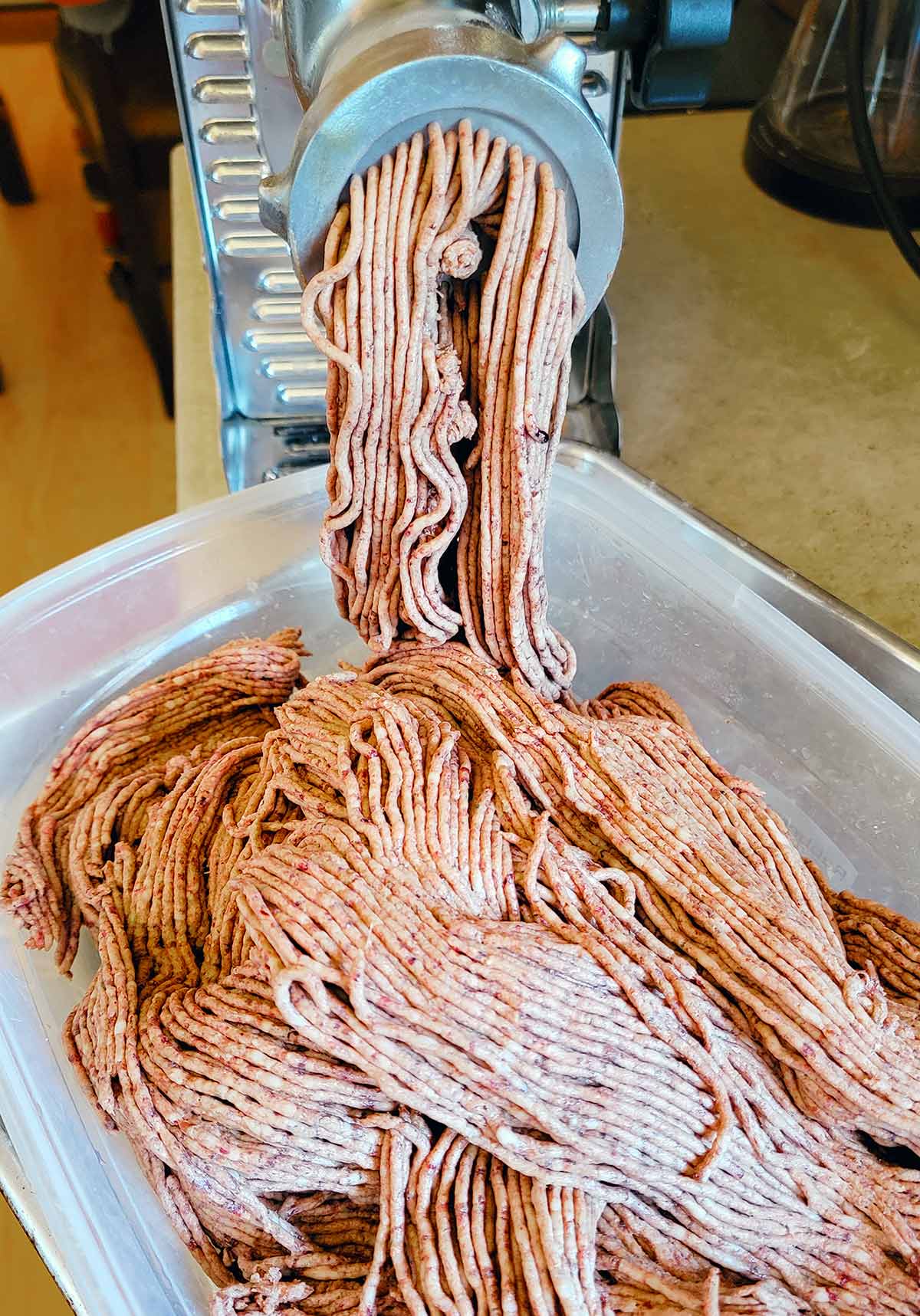 Making the Sausage
I need to state at the outset that making braunschweiger isn't simple. It's definitely a "Sausage Making 2.0" recipe. If you've made fresh sausages before, you should be fine. If not, you will want to read my tutorial on how to make sausage, try a few simple ones first, then come back to this one.
No matter what style you are making, braunschweiger is a very finely grained sausage. You can get there either by emulsifying the meat-fat-liver mixture, or, if you have a variety of dies for your meat grinder, you can grind the mix three times, ending with the 3 mm die. That's what I did.
If this is not an option, you still need at least a 4.5 mm die to make this sausage. There's no other way around it. Thankfully, even most basic meat grinders have one: It's normally the "fine" die on cheap models.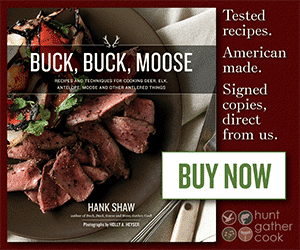 A food processor is a decent way to emulsify sausage, too. After grinding through a regular, 4.5 mm die, partially freeze the mix for an hour or so. Mix with crushed ice and buzz in a food processor in batches. The problem with this method is that unless you have a really big food processor, you will need to do a batch, put the finished, emulsified sausage in the fridge, clean and re-chill the processor parts, then do it again.
This is the trick to making braunschweiger, or any emulsified sausage: Cold matters. A lot. Like, really cold. Colder than freezing, around 28°F. It won't actually be frozen because of the salt, but you need such low temperatures or the emulsion will break.
And speaking from experience, a broken emulsified sausage is disgusting.
Smoking the Sausages
The best way to finish your braunschweiger is to poach it in steaming water until it is mostly cooked, then shock it cold in ice water, then dry it and smoke it.
I do this because uncooked braunschweiger is a very soft sausage that will deform if you lay the links on a smoking rack. If you can hang them, you can skip the poaching step.
I smoke very cool because the links are already basically cooked, about 175°F for three hours or so. You are looking for an internal temperature of about 160°F.
Cherry, apple, oak or maple would be my preferred woods here.
How to Serve Braunschweiger
Hell, I like to eat braunschweiger sliced on crackers, maybe with some mustard. You will often see it as a lunch meat, especially if you make it in wide beef casings, so the slices almost cover a piece of bread.
You could eat it hot in a bun, or simmered with sauerkraut and onions.
You'll see the spreadable kind made into dips a lot. That won't work with this recipe.
Looking for more German sausage recipes? I have recipes for bockwurst, bratwurst and weisswurst, too.
If you liked this recipe, please leave a ⭐️⭐️⭐️⭐️⭐️ rating and a comment below; I'd love to hear how everything went. If you're on Instagram, share a picture and tag me at huntgathercook.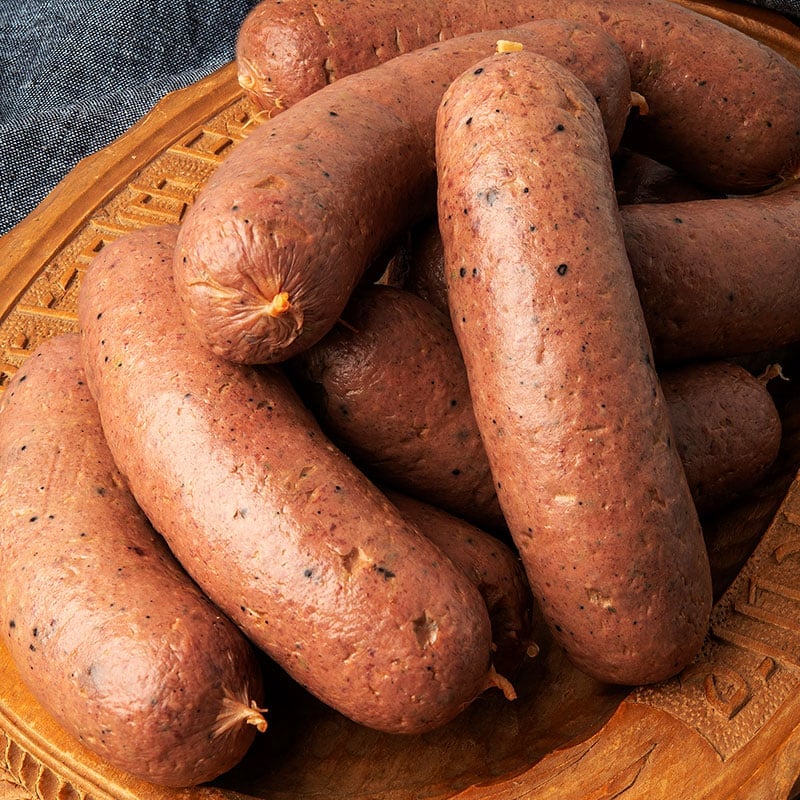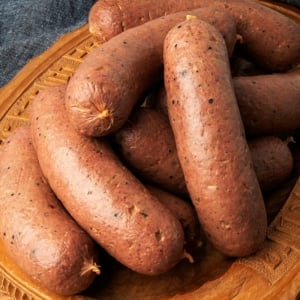 Braunschweiger Sausage
This is a fairly challenging sausage to make, so if you are not familiar with making sausages at home, here is my tutorial on how to do it.
Ingredients
1

pint

chicken stock

1

pound

liver

1

pound

pork fat

3

pounds

pork shoulder,

or a mix of pork and venison or beef

44

grams

salt,

about 2 heaping tablespoons

4

grams

Instacure no. 1

(Prague powder no. 1)

13

grams

dextrose or sugar,

about 1 tablespoon

2

teaspoons

powdered mustard

1

teaspoon

white pepper

1/2

teaspoon

dried marjoram

1/2

teaspoon

powdered ginger

1/2

teaspoon

ground cloves

1/2

teaspoon

mace or nutmeg

1

teaspoon

binder

(optional, see notes below)

1

cup

ground ice

hog casings
Instructions
Heat the stock in a pan that will hold the livers. If you are using a larger mammal liver, cut it into chunks that will eventually fit into your grinder. When the stock boils, add the liver and bring back to a simmer, then turn off the heat. Cover the pot and let this cool. This step can be done a day ahead of time.

Cut the pork fat and meat into chunks that will fit into your grinder. When the livers are cool, add them to this mix, then add the salt, curing salt and dextrose and mix well. You can do this a day before grinding, keeping the mix covered in the fridge; it will help the bind later.

When you are ready to grind, mix in the remaining spices and grind through a large die, ideally 10 mm or thereabouts. If the meat mix is still well below 40°F, grind it again through a die between 5 mm and 7 mm. Now put the mix into the freezer for 1 hour. Clean everything up and put the blades, the auger, the tray and the auger housing in the freezer, along with the smallest die you have, ideally a 3 mm die.

Set some hog casings into a bowl of warm water. You might want to run some water through the casings to see if you have any leaks. Get your sausage stuffer out, and when you are ready to grind the last time, thread a casing onto the stuffer.

Once the meat mixture hits about 28°F, get ready for the final grind. Crush some ice and put that in a bowl. It's OK if it starts to melt. Put your grinder together quickly so everything stays icy. Load it up with the meat mix and grind through the 3 mm die.

Add the melting ice to the meat mix and mix this well for 2 minutes. I use my hands wearing rubber gloves to protect them from the cold. You could use a mixer set on medium-low. You are ready when the meat mix can be picked up all in one piece, and when there are white-ish streaks in the bowl you are mixing.

Get a large pot of water hot, about 160°F to 180°F. This is for poaching the sausage.

Move the mix to the stuffer and fill the casings, leaving lots of room on each end to tie off. Fill whole casings before you make links. To make links, gently compress one end of the casing and tie it off. Make a link by pinching down on the coil and rolling the link away from you to tighten. Move down the coil and do this again, this time rolling the link towards you. Repeat until you have all the links. (Here is a video of the process.)

Gently compress the meat in each link, revealing air pockets, Use a needle to pierce the casing so you can compress the links even more to remove the pockets. Do this carefully and gently, so you don't burst casings.

Gently lower the finished links into the steaming water, and let them poach below a simmer for 20 minutes, or until the interior of one link hits about 150°F. As they are poaching, get a large basin of ice water ready to shock the links when they come out of the poaching water. Once the links are poached and then chilled down — it should take about 30 minutes to chill the links — pat them dry with towels.

Finally, you need to smoke the sausages. This can be done a day later if you want. Smoke over cherry, apple, oak or maple at about 175°F and no hotter than 200°F, for three hours. Chill and either eat within 10 days or so, or freeze.
Notes
If you want to use a binder, and it's a good idea in this sausage, get Butcher & Packer's "special meat binder." It helps make a tighter, bouncier link. You add a little less than 1/2 ounce to the meat mix right before the third grinding, or when you emulsify the sausage. Sprinkle it all over the mixture evenly. 
Nutrition
Calories:
338
kcal
|
Carbohydrates:
1
g
|
Protein:
18
g
|
Fat:
28
g
|
Saturated Fat:
11
g
|
Polyunsaturated Fat:
3
g
|
Monounsaturated Fat:
13
g
|
Trans Fat:
0.04
g
|
Cholesterol:
130
mg
|
Sodium:
920
mg
|
Potassium:
306
mg
|
Fiber:
0.1
g
|
Sugar:
0.02
g
|
Vitamin A:
3837
IU
|
Vitamin C:
1
mg
|
Calcium:
12
mg
|
Iron:
2
mg
Nutrition information is automatically calculated, so should only be used as an approximation.