Weisswurst Sausage
April 12, 2021 | Updated June 06, 2022
As an Amazon Associate I earn from qualifying purchases.
As you may know, the Germans make some of the finest sausages in the world, and weisswurst is one of their best. Here's how to make it at home.
Weisswurst means "white sausage," and as you can see, it is. Traditionally, you make it with pork and/or veal. I like to mix pork and wild turkey or pheasant, but any combination works so long as there is enough fat in the mix.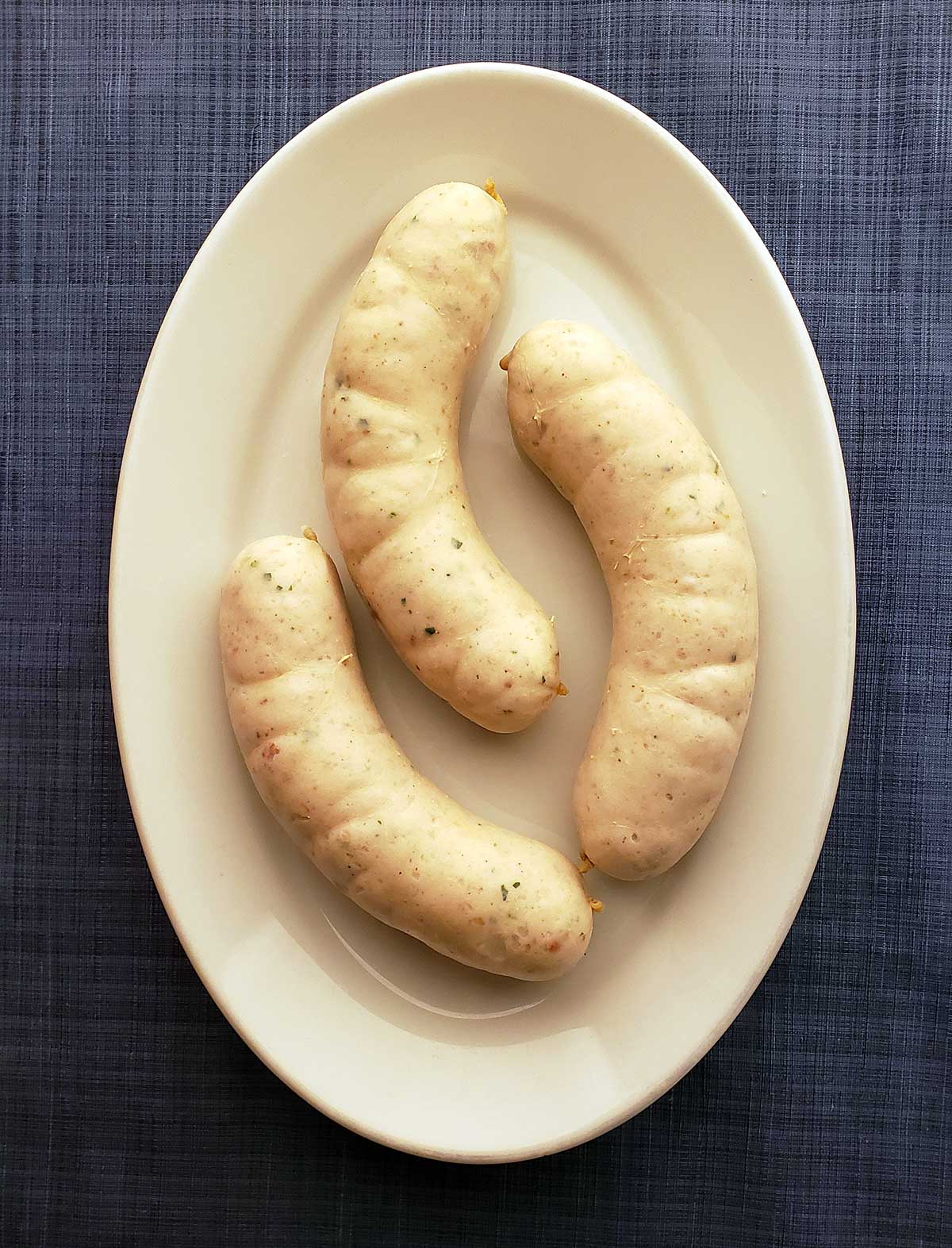 And while they might look like the epitome of bland, weisswurst is actually a well-flavored link. Hidden in there are warming spices like mace and cardamom, as well as parsley and lemon zest. Think of weisswurst as the "deep ocean" of sausages — there's a lot going on underneath that you just can't see.
Bavaria is the spiritual home of Weißwurst, as they spell it in full-on German. And there this sausage is eaten rather oddly: You either suck the meat out of the casing, a little like some people do with Cajun boudin, or you slice the link lengthwise and eat the meat out of the casing. I find this weird, and just eat the casing, too. There's nothing wrong with it, after all.
You should also know that real weisswurst sausage aficionados only eat them poached, so they stay pearly white. I like them this way, but don't love them. I do love weisswurst poached to cook them, then seared or grilled a bit, more like a traditional Sheboygan bratwurst. Yes, I know this isn't normal for this sausage. Sue me.
Not only are the eating methods unusual for weisswurst, the timing is, too. Historically, this must be some strange, crack-of-dawn task some poor wurstmeister had to do, because in Bavaria, Weißwurst is a breakfast sausage normally made fresh each day. Considering that this is at least an hour-long task even for small batches and skilled artisans, and really longer than that for most people, that's some serious dedication.
I do like the traditional accompaniments to weisswurst, though: a big, soft, chewy pretzel and honey mustard. That's good no matter how you cook them.
A few notes on making homemade weisswurst sausage.
The grind is fine. Very fine, even. I grind meat at least twice, starting with a medium die and ratcheting it down to either 4.5 mm or even 3 mm, if I am feeling fancy. A 3 mm die will give you a grind very close to a hot dog.
Veal and pork is the traditional mix, but I either make them all pork or sub in the poultry for the veal. Rabbit, turkey (wild or farmed), pheasant or chicken is what I am thinking of here. Unlike German bockwurst, which can be a little grayish from darker meats, weisswurst needs to stay white. So choose your meats accordingly.
I really like adding C-Bind carrot fiber to this sausage to retain moisture. This keeps the sausages snappy and juicy. You can also use dry milk, or skip it.
Unless you are going to eat your weisswurst the Bavarian way, i.e., not eating the casings, you do want regular hog casings at the very least, and narrow casings if you can find them. Really wide casings will be too tough for this sausage, which is fairly soft.
Finally, when you poach your homemade weisswurst sausage, do not let the water boil. In fact, it should not be even simmering. Just steamy, like about 160°F. Let the links swim in this hot bath about 20 minutes, and you are good to go.
They will keep in the fridge a few days, and freeze well.
Looking for more German sausage recipes? In addition to bockwurst and bratwurst, I have a braunschweiger recipe, too.
New to making sausage? You can find my detailed tutorial on how to make sausages at home here.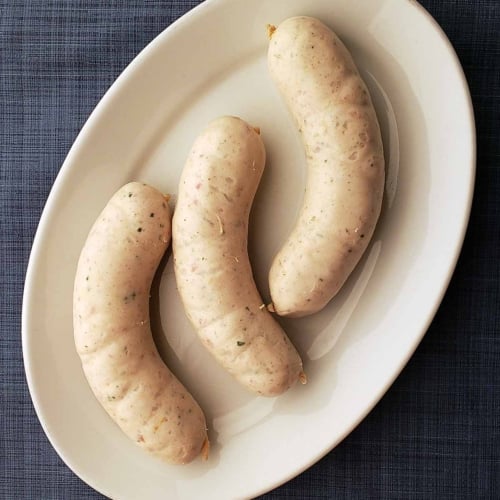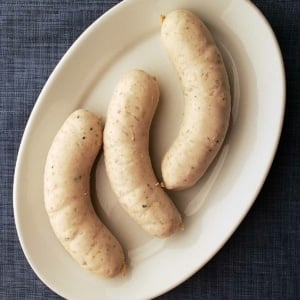 Homemade Weisswurst Sausage
Feel free to substitute veal or pork shoulder for the turkey if you want.
Ingredients
1

tablespoon

lard or vegetable oil

1/2

cup

minced white onion

3

pounds

white meat,

pork, veal, turkey, rabbit, chicken

1

pound

bacon ends or fatty pork shoulder

20

grams

salt,

about 2 tablespoons plus a teaspoon

1

tablespoon

minced parsley

1/2

teaspoon

dry mustard powder

1/2

teaspoon

powdered ginger

1/2

teaspoon

white pepper

1/2

teaspoon

mace

1/2

teaspoon

ground cardamom

Grated zest of a lemon

1

teaspoon

C-Bond carrot fiber

(optional)

1

cup

ice water

Hog casings
Instructions
Heat the lard in a small pan and cook the onions until soft. Do not brown them. Let them cool to room temperature, or refrigerate them. This can be done up to a day in advance.

Optional Step: Cut the meat and bacon ends into chunks and mix with the salt. Refrigerate overnight in a closed container. Doing this helps the bind, but is not 100% needed.

Soak about 10 feet of hog casings in warm water.

When you are ready to grind, mix the meats, salt, parsley, spices and lemon zest. Grind through a coarse or medium die. Put the mixture in the freezer while you clean up, or, if the meat is still below 40°F, grind again through a fine die, at least 4.5 mm and ideally 3 mm. This time, definitely put the meat in the freezer while you clean up.

Once the meat is at about 34°F, put it in a large bowl with the water and C-Bind, if you are using it. Mix this with your clean hands for about 90 seconds, or until the mixture binds together as a cohesive mass that you can pick up in one glob. Your hands should hurt from the cold.

Put a length of casing on your sausage stuffer and fill it with the weisswurst. Crank out one large length of sausage, leaving about 3 to 5 inches of "tail," unfilled casing, on either end. You don't want to fill the casings overly tight just yet. Repeat this process until you have all the sausage in casings.

Get a large pot of water hot, about 160°F.

To form links, pinch off a link of about 6 inches long at one end of the length. Spin it away from you to set the link. Now move down the length and pinch off another link, but this time spin it towards you. Keep doing this, spinning in alternate directions, until you get to the end of the length. Doing this helps prevents the links from coming apart. (This video shows how I do it.) Tie off the ends.

Now, to tighten them, get a clean needle or sausage pricker. Gently compress the meat in each length, spinning it a little more in the direction you first spun. You will see air pockets. Prick the casing to remove them, again gently compressing the links to fill the casing. Do this for every link.

Carefully lower the weisswurst into the hot water. They will want to unspin a bit so watch for that. Poach them gently for 20 minutes or so. While they are cooking, fill a large basin with ice water. Dunk the links in this ice water after they've cooked. Leave them there for 10 minutes. Pat them dry and you are ready to go. They will keep for about 5 days in the fridge, and can be frozen.
Notes
This recipe makes 4 pounds and can be scaled up. 
Nutrition
Calories:
158
kcal
|
Carbohydrates:
1
g
|
Protein:
32
g
|
Fat:
3
g
|
Saturated Fat:
1
g
|
Trans Fat:
1
g
|
Cholesterol:
88
mg
|
Sodium:
547
mg
|
Potassium:
118
mg
|
Fiber:
1
g
|
Sugar:
1
g
|
Vitamin A:
22
IU
|
Vitamin C:
1
mg
|
Calcium:
25
mg
|
Iron:
2
mg
Nutrition information is automatically calculated, so should only be used as an approximation.