Ajiaco, a Javelina Stew
December 19, 2016 | Updated March 20, 2021
As an Amazon Associate I earn from qualifying purchases.
Javelina are so unloved. Poor skunk pigs. They get a bad rap. As I've written elsewhere, they are really quite tasty properly prepared. This ajiaco stew is one such way.
Now don't get all hung up on it being javelina. Unless you are in Central America, or live in Arizona, New Mexico or Texas, you are not likely to have any lying around. Use pork, wild boar, turkey (wild or domesticated), or hell, even chicken.
This recipe is called an ajiaco, most common in Cuba, Colombia and Peru. My version is from the Yucatan, and derives from the excellent book Yucatán: Recipes from a Culinary Expedition by the late, great chef David Sterling. If you are at all interested in the food of this region, you absolutely must get yourself a copy. Nothing better has ever been written in the English language.
If you know a little Spanish, you'll see the word ajo, or garlic, buried in the stew's name. And yes, there is a truckload of garlic in this stew. Fear not, however, because almost all of it is slow roasted and mashed into a paste before it hits the stew. This adds a mellowness and a depth of flavor that make this dish the equal of another great Mexican stew, chocolomo, that I also make from time to time.
For me, the key to a good ajiaco stew is a variety of vegetables, slight spiciness — and those plantains! You know how every stew you ever eat has some morsel you linger on, and want to be your last spoonful? In this stew, it's the plantains. Starchy-sweet, I was shocked at how well they held up to long cooking.
The diced potato dissolves in the cooking, thickening the stew, as does the sofrito of onion and bell pepper, forming a base the rest of the pot then highlights.
Ultimately, however, the vegetables are your choice. These are typical veggies in the Yucatan, and the plantain really adds something… but use what you have.
When you make this ajiaco recipe, make a lot of it. I've never in my life had a stew that was so much better the second, third or even fourth day after it was made as this one was. I almost didn't post it after the first day, thinking it, well, just OK.
Holly and I were blown away on day two. So here it is, ajiaco, a lovely vegetable stew with javelina, pork or whatever. ¡Buen provecho! 
I cook quite a lot of Yucatecan food, so if you like this recipe, you might want to try my rendition of shredded turkey Yucatan, poc chuc, which is grilled pork, dzik, which is a shredded venison salad, classic cochinita pibil, or sopa de lima.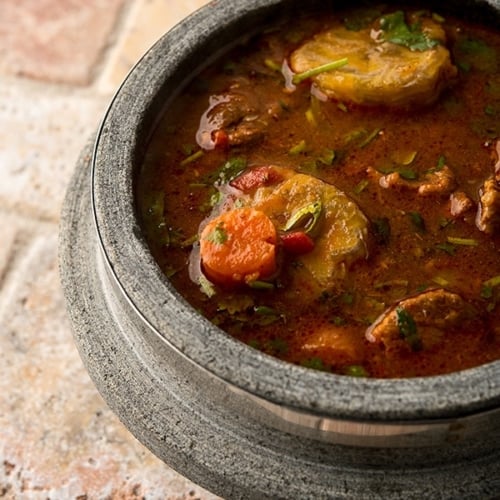 Yucatecan Ajiaco Stew
There are a few ingredients here that are easy to find in Latin markets: plantains, chipotles in adobo, fresh rendered lard and recado rojo, or achiote paste. Achiote paste is necessary for the dish, and if you can't find it in a market, you can buy it online. A tip on the onion and bell peppers for the sofrito: Pulse them in a food processor to really chop them small. You can then use the processor bowl to puree the charred tomatoes without an extra clean-up step. 
Ingredients
4

to 6 heads of garlic

(yes, whole heads)

4

Roma or other paste tomatoes,

sliced in half lengthwise

Olive oil

1/4

cup

fresh rendered lard

or 3 Tbsp olive oil

1

small onion,

minced

1

red bell pepper,

minced

1

green bell pepper,

minced

4

garlic cloves,

minced

3

teaspoons

ground cumin

1

to 3 chipotles in adobo,

chopped

2

tablespoons

achiote paste

2

to 3 pounds javelina,

pork or turkey meat, cut into about 2-inch pieces

1

quart

broth

(chicken, pork, vegetable)

1

baking potato,

peeled and diced

1

sweet potato,

peeled and cut into chunks

1

or 2 chayote squash,

peeled and cut into chunks

2

carrots,

peeled and cut into chunks

1

yellow plantain,

peeled and cut into chunks

Salt to taste

Cilantro for garnish
Instructions
Char the tomatoes. Set the halved tomatoes on a baking sheet and broil them until the tops are blackened. Keep an eye on them, but this should take about 8 to 10 minutes. Puree the tomatoes, char and all, in a blender or food processor and set aside.

Roast the garlic. Switch the oven to 375°F. It should preheat quickly, as it will already be warm from broiling. Slice the tops of the garlic heads off and set them in a nest of aluminum foil. Drizzle some olive oil over them, seal the foil and roast until aromatic and soft, about 45 minutes to 1 hour.

Make the sofrito. Meanwhile, heat the lard or oil in a soup pot and cook the onion and both bell peppers gently until soft, about 5 minutes. Add the 4 chopped garlic cloves and cook another minute or two.

Add the meat. Add the cumin, chipotles, achiote paste and the pureed tomatoes and mix well. Add the chunks of javelina or pork. Mix and pour in the broth.

Simmer. Add about 3 more cups of water and the diced potato. Add salt to taste. Simmer gently for 1 hour.

Add the roasted garlic. While the stew is simmering, the roasted garlic will be ready. Squeeze it out of the husks and mash and chop it into a paste. Add it all to the simmering stew.

Finish. After 1 hour or so, add the remaining vegetables and keep cooking until the meat is tender, probably another hour. Taste for salt and garnish with cilantro.
Notes
As I mentioned above, of all the stews I've made over the years, this one improves the best with age. It's better on day two than day one, and even better a couple days later. It should keep for a week or so in the fridge.
Nutrition
Calories:
533
kcal
|
Carbohydrates:
26
g
|
Protein:
59
g
|
Fat:
21
g
|
Saturated Fat:
7
g
|
Cholesterol:
185
mg
|
Sodium:
303
mg
|
Potassium:
1587
mg
|
Fiber:
4
g
|
Sugar:
8
g
|
Vitamin A:
7707
IU
|
Vitamin C:
51
mg
|
Calcium:
82
mg
|
Iron:
5
mg
Nutrition information is automatically calculated, so should only be used as an approximation.