Turkey Black Bean Chili
March 04, 2019 | Updated August 11, 2022
As an Amazon Associate I earn from qualifying purchases.
Turkey black bean chili is a great alternative to traditional Texas chili that has ancient roots. What's more, you can make it either slow and low on a Sunday, or you can speed things up with a few weeknight hacks.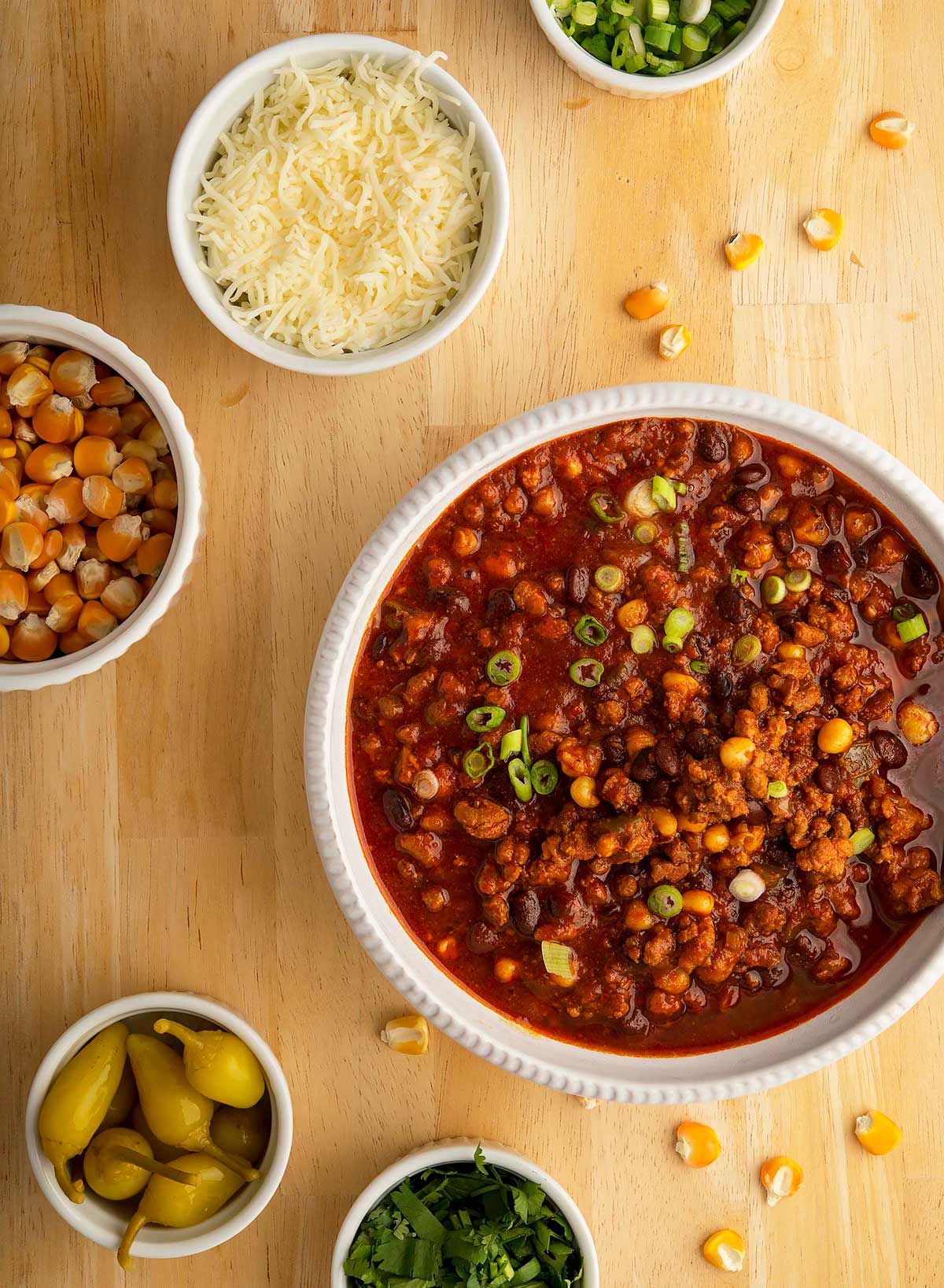 Turkey black bean chili sounds like something some lifestyle magazine whipped together to impress the trendy, but it is actually a stew with origins dating to before the Europeans arrived in the Western Hemisphere 500 years ago.
Don't believe me? Well, for starters it was the Aztecs and Maya (or their predecessors) who domesticated the turkey. Black beans and tomatoes originated in Central America, chiles from South America. Oh, and the corn? Yep, that's a New World ingredient, too. So this dish has a history.
What's not ancient is the concept of chili as we Americans know it. Chili, to us, is, normally, ground or minced meat with all or some of those wonderful ingredients listed above, simmered into awesomeness and typically topped with green things and cheese.
I'd been tossing around the idea of a pre-1492 stew for a while, when I just decided to go with turkey black bean chili. And for those of you who know me, I take my chili seriously. I love my pork chile verde recipe, and my normal chili recipe has won untold awards in untold chili cook-offs, dating back a decade or more.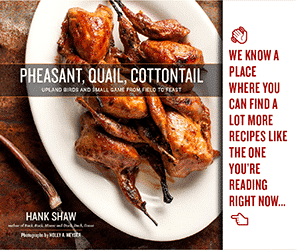 Old School Turkey Black Bean Chili
This turkey black bean chili is a lighter, brighter chili, with more vegetables and no coffee or molasses. I like it almost as much as my One True Chili to Rule Them All. Almost.
I make this one old school most of the time, letting it simmer all day while watching football. The beans and field corn take a long time to cook. Dried field corn is wonderful: It's starchy and hearty and can cook forever. You can nixtamalize it yourself, buy "pozole corn" that is already nixtamalized, or skip that step and simply boil the dried corn straight.
And if you can't find good dried corn (look in Mexican markets), it is perfectly OK to substitute fresh or frozen sweet corn in this recipe.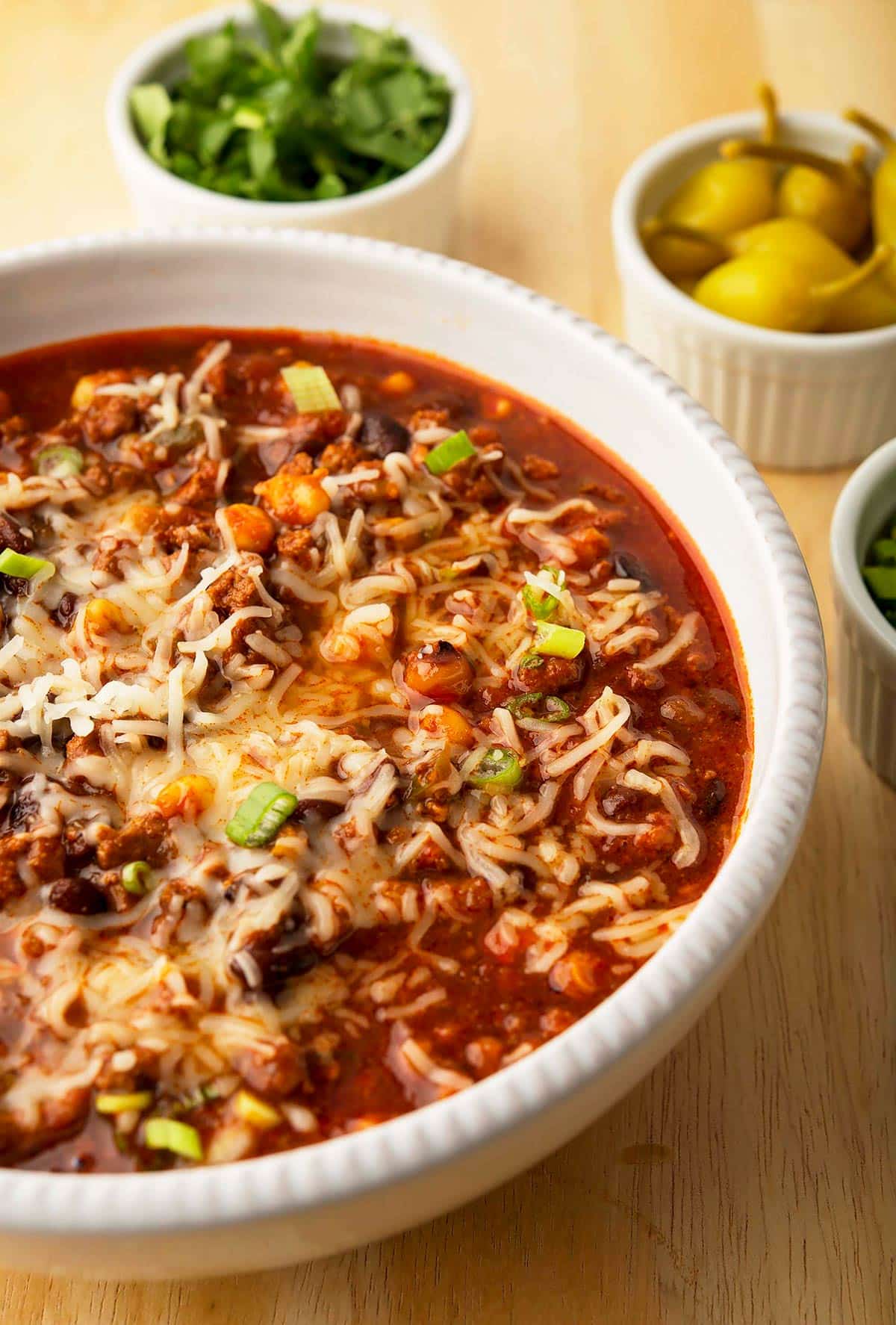 You might also notice that I am using teeny black beans; they are black tepary beans, from the Sonoran desert. Just as the corn I use is from the Tohono O'Odham tribe, so are the beans. That said, any black bean that makes you happy will work.
Finally, I wouldn't be me if I didn't use real dried chiles in my chili. Unlike my other chili recipe, this chili relies only on either guajillo or New Mexican red chiles, which are sometimes sold as California chiles. The point is that they are very red, dried and mild-ish. If you can't find them, simply use paprika.
Weeknight Hacks
If you are in a hurry, you can make turkey black bean chili in less than 40 minutes. Just use canned black beans and fresh or frozen corn, and use paprika or chili powder instead of the dried chiles.
What Meat to Use?
I prefer to use ground turkey thighs for my chili, but any ground light meat will work: turkey breast, pheasant or chicken, pork or rabbit would all be good substitutes.
If you have all day and are making the old school version, I would drop whole turkey legs in the pot, fishing them out and chopping the meat when it's falling off the bone. This is similar to how I make my turkey leg stew.
Serve your turkey black bean chili with whatever toppings you like, but I prefer melty cheddar or Jack cheese, some chopped onions and cilantro.
It will keep a week in the fridge, and is actually better the day after it's made. You can also freeze it, or pressure can it in quart Mason jars for 90 minutes at whatever PSI is appropriate for your altitude.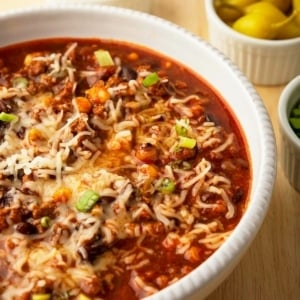 Turkey Black Bean Chili
This recipe can be done in as little as an hour if you use the shortcuts, but I do prefer it cooked with the dry ingredients slow and low. Either way works well. Serve your chili with cornbread, rice or crusty bread.
Ingredients
2 to 3

tablespoons

bacon fat, lard or vegetable oil

2 to 3

pounds

ground turkey

1

large white or yellow onion, chopped

1

green bell pepper, chopped

4 to 6

cloves

garlic, minced

2

tablespoons

chili powder

2

teaspoons

ground cumin

1

28 to 32 ounce

can of crushed tomatoes

1

quart

turkey or chicken stock

4 to 6

dried guajillo or New Mexican chiles,

stemmed and seeded

OR 3 tablespoons paprika

Salt

1 to 2

cups

cooked corn kernels

(1 cup dry if using)

2 to 3

cups

cooked black beans,

or 2 15-ounce cans
GARNISHES
1

cup

shredded cheese

1/2

cup

chopped cilantro

(optional)
Instructions
If you are using dried corn and dried beans, soak them in water overnight. The next day, you can either cook them with the chili, which will increase cook time to about 6 hours, or you can cook the corn and beans separately, which will take about 3 hours; the acid in the chili will drastically slow the cooking of the beans.

If you are using the dried chiles, about 30 minutes before you plan on starting the chili, put the chiles in a bowl and pour boiling water over them to rehydrate.

Heat the bacon far or oil in a large pot like a Dutch oven over high heat and, when it's almost smoking, add the ground turkey. Sear the turkey over high heat without touching it for a couple minutes, then stir and repeat that process until the meat is cooked and has some nice brown marks.

Stir in the onion and green pepper and cook, stirring occasionally, for 5 minutes. Stir in the garlic, chili powder and cumin and cook for 2 minutes more.

Pour in crushed tomatoes and stock and stir well. If you are using the dried chiles, buzz them into a puree in a blender and add to the chili. If you are using the paprika, add it now. Stir well and add salt to taste.

If you are using the dried corn and beans and want to cook them in the chili, add them now, along with another quart of water; it'll cook down over time. Simmer the chili until the corn and beans are tender, which will take several hours.

If you are using fresh or frozen corn and canned beans, thaw the corn and rinse the beans. Let the chili simmer for 30 minutes, and then add the corn and beans and cook another 15 minutes. Serve with the garnishes once everything's nice and tender.
Notes
NOTE: Cook time reflects canned or frozen ingredients, not dried ones, which will take longer to cook. 
Nutrition
Calories:
299
kcal
|
Carbohydrates:
17
g
|
Protein:
36
g
|
Fat:
10
g
|
Saturated Fat:
4
g
|
Cholesterol:
77
mg
|
Sodium:
427
mg
|
Potassium:
746
mg
|
Fiber:
5
g
|
Sugar:
3
g
|
Vitamin A:
1318
IU
|
Vitamin C:
16
mg
|
Calcium:
113
mg
|
Iron:
3
mg
Nutrition information is automatically calculated, so should only be used as an approximation.