Poc Chuc, Mayan Grilled Pork
May 25, 2020 | Updated October 15, 2020
As an Amazon Associate I earn from qualifying purchases.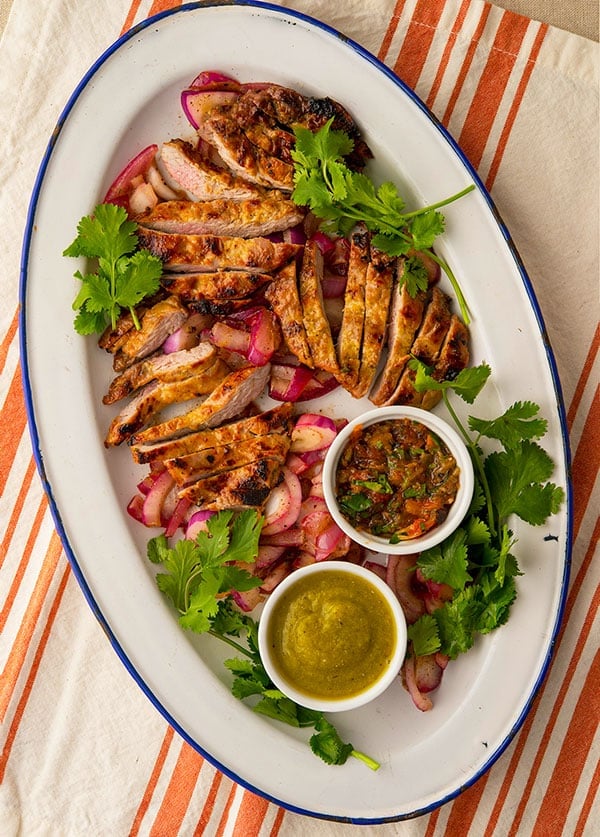 Poc chuc is arguably the signature dish of the Yucatan, along with cochinita pibil. Chances are that if you have been there on vacation, you've ordered this dish of marinated, grilled pork.
You can make an authentic rendition of poc chuc at home, but you will need to start a day before to marinate the pork get everything ready.
The process of making this dish, which is pronounced "poke chook," involves making a marinade, pounding out pork loin cutlets, marinating the pork, then grilling it over very high heat along with some red onions, which are then doused with a pickly sauce.
You will want a salsa or two to go along with your poc chuc, as well as avocados, maybe some black beans, and of course lots of corn tortillas.
To get started, you will want pork loin, wild or store-bought. I happened to use javelina loin because, well, I had it lying around after a hunt in Arizona, and also because this Mayan dish was probably invented for javelina, which live in that region.
Yucatecan food is also defined by the use of sour orange juice, too. You can buy it as naranja agria in liter bottles in pretty much every Latin market. If you prefer, you can get close to the same flavor by juicing 2 oranges, 1 grapefruit and 3 limes and mixing all that together.
This citrus will appear not only in the poc chuc marinade, but it will also douse the red onions, and likely add zip to whatever salsa you choose to make.
I will give you the recipe for the marinade below, but if you want an easy hack, buy the Mojo Criollo at the Latin market, which will likely be right next to the sour orange juice. Several companies make it, with Goya being the most common. I prefer the Iberia brand when I don't make it myself.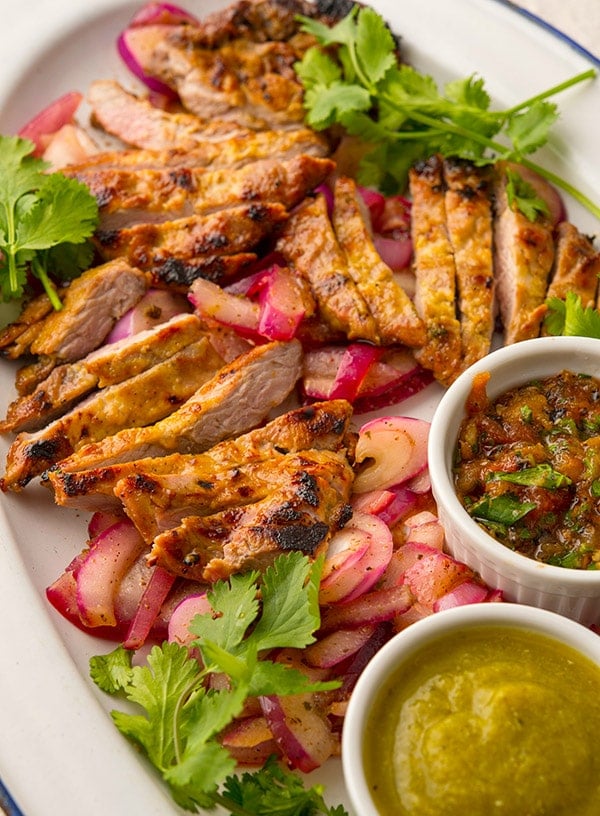 If you are using farmed pork, you don't necessarily need to brine your meat first, but you definitely will want to if you are using javelina or wild pork. This will help it stay juicy after grilling. Simply submerge your pork in a mixture of 1/4 cup kosher salt to 1 quart water overnight.
The timing of a poc chuc feast is a little tricky, so let me walk you through it.
If you are brining the pork, that starts 2 days before the feast. Either way, you want to marinate the pork the day before, or at least early that morning on the day of. First, make your salsas. I like to have two.
Salsa verde is a good call for one, and then make a standard pico de gallo, only Yucatecan, by using the sour orange juice and subbing the jalapenos for habaneros. Or you can use the grill and char everything and mash it in a basalt rock molcajete. Your call.
Then you will want to grill a bunch of red onions, slice them up and soak them in a spicy pickly sauce. Then make your corn tortillas, if you are doing them homemade. Or if not, heat store-bought ones up now. Incidentally, you can also serve poc chuc over rice.
When everything else is ready, grill the pork until it is medium-well, about 155°F inside. Keep in mind that farmed pork and javelina can be served medium, but wild pork should be served closer to 160°F.
I know it sounds like a production, and it is, kinda sorta. But poc chuc is so good it's worth it, and the salsas and onions and pork are all great cold the next day. If you have leftovers, that is.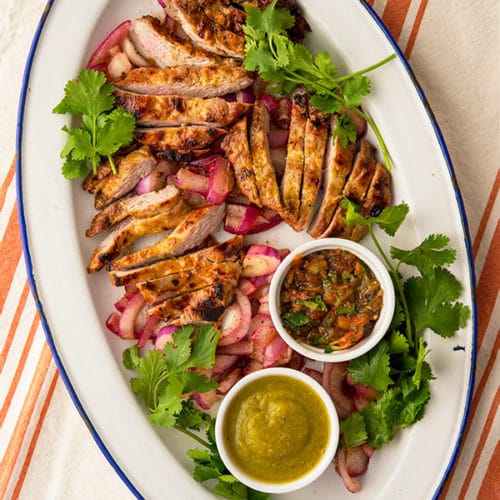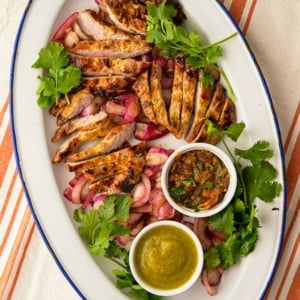 Mayan Poc Chuc
This is the signature grilled pork of the Yucatan, a favorite among vacationers. I use javelina or wild pork, but it is normally made with farmed pork. Read the post above for the timing and shortcuts.
Ingredients
MARINADE
3

pounds

pork loin

(see above)

1

head

garlic

1

cup

olive oil

1

teaspoon

salt

1/2

teaspoon

black pepper

1/2

teaspoon

ground cumin

1/2

cup

sour orange juice

(for substitute, see above)
ONIONS
2

pounds

red onions, peeled and quartered

1/4

cup

sour orange juice

(for substitute, see above)

1

teaspoon

salt

1/4

teaspoon

black pepper

1/4

teaspoon

dried oregano

(Mexican, if possible)

1/8

teaspoon

ground allspice

1/8

teaspoon

ground clove
MAYAN PICO DE GALLO
4

plum tomatoes, diced

1/2

cup

sour orange juice

(for substitute, see above)

salt

1

teaspoon

dried oregano

(Mexican, if possible)

2

red onions, diced

1 to 2

habaneros, minced

1

cup

chopped cilantro
Instructions
MARINADE
If you are brining the pork, submerge it in a mixture of 1/4 cup kosher salt to 1 quart water, then let it sit in the fridge overnight. When you are ready to marinate it, slice the loin into medallions. Put a medallion into a heavy freezer bag and pound it flat with a mallet or empty wine bottle. You want the cutlets about 1/4 inch thick.

Blend the marinade ingredients and coat the pork cutlets with it, in a bag or covered container. Let this sit overnight.
ONIONS
Get your grill hot and clean the grates. Char the quartered red onions well. You want significant blackening. Take them off when they're ready and cut into slices you'd like to eat on a tortilla.

Mix the remaining onion ingredients together in a bowl and toss with the charred, sliced red onions. Let this sit at room temperature. These can be made up to 1 day in advance.
SALSA
Mix the chopped onion and habaneros in a bowl with the salt, oregano and sour orange juice. Let this sit while you dice the tomato and chop the cilantro. You can add the tomato to the bowl as soon as it has been chopped, but leave the cilantro out until you are ready to serve. Toss it in at the last minute.
TO FINISH
When all is ready, get your grill hot and clean the grates again. Take the pork out of the marinade but do not scrape it off or rinse. Grill the pork over high heat for about 2 to 4 minutes per side. You want the pork to just about be done, so keep an eye on it.

Slice the pork thin and serve on corn tortillas with the onions, some salsa, and maybe a side dish of black beans. Sliced avocados are a good garnish. You can also serve this over simple steamed rice.
Nutrition
Calories:
336
kcal
|
Carbohydrates:
20
g
|
Protein:
41
g
|
Fat:
10
g
|
Saturated Fat:
3
g
|
Cholesterol:
107
mg
|
Sodium:
674
mg
|
Potassium:
1017
mg
|
Fiber:
3
g
|
Sugar:
10
g
|
Vitamin A:
483
IU
|
Vitamin C:
37
mg
|
Calcium:
59
mg
|
Iron:
2
mg
Nutrition information is automatically calculated, so should only be used as an approximation.