Three Sisters Stew with Grouse
September 23, 2019 | Updated August 02, 2022
As an Amazon Associate I earn from qualifying purchases.
If you've never had a classic three sisters stew, it's time you did. The "three sisters," corn, beans and squash, are a trinity that underpins much of Native American cooking. I take this one step further by adding sharp-tailed grouse, although you could add chicken or any meat, or none at all.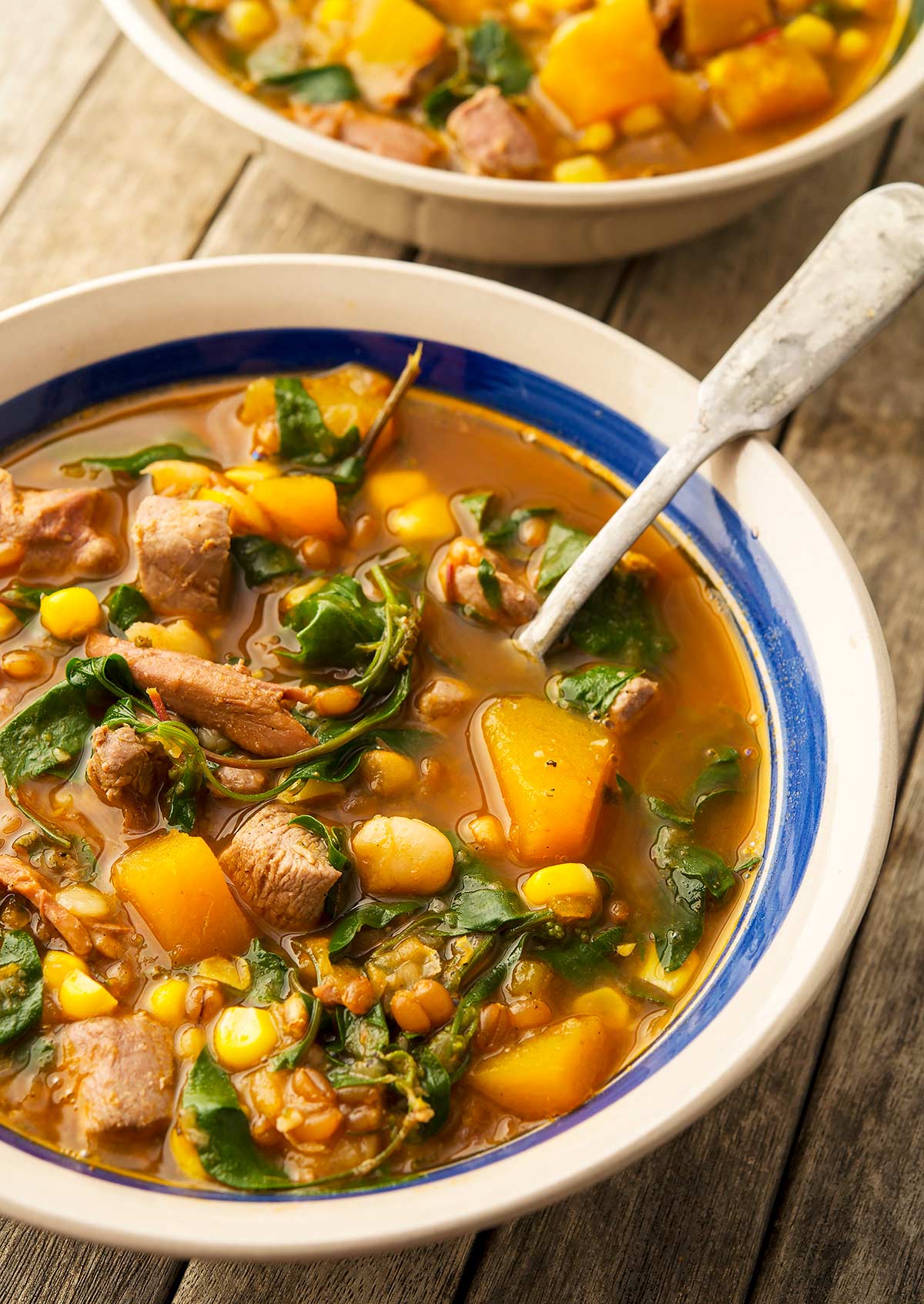 Sharp-tailed grouse, if you are not familiar, is a dark-meat grouse, similar to ptarmigan, spruce grouse or prairie chickens. All of these birds are assertive in flavor, meaning you'll know you're eating them and not beef chicken or lamb.
I like that flavor, but if you don't, brine the birds overnight in the fridge with a solution of 1/4 cup seat salt to 1 quart water. Or just use something else, like pheasant or chicken thighs, rabbit or squirrel, a turkey thigh, or some other sort of grouse or partridge.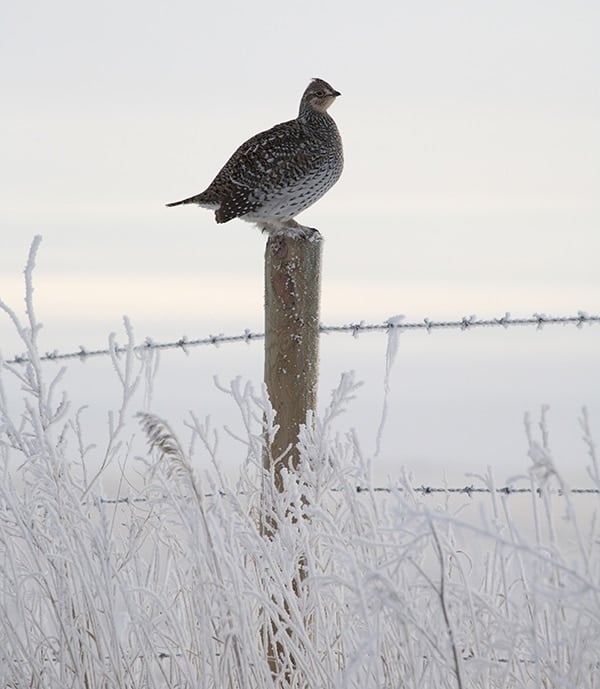 Sharpies are a creature of the Great Plains, and so I decided to make this three sisters stew an ode to that part of the country: great northern beans, sweet yellow corn and butternut squash. You can use whatever trio of corn, beans and squash makes you happy, even summer squash. Just skip the spaghetti squash. That would be weird in this stew.
I included some lambsquarters in there for color and nutrition. Use whatever green thing you'd like; spinach, dandelion greens, turnip greens, amaranth greens, chard or kale are all good options.
You can make your three sisters stew as elaborate or as easy as you want. Sure, you can use frozen corn, canned beans and store-bought broth, but I decided to make everything from scratch. I used fresh sweet corn from the farmer's market, dry beans I cooked separately, and squash from my garden.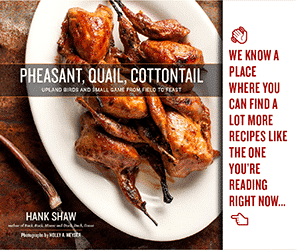 I also roasted the carcasses of two sharp-tailed grouse to become the base of the stew's broth. All of this came together lazily on a Saturday, in between watching college football games.
There is one special ingredient in this three sisters stew: Fire-roasted, pureed tomatoes. It's harvest season, so I am canning a lot of tomatoes, and I prep them by broiling them first until they are all slightly charred. Buzz in a blender and can or freeze. A few spoonfuls of this really added something to the stew — without making it a tomatoey stew. You don't have to do this if you don't want. It'll still be a good stew with regular tomato paste.
Using smoked salt instead of regular salt is another nice touch, but not strictly needed.
After that, all you need is time. Make three sisters stew on a weekend, and it will provide you with a good lunch or easy dinner during the work week.
The flavor? Homey, filling, tasty — and it is a fantastic way to highlight the three pillars of Native American agriculture, plus that of the sharp-tailed grouse, an iconic native bird of our Great Plains.
No grouse? Use chicken thighs, or pheasant or turkey thighs, or venison, beef or lamb. I have another three sisters recipe that uses bison.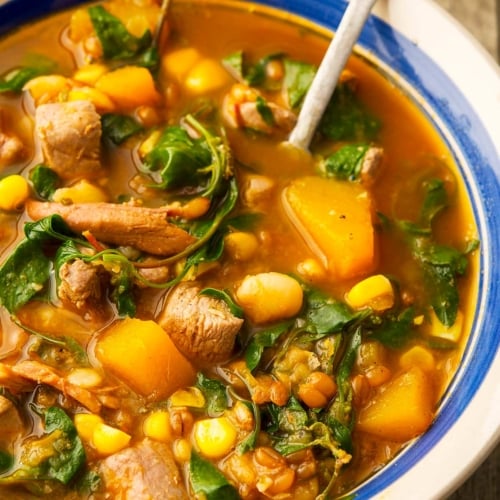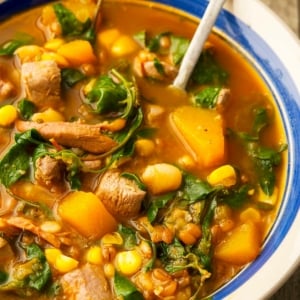 Three Sisters Stew with Grouse
Use this recipe as a structure, working with ingredients you have. You can vary the meats you use, as well as the varieties of corn, beans and squash, as well as the green element. I use lambsquarters, but anything like spinach would work fine; dandelion greens is a nice alternative.
Ingredients
OPTIONAL GROUSE BROTH
2

whole grouse, breasts removed and reserved

oil to coat birds

Salt

3

bay leaves
STEW
3

tablespoons

unsalted butter

1

large white or yellow onion, chopped

2

cloves

garlic, minced

2

tablespoons

tomato paste

1

cup

wheat berries or pearled barley

(optional)

Salt

(smoked salt if you have it)

2 to 3

cups

cooked great northern beans

3

cups

cubed winter squash

2

tablespoons

fresh sage, minced

3

cups

sweet corn

1/2

pound

lambsquarters or other green

(spinach, dandelions, turnip greens, etc.)

Black pepper, freshly grated cheddar or parmesan and cider vinegar, all to taste
Instructions
Regardless of whether you are making broth or not, you will want to roast your birds at 400°F until well browned, about 1 hour. Remove the breasts and set aside, and lightly oil the carcasses. Salt well and set in a pan, uncovered, for an hour.
BROTH
If you are then making a broth, cover the two roasted carcasses with water by about an inch in a large pot or Dutch oven, and simmer with the bay leaves for up to 4 hours. Strain the broth and pick all the meat off the bones. The roasting and broth-making can all be done up to a few days ahead of time.
STEW
In a large pot or Dutch oven, heat the butter over medium-high heat. Add the chopped onion and cook, stirring occasionally, until it begins to brown, about 10 minutes. Add the minced garlic and cook for another minute.

Add the wheat or barley and stir well. Cook a minute, then add the tomato paste. Stir well and let all this cook for a few minutes, until the tomato paste darkens a bit.

At this point add the broth you made, or 2 quarts of pre-made broth -- chicken, vegetable, grouse, whatever. Also add the shredded meat from the roasted carcasses if you've made broth, or, if you haven't, drop the roasted carcasses into the stew. Simmer until the meat is tender, about 2 hours. Add salt to taste.

If you didn't make broth, now is time to remove the meat from the bones. If you did, move to the next step. Either way, this is a good time to dice the breast meat of your birds.

Add the squash and minced sage and cook for 30 minutes. Add the cooked beans, corn, greens and the diced breast meat. Simmer all this for 10 minutes.

Finish the stew by adding salt, ground black pepper and cider vinegar to taste. Ladle the stew into bowls and grate some cheddar or parmesan over top.
Notes
Keep in mind you don't need grouse to make this stew. Chicken or other poultry, or rabbit or squirrel are excellent alternatives, and you can make this vegetarian by using vegetable broth and skipping the meat. 
Nutrition
Calories:
518
kcal
|
Carbohydrates:
54
g
|
Protein:
31
g
|
Fat:
22
g
|
Saturated Fat:
7
g
|
Cholesterol:
125
mg
|
Sodium:
119
mg
|
Potassium:
1072
mg
|
Fiber:
11
g
|
Sugar:
6
g
|
Vitamin A:
13185
IU
|
Vitamin C:
48
mg
|
Calcium:
203
mg
|
Iron:
4
mg
Nutrition information is automatically calculated, so should only be used as an approximation.