Red Eye Gravy with Quail
January 06, 2020 | Updated June 06, 2022
As an Amazon Associate I earn from qualifying purchases.
Southern red eye gravy is one of those polarizing foods you either love or hate. I understand why because at its core, this gravy is nothing more than country ham drippings and black coffee. Harsh stuff.
Most cooks tinker with this base, however, and in my travels I've seen red eye gravy made in all sorts of ways — but always with that base of ham and coffee. Even I have two versions of this Southern classic on this site: I also have a chicken fried duck recipe with red eye gravy that includes a bit of tomato in it.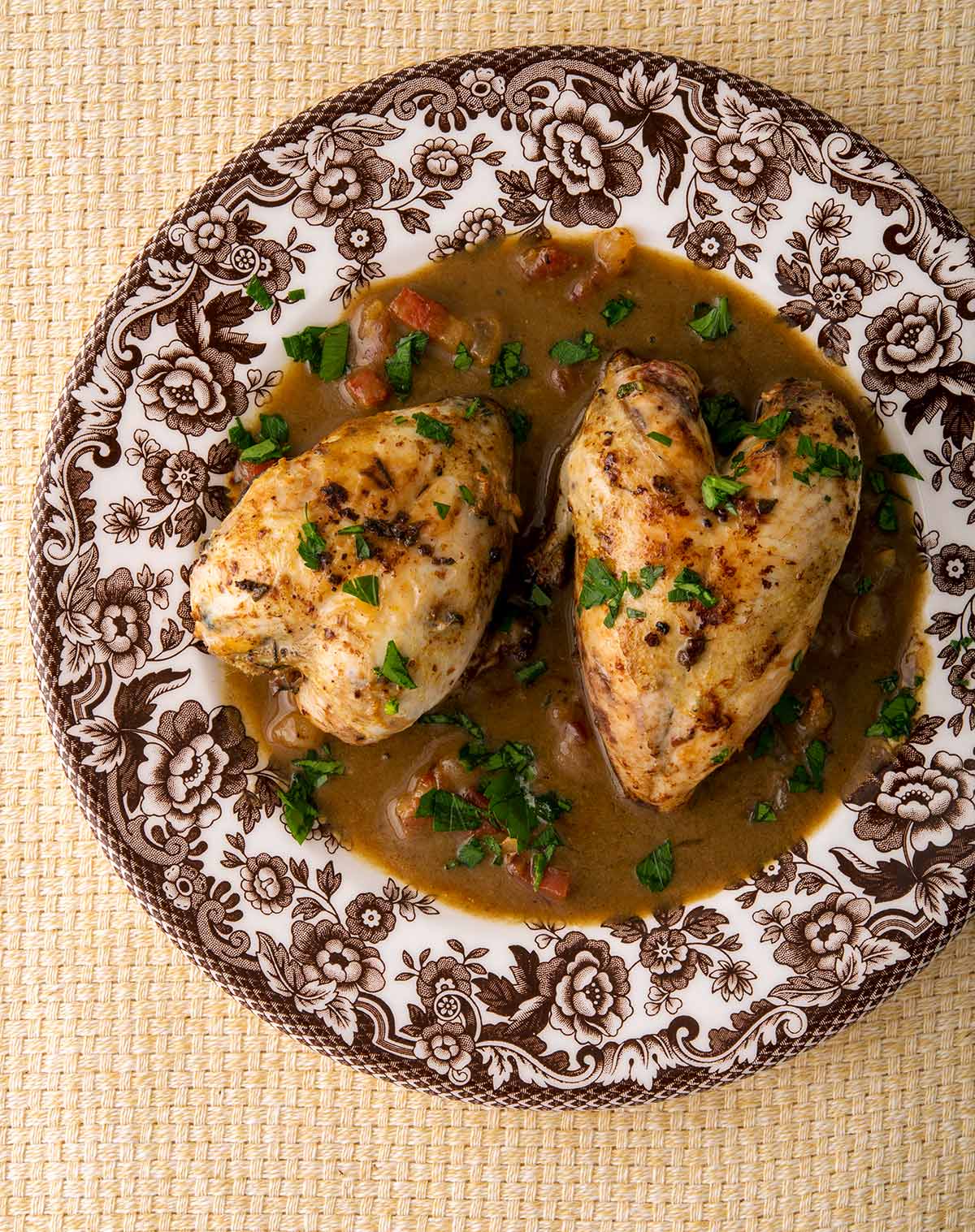 Here, my red eye gravy recipe has no tomato, and is very loosely inspired by a version I saw in Sean Brock's book South: Essential Recipes and New Explorations, which is absolutely worth your money if you are into Southern food.
My red eye gravy recipe was born in an attempt to mitigate the harshness of old black coffee, which frankly, is nasty dumped into just ham fat. So I cook diced ham, remove it, then cook a shallot or onion, some garlic and 1 small hot chile in the fat, add some flour to make a roux, let that cook, then add coffee and broth, then, as one added touch, a spoonful of Southern sorghum syrup.
It's an amazing gravy. Bracing, hammy, but still the gravy you know and love. It's smooth, and is wonderful with everything from yes, slabs of country ham, to eggs and hash browns, chicken fried steak, potatoes and, in this case, some quail I sautéed in butter.
Red eye gravy will keep for a day or two in the fridge; thin it with water or broth or more coffee when you reheat it. It does not freeze well.
The only thing you absolutely must have to make any legit red eye gravy recipe (other than black coffee) is country ham. Don't use the boiled hams you find in most supermarkets, or in a can. Dry cured, Southern ham is the soul of this dish. The only substitute worthy would be Spanish or Italian cured hams, which are different, but will do in a pinch.
As for the sorghum syrup, it too can be tough to find outside of the South. Some good alternates would be, in order, blackstrap molasses, British treacle, birch syrup, dark maple syrup, or dark brown sugar.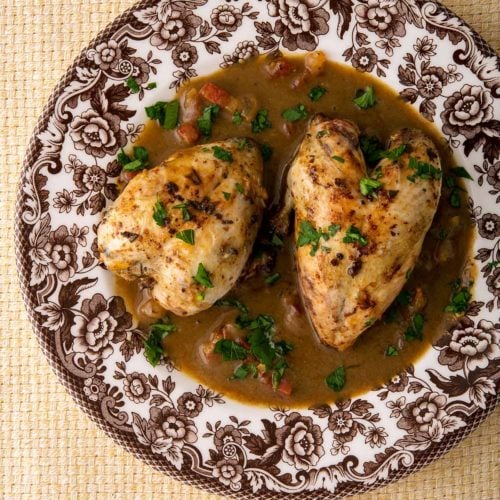 Red Eye Gravy with Quail
As for the quail, cook it according to my directions here. But the quail are secondary to this gravy. You can choose to puree this or not. I prefer it pureed.
Ingredients
1/4

pound

fatty country ham,

finely diced

1

shallot or 1/4 cup onion,

minced

1

clove

garlic,

minced

1

Thai or other small hot chile, minced,

or 1/4 tsp cayenne

1

teaspoon

minced fresh sage

1

tablespoon

flour

2/3

cup

black coffee

2/3

2/3

cup

chicken or other broth

1

teaspoon

sorghum syrup or other sweetener

(see above)

Salt and black pepper to taste
Instructions
Cook the minced ham in a pan over medium heat until the ham is crispy and most of the fat has rendered. Remove about 3/4 of the ham and set aside.

Add the minced shallot, garlic and chile and cook, stirring often, until translucent, about 2 minutes. Add the flour and mix well. Cook this, again stirring often, for 5 minutes.

Add the minced sage and stir well. Add the coffee and broth, little by little, stirring constantly to incorporate it. Bring this to a gentle simmer. Add the sorghum syrup and mix well. Allow this to cook until the gravy has the consistency of melted ice cream. Add salt and black pepper to taste.

If you want, pour everything into a blender and puree. As for the remaining ham, I like to sprinkle that over whatever I am eating the gravy with.
Nutrition
Calories:
63
kcal
|
Carbohydrates:
3
g
|
Protein:
5
g
|
Fat:
3
g
|
Saturated Fat:
1
g
|
Cholesterol:
12
mg
|
Sodium:
234
mg
|
Potassium:
121
mg
|
Fiber:
1
g
|
Sugar:
1
g
|
Vitamin C:
2
mg
|
Calcium:
5
mg
|
Iron:
1
mg
Nutrition information is automatically calculated, so should only be used as an approximation.