Dzik, Venison Yucatan
March 16, 2015 | Updated March 20, 2021
As an Amazon Associate I earn from qualifying purchases.
I was paging through my copy of the late David Sterling's book Yucatan, and I came across this dzik recipe. It took me by surprise, because I almost never see recipes specifically for venison in Mexican cookbooks.
Sure, you can make all sorts of excellent Mexican dishes with venison, but usually it subs in for beef or goat. This is different.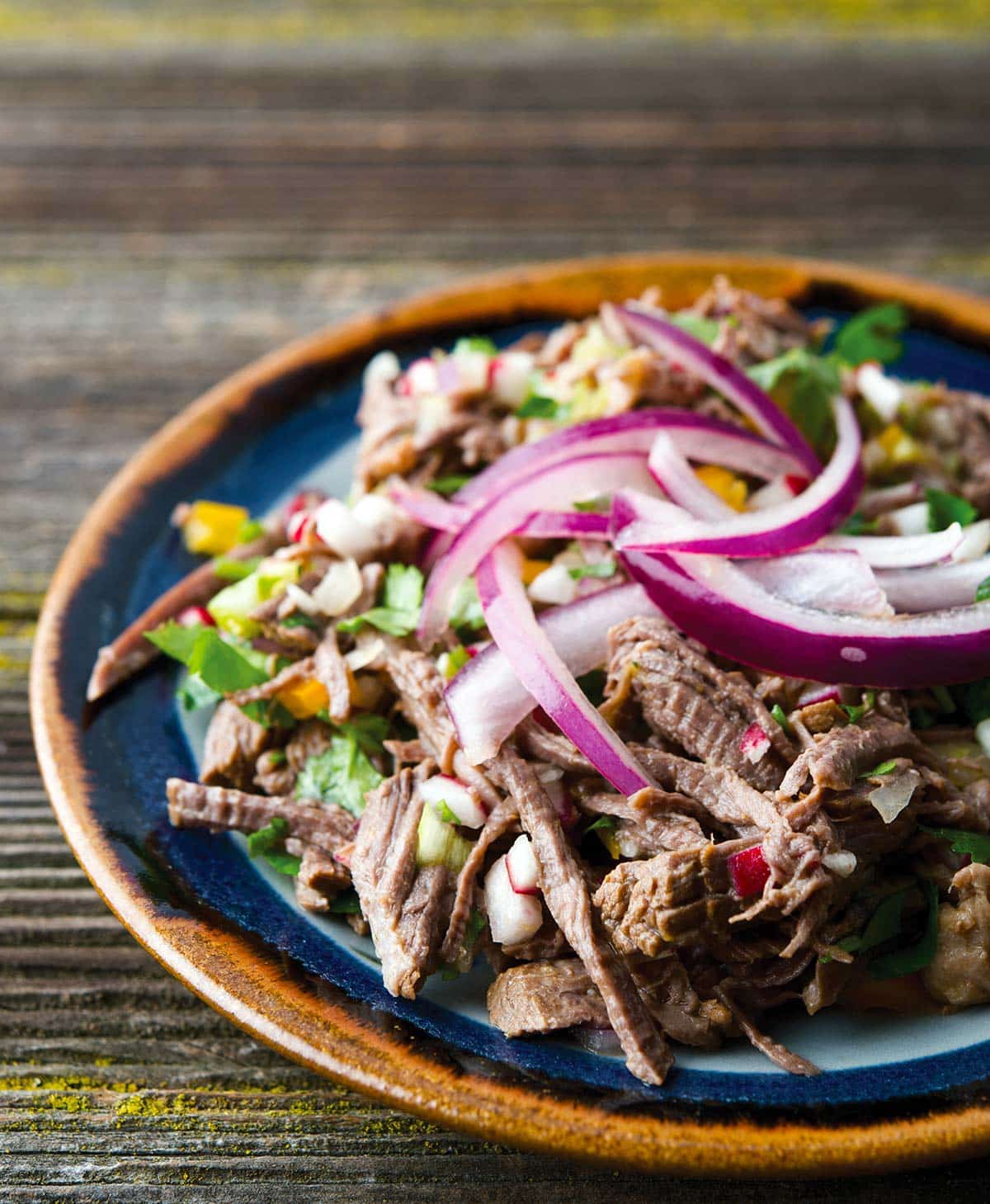 Interestingly, venison plays a significant role in the cuisine of the Yucatan. I did a bit of searching and it turns out that there is not only a whitetail deer subspecies that lives there, but there's also a teeny little deer called a brown brocket. Who knew?
Dzik is essentially a mashup of barbacoa, cochinita pibil and ceviche. It's normally eaten at room temperature, but I like it warm, not hot.
This salad can be as picante as you like, and if you can get my favorite salsa chile, the beguiling rocoto or chile peron or chile manzano, it will add a lot to the dish.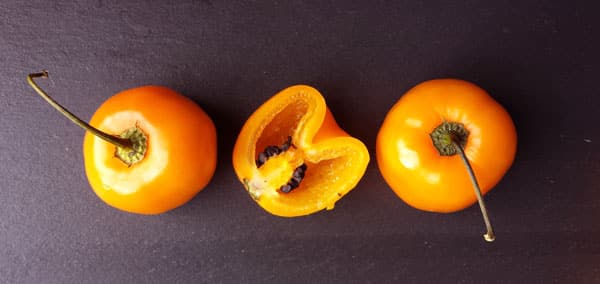 These are Capsicum pubescens, an odd, perennial chile originating in Peru. They're the only chile with black seeds, and they are as juicy as a bell pepper, floral and tropical as a habanero, and about as hot as a ripe jalapeno, which is to say pretty hot, but nothing like a habanero. I like to put one or two in this dish, depending on how hot they are.
If you have access to sour Seville oranges, by all means use them. They're what you need for this dish. But even I can't regularly find them, so the mix of lime and orange juice works fine. Similarly, if you can find chile manzano, use them. They are, in my opinion, the best chile for dzik. Habaneros are traditional, but they are hotter.
The end result is surprisingly good, and almost totally non-fat. You bite into a burst of differing textures and flavors — sweet-sour-salty-savory-spicy — and the dish just looks gorgeous. Dzik is a perfect warm weather picnic or outdoor party dish. And those days are coming soon, my friends!
I cook quite a lot of Yucatecan food, so if you like this recipe, you might want to try my rendition of cochinita pibil, poc chuc, which is grilled pork, sopa de lima, a stew called ajiaco, or a braised Yucatecan turkey dish I like to make with turkey thighs. There is also another version of venison salad from Tamaulipas called salpicón.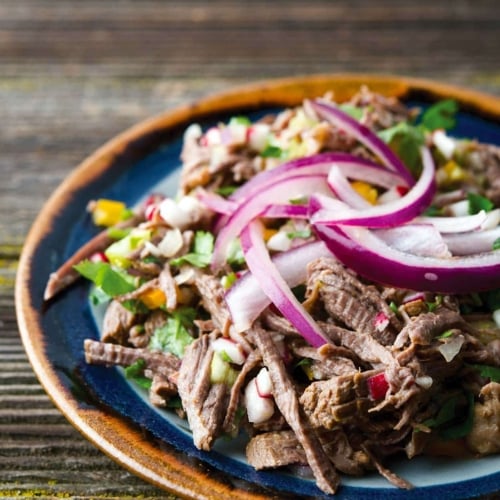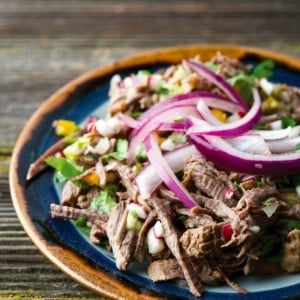 Dzik, Venison Yucatan
Any roast or sinewy piece of venison will work here, since you are shredding it. If you use a standard roast, the meat will be drier and you might want to add a little olive oil. If you use shanks, neck or shoulder, there is enough connective tissue in those cuts that will melt, coat the meat and make it silky.
Ingredients
BRAISE
2

to 3 pounds venison

from the shoulder or legs

1

red onion,

chopped

5

garlic cloves,

chopped

2

bay leaves

1

teaspoon

ground cumin

1

teaspoon

ground cloves

1

tablespoon

kosher salt

1

quart

beef or venison stock

Salt
SALAD
1/4

cup

lime juice

½

cup

orange juice

1

small red onion,

sliced root to tip

2

tablespoons

minced green onion or chives

1

cup

chopped red onion

2

diced plum tomatoes,

only if they are in season

½

cup

chopped radishes

½

cup

chopped cilantro

1

to 3 minced habaneros or chile manzano

Pickled red onion and sliced radishes for garnish
Instructions
To pickle the onions, slice them thinly from root to tip and soak them in lime-orange juice mixture while the venison is cooking.

Mix all the ingredients for the braise together, bring to a boil and simmer gently until the venison begins to fall apart. When it's tender, shred it with two forks and toss it with the salad ingredients. Garnish with the onion and radishes. Serve on tostadas or corn tortillas.
Notes
This salad doesn't keep well. The meat does, of course, but once you toss everything together it needs to be eaten within an hour or two. If you braise a big batch of meat, shred it and keep it in the fridge, then put together the rest of the ingredients when you want to eat it.
Nutrition
Calories:
189
kcal
|
Carbohydrates:
10
g
|
Protein:
29
g
|
Fat:
3
g
|
Saturated Fat:
1
g
|
Trans Fat:
1
g
|
Cholesterol:
96
mg
|
Sodium:
1172
mg
|
Potassium:
769
mg
|
Fiber:
1
g
|
Sugar:
5
g
|
Vitamin A:
283
IU
|
Vitamin C:
20
mg
|
Calcium:
42
mg
|
Iron:
5
mg
Nutrition information is automatically calculated, so should only be used as an approximation.