Venison Landjaeger
November 21, 2014 | Updated June 06, 2022
As an Amazon Associate I earn from qualifying purchases.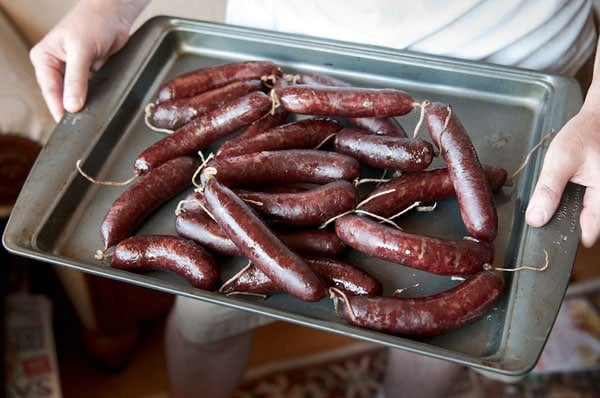 Landjaeger. Such a cool name, eh? It's a German dry-cured sausage that is made small enough to fit into your coat pocket on a cold day hiking, fishing — or hunting. Thus the name.
Traditionally made with beef and pork, my landjaeger is made with venison and pork fat. You could use any red meat — goat, lamb, elk, etc.
This is not a beginner's sausage. It requires a few advanced sausage-making skills and some equipment. If you've never made dry-cured salami before, I'd suggest starting with something a little easier, like my basic salami instead.
And if you've never made any sausages before, stop. Make a few batches, using my tutorial on Simply Recipes, and then come back to this recipe.
You will need a few things before you even start:
Curing salt No. 2, and a special bacterial starter that ensures the good bugs beat the bad ones.
A humidifier, or a place where the humidity is over 85 percent.
A place to hang your sausages in this humid environment.
A place to hang your sausages after the initial ferment, preferably a place with humidity about 80 percent and about 55 degrees.
A smoker. Landjaeger is lightly smoked before it hangs to dry.
The details on how to make your landjaeger are below, but so far as dry cured sausages go, this one is pretty easy, as it comes together in weeks, not months. Two other recipes with short hang times are stångkorv, a Swedish breakfast sausage, and kabanos, a smoked Polish meat stick. Once the landjaeger is made, it will keep in the fridge for weeks, and indefinitely in the freezer.
At room temperature, it will keep a few days, but I've had them out in the field in cold hunting weather for many days and they were fine.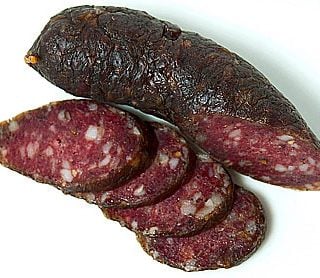 Venison Landjaeger
You will need to use Instacure No. 2 here, which you use for all long-cured salami. You can't skip it. Nitrate has been used in salami making for 2000 years, and I don't intend to break that tradition. And for those of you freaked out by nitrates, know that a serving of spinach or celery will give you 100 times more nitrates than you will get by eating this salami. As for the starter culture, I know it's a lot. Technically you could cut the amount of culture a a few grams, but you'd need to make sure the meat is really well mixed to get it distributed right. The amount I use is essentially the "better safe than sorry" approach. If you want to use less, that's on you.
Ingredients
3

pounds

venison

2

pounds

fatty pork shoulder or pork belly

51

grams

(about 3 tablespoons) kosher salt

15

grams

(a scant 2 tablespoons) sugar or dextrose

6

grams

(about a teaspoon) Instacure No. 2

1

teaspoon

garlic powder

1

teaspoon

caraway seed

1

teaspoon

ground coriander seed

2

tablespoons

ground black pepper

2

teaspoons

ground allspice

1/2

teaspoon

celery seed

5

grams

(about 1 tablespoon) starter culture T-SPX

2/3

cup

distilled water
Instructions
Cut the fat and meat into chunks that will fit into your grinder. Trim as much sinew and silverskin as you can. Mix the salt and Instacure with the meat and fat and put it in the fridge overnight. If you have a grinder with a very large die, like 10 mm, grind it first and then set it in the fridge. If you only have the standard "coarse" die, which is normally 6 mm, just put the meat and fat as-is in the fridge Doing this helps develop myosin, which will give you a tighter bind when you stuff the links later.

The next day, put the fat and your grinding equipment — blade, coarse and fine die, etc — in the freezer. Mix the spices into the meat. Put the meat mixture in the freezer, too. Let everything chill down until the meat hits about 28°F or so. It won't freeze solid because of the salt. Normally this takes about 90 minutes. While you're waiting, soak about 15 feet of hog casings in a bowl of warm water.

When the meat and fat are cold, grind through the coarse die of the grinder, the 6 mm die. If the meat is 35°F or colder, go ahead and grind half of it one more time through the fine die, which is normally 4.5 mm. If it's too warm, freeze until it hits 35°F and then grind it.

Regardless, once it has been ground, put the meat and fat back in the freezer while you clean up. Dissolve the starter culture in with the distilled water. Let this sit at least 15 minutes.

When the meat mixture is back below 35°F, you can mix it. I put the mixture into a big plastic bin with the starter culture mixture and mix it by hand for about 2 minutes. If you do this, you'll know the mixture's cold enough if your hands ache from the chill. Or, you can put everything into a big stand mixer and mix on low for 90 seconds to 2 minutes. I prefer to mix by hand.

Put the sausage in the fridge while you clean up. Run some clean water through your casings to flush them and to see if you have any leaks.

Pack the sausage into your stuffer and get ready to make the salami. Leave 4 to 6 inches of casing hanging from the edge of the stuffer as a "tail;" you'll use this to tie off the salami in a bit. Start working the meat into the casing, using your fingers to flush any air out of the casing and to regulate the flow. Do a whole coil before you make links.

Tie off links of about 6 to 8 inches with kitchen twine. Now gently rotate the links to compress the meat within each casing, watching for air bubbles. Heat a needle or a sausage pricker in the flames of your stove to sterilize it, and prick the links to let any trapped air out. Hang your sausages from "S" hooks or somesuch on a wooden rack. Let them hang at room temperature for an hour or two.

Now you need to ferment the sausage. You will want to tent the hanging sausages with black plastic from some garbage bags, or some other plastic sheeting. If you have one, put a humidifier under the sausages. You really want them to stay moist. Let the sausages hang for at least 24 hours, and up to 48 hours. Every few hours, spritz them with a spray mister to keep them moist. This is the fermentation stage, the stage where the starter culture you are using defeats any bad bacteria in the sausage.

When the sausages are ready, fire up the smoker. Put ice cubes in the water tray to keep the temperature as cool as possible. You are not cooking the links here, you are giving them a good smoking. Use oak, hickory, any fruit or nut wood. Avoid mesquite, as it is too distinctive. And no pine -- too much resin. Smoke the links for 2 to 3 hours, making sure the temperature stays cool. If the smoker got beyond 125°F, douse the links in an ice water bath to stop any cooking. Pat them dry.

Now you need to hang them in your drying chamber. I use an old fridge with a temperature regulator and a humidifier in it. Hang the links at about 80 percent humidity for a week or two before eating. Store in the fridge, or vacuum sealed in the freezer.
Notes
Use narrow hog casings for this salami. Landjaeger is, in essence, a really, really good Slim Jim. A snack to be enjoyed outdoors, not sliced like a wider salami. Hog casings are available at any good supermarket (ask the butcher) or in a butcher's shop, or online from places like The Sausage Maker.
Nutrition
Calories:
146
kcal
|
Carbohydrates:
2
g
|
Protein:
26
g
|
Fat:
3
g
|
Saturated Fat:
1
g
|
Cholesterol:
85
mg
|
Sodium:
1048
mg
|
Potassium:
400
mg
|
Fiber:
1
g
|
Sugar:
1
g
|
Vitamin A:
5
IU
|
Vitamin C:
0.1
mg
|
Calcium:
13
mg
|
Iron:
2.8
mg
Nutrition information is automatically calculated, so should only be used as an approximation.