Salmon Patties with Crackers
July 27, 2020 | Updated October 28, 2021
As an Amazon Associate I earn from qualifying purchases.
You can take salmon cakes in any number of ways. You can make them with canned salmon, or you can, as I do, make fresh salmon patties with crackers, from meat scraped off the carcass and a sleeve of Saltines.
You can also put said patty or cake between two halves of a bun and call it a salmon burger. But these here puppies are what I am calling salmon cakes — because they are made exactly like a Maryland crab cake, only with salmon.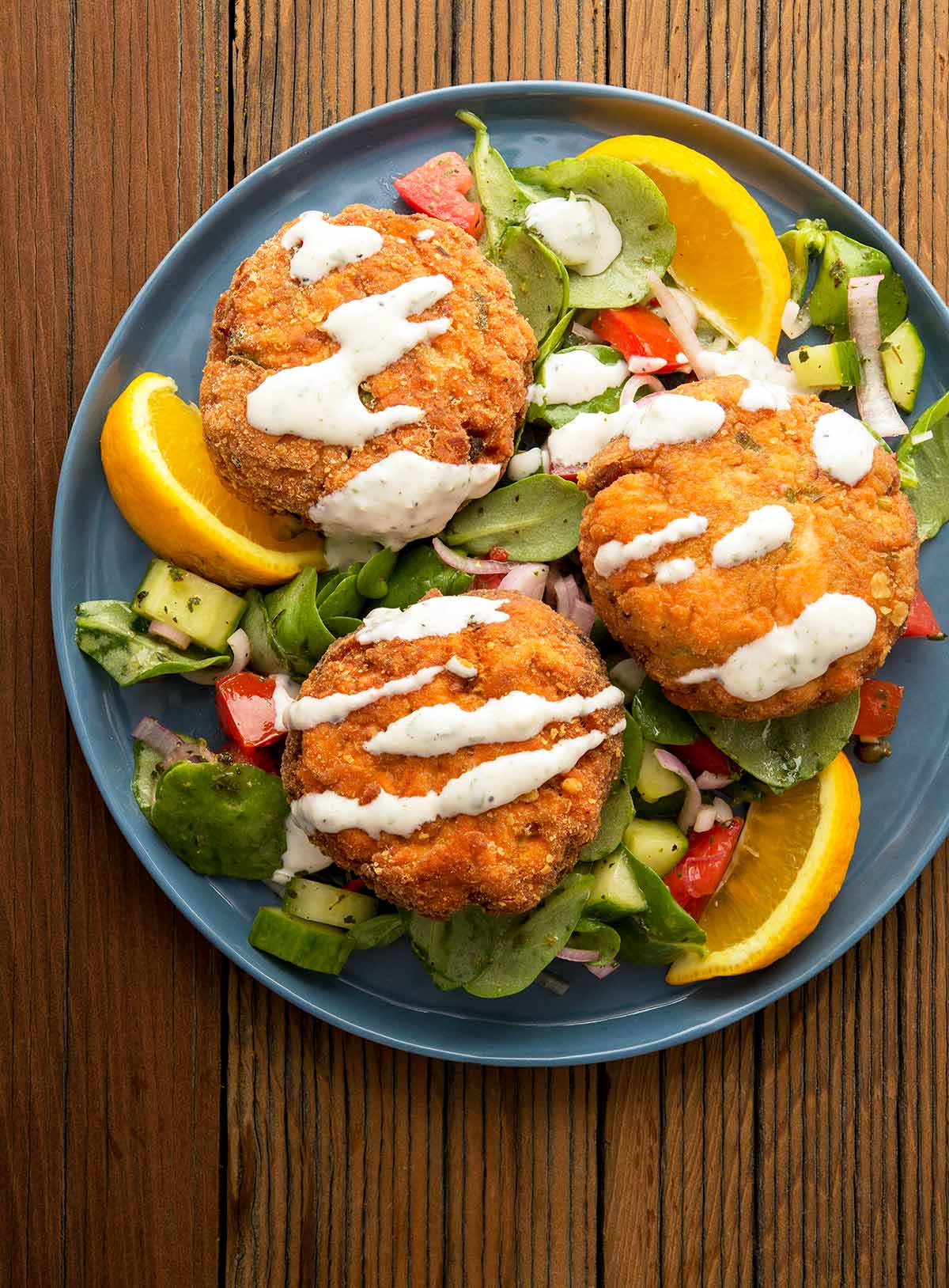 Why? Because I like Maryland crab cakes. A lot. I grew up looking forward to them, even when they were made on the Jersey Shore; and yes, especially when I managed to get to Maryland, which was often (my prom date was from Timonium, Maryland… long story involving Model United Nations).
And, just as there are many ways to make salmon patties, there are many ways to make crab cakes.
I chose to model this recipe after one a friend of mine has made fairly famous, Chef Bryan Voltaggio's crab cakes recipe. Bryan, of Top Chef fame, happens to also be a hunter, and we've done several events together. More importantly, he's a Marylander.
As you might imagine, Bryan's crab cakes have Old Bay seasoning in them, which is pretty much the law in that part of the world. It is widely available all over North America, but if you are reading this elsewhere, here is a recipe for homemade Old Bay.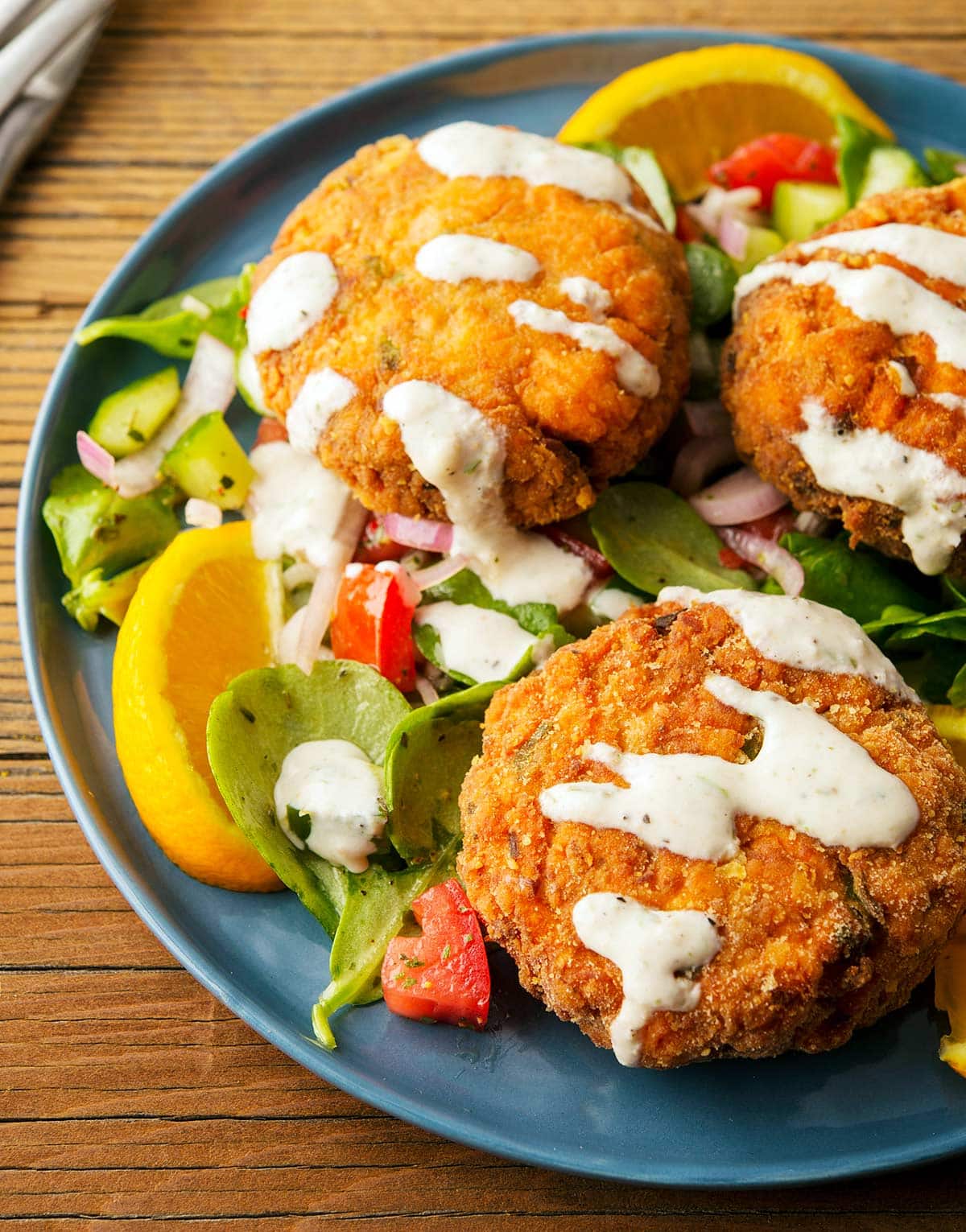 He also uses "cracker meal," which, in my world, means getting medieval on a packet of Saltine crackers. These are the perfect cracker for making salmon patties with crackers because the salt in them essentially pre-seasons the cakes. I also feature it in my recipe for fried snapper bites.
There is one other trick Bryan uses, which shows he's a chef: Wondra flour. This is pre-cooked flour that is finer and makes a lighter crust than regular flour will. (Here's the rundown on Wondra from The Kitchn.)
The result are light, ungreasy, salmon patties that make you think about Maryland without missing it. I prefer to serve mine with horseradish sour cream, thinned with a little buttermmilk or whole milk, and with a light salad. Makes a fine summer supper.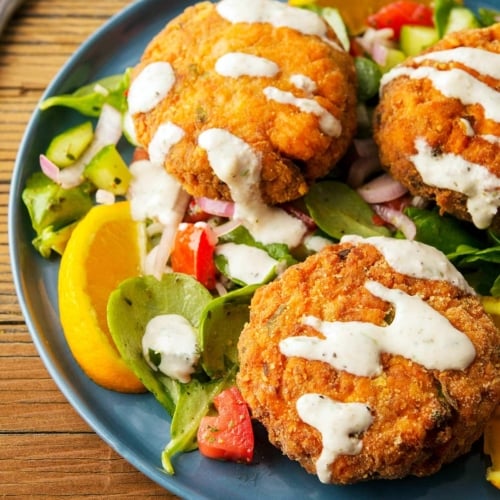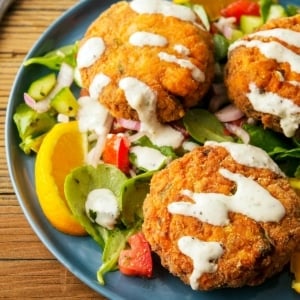 Salmon Patties with Crackers
I used fresh king salmon scraps for these cakes, but really any salmon, trout or other fatty fish (mackerel, freshwater drum, jacks, bluefish, etc.) will work well here. And obviously, since this is based off a crab cake recipe, crab with do well here, too.
Ingredients
1

pound

raw salmon meat

1

sleeve

Saltines,

pounded into meal

2

green onions,

minced

1/4

cup

mayonnaise

1

egg

1/2

teaspoon

salt

1/2

teaspoon

hot sauce

2

teaspoons

Old Bay Seasoning

1

teaspoon

Worcestershire sauce

1

teaspoon

dry mustard

Grated zest and juice of a lemon

1

clove

garlic, minced

1/2

cup

Wondra flour

Oil for frying
HORSERADISH CREAM
1/2

cup

sour cream

1

tablespoon

prepared horseradish

2

tablespoon

whole milk

Salt and black pepper
Instructions
Mix everything together in a bowl except the crushed Saltines, Wondra flour and oil.

To make the horseradish cream, mix everything together well. You can tinker with the ingredients as needed. Remember you want to be able to drizzle this on, so it shouldn't be too thick.

Heat enough oil to come up about 1 inch up the sides of a heavy pan; I use cast iron. Heat it to between 325°F and 350°F.

While the oil is heating, add enough of the crushed Saltines so that the cakes will come together. Start with 1/4 cup. You might need more, but you won't need less. Form the cakes with your clean hands -- wetting them every so often helps a lot -- and set them aside. Mix the remaining crushed Saltines with the Wondra flour.

When the oil hits temperature, coat the cakes in the flour-Saltines mix and fry until golden brown on both sides, about 3 to 4 minutes per side. Serve with a salad and some horseradish cream.
Notes
NOTE: I put the sleeve of Saltines in a heavy freezer bag and wail on it with a rubber mallet. You need to do something other than crush them in the sleeve they come in, because it will burst open. Ask me how I know. 
Keys to Success
Use any sort of raw salmon or trout here. Char is good, too, and if you are in a non-salmon or trout area, try this with tuna or bluefish or mackerel or jacks. Or, you know, crab. 
Make sure your oil is hot. Don't skimp on this or your cakes will be greasy. 
The horseradish cream will keep a week in the fridge. 
If you want to store these cakes for later, go ahead and make them all, then let them cool. You can reheat them in a toaster oven or refry them briefly. Once cooked the first time, you can freeze them. 
Nutrition
Calories:
333
kcal
|
Carbohydrates:
14
g
|
Protein:
26
g
|
Fat:
19
g
|
Saturated Fat:
3
g
|
Cholesterol:
109
mg
|
Sodium:
477
mg
|
Potassium:
599
mg
|
Fiber:
1
g
|
Sugar:
1
g
|
Vitamin A:
191
IU
|
Vitamin C:
2
mg
|
Calcium:
34
mg
|
Iron:
2
mg
Nutrition information is automatically calculated, so should only be used as an approximation.