Fried Red Snapper Bites
July 02, 2018 | Updated June 06, 2022
As an Amazon Associate I earn from qualifying purchases.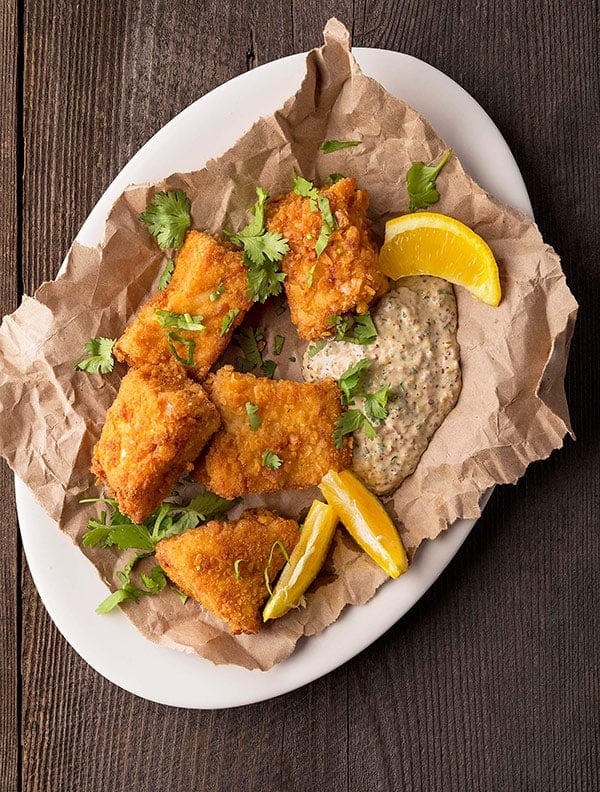 When life gives you buckets of snapper, you might as well make snapper bites.
What the heck is a snapper bite? Basically it's fried snapper. Or hell, really any firm, white fish. The story of snapper bites is simple.
My friend Joe Baya of the magazine Great Days Outdoors and I were visiting his dad Emery on Dauphin Island, south of Mobile, Alabama. We were there in time for opening day of snapper season, which is a big deal in the Gulf. Joe and Emery had a spot.
Red snapper like to live on structure, reefs, rockpiles, sunken boats and such. And in Alabama, you can create your own mini-reef if you want to, so there are thousands of little bits of structure everywhere in state waters — the main reason that Alabama has so many red snapper, which can be hard to find in other Gulf states.
Their spot was off where there were no other boats, a miracle on the opener. And Joe and I hadn't even finished tying new leaders when Emery's friend Joey had a huge snapper on the line. It turned out to be almost 20 pounds, a giant. As soon as we dropped a bait in the water a snapper would hit it. It was ridiculous, amazing, unforgettable, whatever adjective you can think of, it was that.
In minutes, all four of us had our two snapper apiece, none smaller than 15 pounds. We couldn't have fished that reef more if we tried. Any grouper or other reef fish were safe from us because we simply could not get a bait past the snapper. So we left, happy and laden with red snapper.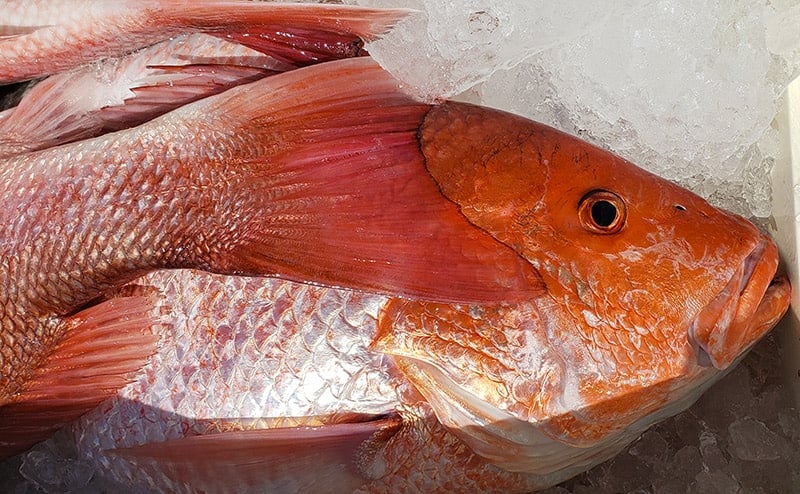 Now butchering giant red snapper is a bit different. They're bass-like fish, sure, but their a little tall in the saddle, like porgies or sheepshead, and when they're huge, you get different cuts off them. From the giant side comes the center-cut above the ribs, which is primo, then two tail-side fillets, one on either side of the centerline, which I cut out.
The primo "loins" we saved for another day. The tail-end fillets we ate immediately. They became snapper bites.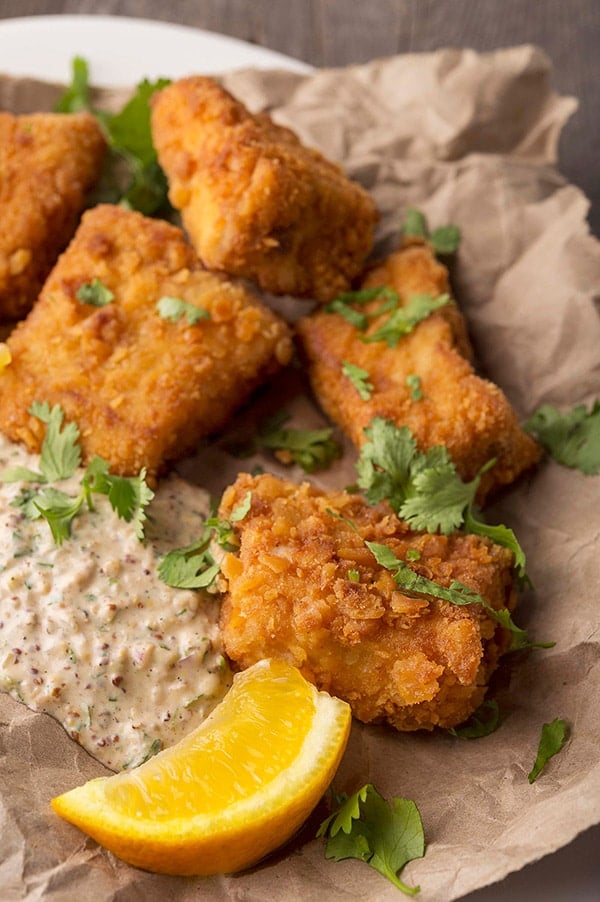 I basically came up with the recipe on the spot. It's fried red snapper with a crust made from mashed up Saltine crackers, fried in peanut oil. The fish bits are soaked in a combination of beaten egg, ballpark mustard (I picked that tip up in Louisiana), Cajun seasoning and a little heavy cream, then dredged in the Saltines.
We ate them without a sauce in Alabama, but I decided to make a New Orleans style remoulade when I made this again at home. (Hat tip to my friend Chef John Currence for the inspiration for the remoulade, which appears in his awesome book Pickles, Pigs & Whiskey
)
As I mentioned above, you don't need red snapper to make this recipe. Good alternatives would be black seabass, Pacific rock cod, lingcod, smallmouth bass, walleye, chunks of big catfish, grouper, cobia, Calico bass, halibut or haddock.
How d0es it taste? A little low brow, but damn good. The Saltines really add something, as does the mustard in the egg wash. I really like the added zip of the remoulade, too.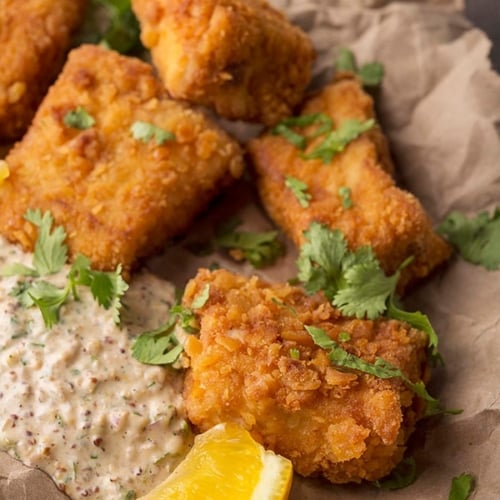 Fried Red Snapper Bites
Even though I call this fried snapper bites, it can be done with any firm. white fish. You do want the chunks you fry to be at least the width of a finger, and even twice that, so use that as a guideline. I like the New Orleans remoulade with this, but you can use any sauce you like.
Ingredients
REMOULADE
1/2

cup

Dijon or Creole mustard

1/3

cup

mayonnaise

3

tablespoons

chopped parsley

3

tablespoons

minced shallot

3

tablespoons

minced celery

1/4

cup

minced dill pickles

1

tablespoon

minced garlic

1

tablespoon

prepared horseradish

1

tablespoon

cider vinegar

1

tablespoon

olive oil

1

tablespoon

lemon juice

1

teaspoon

Creole or Cajun seasoning

1

teaspoon

Worcestershire sauce
SNAPPER
2

pounds

skinless snapper fillets

Salt

2

eggs, lightly beaten

1/4

cup

yellow mustard (Dijon is fine)

1

tablespoon

Creole or Cajun seasoning

3

tablespoons

heavy cream or half and half

1

sleeve

Saltines crackers

Peanut oil for frying
Instructions
Mix all the ingredients for the remoulade together and set aside. The remoulade can be made up to a week in advance, and making it the night before lets the flavors mellow.

Cut the fish into chunks of about two bites each. Salt lightly. Mix together in a bowl the eggs, mustard, Creole seasoning and heavy cream.

Pour enough peanut oil hot into a frying pan to come about a half-inch up the sides. Heat this to about 350F.

While the oil is heating, dunk as many snapper bites in the egg wash as will fit. When the oil is hot, dredge the fish in the mashed Saltines. You can do this in a bowl or in a plastic bag. Really press in the Saltines, and it's OK to have a few bits that aren't pulverized.

Fry the fish until golden brown on both sides, about 3 minutes per side. Drain on paper towels and serve with the remoulade, and some lemon wedges if you have them.
Nutrition
Calories:
486
kcal
|
Carbohydrates:
8
g
|
Protein:
53
g
|
Fat:
26
g
|
Saturated Fat:
5
g
|
Cholesterol:
178
mg
|
Sodium:
950
mg
|
Potassium:
1185
mg
|
Fiber:
3
g
|
Sugar:
3
g
|
Vitamin A:
1825
IU
|
Vitamin C:
12
mg
|
Calcium:
142
mg
|
Iron:
2.3
mg
Nutrition information is automatically calculated, so should only be used as an approximation.