As an Amazon Associate I earn from qualifying purchases.
There are two main ways to prepare fish cakes: with breadcrumbs or potato. Here's how to make fantastic potato fish cakes with whatever fish or seafood you have around.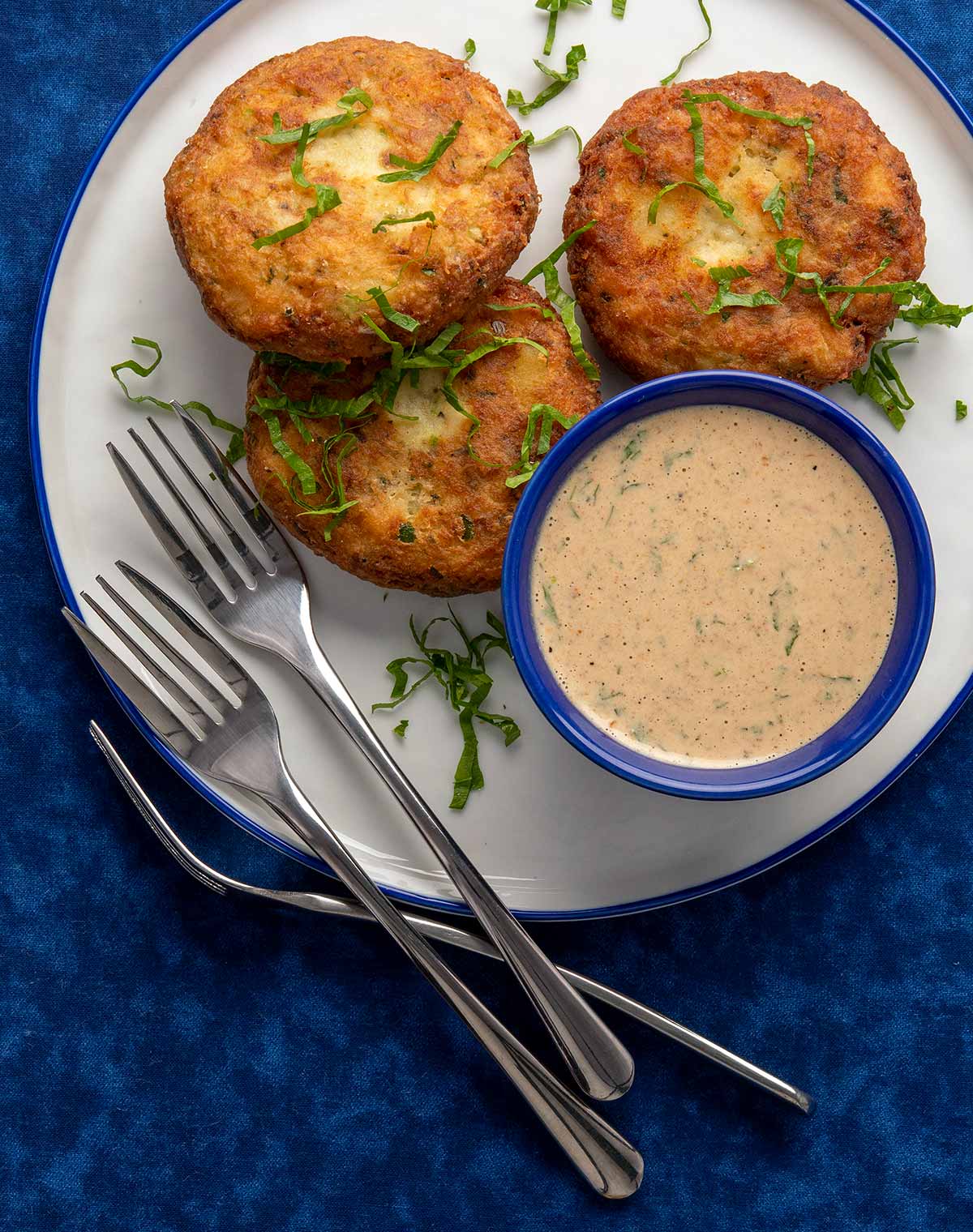 I'll be honest: I decided to make these potato fish cakes because I had leftovers from my recipe for English fish pie with leeks. That recipe has a mashed potato topping, and mashed potatoes are what you need for these cakes.
You can make them specially for this recipe, or use leftover mash; incidentally, mashed yams or sweet potatoes work, too.
Texturally, potato fish cakes are softer and homier than fish cakes made with other binders. Not better, per se, but different. I have other fish cake recipes on Hunter Angler Gardener Cook that are bound differently:
Egg is important here because it helps keep everything together. You can make potato fish cakes without egg, but they are way more delicate.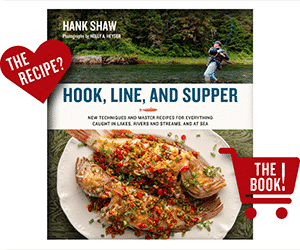 Fish for Potato Fish Cakes
Short version: Anything that flakes, or you want to chop.
My preference here, to kick things up a bit, is to use flaked leftover fish, or fish gently poached in stock or water or white wine or lager beer; some flaked smoked fish (smoked trout or smoked shad are ideal), and, if I happen to have some, crabmeat.
Yes, that's super fancy, but it's also super good.
The fish that spring to mind for potato fish cakes are flaky, white, and mild: panfish, crappie, bass, flounder, snapper, walleye, perch, sheepshead, Pacific rockfish, porgy, black seabass — that sort of thing.
And yes, I like them with 100 percent crab, too.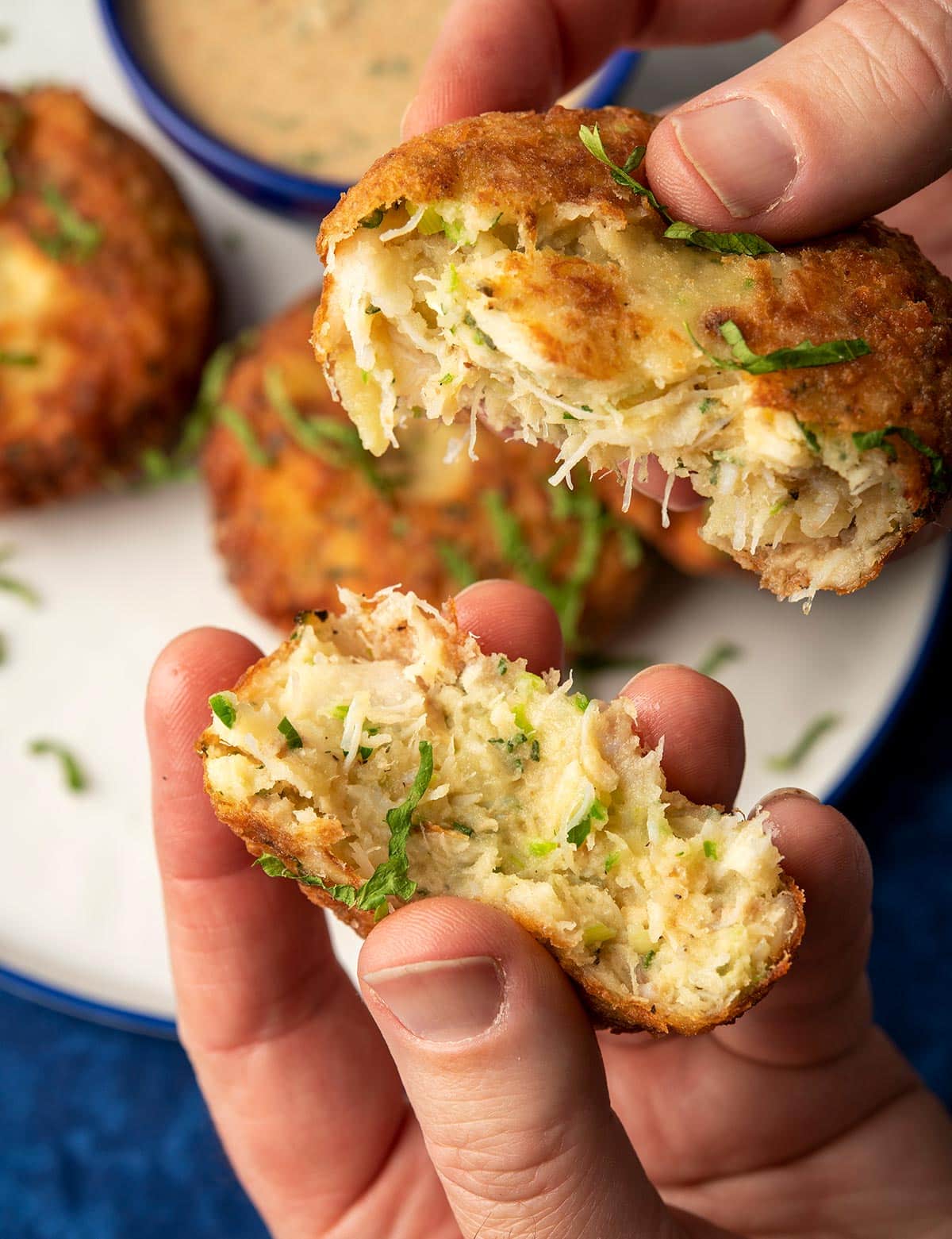 Green Things
I like herby fish cakes, so I always add whatever fresh herbs are in my garden at the time. Parsley is a must, as are garlic chives, regular chives or green onions, but you do you.
Other great options include: chervil, lovage, Mexican oregano, regular oregano, savory, cilantro, rosemary or celery leaves.
Sauces for Potato Fish Cakes
I served these with a New Orleans-style remoulade, the recipe for which you can find in my recipe for fried snapper. But your sauce can be anything from ketchup or mustard or bottled horseradish, to slightly more elaborate sauces.
Some other great options — and those recipes are all in the hotlinks — would be Alabama white sauce, saffron aioli, Cajun remoulade, Mississippi comeback sauce, or homemade tartar sauce.
Or hell, just douse them with your favorite hot sauce.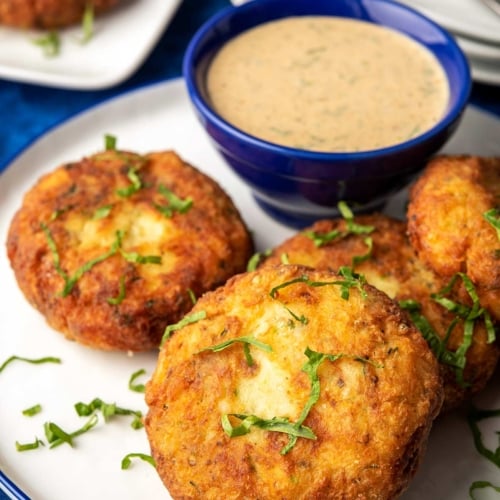 Potato Fish Cakes
I normally use leftover mashed potatoes for this recipe, but if you want to know how I make my mashed potatoes, they are in this recipe. Any mashed potato recipe you like will do.
Ingredients
2

cups

cold mashed potatoes

1

pound

cooked, flaked fish

(smoked or fresh, or crab)

1

egg, lightly beaten

1

tablespoon

minced parsley

1

tablespoon

minced chives

1

tablespoon

minced celery leaves

Salt and black pepper to taste

1/2

cup

flour or fine cornmeal, for dusting

(optional)

Oil for frying
Instructions
Set your oven to "warm" and put a cooling rack set over a baking sheet in the oven. Mix all the cake ingredients together in a large bowl. I make pretty smooth mashed potatoes, so there aren't lumps. If you have lumpy mashed potatoes, you might want to crush them with your fingers.

Form into patties of whatever size you like. I prefer about 2 to 3 tablespoons, up to 1/4 cup. But even 1/2 cup fish cakes are nice. Set them in the fridge for a few minutes to set.

Heat enough oil to come halfway up the fish cakes (you'll need to guess on this one), and bring the oil to between 325°F and 340°F. You don't want things super hot here.

Fry the cakes, making sure they don't touch each other, over medium-high heat, until they are nicely browned — about 2 minutes per side without a dusting of flour or cornmeal, about 3 minutes with it. Set the finished cakes on the rack in the oven.

Serve with the sauce of your choice, a salad, and a glass of white wine or a beer.
Notes
If you skip the cornmeal or flour, the cakes will brown very quickly, so you will have to watch them closely so they don't burn.
Nutrition
Calories:
144
kcal
|
Carbohydrates:
16
g
|
Protein:
16
g
|
Fat:
1
g
|
Saturated Fat:
1
g
|
Polyunsaturated Fat:
1
g
|
Monounsaturated Fat:
1
g
|
Trans Fat:
1
g
|
Cholesterol:
60
mg
|
Sodium:
74
mg
|
Potassium:
554
mg
|
Fiber:
1
g
|
Sugar:
1
g
|
Vitamin A:
161
IU
|
Vitamin C:
18
mg
|
Calcium:
24
mg
|
Iron:
1
mg
Nutrition information is automatically calculated, so should only be used as an approximation.