How to Smoke Shad
February 18, 2022 | Updated April 18, 2022
As an Amazon Associate I earn from qualifying purchases.
If you don't know how to debone a shad, and that's not easy, smoked shad is the best way to eat this most bony of fishes. Shad is little more than a giant herring, and is nearly as oily as a mackerel or a bluefish — and oily fish make the best smoked fish.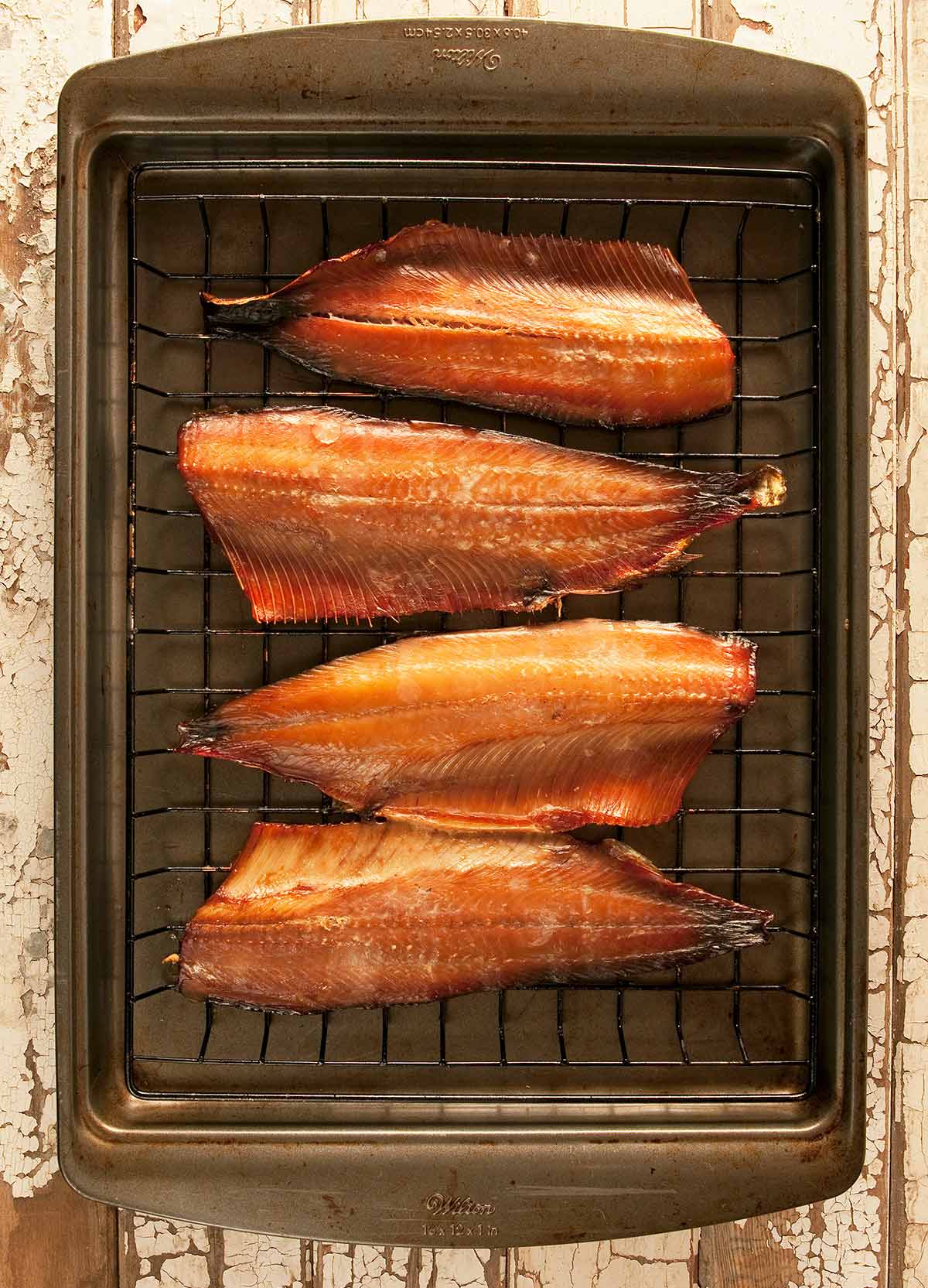 The method I describe below is for a hybrid between hot and cold-smoking. It results in luscious, smoky shad, with a hint of the flavorings. It will keep, wrapped in plastic, for two weeks in the fridge. Smoked shad also freezes well.
How to eat smoked shad?
Remember, there are still lots of bones in the "fillets." My method is to flake out the meat into a bowl, then use the flaked, smoked shad for croquettes, in pasta or as a sort of dip when mixed with a garlicky aioli.
Other great uses would be as a substitute for smoked trout in trout dip, as a the smoked ingredient in English fish pie, or in place of the smoked salmon in smoked salmon pasta.
You will need a way to smoke the fish. I use a Traeger smoker, but I've used offset smokers and even Weber's before with good success. You want the temperature of the chamber to get no hotter than 200°F, but I prefer 175°F for 2 to 3 hours.
When in doubt, smoke longer and cooler. Alder is my preferred wood for smoked shad, but oak and maple are also good choices.
This recipe works for any small, oily fish and I've used it a lot with mackerel, herring and small bluefish.
Looking for other shad recipes? Here's an overview on how to cook shad, and once you've read that, try my recipe for "boneless" tempura shad, and the classic shad roe with bacon.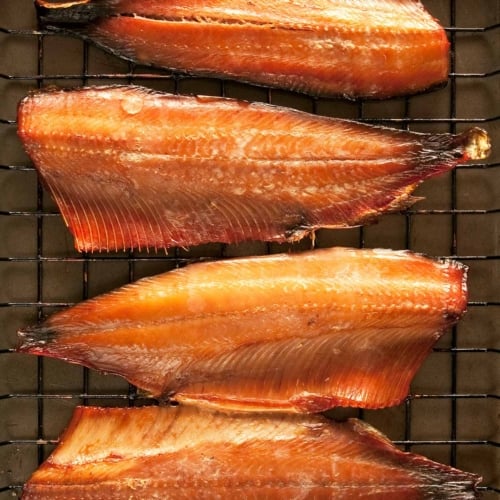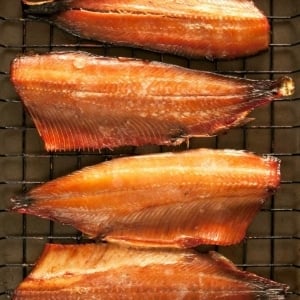 Smoked Shad
The reason you have a double brine is that the first one clears out the slime and blood from the fish, and the second one seasons and flavors it. Don't alter the first brine, but you can alter the second as you see fit.
Ingredients
3

pounds

shad fillets

(or similar oily fish)
FIRST BRINE
1/2

cup

kosher salt

2

quarts

water
SECOND BRINE
1/2

cup

kosher salt

2

quarts

water

1/2

cup

maple syrup

1

chopped onion

3

smashed garlic cloves

Juice of a lemon

1

tablespoon

cracked black pepper

5

bay leaves
Instructions
Mix the first brine together and soak the shad fillets in it for 30 minutes, then drain.

Meanwhile, bring the second brine to a simmer, stir well to combine and turn off the heat. Set this in a drafty or cool place to chill it down fast. When the second brine is cool, pour it over the shad and brine for 2 hours.

Drain and rinse off the fillets, then pat dry with a towel. Air dry in a drafty place — use a fan if need be — for 2 to 3 hours, or until the meat looks a bit shiny. This is an important step; you are creating a sort of a second skin called a pellicle that is necessary to seal the fillets. If you skip this step, you will have problems with the proteins leaking out from between the flakes of the meat, forming a white icky stuff that will need to be scraped off.

Smoke over alder or hardwoods for 1 to 3 hours, depending on the heat. You want the shad to slowly collect smoke, and cook very slowly. Under no circumstances do you want the heat to get above 200°F. Remove and let cool at room temperature before packing away in the fridge or freezer.
Notes
Wood choice is also up to you. For fish, I prefer fruit woods such as apple, or alder, maple or oak.
Options
You can alter your second brine however you like. One fun thing is to increase the amount of sugar/syrup, which will give you a sweet/salty result. 
If you want, you can dry your fillets overnight in the fridge, uncovered. 
My preferred temperature for this smoke is about 175°F.
Nutrition
Calories:
134
kcal
|
Carbohydrates:
7
g
|
Protein:
14
g
|
Fat:
5
g
|
Saturated Fat:
2
g
|
Cholesterol:
32
mg
|
Sodium:
5728
mg
|
Potassium:
313
mg
|
Fiber:
1
g
|
Sugar:
5
g
|
Vitamin A:
55
IU
|
Vitamin C:
2
mg
|
Calcium:
41
mg
|
Iron:
1
mg
Nutrition information is automatically calculated, so should only be used as an approximation.