Fried Flounder with Homemade Tartar Sauce
As an Amazon Associate I earn from qualifying purchases.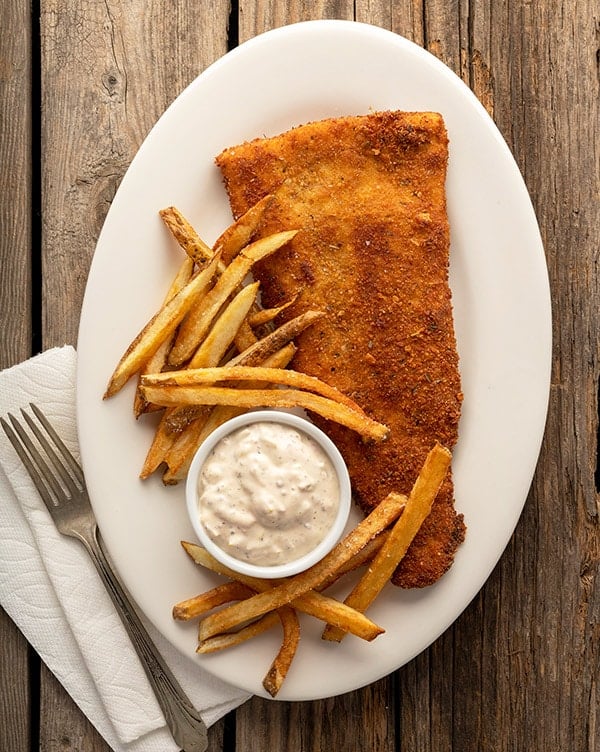 I have a history with fried flounder.
Flounder, either a winter flounder or a fluke, was the first fish I ever caught. I can't remember the exact day, but I can tell you I was about four or five years old and it was aboard a party boat off the New Jersey shore. If I had to guess, it'd be the Norma K II.
Mom loves flounder, and so did my step-dad Frank. Mom taught me to keep the line under my finger while the bait was in the water, to better feel the delicate bite of the winter flounder, which are notoriously tricky to hook. We caught lots of them, as well as the larger fluke, which run once the weather warms.
Afterwards, almost without variation, Mom would make fried flounder. Always dipped in flour, then egg, then breadcrumbs, always with "ta-ta" sauce, which is how my New England Yankee Mom pronounces tartar sauce.
These were the days of liberal limits, so the family could come home with coolers full of flounder. Mom always preferred to eat fish fresh, so we'd do a huge fish fry either that night or the night after. I have memories of her standing at the stove, frying fish after fish after fish.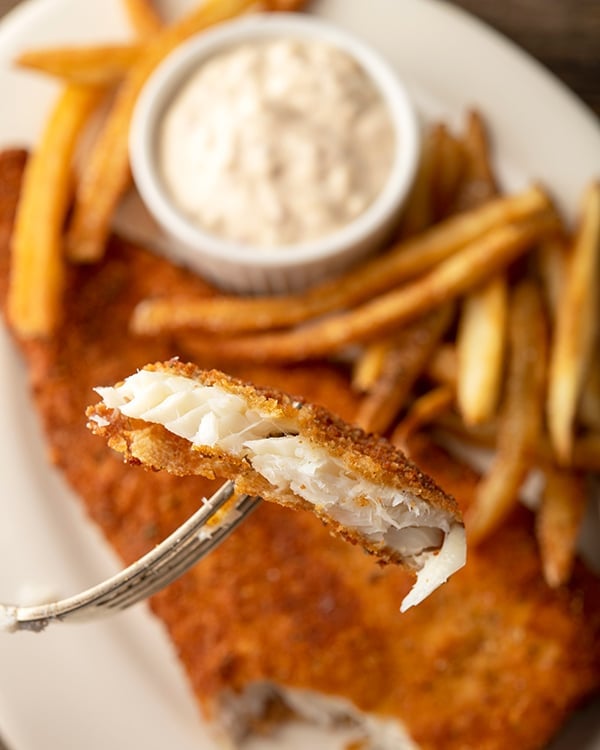 Each fried fillet would go on a paper towel to drain. Soon the stack would grow, sometimes a couple feet high.
I can hear you thinking, because we all were, too. Once it was time to eat, it was a mad scramble to get the fish fried last — only they would still be crispy. By the time we'd reached the oldest fish, they had become little more than a vehicle for ketchup or Mom's ta-ta sauce.
It never occurred to her, or to me until much later, that setting the finished fish on a cooling rack set over a baking sheet in a warm oven solved that problem. I am glad I know this now. Pretty sure I picked it up in college, when I fried a lot of fish in my dorm room at Stony Brook.
But it was far later still that I realized you can make fried flounder any way other than with breadcumbs. And to this day, while I love my fish and chips recipe, as well as Japanese tempura, and Southern style cornmeal-fried fish, when it comes to flounder or its cousins, I still reach for the breadcrumbs.
And it'll be old school Italian-seasoned regular breadcrumbs, too. No panko for me, although if you like it you will not hurt my feelings.
Another tip I picked up later in life was to bread your fish early and set them in the fridge for a few hours. This helps the breading set up and stick to the fish, and yes, it really does make a difference.
I now make my fried flounder with the belly fillets — the "white fillets" — from barely legal California halibut, which is a cousin of the fluke. Our minimum size is 22 inches, and those, up to about 24-inchers, make excellent fried flounder. I tend to slice off the thicker, front end of the fillet, usually using that to make Chinese sweet and sour fish.
Once made, if you have any leftovers, set them on a paper towel in a plastic container in the fridge. Then eat them cold with leftover tartar sauce the next day.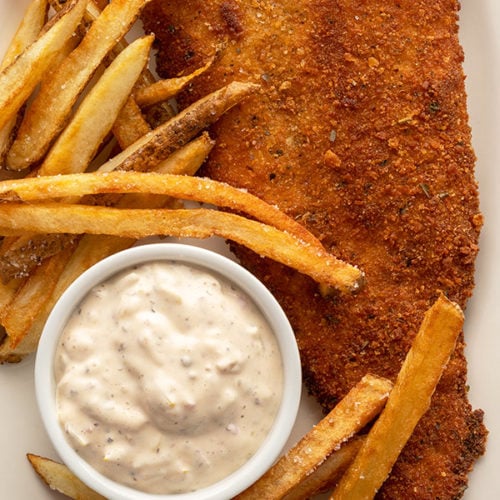 Fried Flounder with Tartar Sauce
This is my family's method of making fried flounder. It is tried and true, and I have made only one change to it since the 1970s: I add a little mustard to the egg wash mix, which I learned in Louisiana. It adds a ton of flavor. You'll also see the homemade fries on the plate. If you want to make them, I followed this recipe from The Splendid Table.
Ingredients
TARTAR SAUCE
1

cup

mayonnaise

2

teaspoons

mustard,

Dijon or brown

2

teaspoons

lemon juice

A few drops of Tabasco sauce

1/2

cup

chopped pickles

1

teaspoon

small capers

1

shallot, minced fine

1

tablespoon

minced chives

Salt and black pepper
FISH
2 to 3

pounds

skinless flounder fillets

Salt

1

cup

flour

2

eggs

1/2

cup

milk

1

tablespoon

mustard

1

cup

breadcrumbs

Oil for frying
Instructions
For the tartar sauce, mix everything in a bowl and set it in the fridge. Salt the fish lightly on both sides and set aside.

Set up a breading station. You will want plates or shallow bowls or somesuch. The first has the flour in it -- and if you want more seasoning than I am suggesting in this recipe, this is where you add it -- then another basin with the eggs, milk and mustard all beaten together, then the final basin with the breadcrumbs.

Dredge the flounder in the flour first, pressing it into the fish and making sure you get it totally covered. Now sweep the fillet through the egg wash, again making sure you get it totally coated. Finally, set it in the breadcrumbs and press them in to make a good coating. Set each fillet on a plate or tray in the fridge and let it rest 1 hour, and up to all day.

When you are ready to fry, pour in enough oil to get to a depth of about 1 inch in a large frying pan. If you happen to me making the fries to go with this, make them first and hold them in the oven. Heat the oil over high heat. Set a rack over a baking sheet and put that in the oven. Set the oven to "warm."

When the oil hits 350F, fry your fish, right from the fridge. This works because they are very thin, and you want a pretty golden crust without overcooking the fish. Room temperature flounder fried this way will overcook. It take about 3 to 5 minutes per side to get golden brown. Move each finished fillet to the rack in the oven. When they're all done, serve it up with the tartar sauce.
Nutrition
Calories:
822
kcal
|
Carbohydrates:
47
g
|
Protein:
40
g
|
Fat:
51
g
|
Saturated Fat:
9
g
|
Cholesterol:
210
mg
|
Sodium:
1512
mg
|
Potassium:
568
mg
|
Fiber:
3
g
|
Sugar:
5
g
|
Vitamin A:
345
IU
|
Vitamin C:
2
mg
|
Calcium:
160
mg
|
Iron:
4
mg
Nutrition information is automatically calculated, so should only be used as an approximation.