Pan Seared Grouper
July 12, 2021 | Updated June 06, 2022
As an Amazon Associate I earn from qualifying purchases.
Consider this an homage to Florida and the Gulf Coast: Pan seared grouper with a hearts of palm salad and key lime brown butter sauce.
And no, you don't have to have grouper to make this recipe; any firm fish will work. But the special texture of grouper makes this dish shine.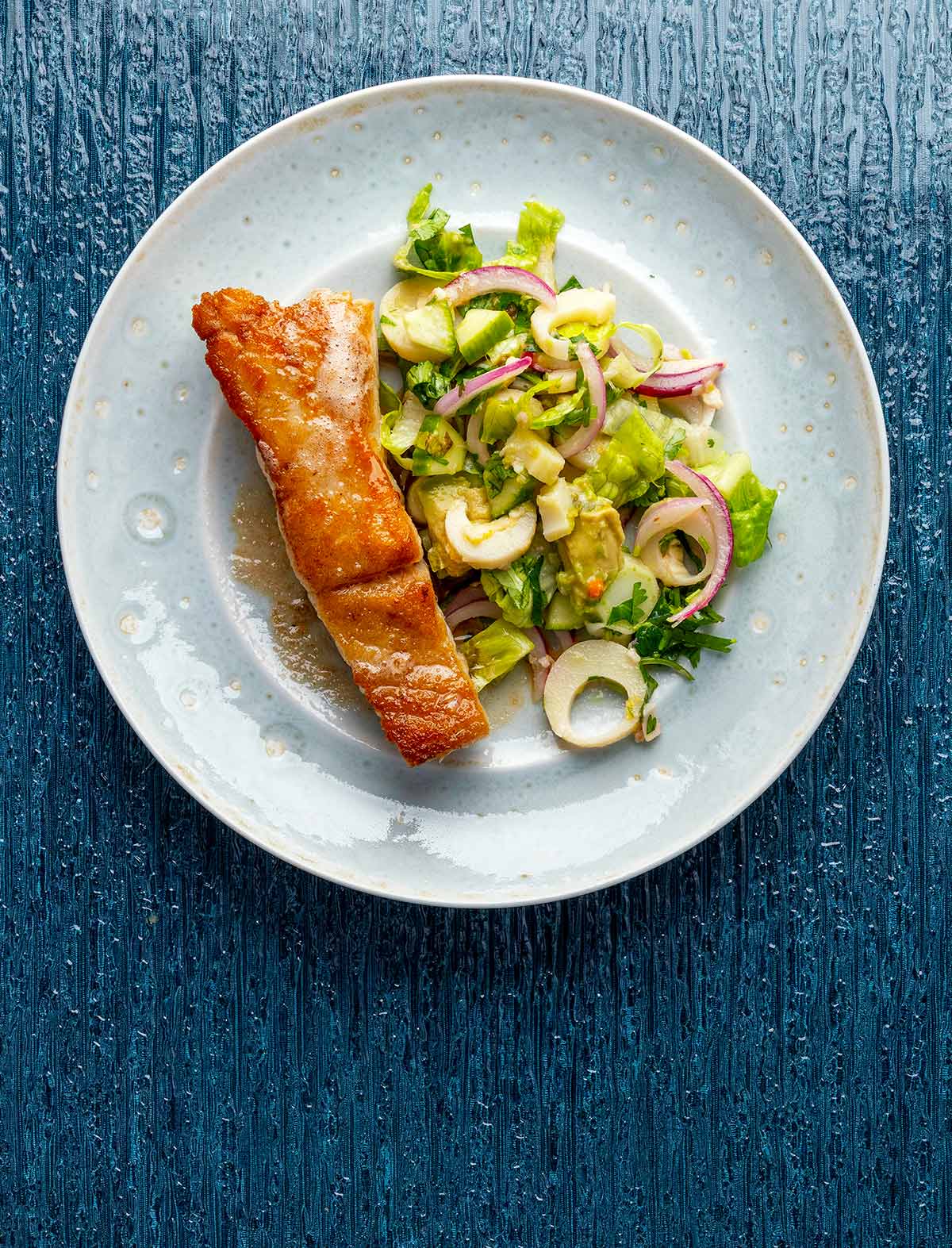 Frequent readers of this site know my method for pan searing fish, and this is no different. The result is a crispy, pretty brown crust on one side of the fish, with the other side just cooked though by basting the grouper with hot oil, and then butter. I'll walk you through it here.
Grouper, if you are new to the fish, is one of the most prized species in America, and is a signature of Florida and the Gulf Coast. It is a very firm, white-meat fish with a distinct texture that sets it apart from similar fish like red snapper or drum.
There are lots of types of grouper, and they do have different textures. In this case, I used scamp grouper I caught off the coast of Alabama. Any type will do, and there are a few other fish with similar textures, such as the bocaccio in the Pacific, and the striped bass.
That said, any firm, white fish, or, for that matter, darker fish like tuna or wahoo would work here — and there is no reason not to use salmon other than they don't live anywhere near hearts of palm.
Which leads me to the hearts of palm salad that goes alongside your pan-seared grouper. It's basically a lot of tasty, crunchy things you might put together if you lived in Florida, or really anywhere on the Gulf Coast or even Lowcountry.
Hearts of palm (canned or fresh), red onions soaked in key lime juice, hearts of romaine lettuce, olive oil, avocados if you like them, and either parsley or cilantro. Hearts of palm are widely available canned in supermarkets. Fresh ones can often be found in Asian markets.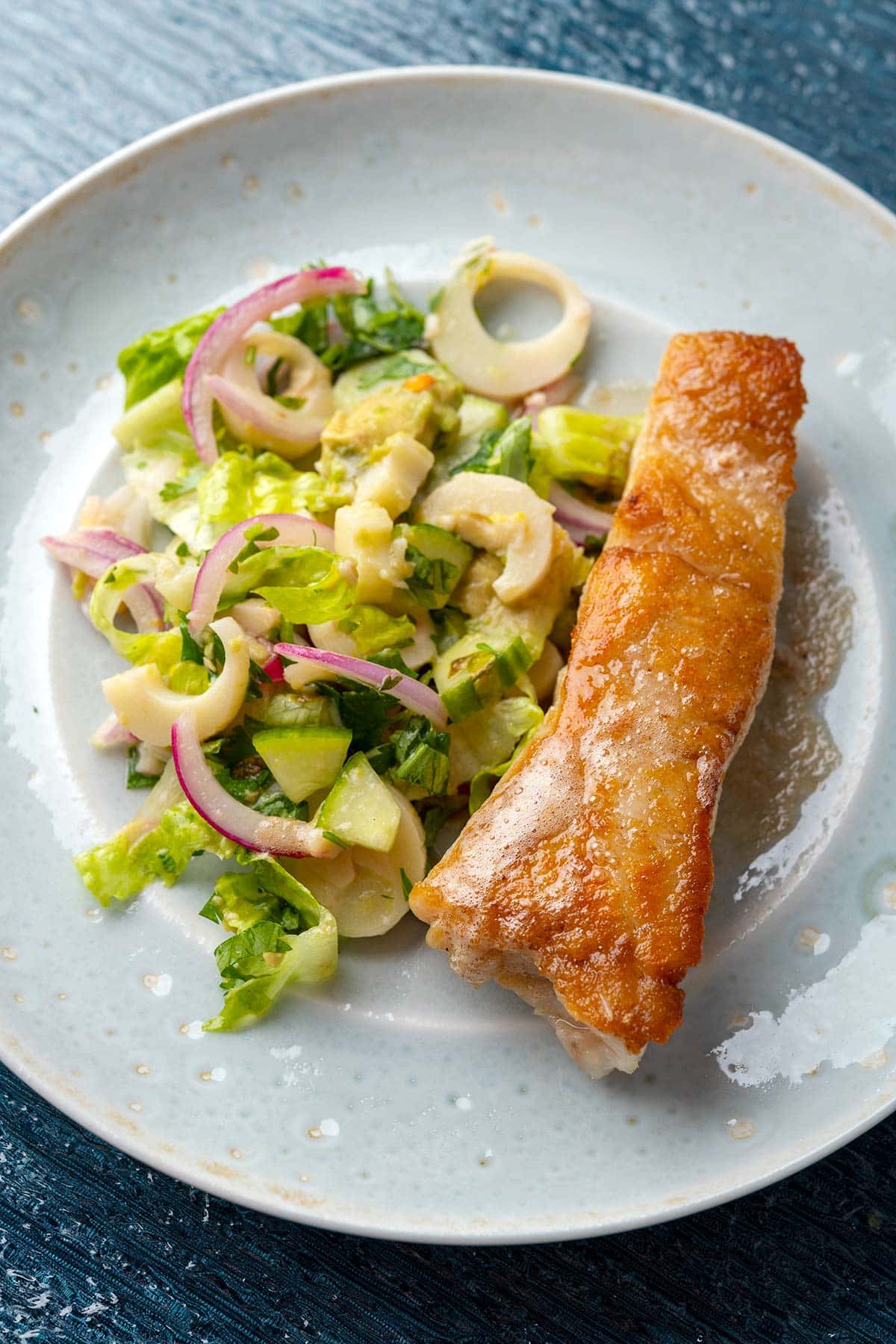 Perfect Pan Seared Grouper
OK, here's the hard stuff with this recipe… although it really isn't very hard. How to successfully pan sear grouper.
First, you probably want it skinless. The skin on many fish, and grouper in specific, shrinks a lot when cooking, and can make the fillet curl violently. It is crispy and tasty, however, so if you want to keep the skin on, score it carefully with a very sharp knife. And it goes without saying that the skin needs to be scaled.
Salt the grouper about 30 minutes before you want to cook it, and let it sit out at room temperature. Before you cook your fish, dry it thoroughly with paper towels.
You will want a good pan, like steel or cast iron. No non-stick with this one. You need to get that pan very hot, on a strong burner. When it is, add a couple tablespoons of a high smoke point oil, like canola, grapeseed, safflower or avocado oil.
The moment that oil emits the faintest wisp of smoke, set the grouper fillets in the pan skin side down — even if there is no longer any skin. And in that moment, jiggle the pan just a little. This will slick the bottom of the fish and prevent it from sticking.
Let the fish cook this way a minute or so, then use a spoon to baste the top of the fish with the hot oil. Tilt the pan to do this. When the bottom of the fish browns a little, add a few tablespoons of butter and spoon this over the fish as it froths. Do this for about 30 seconds to 1 minute. Remove the fish to a cutting board or plates, crispy side up.
Key Lime Brown Butter Sauce
This is beyond easy. You have browned butter in your pan. Add 2 tablespoons of freshly squeezed key lime juice, or regular lime juice if you can't find the little key limes, turn off the heat and swirl it together. Maybe add some salt and black pepper. That's it.
Pour this over the fish on the plate and serve alongside the salad.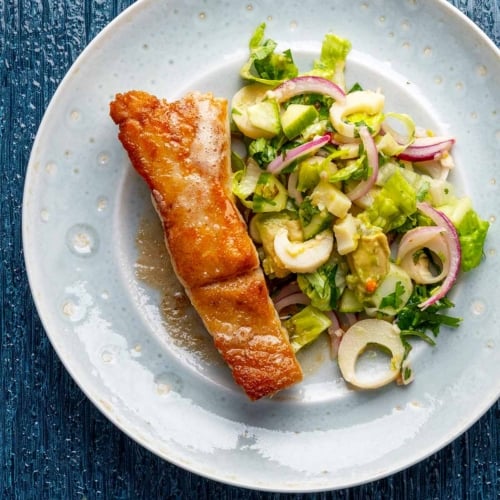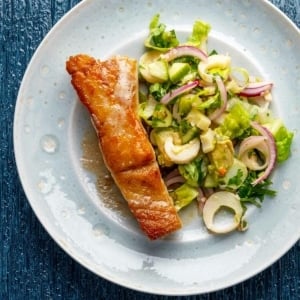 Pan Seared Grouper with Hearts of Palm Salad
Keep in mind that grouper is great with this recipe, but any firm, white fish will work. Canned hearts of palm are easily available in supermarkets.
Ingredients
SALAD
1

red onion,

sliced thin

1/4

cup

lime juice

Salt

1

head

romaine lettuce,

chopped

14

ounce

can of hearts of palm

(or equivalent)

1

English cucumber,

seeded and chopped

3

tablespoons

olive oil

1/4

cup

chopped parsley or cilantro

1

avocado, diced

(optional)

1

datil or habanero pepper, minced

(optional)
FISH
1 to 2

pounds

skinless grouper fillets,

in portions

Salt

3

tablespoons

safflower oil

(or canola, grapeseed or avocado oil)

2

tablespoons

butter

2

tablespoons

key lime juice
Instructions
SALAD
Mix the red onion slices with some salt, then toss with the lime juice and set aside. Remove the outer leaves from the head of romaine lettuce and use for something else. Chop the hearts into pieces you'd want to eat with a fork and set in a large bowl.

Slice the hearts of palm and add to the bowl, along with the remaining salad ingredients. Toss everything with the olive oil and salt lightly. You'll add the red onions and lime juice right at the end when you are ready to serve.
FISH
Before you even start the salad, set the fish out on a cutting boar or plate and salt well. Let this sit while you make the salad.

Get a steel or cast iron pan hot over a strong burner. Dry the fish thoroughly while this is happening. When the pan is hot, add the safflower oil. The moment you see a wisp of smoke rise from the oil, set the pieces of grouper in the pan, jiggling the pan as you do so. This is important or the fish will stick to the pan.

Let the fish cook for 1 minute on medium-high heat. It should sound like bacon sizzling, so adjust the heat accordingly. Tilt the pan and spoon the hot oil over the pieces of fish until they turn opaque, then for about 30 seconds more.

When the bottom of the fish has begun to brown nicely, gently test to see if the fish will come up off the pan. If most of it will, you are good to go. If not, turn the heat down a little and let the fish continue cooking, checking every 30 seconds or so. The fish will release eventually. When it does, add the butter and spoon it all over the fish as it froths.

Remove the fish to a cutting board, crispy side up. Add the lime juice to the pan, turn off the heat, and swirl to combine. Serve this over the fish alongside the salad.
Notes
Keep in mind that this recipe works not only with all sorts of grouper, but also any firm white fish, freshwater or saltwater. 
Keys to Success
The fish needs to be dry, and the thicker it is, the closer to room temperature it needs to be. The early salting seasons it well. 
The pan and oil need to be hot, and in that order. 
Never forget to jiggle the pan as the fish is hitting it. This prevents sticking. 
If you can't find key limes, regular limes work fine. 
If you don't like butter, use some other nice oil at the end, like a really good olive oil or a nut oil. 
I use English cucumbers because their skins are not bitter. Any cucumber will do. 
Serve this with a nice white wine and either bread, grits or rice. 
Nutrition
Calories:
499
kcal
|
Carbohydrates:
43
g
|
Protein:
29
g
|
Fat:
26
g
|
Saturated Fat:
7
g
|
Polyunsaturated Fat:
3
g
|
Monounsaturated Fat:
14
g
|
Trans Fat:
1
g
|
Cholesterol:
57
mg
|
Sodium:
146
mg
|
Potassium:
3177
mg
|
Fiber:
9
g
|
Sugar:
22
g
|
Vitamin A:
14539
IU
|
Vitamin C:
39
mg
|
Calcium:
135
mg
|
Iron:
5
mg
Nutrition information is automatically calculated, so should only be used as an approximation.