As an Amazon Associate I earn from qualifying purchases.
Mexican fish balls, albondigas de pescado, are a thing all over that country, and versions exist pretty much in every state with a coastline… which is most of them.
These I made from Pacific rockfish (but any fish will do), and are served in a light tomato broth. Great for hot summer suppers, or as an appetizer for a larger seafood feast.
Fish balls, as you might imagine, are meatballs made with fish. They are lighter and springier than red meat meatballs, and you see versions of them all over the world. Asia does a lot of fish balls, and I have a recipe for German fish meatballs, too.
I cobbled my recipe for fish balls together from about a dozen Spanish language cookbooks, plus a couple English language ones, but I leaned most heavily on a recipe in the book Cocina Familiar en el Estado de Baja Sur. It's not an easy book to find, but there are copies here and there in the US.
Albondigas de pescado are one of the specialties of La Paz, the capital city of Baja Sur, and a place Holly and I love to visit. They are mostly either fried or simmered in a caldo, a light broth. Once you make your fish balls, you can go either route with this recipe.
As you can see in the pictures, these are finely textured fish balls, which is how I like them. They are not fish cakes, and they are made with raw fish that is then cooked, so you get a prettier fish ball that isn't lumpy — and, more importantly, holds together. I tried making them with flaked, leftover fish and they fell apart.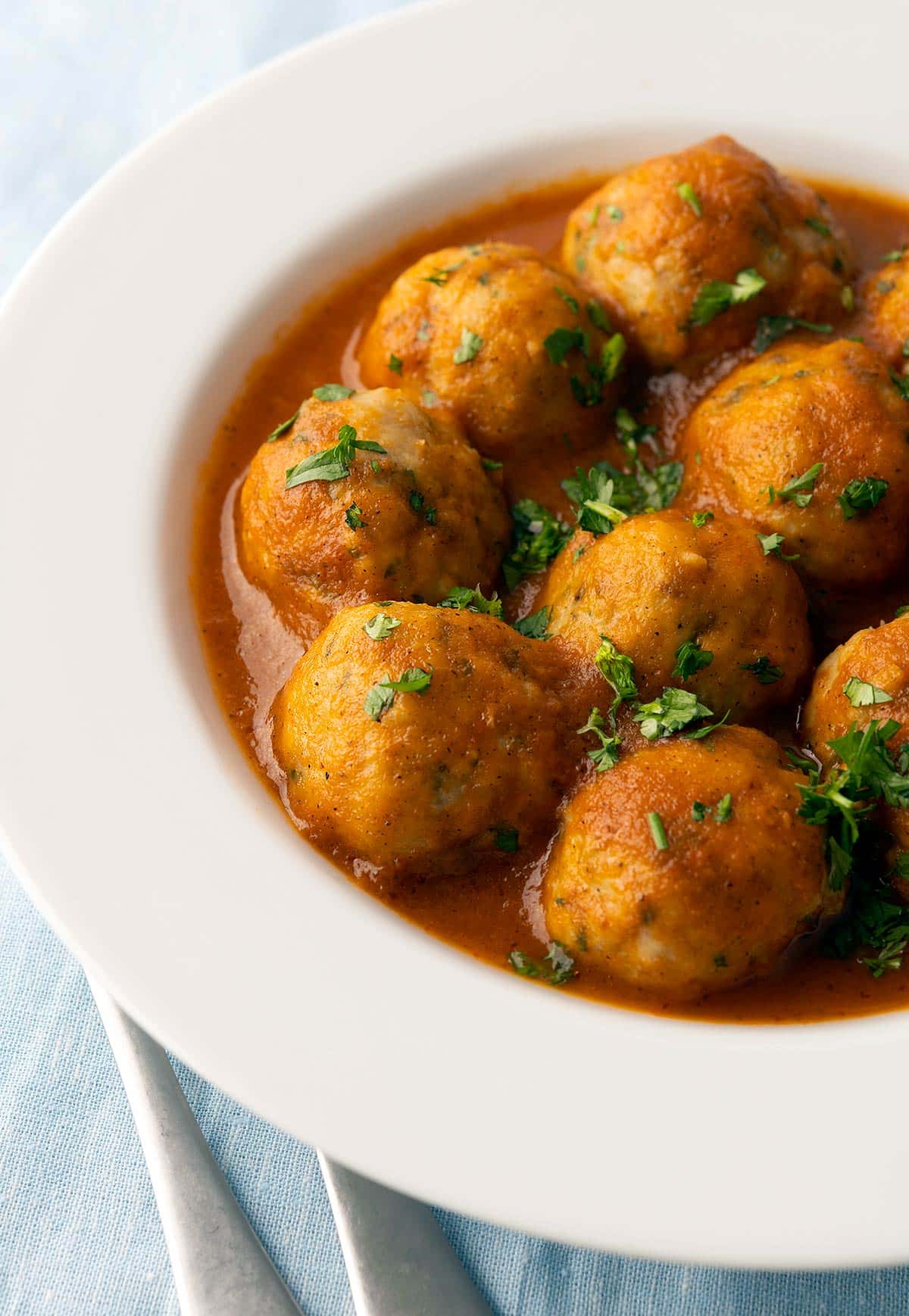 A word on what fish to make fish balls from. There is no real rule, but in general you want "normal" fish, which is to say your typical white, flaky fish — freshwater or salt. Really firm, steaky fish like tuna or sturgeon aren't great choices, nor are really oily fish like mackerel or jacks, although mackerel is used a lot for Asian fish balls. I do really like salmon and trout for fish balls.
I cook these by dusting them in flour or masa harina and dropping them into simmering salted water. When they float, give them another minute or so, then move to the sauce. Could you cook them in the broth itself? Sure, but you'd need broth more than you'd use and it would muddy the flavor of the broth.
Your other option is to fry them after dusting in flour or the masa harina. I only do this if I am deep frying because if you shallow fry any sort of meatball, you get this odd ring in the center where it was fried twice — you flip the meatballs, remember — and they tend to get misshapen when you shallow fry.
If you decide to fry your fish balls, drop them into 350°F oil until they are golden brown, roughly 5 minutes.
The poached balls I serve these with a light tomato/chile broth, but you can simply go with any sauce of your choice if you've decided to fry them. Garlicky aioli is always a good call, or you can mimic my recipe for salt cod fritters and do a saffron aioli, which is both delicious and pretty.
Once cooked, you can keep fish balls in the fridge for a few days in a covered container, and they can be frozen.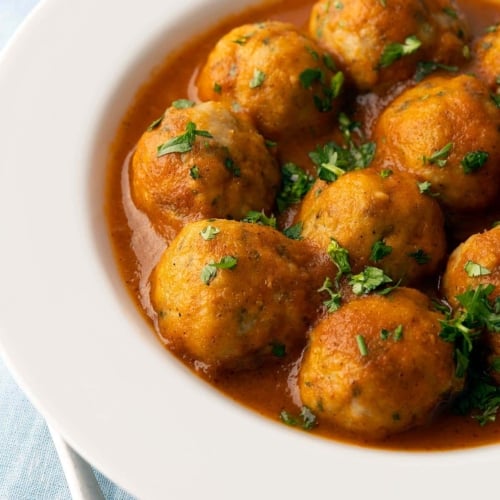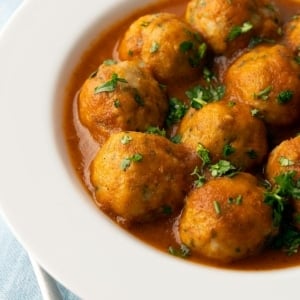 Mexican Fish Balls
These fish balls can be made with most fish, and can either be deep fried at 350°F until golden brown, or poached in salted water and then served in a light chile-tomato broth.
Ingredients
FISH BALLS
1

tablespoon

lard or olive oil

1

small white onion,

minced

1

Anaheim or poblano chile,

roasted, peeled, seeded and chopped

2

cloves

garlic,

minced

1

teaspoon

Salt

1

pound

skinless, boneless fish,

roughly chopped

1

cup

breadcrumbs

1

egg,

lightly beaten

2

tablespoons

minced cilantro or mint

Flour or masa harina for dusting
BROTH
1

white onion,

peeled and quartered

4

plum tomatoes,

halved

3 to 4

Anaheim or poblano chiles

2

teaspoons

Mexican oregano

(regular oregano is fine)

3

tablespoons

olive oil or lard

1

quart

fish stock, shrimp stock or chicken stock

Salt
Instructions
BROTH
Get a comal, griddle, cast iron pan or other heavy pan hot. Set the quartered onion, halved tomatoes and chiles on it. Char the cut sides of the tomatoes black, and all sides of the onion and chiles. Set the chiles in a plastic bag after the skins are burnt. This will help you steam the skins off. Wait 15 to 30 minutes and then peel, deseed and remove the stems of the chiles.

Put everything in a blender and puree.

Heat the lard or oil in a saucepot, then pour in the contents of the blender. It will sputter and spit, so you might want to cover the pot. Stir constantly until the fat or oil has incorporated into the sauce, then slowly pour in the stock,. stirring constantly. Add salt to taste, cover the pot and turn it to low.
FISH BALLS
Get a large pot of water to the simmering point, then add enough salt so it tastes salty.

Meanwhile, heat the lard or olive oil in a small pan and sauté the onion, chile and garlic until soft but not browned, about 5 minutes. Turn off the heat and let cool.

When the vegetables have cooled, put them into a food processor along with the remaining fish ball ingredients except the flour. Pulse to combine, or run the processor until you get a paste. Your choice. I like them finely chopped so I run the processor for a minute or so.

Form balls from the mixture about the size of a walnut or smaller. Roll in flour or masa harina and gently drop them into the simmering water. Simmer until they float, then for about 1 to 2 minutes more. When they are done, move the fish balls to the broth.

Serve the fish balls with the broth and some chopped cilantro.
Notes
Most kinds of freshwater or saltwater fish will work with this recipe. 
Keys to Success
Slightly wetting your hands with water makes it easier to form perfect fish balls. 
The flour or masa coating on the balls will set in the hot water, making prettier balls. Same deal if you fry them. 
Any green herb can be used in place of the cilantro or mint in the balls. Pipicha, parsley, savory, pitiona, epazote, etc. 
Yes, gluten free breadcrumbs will work here. 
You can make the broth richer and darker by using dried ancho or guajillo chiles instead of green Anaheims. Just rehydrate them with hot water and remove the stems and seeds. 
Unless you have really nice fish stock or seafood stock, use chicken stock. 
Nutrition
Calories:
430
kcal
|
Carbohydrates:
33
g
|
Protein:
31
g
|
Fat:
19
g
|
Saturated Fat:
3
g
|
Polyunsaturated Fat:
3
g
|
Monounsaturated Fat:
11
g
|
Trans Fat:
1
g
|
Cholesterol:
90
mg
|
Sodium:
1801
mg
|
Potassium:
987
mg
|
Fiber:
5
g
|
Sugar:
8
g
|
Vitamin A:
662
IU
|
Vitamin C:
21
mg
|
Calcium:
183
mg
|
Iron:
3
mg
Nutrition information is automatically calculated, so should only be used as an approximation.